Ah! Cookies, cookies, cookies! We can smell cookies everywhere! Is this a dream? Well, if we never want it to end, and if not then reality was never so beautiful before. Cookies are lovely and whenever we talk about them, it fills our heart with pleasure and a temptation that we can seldom resist. If you are like one of us then you have found the right place for you. Today we are going to talk about exclusive crumbl cookie recipes that you can indulge in. Let us get started.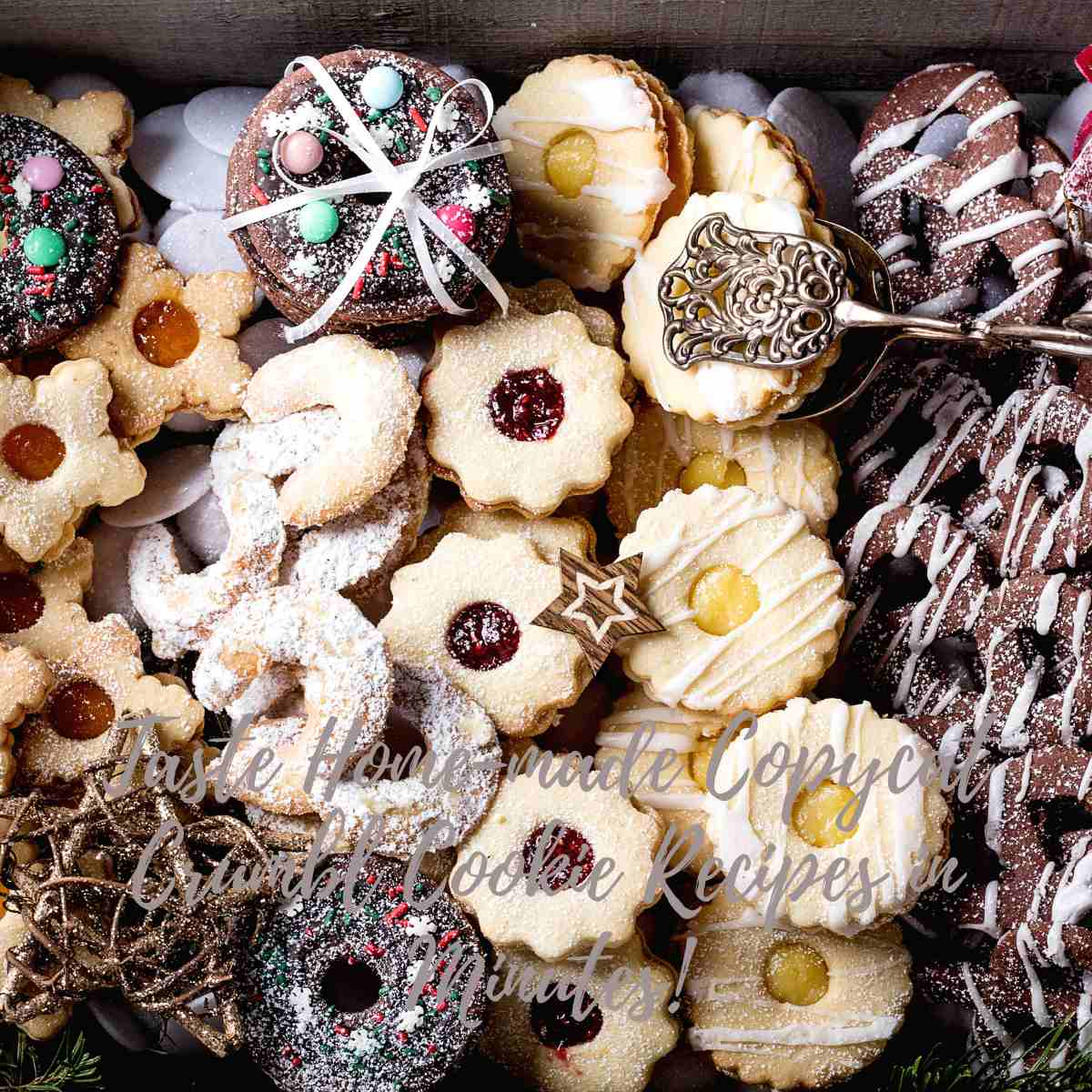 Some handy cookie-baking tips
But before we get started with the recipe, we have to talk about these tips which are always so useful for even a beginner as well as someone who has been baking cookies for a while. An extra level of precaution never hurts, isn't it?
1. Bring your butter to room temperature and soften the butter but never too much that it turns runny- to understand why your butter should be tender but not runny, there is a bit more explanation needed. A hard lump of butter is not just hard but impossible to mix and as a result, your cookie mixture will turn out lumpy. Hence one is asked to bring out the butter at least one hour before you begin mixing the ingredient. But never make the mistake of adding it in a completely runny state. This is because the process of creaming the butter makes sure that enough air is trapped in it but if the butter is like a smooth fluid then its purpose is defeated as it is unable to hold the air which is essential for making the cookies fluffy.
2. Now let's talk about the eggs- similar just how we spoke about butter, eggs are also a vital component of the ingredient bowl and they should be brought to room temperature as well. Do you know what eggs are needed? These act as levitating agents in the batter and help your cookies turn fluffy and flaky. But make sure that the eggs are brought to room temperature first. In case you have forgotten to bring out the eggs from the refrigerator before, there is another thing that you can do to save the day! Pour lukewarm water into the bowl and soak your eggs for two to three minutes. This will bring them to room temperature. 
3. Season your cookie dough with some salt- like we always say, salt is not just for savory items but also for sweet dishes! So next time you are contemplating the fact of adding some salt to the cookies, do not think further and do the honor. Instantly the taste of the cookie dough will be enhanced manifold. Half a teaspoon of salt is more than enough to make sure that the taste factor of the cookies doubles in no time. Blend it well so the salt is uniformly distributed in the dough. Generally, kosher salt is used for baking purposes.
4. Non-stick baking mats are the best- although most of our baking sessions involve parchment paper, now if you can opt for something modified then go for them! Yee, here we are talking about non-stick baking mats. This way you do not have to worry about having enough supply of parchment paper in the kitchen and fear running out of them during the prime hours. A baking sheet is a renewable option and as long as you have a couple of them in your house, there is no need to be worried about soggy cookies.
5. Why always opt for chocolate chips- every time we think about chocolate treats, the first thing that comes to our mind is chocolate chips. But let us agree that at some point it does get boring! So why not replace it with something different? For example, chocolate shavings, and chopped chocolate chunks are some of the common options to indulge in. There is no rule that you have to opt for anyone! So why not combine all of them and enjoy the unique taste? The more the better in the case of sprinkles on cookies.
6. Prevent excess spreading by popping the cookies into the refrigerator - so if you baked the first batch of cookies and saw that they spread too much on the baking tray then make sure you do something about it. Allow the cookie dough to be placed in the refrigerator for about fifteen minutes so that the dough tightens up. This also gives a sense of firmness to the texture so that when you bake the second batch, the cookies turn out crispy and fluffy at the same time. Refrigerating always helps a great deal in this case.
7. Experimenting with different kinds of flour is the key- always baking with the same kind of flour can get boring and we can help you out with that! Bake with all sorts of options that are available in the flour section. Some may suit your taste palette, some may not! In the end, you will be able to find out the flour you prefer the most for baking cookies. A combination of two kinds of fliers is also effective as it greatly impacts the texture and the taste too! But that is not it! The health factor of the cookies is also greatly enhanced with a combination of more than one kind of flour.
8. Set the oven timer about five minutes less than what is mentioned in the cookbook or the recipe - every oven is unique and has its own configuration. The set of instructions may not be written for your oven. For example, if you are baking in a convection oven then the temperature should be set at least 10° less than what is mentioned. Hence you have to be careful with the temperature as well as the timer. This way, if you set the knob five minutes early, you will never run the risk of overbaking your cookies. And in case, they still feel soggy then you can put them back into the oven for another two to three minutes.
9. What to do if the cookies are sticky- if you observe that the cookies are sticking to the tray then it might be possible that your cookies need a little more baking! Pop them into the oven for another 30 seconds. Then you can use a fish spatula to pick them up carefully from the tray without scraping the surface.
Delicious Copycat Crumbl Cookie Recipes - Make 'Em at Home!
Candy Cane is synonymous with Christmas and hence we have this awesome recipe at your disposal. Crumbly as we promised and topped with rich icing, do give it a try for sure and you won't be disappointed.
There is no way one can resist hot chocolate cookies! Delicious and topped with marshmallows, it renders an everlasting impact on the taste buds. So if you haven't decided what to make this holiday season, surprise the kids with this one.
If you are baking crumbl cookies for the first time at home then there is no better idea than the crumbl snickerdoodle cupcake cookies which bring you the best of both worlds. Shall we try it then?
We simply can't wait to try out the raspberry crumbl cookies! Will you make some for us? Oozing with syrup and crispy from the outside, there is no way you will be able to resist this treat! Go for it already! Will you?
The Christmas funfetti crumbl cookies are another unique idea that we are sure you will be tempted to try out! Rich and oozing with flavors, the kids might sneak into the kitchen at night to steal the treats. You can't really blame them in this case.
Topped with marshmallows and packed with smores, we are simply smitten by this one and so will you! If you do not believe in our words, then we challenge you to make them and find out on your own. You won't regret your decision.
It hardly takes you any time to come up with the frozen hot chocolate cookies and yet not a minute will you be able to resist your temptations. Topped with marshmallows, it is the best!
If you are fond of the sweet and tangy essence of strawberries then this cookie recipe for strawberry shortcake is meant for you. There is no need to thank us! The smile on your face is itself rewarding and we want no more.
This is a form of sugar shortbread cookie that is drizzled with pecan and sweet maple sauce. If you are planning to make crumbl cookies then this is the best you have got! Go for it right away!
Yup, we are talking about the delightful crumbl cookies which are filled with gooey raspberries. Tempting and juicy, these cookies are perfect to escalate the joy of the season. So what are you waiting for? Make them today and enjoy them to the fullest.
We have brought you gorgeous chilled cookies for the ones who simply can't live without cookies and especially when it comes to enjoying the chilled version of crumbl cookies. Okay, so we are off to bake them, tell us whether you made them too!
If you are a fan of red velvet then we can be friends! Drizzled with lots of chocolate chips, the cookies are shapeless but perhaps that is the specialty of this sort of cookie.
The turtle crumbl cookies are another gooey and chewy treat that a true cookie lover will never miss out on! Gorgeous and creamy, you should try it out for sure. So are you ready to turn into a cookie monster during the holidays?
You will never run out of ideas thanks to so many options when it comes to crumbl cookies! So next we would like you to try the crumbl cookie recipe with smooth peanut butter. Shall we then?
Bring back the feel of Easter into Christmas with the crumbl carrot cookies! Actually, we are confused whether it is a cake or a cookie so we leave it to you to find out. Let us know how you liked this healthy treat. And remember, being healthy can be good too.
Well, we will not deny it if you find yourself going weak down the knees as you try the French silk crumbl cookie pie. In fact, this is the best crumbl cookie that you must have tried in your entire life.
Yes, we are indeed talking about the famous berries and cream cookies which are an absolute showstopper. Rich and topped with gooey icing, we can understand if you find it hard to resist yourself.
Wow! Finally, we are so glad we came across this chocolate chip crumbl cookie made with s'mores and could share it with you. So now that you have the recipe at your disposal, get it done this holiday season.
Cookies and ice cream for desserts? Yup, you heard it right! From kids to adults, there is no one who can deny falling in love with this excellent choice. So if you want to enjoy something nice, make it right away!
Last but not least we have the buckeye brownie cookie recipe for you! Super rich in flavor and topped with dark chocolate, you are definitely going to thank us later for the idea. Go for it already!
Frequently asked questions associated with making crumbl cookie
1. What is the secret to the best crumbl cookies?
It is how well you manage to cream the butter and sugar which determines how good the crumbl cookies will turn out to be.
2. What makes the crumbl cookies taste so good?
If you are wondering about the magic behind the great taste of the crumbl cookies then the answer lies here. They are available in literally all varieties appealing to almost all taste palettes around the world. Plus, you get them in cold and hot versions as well.
3. What is the way in which you can keep your crumbl cookie fresh?
If you want your crumbl cookies to remain fresh then you must place them inside an airtight container. This will ensure that the crispy texture of these cookies is maintained intact.
4. Which is the most famous crumbl cookie?
The crumbl cookies with pink frosting is the most common variety and much preferred by the crowd. However, there are so many other flavors that you can try out depending on what suits your taste buds.
5. Are crumbl cookies undercooked?
Crumbl cookies tend to have a gooey and tender center due to the icing or the jelly present inside but that does not imply the crumbl cookies are undercooked.
6. Do you need to make crumbl cookies fresh daily?
Crumbl cookies do not need to be made fresh daily if you can store them well in an airtight container inside the refrigerator. This way they can last for a long time.
Bottom Line:
In conclusion, making homemade copycat Crumbl Cookie recipes can be an easy and tasty way to enjoy a homemade treat. Not only is it simple, but it can be a great way to feel like you are getting an authentic Crumbl experience without going to the store. Mixing in your own ingredients can also help you customize your cookie to your own personal taste. In the end, the best part of making these cookies is being able to enjoy them in minutes! So why not get creative and whip up a batch of your own homemade copycat Crumbl cookies for a delicious treat? As they say, "The best way to bring happiness into your life is to bake some cookies!"
This article has discussed the many benefits of making homemade copycat Crumbl Cookie recipes. It has also provided some tips and tricks on how to customize your cookies to make them unique. Hopefully, these tips and tricks will inspire you to create your own delicious treats that you can enjoy in minutes. Now that you have the knowledge, it is time to get baking!