Pies are lovely as we know and there is not much to talk about them, is there? Like we all know how good they are, what a brilliant treat these turn out to be! But instead of buying from the store like a bakery, why not make them at home this time? We have a complete guide to preparing the best pies this season. It is not a Herculean task! Just a couple of easy instructions and you are good to go! Making Christmas pies is a mood and you must not let it go.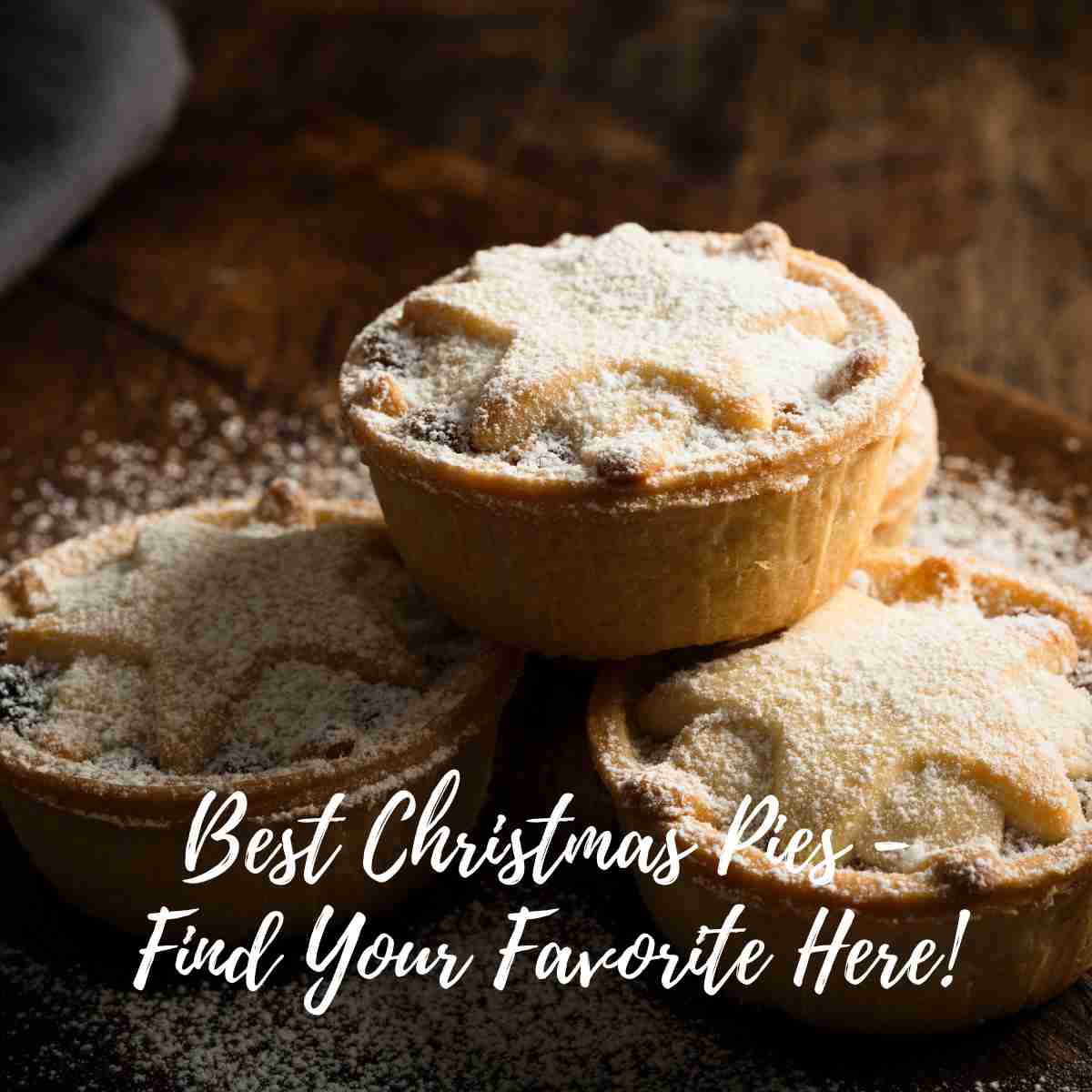 Tips to baking the best Christmas pies, tips and hacks
1. All your ingredients must be allowed to remain cold- contrary to cupcakes where you need to bring all the ingredients to room temperature, when we are talking about pies, they ought to be present at lower degrees so the pie turns out good. For instance, you must keep the butter inside the refrigerator till the very moment you decide to put it into the bowl containing the pie batter. Water needs to be added to the pie batter but not at normal temperature! Add some ice cubes to the water so its temperature is reduced and then you can add it to your pie mix. As we said, all things must be cold when we are talking about pies.
2. You must refrigerate the dough after every consecutive step- this sounds bizarre but it is true. You need to add a couple of ingredients, mix well and then refrigerate the dough under processing! Once it is cold again, bring it out and then mix again with more ingredients that are left. To sum up, you can not let your pie batter come at room temperature! Hence you have to insert the dough into the fridge after every other step. Wrap and chill the dough after every step so that the mixture remains cold and absorbs the liquid which is added to the dough. Even after you have rolled it out and while lining the pie pan, you have to chill the mix again and again. This relaxes the dough and prevents it from sinking in the oven.
3. Handling should be done as little as possible- overhandling the dough may not be the right thing to do with your pie! Allow the rolling to be done at once and folding as well! Re-rolling and folding again and again can render the dough to become tough and as a result, you will end up with a pie crust that is extremely tough. That is why we are warning you again about handling the dough. We understand that it can be tempting but you need to resist the urge. This can activate the starch and make the texture hard.
4. While you roll the dough, use as little flour as possible - when we are rolling dough for making bread or desserts, we generally use some flour to dust on the surface! This makes it easy for one to roll the dough. But too much dry flour on the surface of the dough will render it dry when you make the crust! In fact, once you are done baking, go ahead and dust the dry flour from the surface of the dough! This is an effective technique to make sure that the rolled dough remains moist and tender.
5. Either you can choose to bake the crust alone or with filled pies in the hot oven to give it a structure- next comes the need to give a proper shape to your pies and that can be done with the aid of either baking the crust alone or like we said, fill it up first and bake in the hot pan. You can opt for pre-baking the crust so a proper structure is acquired. This is to be noted that you need to first keep the temperature high and then reduce it as you reach the midpoint of baking time. You must follow this temperature rule while baking.
6. Allow the double crust pies to vent- when you have a double crust for your pies, you need to give some space for the trapped air or moisture inside to be released. This can be done in style. Make shapes on the surface of the pie and that will not only act as the holes to ventilate and release the trapped air but also make your pies look so good.
7. Use aluminum foil or pie shield- you must have a layer of aluminum foil or baking sheet or pie shield wrapped around the edges so that these parts do not overbake and turn brownish. Pies have a perfect golden-hued crust which can be preserved this way.
8. You bake your pies at the lowest rack of the oven or on a preheated sheet pan- as we said, there is a technique to baking pies, and that must be followed if you want your pies to turn out well. This method is applied so that the soggy bottom crust situation can be prevented. You can even use a rimmed pan if you wish to prevent the fruity pulps from spurting out and spilling all over the surface of the oven.
9. Allow your pies to bake long enough- in case, you are making a sort of fruit pie then one thing must be taken care of. You should allow the pie to cook for a long time so that the fruity pulp inside begins to boil. Otherwise, it might happen that your crust is ready but the fruit inside the pie is still raw. However, in the case of custard pies, these are sensitive and more fragile than fruity pies and must be handled with care. These tend to be overbaked and get burnt if you leave them in the oven for too long. They might pull away, lose moisture, and get cracked too.
10. Allow your pie to cool down before you serve it on the table- this is a golden rule which works for all sorts of desserts that you are planning to bake. Do not let them serve on the table the moment you bring it out of the oven! Rather, wait for a while. Similarly, in the case of pies, you are expected to wait! The filling needs to cool down so it can acquire a thick consistency! If you serve the pie right away then the filling will be runny and difficult to manage on the plate. This is a make-ahead dish so you can save time on the festive day.
The Best Christmas Pie Recipes - Get Ready for the Holidays!
All of us like to enjoy a surprise especially if that makes your experience of a meal even more special! Here is a Christmas pie recipe that you can try out this season. Adorned with berries on top, this is rather a non-traditional but wonderful way of serving a pie.
Oozing with strawberry pulp, there is no way you will be able to resist its brilliant taste. The look of the rich white topping on top is so tempting indeed.
The eggnog pie is another gorgeous idea that you can indulge in during the holidays! And the best part is that you do not even have to bake it! Ready with just four ingredients, this is the most interesting idea that even beginners will find so simple to emulate.
Delectable and rich, the gingerbread flavor is best suited for Christmas. Make your eggnog pies even more tempting with the gorgeous crust.
Gooey and filled with a thick layer of icing, there is one that you will surely do! Thank us later for the brilliant idea. No, we aren't joking! It is indeed the best to opt for!
Christmas without peppermint feels so dull and incomplete and so we are here with the white chocolate peppermint pie to greet the crowds at the dinner table. So are you ready to indulge in its bliss? Because we can guarantee that it will not last long!
Here is another exotic recipe that you will definitely fall hard for at the very first bite. And since you do not have to go through the hassle of baking, the idea seems great for last-minute preparation.
Have you tried maple pie before? Then you are definitely missing out on something too good! But no longer! With this gorgeous maple buttermilk custard pie recipe right here, there is no need for you to head to the bakery during the holidays.
We have the awesome Bourbon sweet potato pie to make your seasonal celebration even more wonderful! Do you believe in us? Well, then try it out on your own and find out about its blissful taste.
How can we miss out on the French chocolate silk pie that tastes so marvelous and melts in your mouth at every bite? The perfect treat for chocolate lovers, you simply cannot get over this one. Shall we then?
Apple butter pie is perfectly suited to the season of Christmas. Delicious and creamy, the smooth butter pies are filled with chunky apple bites. The dish turns out to be so good you can serve it as dessert after the holiday meals.
If you are a fan of cranberries then the gorgeous cranberry custard pies are exactly what you must make this season! Rich and loaded with a gooey essence, there is no way anybody can resist this one. Thank us later for the idea!
Well, it has got it all! From cranberry, blueberry, and orange, these pies are lovely! Infused with a zesty flavor, holidays are the best time when you can engage in pie-baking sessions and have a great time.
The crumbly and crusty pecan pie is the most delectable that you will come across. Served during desserts, make the holiday brunch remarkable and memorable with this pecan pie on display. You simply can not get enough of this recipe! The more you have, the more you keep craving!
You definitely can't enjoy Christmas without the delightful presence of candy cane pie! That is why you brought this exclusive recipe loaded with delicious and tempting filling and a crumbly crust outside. Do give it a try for sure.
Yes, that is right! Something you wanted to try so much as a kid! Now the recipe is right here at your fingertip! So what are you waiting for? The combination of Apple and caramel always works for us.
Well, the options just seem endless when we are looking for pies to make during the holidays! Yes, indeed! The classic apple crumb cheesecake is delicious and loaded with glory syrup so the taste is instantly escalated.
Yeah, the apple butter pie! Easy and quick to make during the holidays, even beginners can try their hands at this one! So if you are utterly confused, try and begin with this one. Let's not waste time and get started.
This is our favorite and we have to admit to that! The luxurious chocolate crack pie is exactly what you need to keep yourself content this time of the year! Even the kids might join hands at helping you in the kitchen once the fragrance of freshly baked hits their nostrils.
Make these cranberry apple pies for the old times' sake! You must have enjoyed them at your grandma's place as a kid and now it is time for you to make them again.
Frequently asked questions about making pies for Christmas
1. What is the trick to making the best pie crust?
If you want your pie crust to turn out crispy and tender at the same time then you must allow the dough to cool down and then allow the liquid content of the crust to remain less.
2. What is the best way to bake a pie?
The best way to make pies includes baking the pie at 350°F for about twenty-five minutes. You should place the Christmas pie on a parchment-lined baking sheet or pan. Additionally, you might need some sixty minutes total to bake the pies.
3. What is the most important thing to note when you make a pie crust?
If you balance the fat, flour, and liquid in the pie crust dough properly then the recipe will turn out to be the best! You are definitely going to enjoy the crumbly and crispy crust later.
4. Why is the Christmas pie dough hard?
If you overwork the pie dough then there is a risk you might activate the starch and as a result, the dough might turn hard. Never overfold or kind the dough for too long.
5. What are some of the tips that you must follow while baking the perfect pies?
You must measure the weight of the ingredients as you make the pie dough is one of the crucial factors that you need to keep in mind! Blend till smooth and do not overwork the dough. Allow the pie to also cool down at the end so the fruity filling can turn solid and pulpy.
Bottom Line- We hope this list of the 20 Best Christmas Pies helps you find your favorite holiday treat. From savory to sweet, traditional to modern, you can be sure to find something delicious here. Whether you like a classic pumpkin or more adventurous flavors like pecan-cranberry, there is something for everyone. Just remember to add a dash of love and cheer from your oven to the table for a Christmas feast your family and friends will enjoy! Let's make this year the most delicious one yet.