So are you one of those who are wondering that with the vegan diet on the go, you have to sacrifice your cookies during the holidays? Well, that is no longer a reason to worry about the wonderful vegan cookie recipes that we have brought you for Halloween! In case, you are doing this for the first time, we have also listed below tips that can help you out! When you are on a vegan diet, it is ideal to stick to making everything at home because you can monitor the ingredients that go in! The same goes for cookies! Let's read on to find more.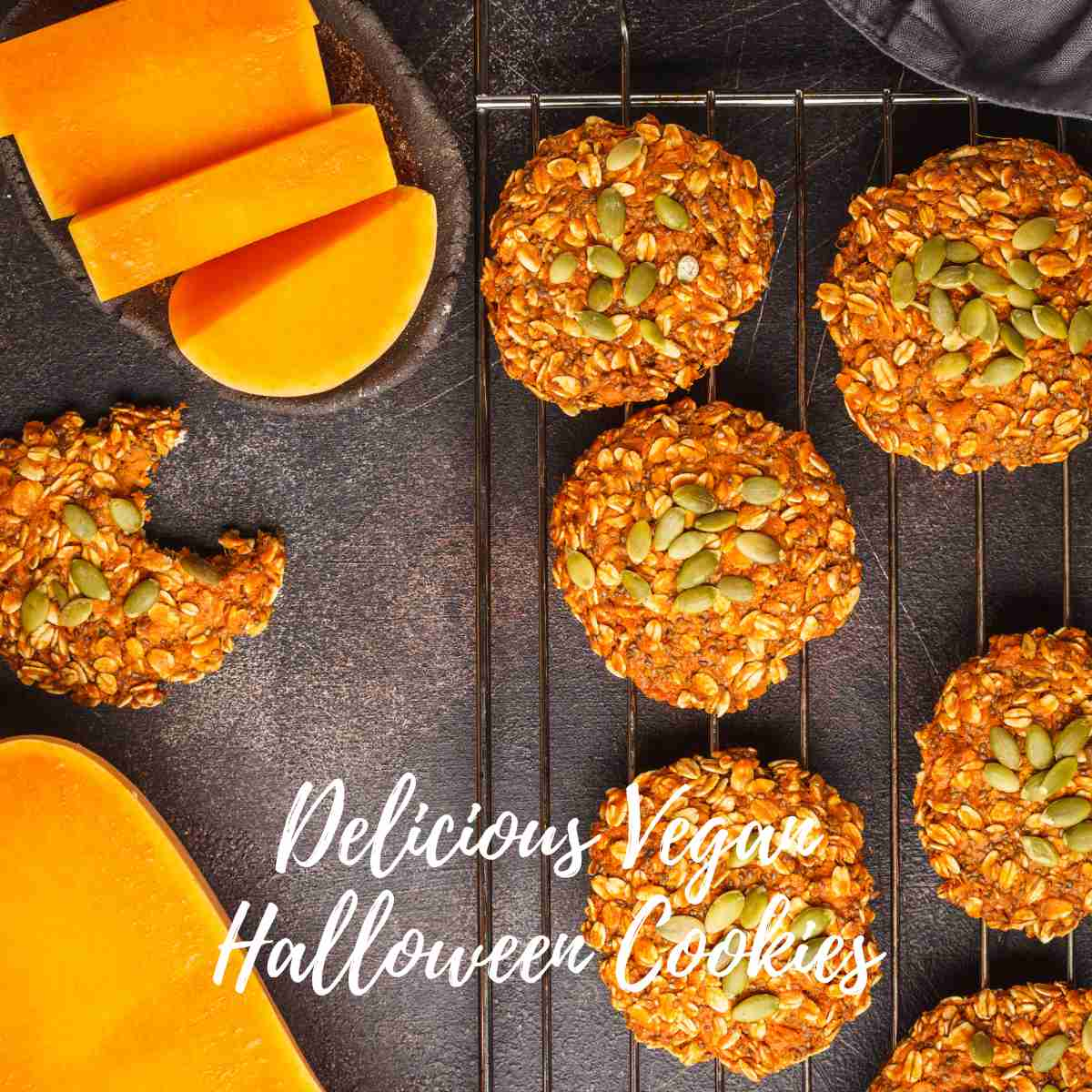 Tips to making the best vegan cookies for Halloween
1. When you are using non-dairy milk, make sure that it is unsweetened-
It is essential for you to note that the non-dairy milk is unsweetened as this would add too much sugar to the cookies which might not be preferable. Different non-dairy milk has varied textures! For example, almond milk is thin and has the texture of skim milk while coconut milk is thick and creamy in texture. Depending on your criteria, choose the milk you want.
2. When you are buying chocolate chips from the store, make sure to read the label- the milk chocolate chips usually contain milk derivatives while on the other hand, dark chocolate is rich in nutrients and at the same time devoid of any milk derivative! For vegan dieters, dark chocolate chips are the best when you are preparing chocolate chip cookies.
3. Keep the egg substitutes in hand- there are several egg replacers that you can put to use! Available easily in the store, you can keep them stocked up in the refrigerator so you can make vegan cookies anytime you want. Egg substitutes in a cookie recipe include flax, tofu, banana, and so on. If you are planning to make dryer cookies then you steer away from bananas!
4. Swipe out artificial white sugar from the recipe- some of the white sugar is refined with bone char which makes the artificial white sugar not good for vegan dieters. Hence you should opt for a vegan alternative in the case of sugar.
5. Use coconut oil and replace butter from your recipe- coconut oil is always a great substitute for butter! So if you add melted butter to the batter go ahead and add some coconut oil indeed. However, the quantity may vary depending on the melting point which differs for both.
6. Replace honey with maple syrup- if you are making a cookie recipe that requires honey then you can replace it from your vegan cookies with maple syrup! You can even opt for agave if you want. Honey is not something that vegans consume and hence if you are following a regular recipe then you might have honey mentioned in a couple of them. Just swap that with maple syrup or agave and you are good to go!
7. You can use soaked cashews in exchange for cream cheese- most of the cream cheese cookies require cheesy frosting that you have to avoid as a vegan dieter! However, that does not mean that you have to deprive yourself of the cream cheese cookies! There is a way to deal with the same. Use soaked cashew as an alternative to the same. Combine it with coconut oil, the taste will be more or less similar.
8. Do not overbake your cookies- in the presence of eggs in the batter, the cookies take a longer time to get baked but when we are talking about the vegan option then it is safe to say that the time for baking is reduced manifold. Hence if you follow the same baking time as done for regular cookies, the biscuits might get too crumbly, hard, and even burnt.
9. Use an oven thermometer- to ensure that the temperature of the oven has reached the ideal limit, you should bring an oven thermometer home. We all have different models of the oven and the temperature noted in the machines may not be exact! To be precise if you don't make a mistake with the heat supplied to the cookies, go ahead and use an oven thermometer.
10. Stick to a vegan recipe if you are a beginner- you can certainly create your recipe but that takes time because you are now learning to go vegan initially. As a newcomer, you should follow a recipe that is already pre-written. This will help you to follow the steps precisely and come up with a successful batch of vegan cookies for Halloween. Do not try too many alterations at the beginning and especially if you have a time crunch during the festive season.
What are the benefits of using vegan ingredients-
Well, we must say that the decision of going vegan with the diet is one of the best decisions you have made so far! So if you are baking cookies and in the meantime wondering what are benefits of even going vegan are, then here we are to answer your question.
Benefits of veganism- often people who have chosen to go vegan find it hard to stick to their diet only because of the worry that they will not get enough vitamins and proteins from their diet. But, let us tell you, that is not true! You can still replenish yourself with all the required nutrients as you stick to your diet plans.
Listed below are some of the benefits of consuming vegan dishes-
1. Maintain proper heart health- animal fat can often get deposited in the arteries and cause blockage or clogging. There is definitely a way to deal with it! You cut down on all those unhealthy fat and you are ready to embrace a happy lifestyle.
2. Lowers your cancer rate- you will be surprised to find out that plant-based food items contain vitamins and lots of phytochemicals that can combat the cancerous cells in the body.
3. Lowers the intake of calories- if you consume plant-based food then you can reduce excess weight as well. These contain fewer calories and hence less to burn out!
The best part about a vegan diet is that you do not have to be very rigid about it! You can opt for an alternative animal-based diet and vegan from time to time according to your needs and flexibility. There are several other benefits that we can cite about vegan dishes but perhaps now it is time to find out about some exotic vegan cookies for Halloween. Let's go!
Delicious Vegan Halloween Cookies: A Trick and a Treat!
The delicious chocolate chip cookies with a pumpkin base are the specialty of the season! Packed with wonderful flavors and a crumbly texture, this is the best for you to create and dig in.
Absolutely vegan and in fact even free from gluten, this is something that you can enjoy in a tub full of cookies and still not face the slightest consequences! What an excellent creation for the holidays we must say!
The delicious sugar cookies are topped with rich icing and are such a wonderful creation to escalate the joy of Halloween! Do not be surprised if you find the kids loitering in the kitchen at night!
The crunchy sugar cookies are super delicious and perfect to relish for the season! Get yourself a cup of tea and enjoy the feisty conversation with the guests in the evening! The cookies shall be the constant companion.
The combination of chocolate and orange is delectable and flooded with flavors so rich! Topped with icing, you are simply going to fall in love with the treat for Halloween. This is an extraordinary idea for you to indulge in!
The delicious and exclusive vegan pumpkin cookies are exactly what you need! Crumbly and rich, the vegan cookies are lovely and ideal if you are planning to make your treats healthy. So are you ready to indulge in something delightful?
The vegan and moist chocolate cookies are dairy-free and such an extraordinary treat for you to make as treats for Halloween. Moist and crumbly, you will definitely fall in love with the wonderful batch of cookies. Shall we then?
If you are sad that going vegan with four diets will deprive you of the treats for Halloween then here we are to solve your worries! Check out this tempting batch of cookies which you can literally shape into anything that you want.
Beautiful vegan sugar cookies are right here to provide you with the ultimate sensation of delight and temptation. Adorned with sprinkles, what a wonderful idea it is! Everyone's eyes will be focused on the table as the soft frosted cookies show up!
Yes, we know they are unbelievable but it is true that the s'mores cookies are simply outstanding! You can make it too this season! Try out this recipe which leaves you completely smitten at every bite.
How adorable are these gingerbread cookies for Halloween? The beautiful skeleton pattern is truly awesome and if you thought gingerbread is for only Christmas then here is a recipe that will prove you wrong. It is completely vegan and gluten-free to your delight!
There is definitely something so divine and delicious about the s'mores cookies that anybody is hardly able to resist! Tempting and rich, you are certainly going to find this an exciting session as you bake cookies for the holidays.
The vegan pumpkin spice cookies introduce you to the flavor of the fall! Crumbly, sweet and savory, the bite-sized appetizers are already here for the party, get ready to groove now!
Halloween is all about monsters and zombies! This cookie here is amazing and perfectly suited to the theme of the occasion! Delectable and crunchy, you will find them good too! So what are you waiting for? Bake them today! Oh, we almost forgot to mention chocolate chips and M&Ms which are studded to the crust!
The delicious vegan pumpkin chocolate chip cookies are fascinating, reminding us all to experience the wonders of fall! If you are fond of chocolate and pumpkin then combine them in this recipe and enjoy to your heart's content.
This version of the vegan pumpkin cookies will simply render you with a sense of content during the holidays! Drizzled with chocolate chips and flavored with warm spices, this is an extraordinary creation indeed. So what are you waiting for?
The M&M studded Halloween cookies are always a super-duper hit! This idea is excellent and we are sure will fall in love with the taste of it! Being a vegan option you do not have to skip your diet for consuming the treat!
The vegan pumpkin chocolate chip cookies are right here to leave you craving more and more. Crumbly and rich, this idea is well suited for the vegan dieters craving cookies on Halloween. Shall we try it then?
Rich and luxurious vegan butter cookies are super exciting as they melt in your mouth at the very first bite. Marinated in liquid chocolate and then drizzled with sprinkles, what a gorgeous Halloween sweet appetizer it is! Let us get started then.
Yes, you heard it right! We have brought you a recipe that converts liquid hot chocolate into its vegan version. Fascinating and adorned with marshmallow chunks, they live up to your expectations. So let's not waste a minute and bake these treats.
Frequently asked questions associated with making vegan cookies for Halloween
1. What makes cookies vegan?
The cookies are considered vegan when you make the whole batter and recipe with plant-based items.
2. How can you prevent vegan cookies from falling apart?
In the absence of adhering agents like eggs and so on, you might find it hard to prevent the cookies from falling apart! As a result, you need to add a little xanthan gum to the flour which makes the dough sticky.
3. What is the major secret to making good cookies?
You should follow the recipe as you are preparing the vegan cookies! It takes a lot of attention when you are a beginner! Do not introduce alterations on your own and adhere to the steps!
4. Is Oreo vegan?
Oreo is vegan as it is made from non-dairy products! However, you should check out the ingredients at the back of the packet to determine whether it is good for your vegan diet or not!
5. Why are vegan cookies dry?
Vegan cookies can turn out to be dry in the absence of the required ingredients! You need to stick to the ingredient list and follow the exact quantities that are mentioned on it!
6. Why did the vegan cookies go flat?
Vegan cookies can go flat if you are adding soft margarine or butter to the cookies! Be careful with the ingredients as these are preliminary steps to the preparation of a good vegan bake.
Bottom Line- Vegan cookies are an exotic and definitely enriching experience for one to embark upon! Do not worry if you are a beginner on this journey because as long as you follow the steps, you can easily master the skills of vegan baking. Let us get started then!