Enjoy delicious air-fried cookies in just 60 seconds! These air fryer cookie recipes are easy to make and yield a perfect crunch every time. Try it now and get your sweet treat in no time!
More collections: Soft Cookie Recipes, Drop Cookie Recipes, Low Carb Coconut Flour Cookies, Small Batch Cookie Recipes, Muffin Mix Cookie Recipes, Protein Cookies, Norwegian Christmas Cookies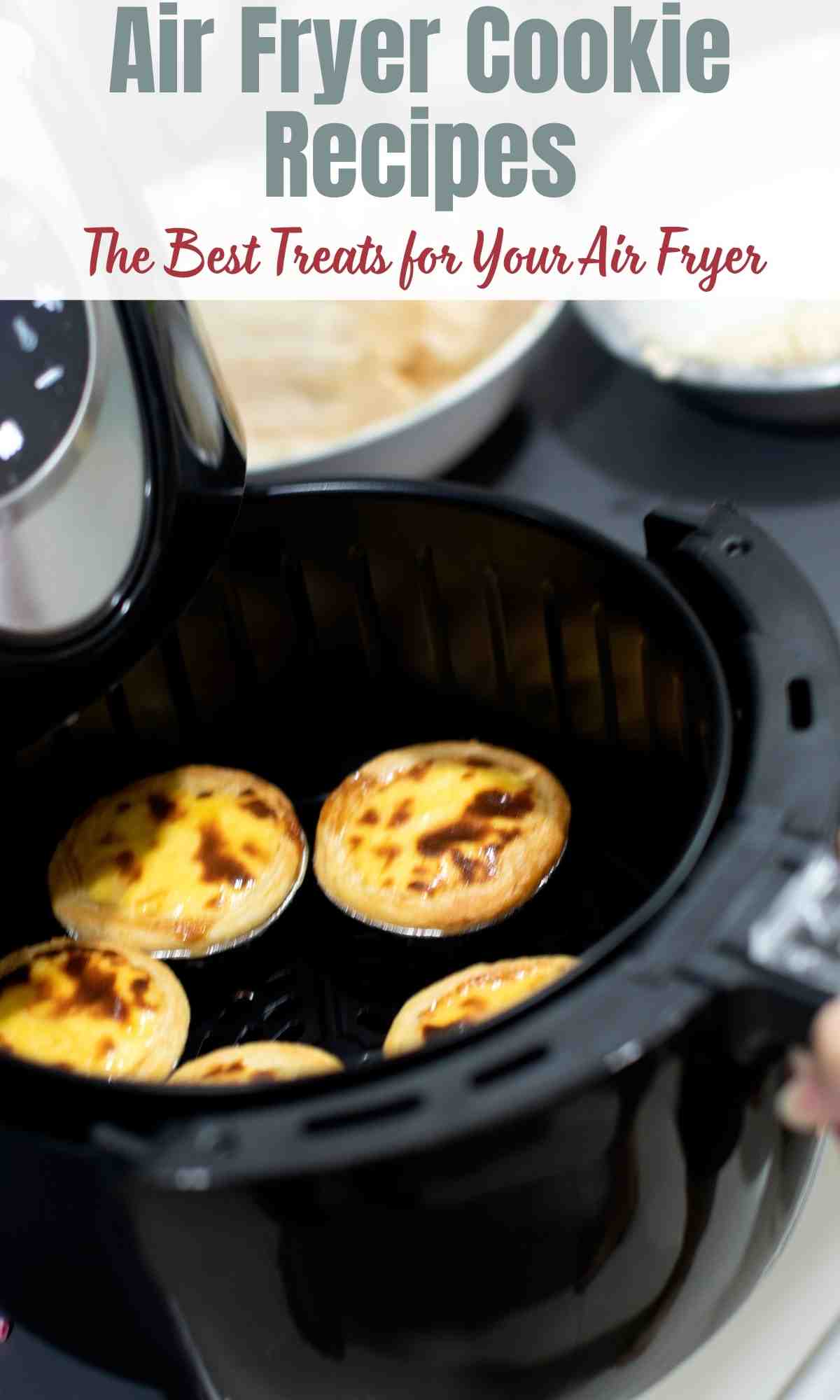 Cookies are something that always lifts our mood! Whether you are troubled with the hassles of life or simply cannot cope with so many things coming along your way, a sweet treat can always help you out! Yeah, that is right! You have no idea how therapeutic cookies are! Well, you will soon find out as you start baking this season! But there is a twist! We are going to use an air fryer as you prepare these freshly baked cookies! So let's find out more, shall we?
Table of Contents
Everything that you need to learn about making the perfect Air fryer cookies
1. Always start with a simple recipe when you are a beginner
Baking cookies is easy but tactful, and you only end up becoming the best when you have the patience to learn! There is no point starting with something complicated and complex because it is likely that these cookies may not turn out the way you want!
Rather we would suggest you start with something small and simple rather! The recipe should be easy to tackle and nothing too elaborate that confuses you.
2. Measure ingredients precisely
You definitely have to be careful with the ingredients! And not just when you blend them but also when you measure them! Precision is absolutely the key to success! On the other hand, we would propose that you measure them with a measuring cup, spoon, or any other tool so that the accuracy can be maintained!
It might seem trivial, but to your surprise, a slight difference in the amount of any particular ingredient can destroy the texture of your cookies completely. Also, you must make sure that the ingredients are measured beforehand so that you do not end up in a mess while mixing them.
3. Next, you need to bring the butter and eggs to room temperature
There is a very specific reason why we say so! A solid chunk of butter is very hard to cream, and cold eggs are of no use. Creaming of butter is done when the butter is present in a semi-solid state, while the utility of eggs is to make your cookies fluffy and light, given they are present at room temperature!
That is why we ask you to bring the eggs out of the refrigerator about an hour before you mix them in the bowl with other ingredients.
4. So, what is creaming exactly
If you are wondering what creaming means, then here is the answer to your question! Butter in its almost molten state is whisked with sugar gently! And do you know what the utility of creaming is?
During this process, the mixture traps a lot of air bubbles which in turn helps the cookies to rise and turn flaky and crispy while baking.
5. Do not make the mistake of over-mixing the dough
Here is another major flaw that you can avoid! Over-mixing the dough! It can seem tempting, but making the mixture completely smooth will turn your cookies to be extremely runny!
Over-mixing can also end up activating the gluten in the mixture and turn out your cookies hard and chewy! Either way, over-mixing is detrimental to the texture of the cookie dough and must be avoided at all costs.
6. Not to forget, you need to prepare the oven
By preparing the oven, we imply that preheating the oven is absolutely essential so that the cookies acquire the right temperature as they enter the appliance. The drastic transition of temperature is not good for the texture of the same.
Awesome air fryer cookie recipes for indulging in this season
The light and flaky gingersnap cookies are wonderful to have with tea! In fact, you can munch on them anytime you want!
Just bake them in the air fryer, and you are done.
It is super easy to come up with wonderful air fryer chocolate chip cookies!
Delicious and crumbly, these cookies are the best, given how easy it is to bake them in a jiffy!
You will not believe how yummy and chewy these cookies are! In fact, you will not find them longer in the jar as the kids will be totally tempted to have more and more.
Shall we bake these cookies, then?
No matter where, when, and how, classic chocolate chip cookies always top the list of preferences.
Delicious, crispy, and loaded with flavors so enriching, you must give it a try for sure. Shall we, then?
All you need are ten minutes to prepare these amazing giant cookies! Yummy and crispy, you can serve it with a dollop of ice cream on top and enjoy it for desserts.
There is no need to thank us for the idea, but we won't mind if you save some for us too!
If you want the best of both worlds, then you should go ahead with the lovely brownie mix cookies!
Crispy and crumbly, these cookies taste the best and leave you craving more! After all, there is hardly anyone who would say no to brownies.
We are confused about what to call it! Maybe you can help us out! Whether this is a pizza or a cookie, we decided to call it the cookie, which is like a pizza!
Ready in no time, you can cut out giant slices and enjoy them to the fullest.
Peanut butter cookies are simply lovely, so the more you grab a bite, the more you ask for it!
Smooth and savory, these cookies will melt down your mouth!
If you are trying out ginger snap cookies for the first time at home, then bake these small batch cookies, which are ready in a jiffy!
And do you know how? Well, of course, you need an air fryer for that.
The air fryer chocolate chip cookies are an all-time favorite! Packed with great taste, you ought to indulge in its blissful taste!
Crispy and savory, there is no way you should miss out on this one.
The shortbread cookies are ready in no time! Perfect for serving with tea or simply enjoying them any time of the day, you must try it out!
The s'mores cookies are simply lovely and such an extraordinary creation, we must admit!
If you are fond of s'mores air fryer cookies, then this idea is the best to bake during the weekends and relish every bit of them.
The lovely sugar air fryer cookies are drizzled with rainbow sprinkles and taste so divine!
Both treat the eyes and the taste buds; you ought to indulge in its blissful taste. Let's try them out, and could you please save some for us too?
The rich and luxurious peanut butter cookies are simply the best!
Packed with great flavors, you ought to indulge in its gorgeous taste and crispy texture!
So what are you waiting for? Make it right away!
We simply cannot get over the wonderful taste of classic chocolate chip cookies!
Savory and gorgeous, these air fryer cookies turn out to be the best! And when done in an air fryer, you hardly need any time. Shall we, then?
You need both a skillet and an air fryer to come up with the chocolate chip cookies!
Savoy and rich, you must indulge in its gorgeous taste! Ready in no time, these cookies will melt down your mouth and leave an everlasting impact!
Oh, what a satisfying flavor!
Well, we find it so hard to stay away from the marvelous s'mores cookies, and if you share the same feeling, then go ahead with the air fryer s'mores cookies recipe that we have here for you.
There is nothing so hard about baking in the air fryer, and in fact, it is the easiest way to make cookies!
If you do not believe us, then try out this recipe that is right here for you!
For all the die heart fans of chocolate, we have this amazing double chocolate chip air fryer cookie recipe!
When we came across this recipe, we knew you would love to try out this one. So shall we begin then?
If you are running low on time and still wish to have something healthy to munch on, then spare yourself ten minutes to bake these amazing air fryer cookies enriched with fibers and proteins.
Other recipes you should check out: Flourless Cookies, Easy Small Batch Cookie Recipes, Halloween Mini Pie Recipes, Finger Food Recipes, Ninja Creami Recipes, Delicious Tequila Cocktails, Sheet Pan Shrimp Recipes For Dinner