Old is Gold! There is nothing as good as the recipes which are handed down from time to time! Like Phoebe Buffay from Friends said and something similar to that! New recipes will come and go but this, this is for a lifetime! You must have some of them either handed over to you by your mother or your grandmother. But if you wish to learn some more about them then here are some wonderful concepts which you can read on! With Thanksgiving around the corner, here are some wonderful retro Thanksgiving recipes to indulge in too!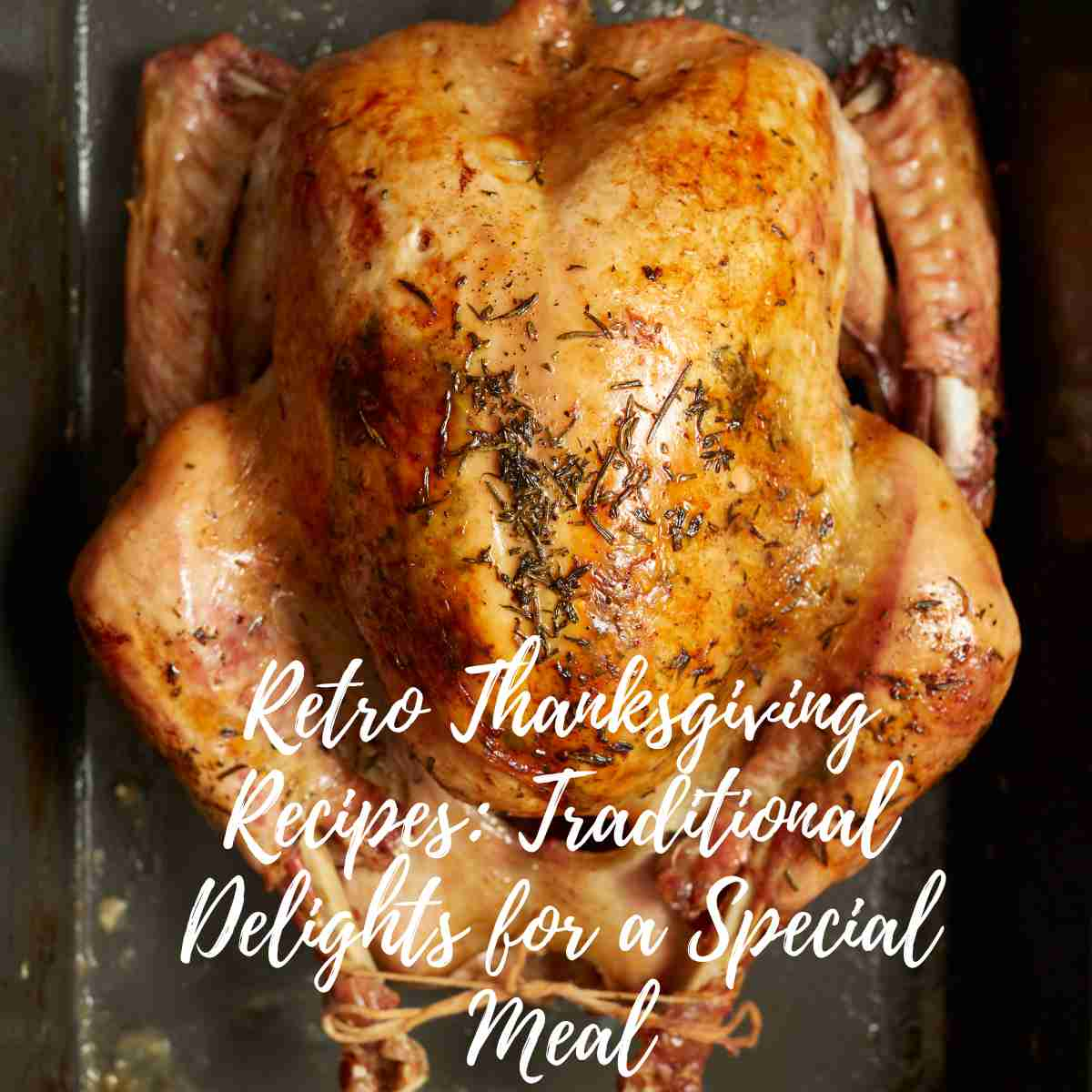 What is a vintage recipe?
Like we already discussed! These are mainly legacies for every household. Each family has their traditional dish which they have made from one generation to another over the years. Every time one celebrates Thanksgiving in the house, that grandma's pie is baked and enjoyed over a hearty laugh at the table. So even if the person who devised these recipes is not around, these are the dishes that live on! In other words, we bring back a part of them and keep them alive through these nostalgic dishes during the festive season and it is like they never left at all.
So what do you mean by vintage?
If you are still wondering what is so special about the term vintage recipes then you have to understand the word vintage first. It refers to something and anything that is quite old but not an ancient and antique one. This can apply to recipes, items, clothing, and so on. Things belonging to the time of the 1920s and later are termed vintage. Something that is twenty years old from the present time can also be confirmed as vintage. In case we are discussing vintage clothing then it refers to emulating the style from the past and giving it a new touch. On the other hand, vintage and retro are two words that you can use for home furnishings as well.
Furniture which is as old as twenty-five years to fifty years from their period of manufacture is defined as vintage as well. So the term vintage can be very subjective in terms of recipes and other items considered.
Antique jewelry for that matter is as old as a hundred years while vintage ones can be a decade or two old.
Now let's talk about recipes - these are instructions or formulas for cooking a particular dish that is written in a handbook or over the internet. This is the best definition that we can coin for recipes. In the case of vintage recipes, we can say that these instructions are curated by our elders or discovered by them in a cookbook which has now become a family legacy being made over the years.
What is the history of recipes?
The best part about cooking and recipes is that it is not restricted to the four walls of the kitchen but also describe a wonderful history of their creation. The receipt was synonymous with the word recipe in the old days! These days you might not say grandma's receipt for chocolate chip cookies, but strictly speaking, that is what they are! A list of instructions and manuals to follow.
The word recipe came up in the 1500s and was strictly used for only medicinal purposes. Around the 18th century, everyone began to talk about cooking instructions as recipes too. The term receipt on the other hand was then used for records of money and billing which happened mostly during the 17th century. Both the words, however, have a similar meaning in Latin, recipes or to receive!
So where can you look for vintage recipes?
The best part about vintage recipes is that you can find them everywhere! In the old dusty drawer of your kitchen or ask your mother for some ideas! There will definitely be a cookbook written by your grandmother she left behind in some of the cartons in the attic. In case, you cannot find any before the holidays then you can follow the list we have made for you right here.
What are some of the characteristics of a good vintage recipe?
There are some parameters based on which we can define whether the vintage recipe is versatile and valuable or not. Let us find out about them, shall we?
1. Does people continue to make it? If the vintage recipe is simple and flavorful, then you can expect to see them on the table every time! Whereas a tough and complicated recipe might slowly get removed from the menu over the years.
2. What about the ingredients? Are these easily available in the market? Some items were versatile ones, you may not find them so easily in the market these days!
3. Can you use modern equipment with the recipes?
This is another vital question when you are following a vintage recipe! Make sure that you are able to use modern equipment with the old recipe so that you do not have to go through much hassle of processing the dish.
Many of these recipes have become very popular over the years and have been made every day!
Which is the best vintage recipe?
An old recipe that can be emulated easily is popular these days. It is largely a matter of opinion and preferences depending on one's choice. It also depends on the way you present the dish. Here are some retro Thanksgiving recipes that we have provided you with.
Is there a special way to store vintage recipes?
If the recipes are written on a piece of paper then you might have to be careful how you store it! A cookbook is still fine and can be placed on the shelves but with a piece of paper, you can either place it with a fridge magnet on the door of the refrigerator or you can store it in the box. If you have a box of them then you can think about binding them into a box as well.
Enjoy our Retro Thanksgiving Recipes for a Fun & Delicious Holiday
You must have enjoyed apple cakes as kids when you visited your grandparents during the holidays! We can help you to immerse yourself in that nostalgic experience again with the recipe for Autumn apple cake right here.
This is rather a unique way of making a salad with a layer of syrup cranberry topped with cream and loads of treats. So what are you waiting for? Make it today!
The cinnamon-glazed souffle with crunchy pecan topping is simply outstanding! There is a layer of rich icing too! What a splendid idea we must admit! So are you ready to immerse yourself in the brilliance of this sweet dish?
Well, celebrations for Thanksgiving are incomplete without the presence of the corn casserole on the table. Choose a day during the holidays and make it for brunch. Everyone shall be delighted with such an amazing and gooey side dish.
It just feels like we got into the time machine and went back in the past during the days of childhood! You shall feel the same way with this wonderful Mandarin orange jello salad displayed on the table. Shall we try it then?
The combination of green apples and whipped cream tastes so divine. So if you are in the mood for something nice and gooey, there is no way you can miss out on this one. Let's make it today and surprise everyone.
This is brought right from the days when you would hold the hands of your parents and visit your grandparents during vacation. Quite a long time ago, isn't it? Savor the apple pecan pumpkin bundt cake and enjoy your holidays!
The idea for Southern cornbread dressing is right here to sway you off your feet! Easy and filled with warmth, you can enjoy the stuffing on its own for fill it in a turkey and roast it for a grand dinner.
The idea for roasted carrots with candied pecans is crunchy and crispy with a hint of sweetness. Topped with an abundance of cream cheese, this recipe is perfect for the season. So let's not waste time and make it right away!
The combination of mushrooms and breadcrumbs with onions and seasoning tastes so good that everyone will not spare a minute before they ask for more servings of the same. So make sure you have enough of it to satiate everyone.
The idea of buttery brioche stuffing is quite ancient and dates back to the time of our grandparents. Brought right from the 1900s, this is a great choice with the infusion of fresh herbs and warm spices in every bite.
How can we miss out on the very classic? The sausage and apple stuffing are delectable and best to commemorate the season of newness and life. Satisfying and yummy, this stuffing is a combination of both sweet and savory.
You can not celebrate Thanksgiving without the presence of stuffing on the table and with this make-ahead recipe, you are definitely going to fall in love with the holidays! All you need to do is prepare it ahead of time and then have a wonderful time at the table with your family.
If you are making cheese ball for the first time during Thanksgiving, this recipe will be great. The famous cheese ball recipe was almost forgotten before we came across this recipe.
The wonderful recipe for Cheddar ranch cheese balls is right here. You can enjoy it with crackers on the sides. Smooth and crumbly, this is the most awesome idea that we could gather from the retro world.
Enjoy something tasty and healthy for breakfast or dinner with the cheesy white bean soaked in tomato gravy! Baked and served with crispy toasted garlic bread, everyone will be so satisfied with what meets them at the table.
Give a hint of seafood to your classic mac and cheese dish with the idea that we have brought exclusively for you. Delicious and gooey, this is a brilliant dish that you should make this week. Let us know how it was!
The caramel pumpkin pull-apart cake is fantastic for breakfast or a side dish for the grand meal! Loaded with pumpkin essence and sweet caramel, kids and adults both will fall deeply in love with this one!
Low on carbs, the recipe is perfect if you have deprived yourself of good food for a long time. Holidays are meant for indulgence but in a good way with the mac and cheese recipe that we have for you exclusively on the table.
Yes, it is true! Not one but four cheeses are combined together in this recipe. Delicious and creamy, you are definitely going to thank us later for the idea. Make it today!
If you are craving something meaty and cream-filled for the season then the chicken tortilla casserole is the best-baked recipe that we can suggest to you. The combination of coriander, garlic, and oregano renders it with such an excellent flavor we must admit.
It is to be noted that butternut squash thrives well during the time of Thanksgiving and hence this recipe is perfectly suited to the occasion. The cheesy butternut squash casserole is something too precious to miss out on.
Frequently asked questions associated with making retro recipes for Thanksgiving
1. What does the old-fashioned Thanksgiving meal consist of?
The old-fashioned Thanksgiving menu comprised turkey with stuffing, mashed potatoes, bread, boiled veggies, casserole, and so on. There were also dinner rolls, cranberry pie, and pumpkin cakes for desserts.
2. What are some of the popular retro Thanksgiving dishes?
The most popular dishes for Thanksgiving include sweet potato casseroles, Brussels sprouts, and turkey roast. From creamed spinach to glazed carrots, the focus is made on veggies! There are pies and meat as well for meat lovers. At last, a dessert is also presented on the table.
3. How can you make your Thanksgiving dinner even more special?
If you wish to make your Thanksgiving dinner distinguished from the rest then you can opt for an annual menu or dish which will be made every year like a tradition or introduce retro dishes to the meal.
4. What was the Thanksgiving menu during the 70s and 80s?
If you take an interest in the vintage culture then it is highly intriguing to learn what the dinner used to be back then during Thanksgiving. It mainly consisted of corn souffle, turkey, casserole, Parmesan chicken bake, and so on.
5. What do Americans eat for Thanksgiving?
American meals for Thanksgiving mainly consist of cornbread, mashed potatoes, cranberry sauce, turkey, gravy, and stuffing.
6. What was an old tradition of Thanksgiving?
An old tradition of Thanksgiving included pulling apart the wishbone of the turkey and making a wish. Either of their wishes would be satisfied according to their beliefs.
Bottom Line -
Thanksgiving is a time for family to reconnect, share traditions, and celebrate the abundance we have in life. Though the traditions we are familiar with may have changed over the years, we can keep the spirit of Thanksgiving alive by looking to traditional recipes from the past. Whether it's spiced apple pie, giblet stuffing, or cranberry sauce, these retro recipes are sure to bring an extra special touch to this year's meal. So clear some table space for these timeless recipes, and enjoy making some old-fashioned delights! Let's embrace the retro side of Thanksgiving, celebrate our heritage, and enjoy the meal. To quote the great Julia Child, "People who love to eat are always the best people."
Let us remember that Thanksgiving is about joy and gratitude and that, in the end, no matter the ingredients, it is the people gathered around the table who will make the meal truly special. So, why not surprise those at the table with a few traditional recipes this year and create a truly memorable Thanksgiving meal?