If you are a cookie enthusiast then you will be intrigued to learn about the topic we are about to discuss today! Cookies are not something to be randomly baked and enjoyed for tea or breakfast! They are much more than simple treats! If you are interested then its history can be traced back in time. Today let's learn about the traditional Greek cookie recipes and where they came from! You must have heard about Kourabiedes! If you didn't then this article will replenish you with the knowledge of how to bake them at home.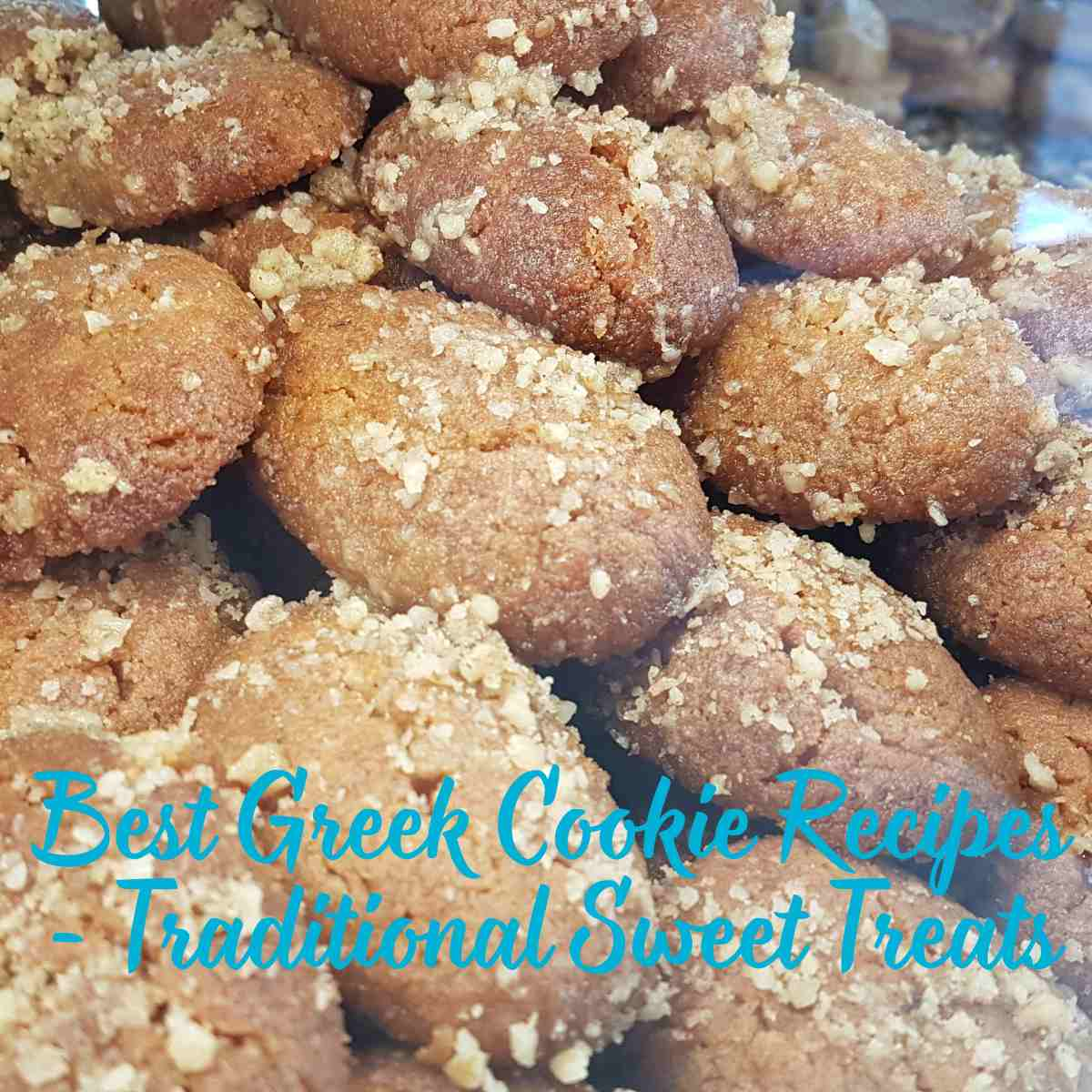 Backstory and Origin of the Greek Cookies
The Greek cookie also known by the name of Kourabiedes is a truly wonderful almond cookie that is inherent to the region of Greece, Cyprus, and Greek communities in Anatolia, as well as across the Greek diaspora. You shall find a lot of resemblance between the Kourabiedes and the European shortbread cookies.
Initially, the cookie was made with flour and sheep butter around the 7th century in Persia! This was also the birthplace of sugar if you are aware of it. Hence you can realize how old these cookies from Greece turn out to be. Later on, Korabies became famous in the Balkan and the Turkey region where they are mostly found today.
However, if you are wondering what is the meaning of the word korabies then we must say that it is rather an interesting term. It derives its name from the Turkish kurabiye or the Arabic qurabiya and actually means double-bake. The fact that they are double-baked is an indication that it shares close relations with cookies from the European world.
Hence the kurabies are more or less similar in composition and curation to the shortbread. The ratio of ingredients is also similar. This includes one part sugar, two parts butter, and three parts flour. Fresh sheep butter and almond are required for making kurabies without which you cannot experience the real flavors of kurabies. In those days, kurabies were made during weddings and baptisms! They were the sign of joy and magnificence in every household. Often housewives would engage in baking these cookies as some festival would show up. Later on, they also made their place on the Christmas treat table and other joyous events as well.
Tips for baking your cookies right
1. Let's begin with all ingredients that must be present at room temperature:
This is something very obvious and most of us who are not new to the realm of baking are aware of this rule. However, for beginners who are prone to make the most basic mistake, here is something for you. Whenever you add something to your mixing bowl, make sure that every ingredient is present at room temperature. That is something highly essential for the dough to form well and for cookies to acquire their texture, shape, and flavor. Let's talk about it in a little more detail.
Eggs- as we all know, eggs are an integral portion of baking your cookies right? They make sure that the cookies are fluffy and raised well! In a few words, we can say that eggs are the levitating agent in cookie dough. However, if you do not allow them to settle at room temperature before you bake the cookies, the cookies will simply fail to rise. That being said, did you forget to bring them out of the refrigerator on time? Not to worry! You can still place these eggs in a bowl filled with lukewarm water for a couple of minutes and that shall help the cold eggs to finally reach room temperature.
Butter- bakers are always prescribed against using cold butter for making cookies! This sort of cold and chunky butter cannot be blended well and as a result, you can't accomplish the project of creaming your butter satisfactorily. Hence you should bring out the cubes of butter for at least one hour before you begin mixing the ingredients.
2. Creaming the butter:
Well now that we have already begun to speak about butter before we forget, let's get done with creaming the butter! If you are wondering what that exactly means, it is the process of slowly whisking butter with sugar to trap air inside! These air bubbles help the cookies to rise. What you might often skip ad an unimportant step is indeed a very valuable process at the beginning of baking the cookies. So as an experienced baker would suggest, never skip the job of creaming if you are willing to bake cookies this season. After all the process is pretty simple and all you need to do is whisk the butter and make its texture creamy but not too runny either.
3. Do not over-mix the ingredients -
As simple as this sounds and seems it isn't! Determining which is the right time to stop blending anymore can be a tricky job even for the experts. If you leave your cookie dough undermixed then that will render it with a lumpy texture while on the other hand, if you over-mix, the dough will be too runny making it difficult to acquire the shape of cookies. So next time, you are making cookies, make sure you blend only until the mixture is smooth but do not overdo the job.
4. Cool the dough before you bake-
Often you must have noticed that the cookies might begin to spread on the baking tray the moment you form the shapes on the plate! That is something detrimental to the cookies as they can fail to rise or remain soggy after baking. What can you do to prevent excess spreading then? Well, it is pretty simple, all you need to do is place the dough inside the refrigerator and allow it to cool down for an hour. During this time the dough acquires a tough texture and becomes firm. This is what you need to prevent spreading.
However, what if your cookies do not spread at all? Well, not spreading at all can be a great problem as well! Then your cookies will turn chewy and hard. So to solve your situation you need to bring out the baking tray once a while from the oven while baking and beat them against the kitchen counter. So in conclusion, we can say that over-spreading and under-spreading of the cookie dough are both not desirable in the case of ideal cookie baking! So take the measures accordingly.
Let's learn about some wonderful Greek cookie recipes now!
Wonderful Greek cookie recipes to indulge in this season
The traditional Greek Christmas cookies are scrumptious and packed with a great sweet essence. You will definitely fall in love with the combination of walnut and honey which is presented by this dish.
Smooth, flavorful, and savory, the Greek butter cookies are exactly what you need as a treat! Wonderful and packed with great gooey essence, the idea is brilliant for beginners who are learning about baking cookies for the first time. The recipe makes the task so easy.
If you are in the mood for something luxurious and rich then you should go ahead with the classic Kaurabis! The zesty lemon essence with the wholesomeness of sheep butter is simply outstanding. Shall we try it then?
If you are trying out authentic Greek cookies for the first time then you ought to be smitten by this idea! Drizzled with sugar dust, the cookies resemble the cozy winters. You can prepare them during Christmas and enjoy them with your family sitting cuddled around the Christmas tree and listening to carols.
Delectable and crumbly, here is another Greek cookie that you can indulge in this season! Flavorful and fancy, you will not be smitten in no time.
The twisted Greek olive oil cookies are rich in flavors and packed with wondrous essence! Drizzled with sesame, the recipe is amazing and leaves one with a sheer sense of temptation. Let's give it a try then!
The fascinating and exotic Greek melomakarona is a great choice of cookie which renders one simply speechless! Sweet and savory, the recipe is so easy for one to make. So let's get started with the preps already! The cookies are one of a kind.
Garnished with almonds, the chewy and crumbly cookies are fascinating and packed with wonderful essence. Served with tea during the evening, the recipe is outstanding and even as a beginner, you will not have much trouble getting them done.
Well, with holidays around the corner, cookies are something that will render one with a sense of comfort! If you are looking for a hobby or way to pass your time during the lazy afternoons, go for the thumbprint baklava cookies right away!
Well, Kourambiethes Greek cookies are authentic and a wonderful treat for the season! Fascinating and rich in flavors, the recipe is one of a kind. So let's not waste a single second and get started already with the preps.
If you are fond of pistachio then the Greek pistachio cookies are fabulous and packed with sugar dust and such a delightful treat ever. This is a vegan cookie that renders one simply speechless. So what are you waiting for? Go for it right away!
Soft and chewy, the Greek walnut meringue cookies are wonderful and packed with great flavors. Zestful and crumbly, the recipe for walnut meringue cookies is fabulous and one of a kind. Shall we try it then?
The rich and luxurious chocolate cookies are drizzled with honey and ultimate sweetness. Topped with nut crumbles, the recipe is one of a kind. Prepared with semolina flour, the recipe is one of a kind. Shall we try it out?
The delectable and cozy Greek olive oil cookies taste so magnificent! Gorgeous and gooey, the recipe is one of its kind. Authentic and fancy, the recipe will leave you completely smitten. So let's not waste a single second and get started with baking them already!
Delectable and fancy, the chocolate-filled Greek cookies are fascinating and a great source of pleasure for the taste buds. Packed with great flavors, the traditional cookies are exactly what you need to keep yourself satiated.
The twisted chocolate and vanilla cookies are a treat to the taste buds. And not only that! An appealing sight for the taste buds as well. If you haven't tried them out yet, then you should definitely do it now!
The chewy and nutty walnut cookies are fantastic and another brilliant idea to indulge in this season! The mild meringue essence is delightful and you will find it so hard to resist yourself. Go for them already!
Well, if you are looking for a gluten-free option then you must go ahead with the almond cookies! They are indeed the best! Rich and fascinating, there is another surprise for you! The almond cookies are also healthy so you do not have to worry about putting on weight.
Well, if you wish to try out something sweet then you must go ahead with the Greek honey cookies that are perfect for the festive season. Wonderful in taste, there is no escape from the hands of these cookies.
We have brought you the recipe for the ultimate Greek butter cookies which are indeed the best! Sprinkled with sugar dust, these batches of cookies are meant for the holidays! Make sure you give it a try this season.
Frequently asked questions associated with making Greek cookies
1. What is the history of making Greek cookies?
Greek cookies date back in time about 1200 BC. Standard flour, butter, and honey were used to produce the Greek cookies. Sugar and strong seasonings were added to the cookies as well.
2. What is the origin of Kourabiedes?
Cookies like kourabiedes originated in Turkey and butter biscuits with some almonds in them.
3. How can you make your cookies fluffy and tender?
To make the cookies fluffy and tender, you need to add some eggs and butter to the cookie dough! Creaming the butter is essential to make the cookies flaky and fluffy! On the other hand, you need eggs to ensure that the cookies are light and chewy!
4. How can you prevent your cookies from spreading on the baking tray?
Cookies can be prevented from spreading on the tray with the aid of placing the dough inside the refrigerator. This needs about one hour for the dough to become firm and tight and then you can use the dough for baking again.
5. At what temperature should you allow the cookies to bake?
Cookies should be baked at 325°F for turning the cookies crisp and chewy! However, the temperature can vary between 325-375°F.
6. What are some of the toppings that you can use for making cookies?
Toppings like chocolate chips, chunky chocolate cubes, and shavings can be drizzled along with colorful sprinkles.
7. How long should you keep the substances outside before mixing them?
All the ingredients should be brought out of the refrigerator about an hour before you mix all the ingredients well. Once they come at room temperature, you can blend them together.
Bottom Line:
In conclusion, there's nothing quite like the taste of a traditional Greek cookie. From kourabiedes to melomakarona, each recipe is unique and delicious in its own way. Baking these cookies is more than just a recipe - it's a way to keep the traditions of Greece alive. As the Greek saying goes, 'O kairos einai kalos' - the time is ripe to bake a batch of your favorite Greek cookie. Give it a try today and share the love with your friends and family. It's an experience you won't soon forget.
Through this article, we've showcased the best Greek cookie recipes, proving that traditional Greek desserts are still relevant and delicious. As the history and culture of Greece continue to evolve, let's keep these beloved recipes alive and savor all of the sweetness they bring.