Cookies are a weak point for everyone and as we know there are not many in this world who can actually resist the temptations of indulging in a cookie box! Look how the name of the cookies brought water to your mouth instantly! We do not need to look at your face to tell that your eyes are already glistening enough! That's the impact cookies have on a person! Yet we are also bound by our diet which prevents us from indulging in these gorgeous and yummy treats!
Tell us, how many times have you walked past a confectionary or cookie shop barely surviving the urge to purchase cookies? However, you do not have to suffer anymore! Here, have an instant keto-friendly rescue to your problem! Do you want to learn how to make keto peanut butter cookies? Then read on.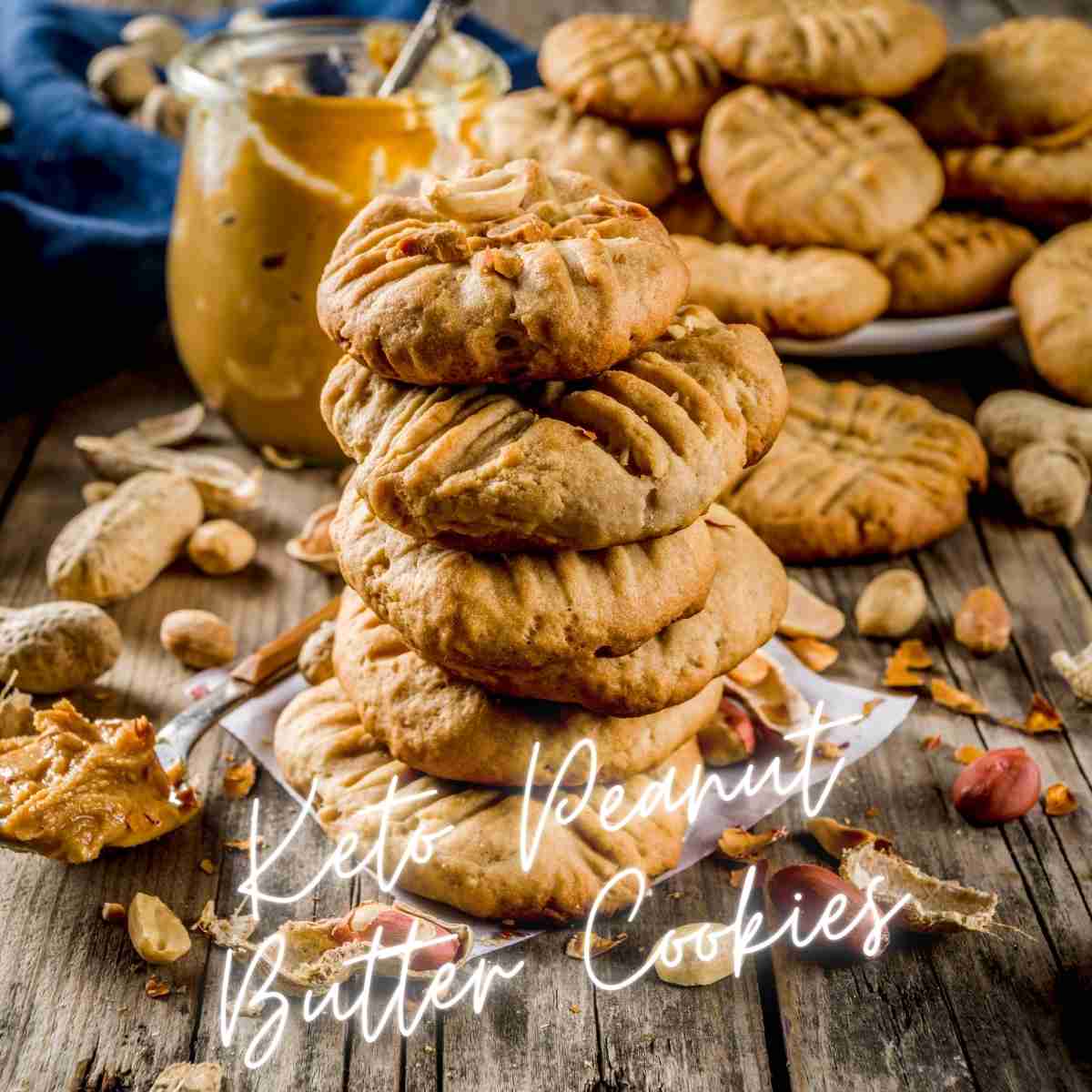 What do you exactly mean by the term, "keto"?
This is indeed a great question to keep in your mind! We have heard this term literally floating everywhere in the air from keto-friendly chicken to meals and so on, the list goes simply endless! Now, if your doctor has suggested you recently go all keto but you were too shy to inquire then here is what it meant. Keto is a short form of the ketogenic diet in which you eat fewer carbohydrates, more fats, and lots of protein. You have to be careful on a keto diet to avoid all sorts of carbs and starchy food even if they are fruits and veggies.
If you are worried that you now have to give up totally on your cookies then we are here with good news!
How to look for gorgeous ketogenic cookies?
The first thing that you should be careful about is that sugar is a big no-no for ketosis! It is a simple form of carbohydrate and intaking sugar in anything that you eat is not going to let you follow a strict ketogenic diet.
So how to make cookies without sugar! No, you do not have to go through that torture anymore! A sugar substitute like stevia is a great way to compensate for the absence of sugar in the cookie dough.
Stevia is calorie-free and also a plant derivative. These can be used as a sweetening agent when you are making desserts like cookies during the holidays.
In fact, you will be intrigued to know that cookies made with stevia taste even more amazing and pleasant than artificial sweeteners.
Find out grain-free flour
In the next step, you have to look for grain-free flour! Flour from oats, wheat, and rice is a complete no-no when you are adhering to a keto diet! So, you definitely have to look for some other alternatives to such an option because cookies cannot be prepared without flour. Almond and coconut flour are useful in such a case.
They are also successful in giving a pleasant nutty essence to the cookies! However, these kinds of flour are slightly rarer than the standard wheat-based flour and you might find it tough to get them in local stores! So be ready to head to the supermarket.
What about eggs?
Thank God! Eggs are keto-friendly or we would have to look for another substitute here. Yes, eggs are both high-fat and protein but no carbohydrates at all! And as we cookies just can't be made without eggs. The egg yolk is effective in retaining the moisture of the dough and keeping them soft and chewy! The absence of eggs will make them completely taste like shortbread or biscotti.
Can we include butter in it?
Butter simply revolutionized the cookie industry! Thus you can quite understand that cookies without butter are a lost game. Saturated fat is a greater part of the keto-friendly diet and as a result, you can add butter to your cookies which has similar fat properties. After all, we are talking about making peanut butter cookies, do you think we could afford to miss out on butter?
Let us learn about some of the velvety and yummy cookie recipes with peanut butter!
Make tasty peanut butter cookies for a treat this season
Chewy, soft and ultra-smooth, we have the peanut butter cookie recipe that you should make in batches as the kids will simply not be happy with just two or three!
Don't be surprised if the cookie jar is empty in a day!
2. Keto peanut butter brownie
You have to try out this keto peanut butter brownie which is flooded with a gooey butter filling in the center and rich cocoa essence and texture outside.
It is indeed delightful in every bite.
Ah, you are in the flour section of the supermarket and wondering what to do in absence of wheat flour!
A keto peanut butter cookie is perfectly created well with this recipe of almond flour cookies dripping with the taste of peanut butter!
Enriched by the flavor of nuts, we have scrumptious peanut butter cookies resembling a biscuit sandwich!
The nutty biscuit and the gooey peanut butter cream in the center render you powerless from stopping yourself as you eat more and more.
That's right! If you hardly have any stock in the pantry and yet craving some cookies then try out a recipe for three-ingredient peanut butter cookies which are absolutely so easy to make!
And for this, you do not even have to get into your pants and run to the store for ingredients.
6. Keto no-bake chocolate peanut butter cookies
Even the name of the cookies makes it difficult for you to control your cravings.
Imagine what everyone will do when you serve them during the holidays!
The rich chocolate peanut butter cookies do not even require baking!
The combination of chocolate and peanut butter always rules the cookie world!
Why do you have to rush to the stores for cookies when you can make them during the holidays that too keto-friendly ones?
8. Keto peanut butter cookies
Here is another delicious recipe for peanut butter cookies that if you taste it once you will make them again and again throughout the holidays!
Garnished with chocolate chips, they are indeed delightful in every bite. So shall we try them out then?
Chewy and soft, the iced peanut butter bars are another fantastic recipe that you can make with ease even as a beginner! And guess what?
They are low on carbs so you do not have to worry about your ketogenic diet! Isn't it a lovely idea?
Do not be surprised if you find that all the cookie monsters in the house have finished everything in the cookie jar and the crumbs are found along the bedside of your kids!
Not even adults can resist indulging in peanut butter cheese cream cookies, how can you expect it from the kids?
Can you just spare five minutes from your busy schedule? Well, that is exactly how much time you need to make these tender peanut butter bars!
And three ingredients! That's all to get such tasty treats in return.
12. Peanut butter sandwich cookies
The creamy peanut butter layer sandwiched between the nutty cookies makes them so mouth-watering! Enjoy this keto treat with a cup of tea in the evening.
Even before the cookies are ready, your heart will call out for them! And the fragrance of the peanut butter cookies will simply make it impossible for you to resist!
And just four ingredients are the criteria for this rewarding cookie.
14. Classic peanut butter cookies
Sprinkled with coconut shavings, the crumbly and crispy peanut butter cookies are your healthy companion this season!
But don't assume that because they are healthy they taste boring!
Even kids love the taste of the classic peanut butter cookies so imagine how yummy they are!
15. Peanut butter brownies
Even the little ones approve of the chewy and soft peanut butter brownies!
You serve it in the morning with breakfast as a tasty treat or as an after-dinner indulgence too.
16. Keto peanut butter chocolate chip cookies
There is peanut butter, there are chocolate chips, what else do you need for a healthy and delicious surprise for your partner?
Serve them this healthy treat with beverages after they come home from work and see how delighted they shall be!
You deserve to entertain a source of self-indulgence and the peanut butter oatmeal cookies with chocolate chips are exactly that!
Delicious and crunchy, make lots so you do not run out of them in a day or two!
Fretting about making cookies for the first time in your life? Then you have to check out this recipe for keto peanut cookies which are super easy and quick!
Find out for yourself this time.
19. Keto chocolate peanut butter cookies
There is a layer of liquid peanut butter in the center followed by the crummy crust dipped altogether in chocolate and garnished with peanut butter frosting!
Is there anything else we need to say to convince you to make it already?
20. Keto peanut butter and jam thumbprints
Here is rather a new recipe that you should try out! The flavourful and sweet keto peanut butter and jam thumbprint is the perfect recipe for you to make this season!
Kids will absolutely love these cookies and leave none for the adults!
21. Keto fudgy almond and peanut butter cookies
Keto fudgy cookies exactly look like something that should give you guilt but it doesn't!
If that is what it is, make batches of cookies and devour them as much as you want!
22. Low-carb peanut butter chocolate chip cookies
Do not be surprised if there is a competition between the kids and the adults in the house to steal the entire jar or eat the last piece!
That's how amazing these peanut butter cookies are sprinkled with chocolate chips.
Here comes another peanut butter cookie recipe that you can try out given the quick steps and the easy method of baking.
There is a reason why they are called magical cookies!
These are prepared in the blink of an eye and disappear from the plate in a jiffy.
We simply can't get over this recipe of chocolate-dipped keto peanut butter cookies which melts in the mouth and renders one with the experience of divine flavors! If your diet is too boring for the holidays then go ahead with this cookie recipe.
Keto peanut butter whoopie pies are the perfect treat for kids as well as adults!
Make it with tea and see how even the guests will find your cookie-baking skills admirable!
Never tried peanut butter cookies before? Well, here is something that you will find easy to emulate as a beginner in baking!
The cookie bars are soft and chewy and absolutely there is nothing that can go wrong!
The chocolate chips melt to give a gooey flavor as well.
We have brought you exclusive peanut butter cookies that are perfect if you are running out of keto-friendly dessert ideas.
Topped with hazelnut crumbs, this recipe is outstanding.
28. Low-carb peanut butter cookies
It is understandable that ever since you got on a ketogenic diet you have been missing cookies so much!
Not anymore with the low-carb peanut butter cookies right here to your rescue. Remember to try them out this weekend.
You have to try out the delicious recipe for peanut butter cookies! But the surprise does not end there!
Explore the flavors of the chocolate-dipped crust which oozes with icing in every bite.
Shall we try it out then?
You will thank us later for this idea of magic cookies and that's guaranteed! Find out for yourself what magic awaits you as you bite into the gooey and smooth keto peanut butter cookies. So wait no more and start making them already!
What is the need for keto cookies?
You are trying to achieve the state of ketosis and if at this point you indulge in a non-ketogenic cookie then the whole plan and effort go for a toss. As you enter this phase, the body stops burning carbohydrates and instead makes use of fat. This is indeed a significant way to lose weight but at the same time in a fun way! You are not directly giving up on fats so you can continue to enjoy cookies and desserts but instead, you are burning that fat as well in absence of carbohydrates in your body.
Should you bake your keto cookies?
Even if you are not a fan of cooking or do not frequent your kitchen all the time, making keto cookies is not hard at all! When you are on a diet you should cook or bake at home so you can monitor the scratch ingredients as well. Hence bake your cookies by yourself!
Bottom Line- We have supplied you with so many fantastic recipes for keto peanut butter cookies! Are you ready to put on your chef's hat and get the baking gloves to get started with them?