We all love chicken! It is perhaps impossible for us to keep a count of the number of chicken recipes that are discovered so far! No matter which cuisine, country, or part of the world, there is no dish that you can absolutely loathe when it comes to chicken! This is because chicken is the best pal you have got! But if you wish to get the chicken dinner recipes right then you have to go through this column and learn to make the best! Shall we read on then?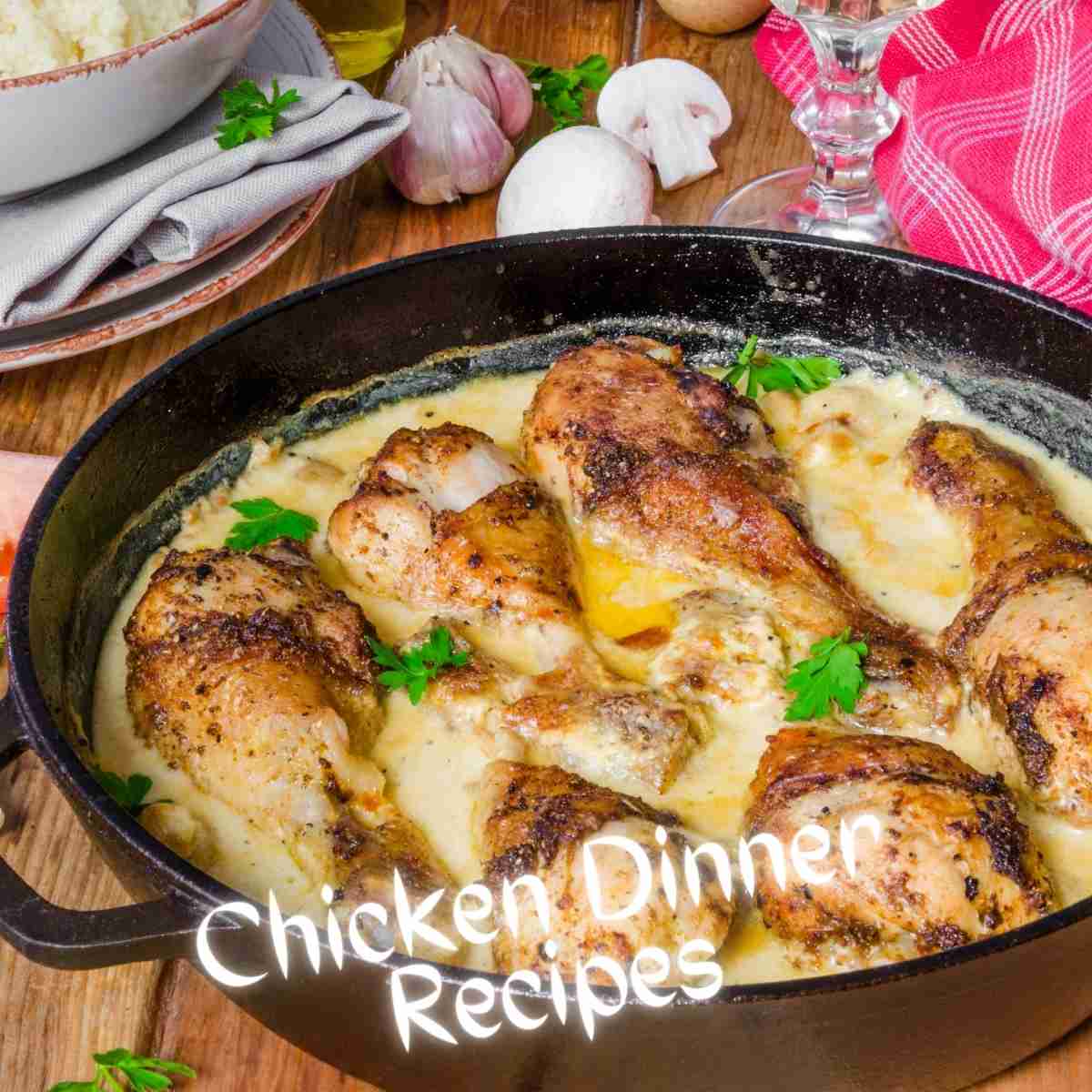 Tips to follow so you can perfect your chicken dinner recipes
1. Always choose good quality meat-
You have to make sure that the meat you are buying is good quality flesh! Otherwise from the very start, the recipe is simply doomed. Slow-growing chicken is the best option when you wish to cook tender quality meat!
Slow-growing chicken can be costlier than the other standard meat but when you want to make the best you also have to invest in the best!
2. Temperature is what matters in the case of chicken and not time-
No matter how much you are spending in making the recipe, if you haven't maintained the ideal temperature then your meat is quite doomed! It is to be noted that 165°F is recorded as the ideal temperature at which the meat is cooked perfectly well! So next time you have cut into the slice of meat and it seems too pink or either too overcooked and dry, know that you have probably messed up with the temperature. Avoid such bummers by being careful about the temperature you cook the flesh.
3. Try to avoid frozen meat-
We would recommend you avoid frozen meat at all times! These aren't great for flavor as well as your health! While the frozen meat is thawed most of its taste ingredients and components are lost! Of course, you can save up by heading to the frozen section but we would suggest you spend a couple of pennies more and get the fresh flesh from the store. After all, at the end of the day, we all crave something nice and warm on the table, isn't it?
4. Never crowd the pan while you are cooking-
If you have a couple of guests coming over to your place and you have to cook a greater quantity of meat then we would suggest you use a bigger pan! Crowding everything in a small pan may leave the dish either uncooked or the spices will not blend well! Leave enough space on the pan so you can turn and toss the meat slabs properly and allow uniform cooking.
5. Boneless, skinless breasts make not be the only option -
Always going boneless should not be an option! The best way to experience taste is through skin-on and bone-in-kind! The skin allows the meat to imbibe the flavors well and the bones give a meaty taste to the dish! Later if you wish, you may remove the skin before serving! Without bones, the meat can get dry and chewy which we are sure you wouldn't like to have!
6. Minimize the flip-
By this, we mean that too much flipping is also not a great idea! Frequently changing the sides will take you longer for the meat to cook as one surface will be exposed to oil and the heated pan for a short while! Instead, allow the meat to rest gently on the oil and once only it sizzles you should flip it over.
7. Skipping olive oil is wiser-
The smoke point for olive oil is very low! This is the temperature at which any oil will smoke and burn off! So you should avoid olive oil when cooking chicken because olive oil has got this smoke point under the bars.
Coconut and sunflower oil are some of the common options when you are cooking meat like chicken!
Now let us focus on some of the sizzling and hot chicken recipes that you can try out this season!
Fantastic chicken dinner recipes to try out for your meals
If you are in the mood for something crunchy as well as meaty then you have to try the baked crunchy hot chicken which is sweet and spicy at the same time.
Plus, the crunchy coating outside is also a bonus to meat lovers.
We can guarantee you that this is one of the unique chicken recipes that you will truly love!
Cooked with just a handful of ingredients, the creamy indulgence with succulent meat never failed to receive positive reviews.
The BBQ chicken skewer salad is here to change your misconception about boring salads!
Tossed with creamy and succulent chicken breast shred, dill, and romaine lettuce, enjoy this refreshing recipe to begin your day on a fresh note.
So shall we make it then?
Tell us later how the entire bowl was finished in a jiffy as you serve your family with the creamy tomato chicken skillet!
If you are running late to arrange a dinner, this is the best idea with all the ingredients tossed in the skillet!
The succulent chicken thighs will make it very hard to wait till dinner time!
Do not be surprised if you find the little ones roaming around the kitchen ahead of dinner time.
Served with creamy spinach dip, you should give it a try!
6. Creamy Tuscan chicken
Here is the ultimate combination of sun-dried tomatoes and garlic cooked with tender meat!
What a magnificent recipe marinated in cream and assorted spices!
The sizzling chicken piccata with parsley and parmesan is such an exotic recipe for you to check out!
Rich and flavourful, you will surely love the taste of lemon sauce as well! Serve it surely for dinner tonight.
Perfect to serve when the guests are coming over or you are planning a romantic date with your partner this evening!
Indulge in the unique flavors of the crispy ramen chicken served with refreshing greens.
The Asian flavors of the chicken tikka masala are fantastic and flooded with the rich essence of spices.
You can enjoy the creamy onion gravy with a bowl of steamed rice.
The perfect way to end your day on a wholesome note is with a family dinner.
10. Greek inspired Lemon and feta chicken
Anything that has lemon, garlic, herb, and feta has to be good!
So do not waste a minute and check out the lemon and feta chicken recipe which you can try out this weekend.
The classic black chicken pepper is a recipe that all of us have tried before but will not give up on the scope to relish again!
Tossed in soy sauce and served with veggies, the flavor of the shredded black pepper chicken is simply amazing!
12. Marry Me Chicken
Don't blame us if you actually end up marrying this chicken recipe!
You are certainly going to find this recipe a great people-pleaser with everyone at the family dinner happy and satisfied with your creation.
13. Garlic lemon chicken thighs
Who would want to miss out on something as divine as the recipe for garlic lemon chicken thighs?
Looking for something new and yet comforting to the taste buds?
Try out this dish for sure!
14. Tuscan chicken with orzo skillet
You have to try out this amazing recipe for Tuscan chicken during the weeknight dinners!
The combination of garlic, tomato, and parmesan renders the dish with an extraordinary essence that shall be a wonderful treat to the taste buds.
15. Creamy coconut chicken
So you like coconut and you also like chicken! Here is a way to combine both in the fantastic recipe for creamy coconut chicken!
Enjoy the smooth curry with a bowl of rice. So what are you waiting for? Prepare it today!
So you have added too much sriracha and it is spicy now! No issues, balance it with the sweet essence of honey. That is exactly how we can describe the honey sriracha chicken recipe.
This is baked so you do not have to worry about the oil content.
17. Skillet Cauliflower Gnocchi with sausage and spinach
We have got all your favorites combined in a single dish and prepared chicken sausage in creamy spinach gravy!
Try it out with steamed herbs and rice as the main course.
18. Garlic tomato chicken with mozzarella
You can enjoy the sumptuous garlic tomato chicken with mozzarella alone or with noodles!
The grated cheese shredded over the platter gives it a wonderful taste as well as a gorgeous look that will bring water to your mouth.
19. Creamy parmesan lemon chicken
There is no need for you to resist yourself anymore with the creamy parmesan chicken recipe which is right here for you!
Served with a dash of lemon juice, you can enjoy parmesan chicken as a yummy appetizer for dinner.
20. Moroccan chicken and rice
Rest assured that everyone in your house will not even leave a single drop of food on their plate as you serve Moroccan chicken and rice for dinner tonight.
We can vouch for the extraordinary taste of this dish prepared with Greek yogurt.
21. One pan of balsamic chicken
You have to give a try to the one pan balsamic chicken for sure! There are grape tomatoes, Dijon mustard, and honey to tempt your taste buds.
So what are you waiting for?
The creamy coconut chicken will bring water to your mouth as you bite into the succulent meat marinated in velvety smooth gravy. The best part is the recipe is too easy and gets cooked in just half an hour.
Let us help you to make the ravishing chicken pot pie with the recipe that is right here.
The crunchy outside and the soft meaty flavor inside are a treat to the eyes and the stomach. Shall we try making it then?
24. Mexican chicken with cheese sauce
If you like spices in your food then the Mexican chicken with paprika was meant for you! Dive into the world of cheddar cheese which marinated the meat and gives it a detectable flavor!
Don't just believe us, try it out on your own!
25. Chicken cacciatore
If you simply cannot come up with something innovative then you should give a try to the delicious and all-time classic chicken cacciatore.
The chicken and mushroom duo always rocks the taste palette.
Prepared with just a couple of ingredients, you do not even have to rush to the store!
All you require is some cheese, lemon, and cilantro to prepare the dish and serve it hot with a plate of steamed rice.
Make the boring veggies fun with this exciting rule of sausage and vegetables! Being a one-skillet recipe you do not even have to be an expert cook!
Toss all the ingredients in the pan and wait for the dish to get cooked.
Enjoy your meal hot and fresh afterward!
28. Lemon garlic butter chicken with Brussels sprouts
Rushing through meals and super busy during the month's end? Prepare the lemon garlic butter chicken to serve as a side and enjoy with plain herbed rice!
Easy to cook and it also has Brussels sprouts to enrich your meal with nutrients.
29. Easy creamy chicken skillet
There is nothing that can beat the combination of cream and chicken! If you don't believe us then make this recipe in the creamy chicken skillet and find out for yourself!
Explore the recipe of sweet and sour maple chicken tossed in sumptuous gravy and served with sweet potatoes. You do not even need a side dish, just a couple of bread to accompany this dish!
If you have a family gathering next weekend make sure you have the baked Tuscan chicken casserole served on the table. Gooey and thick, this dish is a sheer delight in every bite!
Just spare thirty minutes before dinner to prepare the creamy pesto chicken! A luxurious and cozy chicken curry tossed in spices and served with rice, bread, or noodles whichever you prefer to enjoy with the succulent meat on the sides.
The honey dijon chicken is a complete platter served with veggies and greens on the side! A little dollop of mashed potatoes and rich gravy is an amazing combination!
Surprise your partner with today's dinner idea! Make it quickly!
Bottom Line
We could go on for eternity about the chicken recipes for dinner as there is no end to chicken dishes in the world. However, we guess it is getting late and you have to select a dish and prepare one before dinnertime! So go ahead and enjoy your cooking session.