We all more or less know how to make a smoothie! It is all the fruits and veggies added to a mixer with a base and then blended well! That is what a smoothie is!
However, here we are talking about smoothies which must be healthy and also not laden with sugar! If you are cutting out on carbs or are diabetic, you need to remove the sugar content of the smoothie! But will it still taste good? Let's find out what to do!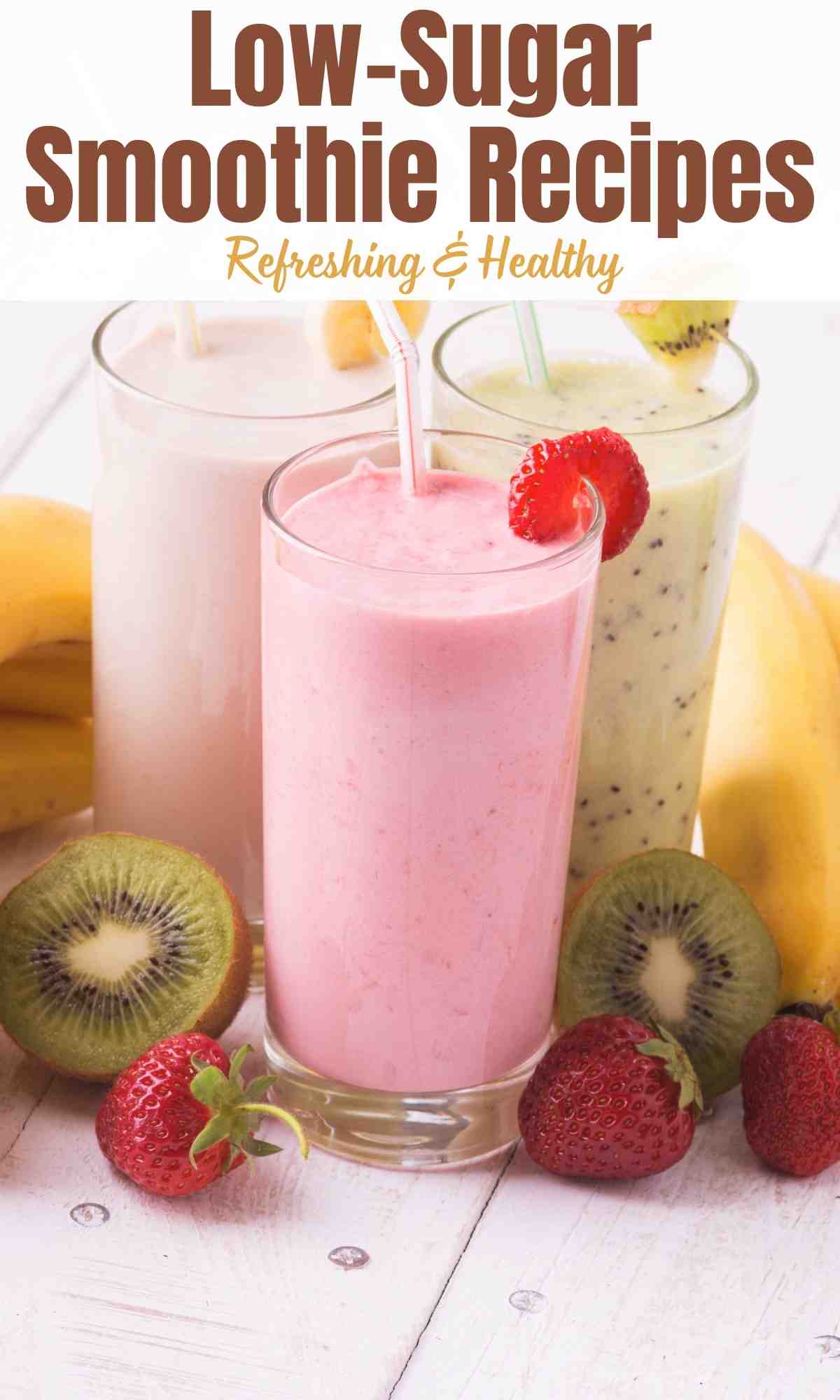 Table of Contents
What is the base for a low-sugar smoothie?
To make your smoothie successful you need a proper base! This gives an appropriate texture to the smoothie and makes it thick! After all, the purpose of having a smoothie is that it fills you up between meals.
For instance, if you add two frozen bananas to your smoothie, it will make your smoothie tasty and thick but it will also add a whopping 30 grams of sugar to your drink! At least, that is something you wish to avoid, don't you? Instead, why not opt for avocado as your texture base? It is healthy, devoid of much sugar, and gives a frothy texture to your drink as a base.
High in fiber, potassium, and healthy fats, avocado is the best thing to opt for. If you enjoy the banana flavour then it is best you go ahead with half but not more than that. Sometimes half a pear with ice cubes is also a great choice. Try and avoid additives like frozen yoghurt or ice cream in your smoothie.
What are the things that you should add to your low-sugar smoothie?
Now, what are the common ingredients that you can include in your low-sugar smoothie? The options are simply endless but we have tried to highlight the main ones for you. Green veggies and leaves like kale, collard, and spinach are some of the most important ingredients when it comes to smoothies. These are also mostly devoid of sugar and rich in fiber! You will also be satisfied to find out that the greens are laden with antioxidants essential for our body.
More collections: Flounder Recipes, Thai Shrimp Recipes, Sea Bass Recipes, Trout Recipes, Snapper Recipes, Vitamix Smoothie Recipes, Anti-Inflammatory Smoothies, Flaxseed Smoothie Recipes, Smoothie Recipes For Kids, Vegetable Smoothie Recipes
What are the items that you should avoid adding to your low-sugar smoothie?
Now that we are done with the discussion about the items that you must add to your healthy smoothie, let's quickly find out the items you need to avoid. Fruits are essential for making your smoothie but we must not forget that fruits are rich in sugar and that is something we are avoiding!
Most of the cafes and shops will make you so many varieties of fruit smoother but are they really good for your diet? Hence you must always make these smoothies at home and use fruits in moderation like frozen berries, bananas, mangoes, and so on!
What to do with milk in low-sugar smoothies?
Unsweetened and dairy milk is what you need when it comes to preparing a low-sugar smoothie! There are several non-dairy and sugar-free alternatives that you will come across! These include almond milk, coconut milk, and so on. The plain or original milk which might taste basic and unsweetened might also have some sugar in it so do not be fooled. You can opt for green tea with just water in case you do not get the right milk from the store.
So that is more or less what you need to know about making low-sugar smoothies at home! Now, we are going to share with you some wonderful recipes as well.
Enjoy Healthy and Delicious Low-Sugar Smoothies
Why one when you can indulge in so many options? Each one of them is low on carbs and tastes so good!
Make each of them and find out which is your favorite.
Why worry about the total sugar intake when we have these wonderful smoothies waiting just for you right here?
Creamy and packed with nutrients, you are definitely going to enjoy this one so much.
Being low on carbs and sugar-free you can make this smoothie as many times as you want! The keto blueberry smoothie is delicious and tastes brilliant!
Delicious and luxurious, you ought to try it out for sure. So what are you waiting for?
Right before you begin your busy day, we would like to introduce you to the best smoothie in the world!
If you are on a low-carb diet, this recipe is meant for you. Shall we then?
Have you tried the oatmeal breakfast smoothie before? If not then here is something that you will be tempted with!
Healthy and creamy, this is exactly what you need in case your blood sugar is peaking high. Let's go!
Make your pumpkin pie smoothie for breakfast or anytime you are craving something nice and healthy in the middle of the day.
When the season of falls is knocking at the door, there is nothing better than a pumpkin drink to keep you company.
Yup, all you need are three ingredients to prepare this wonderful smoothie recipe! That is right!
Ready with the pretty basics, the classic keto smoothie is vibrant and low on carbs too! So what are you waiting for?
If you want something nice and creamy but in a few minutes then you have to try out this amazing smoothie bowl right away.
Topped with berries, nuts, and seeds, the smoothie bowl is super easy to make and perfect for a low-sugar indulgence.
This keto smoothie is fascinating and tastes so brilliant! Delectable, juicy, and packed with all the right nutrients, you are surely going to enjoy this one so much.
Being a low-sugar and low-fat drink, this is the best.
Are you looking for something healthy and nice post-workout? Well, then you have to go ahead with the lovely strawberry oatmeal smoothie right away.
Gorgeous and creamy, this one here is an absolute treat for the taste buds. Thank us later for the idea.
Ah, the lovely combination of peanut butter with oatmeal turns out to be an incredible creation indeed!
So if you are looking for something healthy and low on sugar then you have to try out this gorgeous oatmeal smoothie right away.
When the ingredients are used in the right proportion, these always taste so good! We have this wonderful peanut butter banana smoothie that you must try out for sure.
Creamy, luxurious, and simply the best to be honest.
The tropical flavors of this smoothie are what makes them so good and gorgeous!
Enjoy this unique taste combined with all the essential nutrients! Delectable and fascinating, you shall be smitten with every sip! Don't forget to try it out soon.
Creamy, comforting, and cozy, the chocolate banana smoothie is a brilliant choice.
If you are sticking to a low-sugar diet then this smoothie is perfect to replenish you with the right nutrients and the sense of bliss for the taste buds.
Of course, we are aware of the benefits of turmeric! Here is the creamy pineapple smoothie combined with some turmeric to create this extraordinary treat.
A dash of ginger and your breakfast is ready in case you are running late.
Well if you haven't tried the almond butter shake yet then all we can say is that you are truly missing out on something gorgeous!
Replace your synthetic juices with glasses of smoothie and see the difference in a few days.
While you rush to work in the morning, it can get hard to prepare an elaborate dish! Hence comes into action a glass of smoothie which is filling and yummy at the same time.
Here we have the amazing strawberry banana and flax smoothie for you.
Make it healthy and make it yummy with the gorgeous blueberry flaxseed smoothie recipe that we have for you!
Packed with the essentials, you will be compelled to make it again and again. Go for it already!
Turn your boring low-carb diet into something interesting and delicious with a glass of simple green smoothie.
Ready in a jiffy, you are definitely going to enjoy this one so much. So what are you waiting for? Let's go.
Well if you haven't made a peach pineapple smoothie before then trust us you will drool at the very first sip.
No sugar is added to the drink hence you do not have to worry about your carb content.