Cookies give us joy and a sense of relaxation during the holidays! This process is indeed so therapeutic that you can spend your time creating wonderful sweet treats! Spring is the time of the year when we all finally catch our breath and recline after the long-drawn winters. It brings the news of the arrival of summer and marks the period of blossoms. Now if you are looking for anything nice and flaky to prepare for the spring season then here are some spring cookies recipes for you to relish.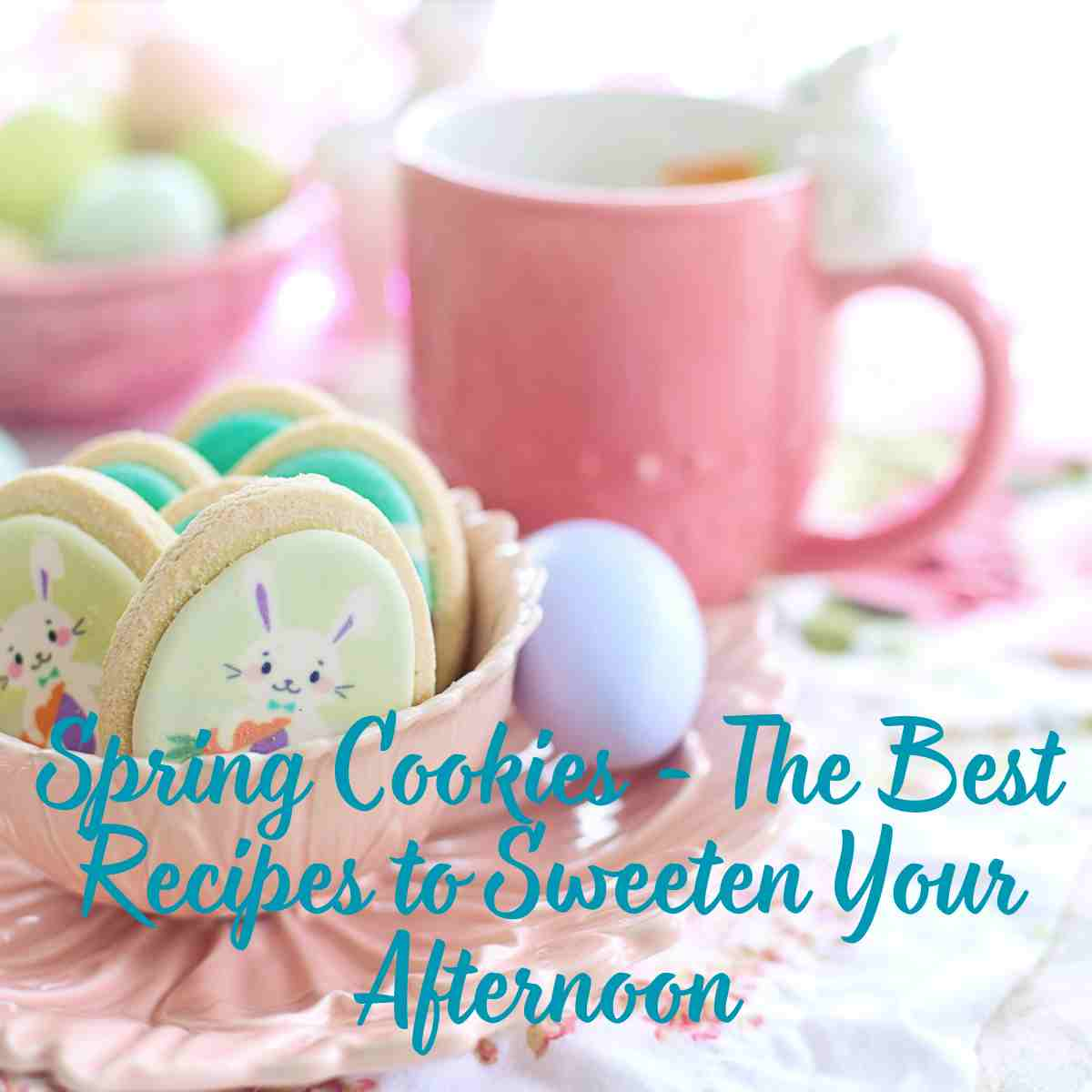 Tips for making spring cookies for the season
1. Soften the butter at room temperature - when you want your cookies to turn out soft and flaky then the most important thing to do is use butter which is present at room temperature! This is because the tender butter when whisked and creamed will trap the air bubbles. These will in turn help your cookies to rise. As we all know, it is hard for one to blend a chunky solid butter! However, make sure that it is not too runny then the butter might not be able to trap the air.
2. Let's not forget about the eggs then- as we thought about the butter, it is time to focus on the eggs as well! Eggs are a wonderful levitating agent when added to the cookie mix! So if you want your cookies flaky and fluffy then you must go for eggs also at room temperature. If they are cold then they will simply fail to work! In case you forgot to bring out the eggs on time and they are cold, then you can dip your eggs in a bowl of lukewarm water for about two to three minutes. This is a pro trick if your eggs are still cold.
3. There is no need for you to be shy about adding salt to the cookies- contrary to the fact that salt is only for savory recipes, sweet dishes like cookies are simply incomplete without a dash of salt! You must have tried ice cream in salted caramel flavor or chocolate! You know how wonderful they taste! There is no need for us to explain it to you. So the next time you are making cookies and see a salt container nearby, make sure you try out this tip.
4. Next let's not forget about baking sheets- parchment is good enough and bakers have been using them for so long but when baking sheets are considered, they are an amazing creation indeed! This is to be noted that parchment papers are not completely non-stick and grease-free while, on the other hand, baking sheets are excellent in soaking the excess oil and giving a non-sticky texture to the cookies. There is also another problem that often occurs! Parchment paper might get over while you are baking if you didn't notice and then you have to rush to the stores immediately! But on the other hand, the baking sheet is completely reusable in this matter.
5. More toppings, the better- whether you are adding chocolate chips, syrups, or any other treats, there is always a scope for more and more toppings. In fact, the more you pour the better. For example, you can use chocolate shavings and chunky pieces to adorn the batter well. However, do not load it too much as the real taste of the cookie may get masked by the presence of too many toppings.
6. Prevent your cookies from spreading too much- here is another way to prevent your cookies from already spreading too much! Before you lay them on the baking tray, allow the cookies to chill in the refrigerator for a while. This might take some time! You need to provide about one hour to two to do the job. You will see that the dough has toughened up and your cookies are not spreading on the tray.
7. However not spreading at all, is not good either - if you see that the cookies are not spreading at all then you must try out working on that too! Beating them against the kitchen slab is the most effective method! Take the tray with the cookies and partially through the process of baking, beat them against the slab and that is effective in rendering cookies with an even consistency and also helping them to spread properly. So from here, we can derive the conclusion that you do not need excess spreading but a little is required too! This way the cookies will turn out to become crumbly and tender at the same time. Next time you are baking, keep this pointer in mind and your cookies will definitely acquire the texture you want.
8. It is time for you to experiment with different sorts of dough- no matter which sort of cookies you are baking, the same kind of dough( which is of course, made with multipurpose flour) feels boring. Now you can make your dough and your cookie both healthy and tasteful with the combination of different kinds of flour and combination of them. It not only makes them too tasteful but also very healthy! Imagine making your cookies with almond flour and so on. Experimenting with different kinds and flour is really a good idea and we have taken this into account.
9. Set the timer of the oven right- the time of baking is a major benchmark that one needs to take into account. If you overbake your cookies then you might end up with burnt or brownish versions. Even if you are following the time as it is mentioned in the cookbook, not all the ovens have the same configuration for heating up! Hence you should always set the time to about five minutes less than what is mentioned. Bring them out and if you see that they are still sticky and soggy then you can send them back into the oven for another couple of minutes.
10. What to do if you find it hard to remove the cookies- sometimes it might happen that due to the heat, the base might stick to the tray of the oven. All you need to do is send them back into the oven for another thirty seconds and the job is done. Then you can use a spatula to remove the cookies from the tray and you will see how easy this is to handle.
Now those are more or less what you need to know about making cookies! Here are some spring cookie recipes for you to try out.
Delicious Spring Cookies – Try Our Best Recipes Now!
The wonderful basil lime sugar cookies are exactly what you need to leave one content! With the mild essence of basil combined with the zestful flavors of lime, these sugar cookies are just amazing.
Here is another excellent idea which you must indulge in! Thank us later for this gorgeous idea of freshly baked to make your spring celebrations even more special and lovely in every sense.
Imagine a cheesy cookie and then imagine the zestful and tangy presence of orange in it. Yes, that is exactly what these ricotta cookies are all about. We are sure you will find them super rich and tempting! Make loads of them so they can last you the entire season.
We are in love with the lemon cookies which indeed melt away in your mouth at every bite! So if you are planning to bake something this week, make your spring season spectacular with this idea.
Ah, the orange creamsicle cookies are another exciting recipe that you should definitely try out! Creamy, smooth, and zestful, the recipe is mind-blowing and just the right dose of flavor which you need to feel elated and blissful. Shall we then?
Well, there is nothing that can beat the strawberry lemonade cookies we swear! So if you are in the mood for something rich and smooth then go for this idea right away! The cookies can be served with tea on a pleasant evening.
Yup, the strawberry shortcake cookies are exactly what you need during the wonderful summer afternoons! Well, these are perfect even for beginners as the process of baking them is indeed so simple and hassle-free. Go for it already!
We are talking about the gorgeous lemon and smooth lavender cookies! It is the sight of the cookies that will make you drool and forget about the taste for a while! Even before you grab a bite, you will know that this is exactly what you wanted.
The orange-infused sweet ricotta peach cookies are exactly what you shall need to delight your taste buds! Smooth and enticing, there is no escape from this extraordinary cookie idea that we have for you.
The lemon cookies are refreshing and the subtle lemony hint is simply mind-blowing! So if you are wondering what to make during the lazy afternoons, then get your baking gloves on and give it a try right away! Shall we then?
The mild and delectable coffee sugar cookies are delicious and meant for the coffee-lovers! So we definitely have good news for you. Rich and crumbly, you will not believe how easy it is for bakers to create this recipe. Shall we then?
The lemon blueberry cream cookies are simply one of a kind! So if you are in the mood for something luxurious and light then enjoy the cookies with a refreshing beverage on the sides. You are simply going to find it so hard to resist this one.
The strawberry shortcake cookies are another mind-blowing treat that you must try out this season! Flooded with great flavors, there is no way you can stop yourself after the first bite. So shall we begin already?
Pink lemonade thumbprint cookies are packed with great flavors! Smooth, crumbly, and rich, the thumbprint cookies are indeed the best and deserve all words of praise and appreciation. From kids to adults, no one will be ready to give up on their share.
The lemon bar cookies are an exotic idea and flooded with great taste. Smooth and sweet, this idea will simply blow your mind! It is guaranteed that you will fall in love with the bar cookies at the very first bite.
The rich lemon frosting in the cookies is what will leave you completely tempted. Luxurious and crumbly, the cookies leave an everlasting impact on the taste buds which you will hate to mask with any other flavor after that!
Ah, the orange creamsicle cookies are simply outstanding and you will regret not finding out about them before. Perfect to escalate your spirits during the holidays, do give it a try for sure. Let us know how it was!
Perfect seasonal treat, the strawberry cookies are exactly the most delightful surprise for the cookie-lovers. Spring calls in for some self-indulgence and you should not stop yourself from enjoying them! Super easy to make, go for this recipe right away! Let's make it then!
The rosemary hinted lemon cookies are not only best suited to the theme of the season but also such a delightful treat to indulge in this season. The smooth and soft butter touch is palpable in every bite.
Simple, lovely! The key lime sugar cookies are super rich in flavor and such a wonderful treat indeed! Dusted with sugar, you are absolutely going to fall hard for the one which we have here. So what are you waiting for?
Frequently asked questions associated with making spring cookies
1. What is the secret to making cookies?
The first and primary tip for making cookies is to follow the recipe carefully. Do not make many changes in the recipe if you are not well-versed in baking them before. Always monitor your oven from time to time so that you do not over-bake your cookies.
2. Why did my cookies turn out so hard?
If you see that your cookies have turned out to be too hard then there is only one way to deal with the situation. Do not overwork the dough which you are probably doing. When all the ingredients have smoothly blended do not knead the dough anymore.
3. How to make your cookies turn out flaky and fluffy?
If you want your cookies to turn out good and fluffy then cream the butter well. Add some eggs to the cookies and see the wonders occur.
4. Should you chill the cookie dough?
Allow the cookie dough to be chilled before you lay them on the baking tray! You might observe that the dough will generally spread too much but once you insert them in the refrigerator for about an hour then this can be prevented and the cookies will turn out crisp and flaky.
5. How can you prevent your cookies from becoming too greasy?
To prevent the cookies from absorbing too much grease you need to brush them using some parchment paper at the base to soak the excess grease. If you want then replace the parchment paper with baking sheets which one can reuse.
Bottom Line:
We've laid out some of the scrumptious spring cookie recipes that you can easily prepare at home. From lemon meltaway to strawberry crinkle cookies, each of these recipes is sure to sweeten up your afternoon! Our goal with this article was to show readers that it is possible to create amazing spring cookies without needing to be a professional baker. Using simple ingredients and a few steps, anyone can make delicious treats that can be enjoyed by the whole family! So, don't be afraid to get creative and enjoy the sweet taste of spring!
So, the next time you are looking for a delicious dessert recipe to enjoy during the spring season, turn to these amazing cookie recipes. Let the subtle flavors and smells bring a bit of sunshine and warmth into your kitchen, and make sure to savor every bite of sweetness! As the renowned pastry chef and food writer Dorie Greenspan says, "Cookies are one of life's great pleasures," so why not enjoy them today?