We all love to munch on desserts no matter if it is a festival or not. But that simply does not mean you have to engage in baking over and over again! Baking can be crucial and time-consuming, especially during the celebration period! But there is definitely a way to deal with it and here is what you need to know! If you do not have an oven or do not wish to spend your time baking then do not worry, we have the ultimate guide to lead you through the no-baking session. Let's go!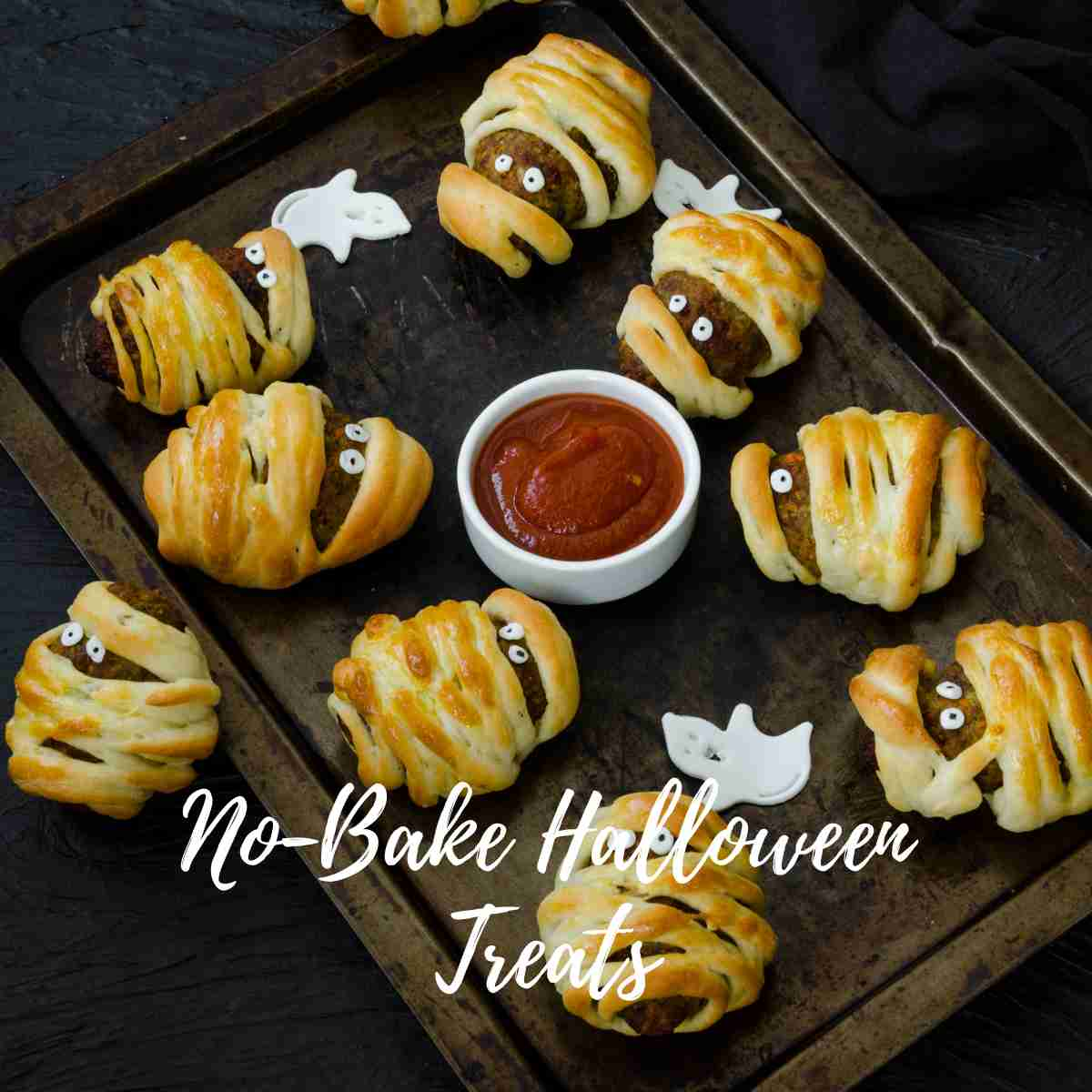 Things to learn about no-bake Halloween treats-
So why is there a need for you to opt for no-bake desserts- for example, Halloween is knocking at the door but suddenly your oven falls sick! Yes, an oven malfunction can be a pretty big deal! So how do we handle it? At the peak of the moment, if there is no way you can get the appliance fixed of course you can't cancel the event but there is definitely a way out! Opt for a no-bake dessert recipe! These are super easy and will save you during those crucial hours.
But how can you still bake if the oven is broken?
Baking without an oven can be tactful but never a difficult task! If you haven't made cookies or cake this way then this can be a refreshing experience too! We all love to do something new and even if the oven is fine and you wish to learn new techniques, then it is fine for you to indulge in baking without an oven! Let us learn how it is done.
Do you have a microwave?
If you have a microwave in the house then it is still a great way to save you when the oven refuses to work in the middle of the festive season! This appliance can be put on the convection mode so that it serves the purpose of one. If you ever made mug cakes then the microwave is pretty useful to establish the job. You however need a silicon pan to make the cakes in the microwave as metal cake pans are not at all suitable for microwave ovens.
You obviously have a stove-
A stove is equally useful when the oven fails to function! You can work on the stove to make some cakes and muffins which were about to get prepared in the oven before it ditched you. If you are planning to bake on the stove then here are some common methods that you can put to use!
1. Skillet- the cast iron skillet is ideal when you are making desserts like muffins and cakes! These are wonderfully created with the thick base of the skillet which uniformly spreads the heat and makes the muffins soft! Cookies and brownies are also made this way!
2. Steaming- you can use a steamed pudding mold to make the desserts this way on the stove but the traditional method of a bowl sealed with foil via the traditional wrap and tie method is the best we can suggest!
3. Or, use the Dutch oven- this is a cast iron cooking pot that is made with heavy metal! The Dutch oven is perfect in the absence of the oven which broke down in the middle of the holidays. Bread and cakes are ideally made in the Dutch oven although you can even use it for preparing savory items like casseroles and stews.
Using a slow cooker- if you are not aware, a slow cooker can be of great use when you are making savory as well as dessert items. Often under-utilized these days, you shall be amazed to find out about its magnificent glory during these times. From cake, pudding, brownies, and cookies, the options are simply endless, we must say! You need to line the cooker first and then place the silicone pan in the center.
Next in line is the pressure cooker- just like the slow cooker, the pressure cooker is another extensively useful idea that can come to your use as you are making cakes and desserts with baking. Bread and cheesecake are excellently made with a pressure cooker. And the best part about the pressure cooker is that it can get your desserts prepared in less than thirty minutes.
In conclusion, there are not many problems that you will face without an oven if you follow the instructions carefully. This will ensure that the ingredients are cooked properly and the dish stays fine. You might feel nervous at the prospect of making no-bake desserts at first but we can guarantee you that it will be a rather enriching experience. So go ahead with it already!
What are some of the mistakes that you should avoid while preparing no-bake desserts?
If you are going to do it for the first time, there are certainly some pointers that you must keep in mind! Let's read on, shall we?
You did not boil the gulaman- this is to be noted that gulaman and gelatin are two completely different substances that are used for making no-bake desserts. To activate the gulaman, you need to work on boiling the gulaman, which is a kind of seaweed! It is then that the gelatin in the seaweed is activated and expresses itself in the desserts. You might observe that the dessert will turn out mushy and without any consistency in the absence of boiling.
Use hot water instead of cold water for gelatin- you need lukewarm water for setting the gelatin instead of cold water. However, do not make it so hot that the gelatin completely dissolves in it.
You did not allow the dessert to cool properly- if you did not use an oven then why is there a need for you to cool the desserts? That is something most of us would wonder but here is what you need to know. For example, if you are preparing homemade ice cream then what? Of course, you need to place it on the cooling rack. Whipped cream and butter are also added to the desserts and it must be allowed to settle down properly.
You did not allow it to chill or set at first- if you are setting the cream then it is essential for you to allow the given time to set it down! This will give enough time for the cream to acquire a proper consistency as well.
Now, let us learn about some wonderful no-bake Halloween treats!
Spooky No-Bake Halloween Treats - Easy to Make and Frightfully Delicious!
The hassle-free Halloween fudge is so easy to make that you will be compelled to try it again and again! All you need are just three ingredients and that's all!
The marvelous candy corn fudge is a wonderful idea prepared in three layers and served with a chewy texture. If you didn't get time to make anything elaborate as a treat then go ahead and prepare this one for sure. The kids will love it.
The crumbly and delicious Oreo bites are exactly what you need as a low-budget treat to make your holidays special! Flavorful and rich, we are super excited for Halloween to show up with such an amazing treat!
If you haven't tried the Oreo pie before then you should now! The best part is, that a cream pie can be made with so much less effort and expertise with this recipe right here. What an excellent idea to try out!
The creamy and delectable cheesecake balls are another extraordinary idea that you can offer as treats to the kids as they knock at the door. Filled with pumpkin, celebrate the season of fall with such a sweet treat on display at the appetizer counter.
It seems so realistic that human brains are put on display! The zombies might come attacking the house looking for these brains. Made with Rice Krispies, this is a fantastic idea for one to indulge in.
The dirt pies are perfectly suited to the theme of the holidays! Infested with earthworms and scary parasites, this is a great way to scare the little ones! Although, at the very first bite, they will be delighted. Shall we try it then?
Well, we simply cannot have the season of Halloween go by without indulging in these delicious dirt cakes! Served in a cup, you shall be amazed at the brilliant taste of cake served in layers of crust and icing! Sheer source of bliss indeed!
The Halloween cheesecake bars are exactly what you need to keep yourself satiated at the party! You can serve this layered dessert treat as an appetizer with tea in the evening as guests visit you over the holiday season.
Made with white chocolate and an abundance of sprinkles, the chewy and creamy cake balls are lovely indeed! And the best part is you hardly need time and energy to make them. Spend this afternoon enjoying the experience of making cake balls!
Delicious and tasteful, the rich orange cream sandwiched between the two layers of the pie makes it such an extraordinary creation indeed. The kids will absolutely fall in love with this awesome idea right here. So make them quickly for the little ones.
The delectable and rich mummy Halloween Oreo balls are fantastic and such a wonderful treat for one to relish! Chewy and flavorful, the spooky eyes are studded on the surface of the Oreo balls as well. So dig in quickly.
There is nothing as tempting as the marshmallow balls! Creamy and chewy, the marshmallows are coated with chocolate and ready with just four basic ingredients! Why do you need to engage in baking, when you can prepare something so easy like this one?
These candy corn cheesecakes are wonderful with a mini ghost perched on top! If you are a fan of candy corn then make sure you try out this idea! Serve it as a sweet appetizer at the party. Go ahead and get it done!
These cookies look so extraordinary and gorgeous indeed! Packed with enriching flavors, all you need are a couple of ingredients to prepare the sliced Halloween cookies right away! If you are in love with treats then indulge right away!
The brownie mice look so realistic that you will be shocked at first to find them on the table! But it is Halloween, so you can't miss out on the mice! Here is a recipe that will leave you completely swayed off your feet at the first bite.
It is super easy to make the mummy truffles with pumpkin essence! Delectable and creamy, these indeed look quite spooky and cute at the same time. Make a lot so there is enough for everyone to grab a handful from the bowl.
If you wish to add one more treat to the table but the party is about to begin then there is nothing better than the Halloween monster marshmallows. Adorned with rich icing and a pair of eyes, the monster marshmallows are ready!
The Halloween Oreo balls are exactly what you need to keep yourself filled and satiated in the middle of the event. But we can't guarantee how long it will last on the table.
The Halloween dirt cake is super exciting with a chocolate crumb bed and RIP candies adorning the top of it. Make the seasonal celebrations even more special with this fantastic idea at your disposal! And guess what? You do not even need to bake it!
Frequently asked questions associated with making no-bake desserts for Halloween
1. How to prevent the no-bake cake from turning soggy?
If you are making a no-bake cake and have put it in the refrigerator to freeze it, then one thing must be noted! The fruits in the cake should be drained properly and the pulp should be allowed to dry down or else it will release liquid. Drain the canned fruits first overnight and then add them to the cake mix.
2. Can cakes be baked without an oven?
If you have a problem with the oven in the house or you do not own one but wish to make a cake, then do not worry that it is not possible. All you need to do is cook them in a vessel on top of the gas oven instead.
3. Is it possible to make cookies without an oven?
You can make cookies without an oven and we can guarantee you that the step will not be tedious at all. There are several varieties of cookies that you can prepare without an oven and they turn out to be pretty good.
4. Is it possible to bake on a stovetop?
It is absolutely possible for you to make cakes on a stovetop but you need proper vessels for the same. Iron skillets are perfect to do the job with perfection.
5. Can you bake cookies in a pan?
It is definitely possible for you to bake cookies in a pan but the number shall be less compared to the baking sheet.
Bottom Line- Well, that is a lot of discussions regarding no-bake Halloween treats! We will not keep you waiting anymore. It is now time for you to get started with the preparations! So good luck!