This is for those of you who are mad fans of brownies! Whether you have it with ice cream or wake up in the middle of the night to sneak some from the refrigerator, we understand your constant need for brownies! It is truly addictive to a cake lover and hence here is an article that will make your job easier. Why not make loads of them in the house so you never run out of brownies? The occasion of Halloween is just around the corner so you can pick the holidays as an excuse to indulge in your favorite sweet dish! Before we share the recipes with you let's find out some of the essential tips for baking them at home.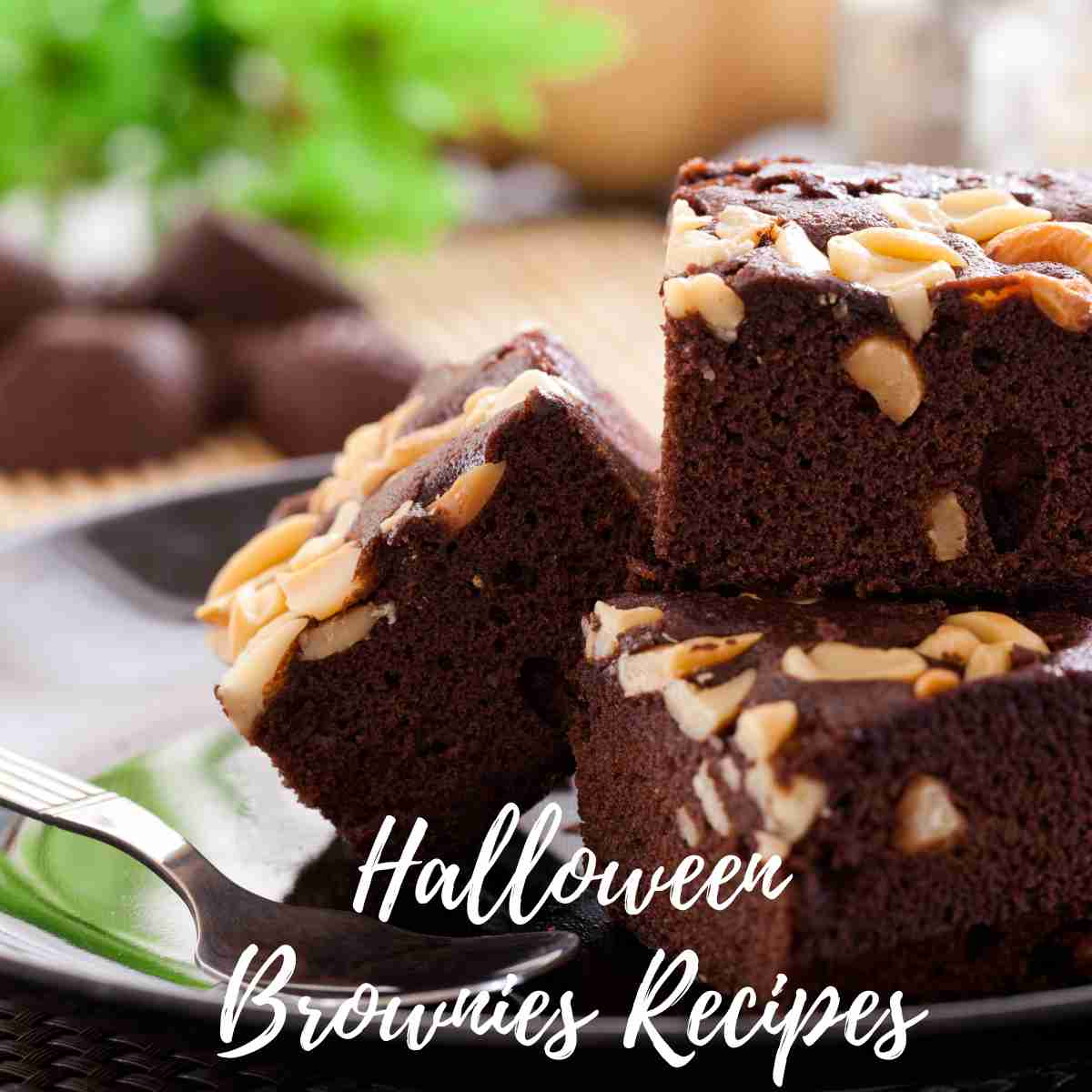 Hacks and tricks to the best Halloween brownies in the world
Whether you are baking brownies for the first time at home or trying them after a very long time, it is always best to keep a rulebook handy in case you get stuck in the middle! We have prepared you with the smallest and yet the most effective rulebook in the world! Check it out right away!
1. Dark chocolate or dark cocoa powder is a must in brownie batter- brownies are based on cocoa powder and chocolate! Always opt for dark cocoa powder and chocolate to prepare the batter! We recommend against milk chocolate since when combined with other ingredients the flavor of chocolate turns out to be too mild.
2. Eggs and butter should always remain at room temperature- you can never imagine what wonders room temperature makes to the texture and the consistency of the batter! Eggs at room temperature permit the dough to elevate more while butter needs to melt gradually at room temperature before going into the mixture so that no lumps are created.
3. Eggs and sugar need to be whipped until fluffy and smooth- this is an important criterion for making brownies! You have to whip the sugar and egg well together! It is to be noted that you have to keep whipping until the consistency is smooth and the pale yellow color has been achieved. If you have made brownies before then you will notice that some recipes do not have a leavening agent like baking powder and so on! Hence it becomes extremely vital to whipping the eggs and sugar properly for the sense of fluffiness.
4. Add some artificial flavoring agent- to some brownies, the recipe directs you to make use of an artificial flavoring agent! It is highly essential if you wish to enhance the taste of the brownies even more. These include vanilla extract, espresso powder, and so on!
5. Never overmix the batter- just like how we say that you should mix the batter well so that there is no lump, care should also be taken so that you do not overdo the action. Overmixing is not only unnecessary but also harmful to your brownies! This is because the structure you achieved by whipping eggs will be destroyed and the texture will turn out to be chewy! The brownies may not rise even under the worst circumstances.
6. You should prepare the pan with cooking spray and parchment paper -
We ask you to use parchment paper at the base and cooking spray so that the brownie dough doesn't stick to the pan and is easy to remove.
7. Baking is a job of perfection -
You should always place the pan on the grill inside the oven so that it is exposed to sufficient heat from all sides! If the base sticks to the micro oven then it might get burnt while the top of the brownie remains undercooked. If you have read multiple brownie recipes then you will see different durations are mentioned according to the type of oven. That You should always start at the lower range and then add time to prevent them from burning.
8. Try out the toothpick test at the end after your baking time is over insert a toothpick and if it comes out clean then baking is done otherwise if crumbs stick to the surface then you have to probably bake it for some time more.
9. Sprinkle some flaky salt too- if you prefer your brownie to be sweet and salty then sprinkle very little Kosher salt to get the job done with perfection. This keeps the fudgy taste intact but also enables the brownies to acquire their best taste.
10. Allow the brownies to cool down - once the process of baking is done you can cool down the brownies for about fifteen minutes before you dig in. Cooling is an essential step in brownie baking for the texture and flavor to settle down well.
Delicious Halloween Brownies Recipes - Find the Perfect Treat
These are simple and fudgy brownies that are topped with white icing in spirals!
Denoting a spider web, the brownies look simply irresistible such that you might find yourself with the urge to hog down all!
Packed with orange cream cheese, sandwich cookie crumbles, and choco chips, the brownies are the best to savor during the holidays!
If you wish to start your day with something crumbly and sweet then give this one a try!
The ghost brownies are perfectly suited to the theme of Halloween!
They are adorable and yet so spooky that the little ones will be delighted to munch on the ghost candies!
Make more so everyone can have more than one! Shall we then?
The mummy Halloween brownies are delicious and flooded with goodness is a rich crumbly crust and exotic icing.
A treat for the guests, they will eagerly wait for the desserts to feature after the meal!
Kids as well as adults, everyone will fall hard for this mummy Halloween brownies.
The RIP chocolate Halloween brownies are wonderful and you should give them a try!
The recipe is named Death by chocolate brownies for a particular reason.
Do not waste a single minute and get it done with perfection.
We have brought the gorgeous spooky eye Halloween brownies which will steal the show at the dessert table!
Topped with rainbow sprinkles, your brownies are ready to win any competition. So what are you waiting for?
Make it right away!
If you are bored with the regular chocolate flavor then you should indulge in the fantastic cream cheese brownies!
Smooth and enriching, these shall melt in your mouth at every bite.
Don't be surprised if the platter goes empty the moment it is brought out of the oven.
Of course, it is the season of Halloween and you have to indulge in some thrill and horror too!
Then why not indulge in the spooky brownies too?
The mummy brownies are meant for the holidays! They make your dessert round even more delicious and wonderful!
If you do not trust our words then go ahead and make them find out!
We challenge you to prepare the best mummy brownies in the world and see how impressed everyone shall be with your creation.
Here comes the most exotic monster cookie brownies recipe ever!
If you enjoy cookies and brownies then don't have to spend some time making them separately prepare them together with the monster cookie brownies recipe.
The Halloween cream cheese swirl brownies are what you should make customized to the theme of Halloween!
The contrasting orange and black shade makes you feel the craze of Halloween and how close the holidays have arrived.
Of course, it is Halloween and the holidays call for you to become more creative and unique!
The bat brownies are so easy to make! All you are poppy eyes and Oreos to make the design!
Display them on the table and see them vanishing every second.
Look for wonderful brownie ideas for Halloween and there comes up first on the list the brimstone brownies!
The combination of chocolate brownies and red cheesecake simply tastes out of the world.
The Halloween season is not yet over and you can prepare the slutty brownies to satiate your temptation!
Since they are healthy, a couple of them will not even compromise your diet.
So let us wait no more and dig in quickly!
If you are making brownies for the first time then as a beginner it is best to depend on the recipe for Oreos Reese's fudge brownies!
We can assure you nothing will go wrong with them and you will have a batch of crumbly brownies at the end.
Make a book of magic with brownies! Yes, one where you can learn to cast spells and eat them too! Isn't the best!
We can't guarantee that the spells will work or not but the taste of brownies will create magic in your taste buds.
Flooded with rich chocolate syrup, cream cheese, and butter, the frosted brownies with the shape of Frankenstein are awesome and you should give them a try!
Everyone's eyes will be focused on these amazing brownies on display, even before you realize they will be gone.
Made with chocolate Jimmie sprinkles and wafers, the cousin of Halloween brownies tastes so divine in fact!
Your Halloween celebrations and treat counter is almost incomplete without trying them.
And don't forget that they have spooky eyes and will keep a watch on you.
Of course, it is Halloween and you have to bring the theme of the graveyard home! Here is a sumptuous way of doing it!
The brownies are super rich in flavor and studded with the RIP candies.
Kids will simply enjoy the idea of munching on the witch brew brownies which are flavored with green icing and candies!
The rich crumbly texture and tender filling melt in every bite to leave an everlasting impact on the taste buds.
Are you in the mood or baking yet? The holidays are here so come on gear up!
Try out the witch cauldron brownie bites which are a mind-blowing combination of cupcakes and brownies!
No one around the world can say they did not like it!
Flooded with Milano cookies, candy corn, and Oreo crumbs, the spooky graveyard patch Halloween brownies are the best that you can think of.
This is an excellent idea that you should indulge in and serve at parties as well.
Butterfinger brownies are another exotic recipe that you should try out this season!
Flavored with a crumbly crust and tender texture in the middle, it is super easy to make and offers a treat to visitors.
So what are you waiting for?
The Halloween crispy and chocolatey brownie brittle recipe is perfect to celebrate the aura of Halloween!
Studded with candy corn, the recipe is outstanding and you should give it a try!
Tell us later how lovely you found this to be!
If you are simply running out of ideas while making brownies then worry not because we have got so many exotic Halloween monster bash brownies for you!
Make it with the aid of a recipe and surprise your little ones.
The single-eyed brownie bites are delicious and flooded with crumbly crust covering the gooey chocolate!
You do not have to take our word on this, make it for yourself and find out.
Do not waste another minute and get started already!
Making the Halloween monster brownies is so easy! Are you craving brownies in the middle of the day?
Then give a try to the crumbly chocolate treat and satiate your heart.
You can thank us later for this brilliant idea. Shall we try it then?
The combination of marshmallow and brownies are really good and you will surely find this recipe to be an extraordinary idea indeed.
The legs of the witch are still sticking out while the rest of her body has disappeared.
If there are zombies in the locality they will come to your house looking for their brains!
The zombie brain brownies are delicious and flooded with gooey syrup!
Remember to give a try to this brilliant idea this holiday season.
The Halloween ghost brownies are fantastic and you should make them tempt the kids as well as the adults of the house!
Don't be surprised if you see some shadows near the refrigerator at night! It is probably someone stealing a couple of them.
Adorable indeed, the recipe for the Halloween ghost brownies is fabulous and gives such an adorable impact on the guests!
The dessert table is what receives the most attention during holiday parties. Tell us how much you liked it!
Bottom Line-
Halloween brownies are the perfect festive treat to add to your spooky night. Whether you choose to make spooky monster faces, gory blood splatters, or delicious ghostly treats, you can customize them to fit your Halloween theme. With only a few ingredients, you can whip up a batch of these treats in no time and give your little trick-or-treaters something special to remember. So get creative and have fun this Halloween with these delicious Halloween brownies. Let's make some magic!
To close, let's borrow a quote from chef Willie Schubert, "Cooking is like painting or writing a song. Just as there are only so many notes or colors, there are only so many flavors - it's how you combine them that sets you apart." Let's use this as a reminder to make our Halloween brownie recipes stand out with imagination and care! So, let's get creative and enjoy a special holiday treat this year!