Although it seems easy to cook tin foil dinner recipes, there are some places where you may go wrong! Today we will discuss the tips and precautions that you should follow while preparing tin foil dishes! Are you ready to join us on this journey to make a list of things that you do or avoid when handling a tin foil dish? Let's go and find out!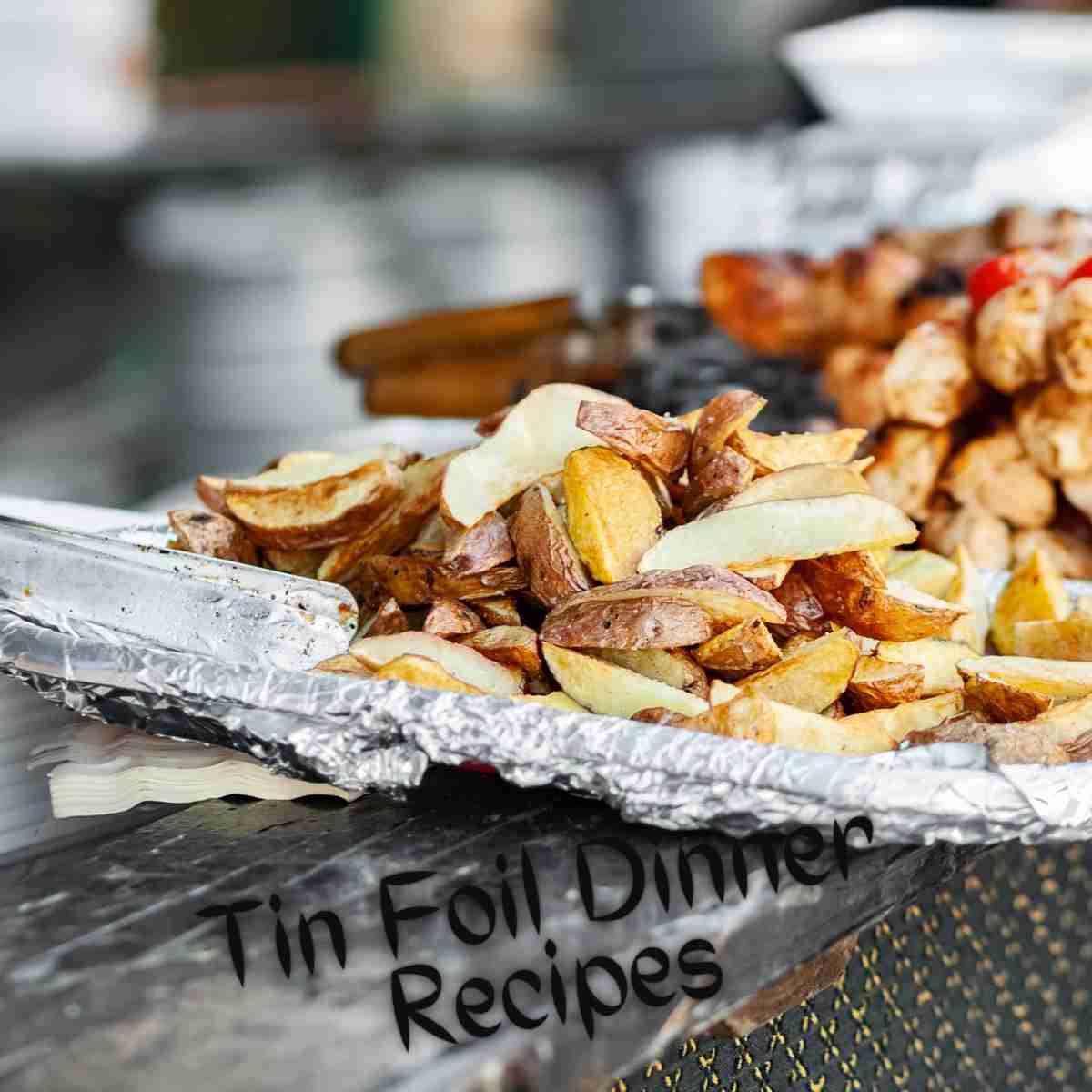 It is alright if you are new to tin foil dinner recipes! We will save you from creating a mess of the dishes! Are you going on a camp trip or hiking outdoors this season? Then waste no more time and learn these hacks right away!
Things to learn while making tin foil dinner recipes
1. Always wrap with heavy-duty foils- The heavy-duty foils are thicker and prevent the ashes from mixing with the food! This way you can also prevent leaks and tears! In case you are heading for a camping trip and have no time to purchase heavy-duty foils, you can use the normal ones but make sure you wrap them twice and thrice.
2. Fold the foil ends- We might have the general tendency to crunch and squeeze the foil packs on either side after packaging but that will only lead to further leakage and dripping of gravy from either side! You do not want to make such a mess, do you? So we recommend you gently fold the sides properly.
3. Make sure you cut bigger pieces of foil- Small sheets of foil or cutting them short is not an ideal option! Unless you can wrap the dish properly in foil, it will not cook enough and hence the entire effort goes to waste. Instead, you should get at least the dimension of 12×18 inches for foil papers when preparing tin foil dishes.
4. Cooking spray is a must- You need to spray the foil with cooking spray otherwise it might stick to the surface of the meat or veggies to destroy it completely. You should also always remember that chunks of flesh are not a great idea! Beat them into sheets or cut thin slices to fit them well inside the foil sheets.
5. Chop the vegetables fine and thin- Chunky vegetables inside the foil may not get roasted or cooked properly! Avoid such a situation by cutting them into thin slices. Honestly speaking, some veggies like carrots and potatoes take longer time than meat to get soft so extremely thin chop slices.
6. Always cook on the bed of coal- If you are out in the wilds on a camping trip then make sure you set up the fire and then a bed of coal to cook the foil dishes! Never put the foil dishes directly over the fire or they might get burnt! Instead set up a layer of coal to place the foil packs. Cook on the white coal instead of the red ones for effective results! They help to spread the heat evenly and get your recipe prepared in a jiffy.
7. Place the pack meat side down- Whichever part of the foil contains meat, you should turn that part towards the coal so the meat is evenly cooked. Turn it occasionally so that the rest of the foil also receives uniform heat! Foil packs should be placed upside down along the meat side to give a smoky essence to the flesh.
8. Rice and pasta are pre-cooked- If you are stuffing the foil pack with pasta or rice along with meat and veggies then you should first cook them and then marinate them with the meat. Also, you should remember to never add cheese during cooking! Once the food in the foil is ready you can open it and add cheese to the top otherwise it will get burnt and stick to the foil resulting in a futile outcome.
9. Adding cabbage is an effective way to prevent burning- If you are making foil dishes for the first time then we advise you to wrap the ingredients inside in cabbage leaves! This will burn the leaves in case you overcook the dish keeping the food safe and intact.
Delicious foil-pack recipes
1. Sausage foil packet with corn
The smoky corn and sausage recipe made inside foil paper is something that shall feel like heaven amidst the dark woods!
If you have lemon, sprinkle it over the dish and enjoy it along with the spectacular scenic view.
This is what makes camping so special.
The best way to make sausages on a trip is within the foil pack! You will thank us for this extraordinary idea which comes great in handy as you crave food in the woods.
3. Garlic steak foil packets
It is alright if you are busy on the weekend and could not go out with your family! Turn the backyard into your camping ground and make these juicy steak foil packets for everyone!
Served with cauliflower, broccoli, and asparagus, the meat tastes awesome.
How satisfying is this dish flavored with smoky spices at the end of the day? There are yellow and red onions served with succulent sausage marinated in mustard gravy! You can enjoy it with buns.
5. Grilled balsamic chicken and vegetables in a foil packet
Who said that if you are in the middle of the woods, you cannot enjoy great food? We are here to prove you wrong with the grilled balsamic chicken and vegetables recipe!
Juicy and succulent in every bite served with refreshing roasted veggies, you must try it out!
All this while you made chicken fajitas on the pan! Now it is time to indulge in the gorgeous recipe of chicken in a foil packed with assorted veggies!
Tossed with bell pepper and onions, you can enjoy it with a creamy dip.
A surprise awaits you as you unwrap this jambalaya foil! The combination of sausages and shrimp with veggies is absolutely the show-stopper!
You can make it with rice to enjoy during brunch or pack it for lunch at the office.
You can enjoy the grilled vegetable foil which is packed with essential nutrients that you can consume through something as delectable as this one!
Baby corn, bell pepper, onions, and anything you can name can be literally added to this dish!
Yes, you can indeed make barbeque pork chops in a foil pack successfully! The Italian seasoning acts as a taste enhancer for the recipe. It is cooked in canola oil and served with broccoli.
Here comes a pleasant surprise for nacho lovers! Topped with beef, cheese, and shredded veggies, we have the most amazing nacho foil packet recipe. The recipe is appropriate for the oven as well as grills.
If you enjoy shrimp then here is an easy way to pack it for your outdoor hiking session this weekend!
Try out the all-new shrimp boil recipe served with veggies. You can savor it with tangy ketchup or some creamy dip.
12. Cajun shrimp foil packets
Spiced with cajun sauce, the shrimp and sausage foil packet is delicious and will tempt everyone around the fire to patiently wait for dinnertime.
Enjoy your shrimp while feasting on the scenic view around.
Ready in a jiffy, thank us later for this idea!
13. Lemon Chicken and asparagus foil packet
Lemon Chicken and asparagus foil packet is a wholesome recipe that you can make for your Sunday brunch!
The succulent chicken steak with lemony essence and fresh asparagus stalk creates a brilliant combination of meat and veggies!
So quickly dig in!
The smooth and delicious buttery steak is oozing with flavors in every bite! The sharp garlic essence is also felt prominently!
All we can say about this dish is that it is too hard to share. Plus, there are smoky crispy potatoes on the sides.
15. Hobo dinner foil packet
Here is another fantastic idea that we are sure you will love to make! Replenished with meat, veggies, and cream, a perfect meal after a tiring day hiking around the forest tracks!
If you are craving meat and veggies then quickly prepare the classic chicken and vegetable foil packet!
There are carrots, zucchini, and potatoes which of course everyone likes! A great way to feed veggies to the little ones.
17. No oven dinner foil packet
How about we say that you can enjoy foil packet dinner without the use of an oven! That's right!
It got even easier to enjoy a quick dinner with the recipe that we have right here for you! Go check it out right away!
18. Lemon herb shrimp and broccoli
The recipe is lemon and herb combined with shrimp with broccoli and the results as you can guess are simply outstanding!
We have to mention this recipe which maintains a perfect balance of spices and tastes divine.
Are you tired of cooking the same meal every day and wish to try out something new?
Well, then the foil-pack recipe of butter garlic sausages and veggies is meant for you!
Explore the burst of flavors accompanied by the fragrance which will make you crave more.
20. Tin foil chicken
The delicious tin foil chicken is so easy to make that you might end up producing them every night!
And talking about the taste, not much is there to describe but the divine flavors which are a sheer treat to the taste buds.
Sweet and savory, the grilled pineapple chicken foil packets are perfect to enjoy amidst the wilderness of the woods as you head on a camping trip!
Do not forget to carry all the spices or you are going to miss out on something so delicious like pineapple chicken.
The combination of garlic with herbs always stands out and yet it is so homely and pleasant on the taste buds!
If you miss home during the camping trip, try out the veggies and sausages tossed in a foil pack.
The smoky BBQ Chicken foil pack recipe is exactly what you need on a trip! From kids to adults, everyone will love the saucy chicken foil packs which are likely to get over in seconds.
24. Chicken cordon bleu foil packs
Chicken cordon bleu is the perfect dish that you have been looking for! A little fancy and yet so comforting on the taste buds!
Pack all the necessary ingredients when you head outdoors to prepare this spectacular dish.
Try out something unique for dinner tonight with the chicken foil pack dinner that we have right here!
Gorgeous and flavorful, you can even make two foils for everyone because it is guaranteed the first will get over in minutes.
26. Fiesta lime chicken and rice foil pack
What a fabulous dish to enjoy in the outdoor mood! Make the all-new fiesta lime chicken and rice sprinkled with the essence of herbs and gooey gravy melting in your mouth at every bite.
27. Teriyaki beef foil pack
Yes! Now the real game is on! Surrounded by the wilderness and beauty, there is nothing as peaceful and rejuvenating as the Teriyaki beef foil packs.
Learn to make it today!
28. Honey mustard chicken foil
Sweet and sharp, the honey mustard chicken foil is detectable and you should give it a try!
Trust us on this you simply will not be able to control your cravings to eat more and more after the first bite.
29. Easy Monterey chicken foil
We have brought you the gorgeous Monterey chicken foil pack that tastes so outstanding! Served with sliced potatoes, cheese, and bacon, the dish speaks for itself.
There is nothing that can go wrong with the dish. Try it out for sure!
The winters are here and we have brought you the exclusive chicken enchiladas recipe!
Flooded with creamy gravy and spicy steak, this is one of our favorites and soon you will say the same. Meat, rice, stew, it has got it all!
What are some of the errors that you should avoid while making foil dishes
1. Never opt for the regular aluminum foil-
As we already mentioned, regular aluminum foil might tear or get burnt under the effects of high flame.
2. Using only one layer of foil-
If you are using one layer of foil then you are doomed to the consequences! A single layer of foil is never ideal as it might tear or burn and the entire dish will get destroyed.
3. Seal the packets from both sides-
Simply twisting the foil from both sides is not enough as it might still become the outlet for the gravy to ooze out! Seal it properly so there is no mess.
4. Cooking times for the grill and oven for foil packs are never the same-
If you have decided to grill then preheat at 400-425°F. On the other hand, if baking the temperature should remain constant at 425°F.
5. Exercise caution while opening the foil- Always remember that the foil is streaming hot and the vapor can actually give you blisters so be careful while handling them.
Bottom line- so are we ready to try some tin foil recipes?