There is hardly anyone who can say honestly that they can resist their temptation when mac and cheese are placed on the table. We can't resist mac and cheese and so can't you and that is why you are here with us! Mac and cheese is a mood for pasta and cheese lovers. If you are having a bad day or feeling tired then there is only one way to lift your mood and that is with a bowl of mac and cheese! With the advent of the holiday season, here are some wonderful Thanksgiving mac and cheese recipes and tips that will enable you to make the occasion of Thanksgiving even more special and memorable. Let's learn from them quickly.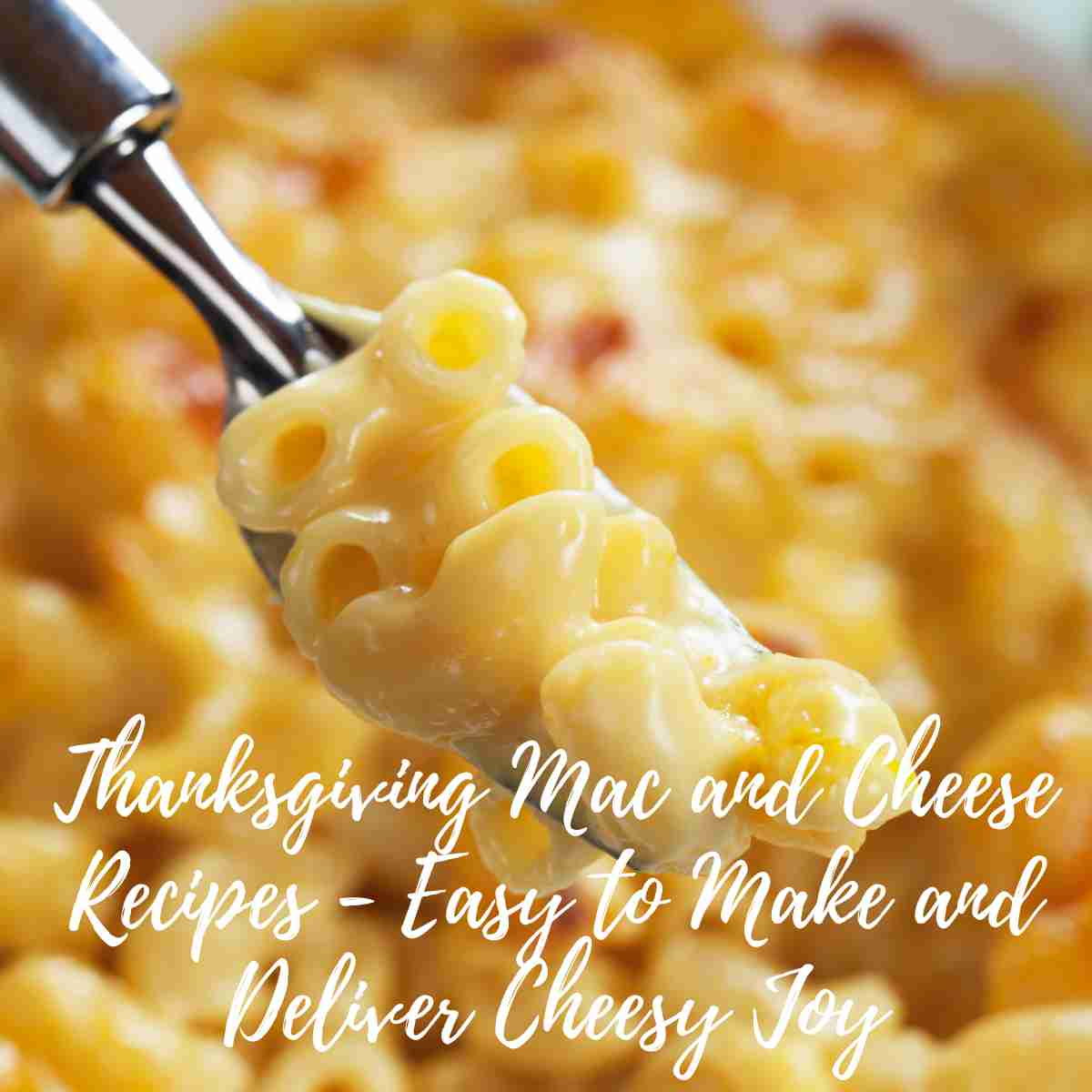 Tips to enhance the taste of your Mac and cheese
If you are making mac and cheese for a while but wondering what is that thing that is missing from it then here are some ways to enhance the taste of the pasta! Let's find out.
1. Slightly leave the pasta undercooked-
Once the pasta is boiled and ready in a sauce you might feel that the taste of the pasta is a little soggy but that might happen because you are overboiling the pasta. There will be a specific time that is mentioned in the packet! Right before the time gets over, you remove the pasta from the gas oven and drain the water. Leaving it slightly undercooked is not bad since it will eventually be cooked in the sauce and subjected to heat. During this time, the pasta will be further processed and softened.
2. You need both liquid cheese and cheese powder-
You should combine cheese powder with liquid cheese as well. Simply cheese powder is not enough to give the right flavor to the pasta sauce! The more cheese the better and hence you can choose your favorite kind and prepare it right away.
3. Do not forget to add some cream cheese to the mac and cheese pasta- usually the combination of cheese and cheese powder can render the pasta gravy to be thick and coarse which you definitely do not want when serving the guests! There is a way to improve the taste and texture of the pasta. Add some cream cheese to make the gravy rich and smooth. This gives a creamier texture and a sense of cheesiness to the mac and cheese pasta.
4. Replace regular milk with tangy kafir-
There are a few more replacements that you must make for the regular mac and cheese recipe if you wish to experience a distinguished taste! The best thing to do is replace milk with kefir and observe the difference. Fermented organic kefir contains lactobacillus probiotic bacteria. The bacteria has several health benefits and it also helps to increase the thickness of gravy! So next time you are making mac and cheese remember to use kefir in it!
5. Always include some veggies in your mac and cheese- contrary to the classic mac and cheese recipe where one does not put anything but only mac and cheese, you need to add lots of veggies to the mac and cheese recipe! This will not only increase the nutritive value of the dish but also provide it with myriad flavors. Plus, it is highly important to consume seasonal veggies and make sure you include them in anything that you make. Veggies also provide a pleasant texture and crunch to the recipe of classic mac and cheese. Broccoli, squash, cauliflower, bell pepper, and peas are some of the most commonly used ones.
6. Add some tofu, meat, beef, and Greek yogurt-
To make sure that the mac and cheese tastes even better and is packed with proteins then you should add some shredded meat to the dish. This can be chicken, pork, bacon, or beef and tofu for the vegans. Meat not only increases the taste of the dish but also makes it highly nutritious.
7. Bone broth must be added to the gravy- if you wish to enhance the taste of the mac and cheese then the recipe can be given a modified touch with bone broth! Instead of using boiling water, you should opt for this bone broth and observe the difference. Store extra bone broth in the refrigerator so you can use them whenever you are making any sort of gravy. If the quality is less then you go ahead and add bone broth and boiling water. It gives a boost of nutrients to the pasta right away. Plus taste enhancers, so we can say, bone broth is a pretty useful ingredient to miss out on! Now let us read further to find out some more modifications.
8. You can add some cold cubes of butter to the mac and cheese gravy- if you wish to give a silky and glossy touch to the mac and cheese recipe that you are preparing for dinner then make sure you add some butter cubes from the top. As it melts in the gravy, it creates a film of smoothness and shimmer too. This is a French technique of making the gravy extra smooth and shiny so why not apply this method to the homemade mac and cheese you are making? You can add some splash of pasta water from the top to bring the gravy to its right consistency.
9. Do not forget to season at the end-
You should have some hot sauce, kimchi, and mustard on the sides! This is because no matter how tasty your mac and cheese turns out to be, too much cheese can leave your taste buds with a bland sensation. This is when you need some hint of spices to appreciate the rest of the pasta with similar feelings as you had for the first bite. A dash of spice can enhance and portray the richness of this white sauce pasta and make your guests appreciate your effort.
10. Garnish with bread crumb or bacon-
To create an additional layer on the top which is hard and crumbly you need some bacon or bread crumbs and even better if you have both of them at the same time. This gives a stretchy and smooth topping to your mac and cheese and is definitely a finishing touch too! Bake it in the oven for a couple of minutes and then when the surface turns golden brown, the job is done.
Here are some Thanksgiving Mac and cheese recipes that you must try out!
Delicious Thanksgiving Mac and Cheese Recipes to Make
Creamy and comforting, the recipe for mac and cheese with chicken and mustard tastes so divine. You can finish your day on a great note with this wonderful idea at your disposal. Sprinkled with paprika, the pasta is ready!
The baked mac and cheese recipe is lovely and drizzled with cheddar cheese! Gorgeous and creamy, this is a wonderful surprise for the guests at the table. Sprinkled with white pepper, your pasta is ready!
Here is another exciting dish for you to relish for dinner! Give a new twist to the classic Thanksgiving mac and cheese recipe and enjoy it to your fullest. What a fantastic idea when you are looking for a one-meal dish!
There are no appropriate words to describe the magnificence of the baked mac and cheese version. Gooey and delicious, this is a brilliant creation that leaves you completely tempted in every bite for more and more. Shall we then?
How can you not include pumpkin in your pasta with the season of pumpkin and carrots blooming around you? The stovetop recipe of mac and cheese is very easy to make and gets ready in a jiffy to adorn the table during the festive season!
There is a reason why it is called the ultimate Thanksgiving mac and cheese recipe! Loaded with cream and herbs, there is no way there can be leftovers at the end of the meal which comprises mac and cheese bake.
Do not worry if you had a long day and didn't find any time to cook dinner! Do you have some pasta and cheese in the pantry? Then your problem is solved. This recipe for mac and cheese is prepared in no time.
The Banging mac and cheese recipe is lovely and flooded with gravy so sumptuous indeed! Enriching and flavorful, the perfect dose of seasoning is gorgeous to enjoy over a meal. Shall we then?
The recipe for smoky mac and cheese with bacon is delectable and smooth! It is the smokey essence of the dish which gives it a distinguished flavor. So are you ready to immerse yourself in the world of cheese?
Here is another outstanding idea if you are in the mood for mac and cheese! Do not worry! You hardly need any effort to create this comforting meal over dinner. All you require are a handful of ingredients and loads of cheese.
The recipe for mac and cheese is not just healthy but such a creamy treat that melts in your mouth at every spoonful! Perfect for all age groups, even the little ones will be delighted with the gooey treat which contains their favorite cheese in it! The recipe helps you to make the creamiest version.
The idea of white cheddar mac and cheese is right here to make the holidays even more special! Luxurious and juicy, the pasta is topped with herbs and served with shredded meat.
The idea of rosemary bacon mac and cheese should top the list of your priority! Flooded with herbs and meaty essence, there is no way you should miss out on this one! Make your experience even better with roasted chicken legs on the side.
If you are tired of all the turkey and the spices then we have got something for you that we are sure you will grow fond of! The recipe is very easy to follow and in a jiffy, you shall have tasty mac and cheese on the table.
The presence of jalapeno popper in the recipe for mac and cheese gives it a slightly tangy and spicy hint! Delectable in every bite, you can serve it s the main course for a Thanksgiving dinner and accompany it with meat on the sides.
Yes, it is true! Instead of one, we have made use of three to four kinds of cheese to prepare this dish. You can try out this gorgeous mac and cheese at home this weekend.
The idea of mac and cheese is lovely and when you combine it with the healthy presence of butternut squash then it tastes divine. Do not have to believe in us! Try out on your own and find out!
Sprinkled with herbs, the baked mac and cheese is a wonderful creation that leaves you completely swayed off your feet. Not exaggerating at all! Try and thank us later!
Quite an elaborate way to adorn your classic mac and cheese, isn't it? But, here is the butternut squash, and back in it rendering the dish with an outstanding taste! Do not forget the sage crust!
The recipe for mac and cheese is lovely and you should give it a try! Loaded with cream and cheesy gravy, there is no way one can say no to the dish. So dig in!
Frequently asked questions associated with making mac and cheese for Thanksgiving
1. What is the cheese used for making mac and cheese?
The most commonly used cheese for making mac and cheese includes sharp cheddar although different modified recipes with other cheese forms are available as well. You can surely choose your favorite one if you do not want cheddar.
2. Do you need milk to make mac and cheese?
Milk is required to make the gravy for mac and cheese but if you do not have it at home at the moment you are making pasta then you can easily replace it with an equal quantity of water and chicken broth.
3. Can you boil macaroni in milk instead of water?
Macaroni is often boiled in milk instead of water! This is because doing so gives a sense of consistency and thickness to the cream and flavor of the macaroni pieces themselves. You can use more milk later for the gravy.
4. What makes mac and cheese taste good?
The reason behind the popularity of mac and cheese is probably because it is made with ingredients that are all rich in flavor with a luxurious consistency. Mac and Cheese are hence popular among all age groups.
5. Why is the recipe called mac and cheese?
This recipe for mac and cheese was first featured in a cookbook in the year 1824. The dish was pretty basic and consisted of three ingredients! These included macaroni, cheese, and butter. And then they were baked in a hot oven.
6. Which milk is best for making mac and cheese?
Evaporated milk is the best idea when you are adding milk to your pasta as it has more protein and a thicker texture.
Bottom Line-
Thanksgiving is all about coming together and sharing a meal. But even if you can't be with your loved ones this year, you can still treat them to some cheesy holiday joy. With these easy-to-make mac and cheese recipes, you can send a delicious and comforting reminder of the shared joy that comes with the holiday season. Thanksgiving is a time to be thankful, and with these Thanksgiving mac and cheese recipes, you can show your gratitude and still make an impression even while apart. Whether you choose to make it yourself or have it delivered cheesy mac and cheese is the perfect way to start the season off right! So go ahead, bring everyone together this Thanksgiving, and share a cheesy bite of joy.