Well, Thanksgiving is not just a festival but an emotion for all of us. This is the time of the year when everyone gathers together to celebrate a wonderful time! The past is forgotten and forgiven and we begin afresh. The season gives us a brand new chance to begin life from a new angle! Families gather, friends come over and what initially used to be a harvest festival turns into a big reunion. And as we say, no good time is over before you end it with a dessert! So there must be some special Thanksgiving dessert recipes, right? Let's find out!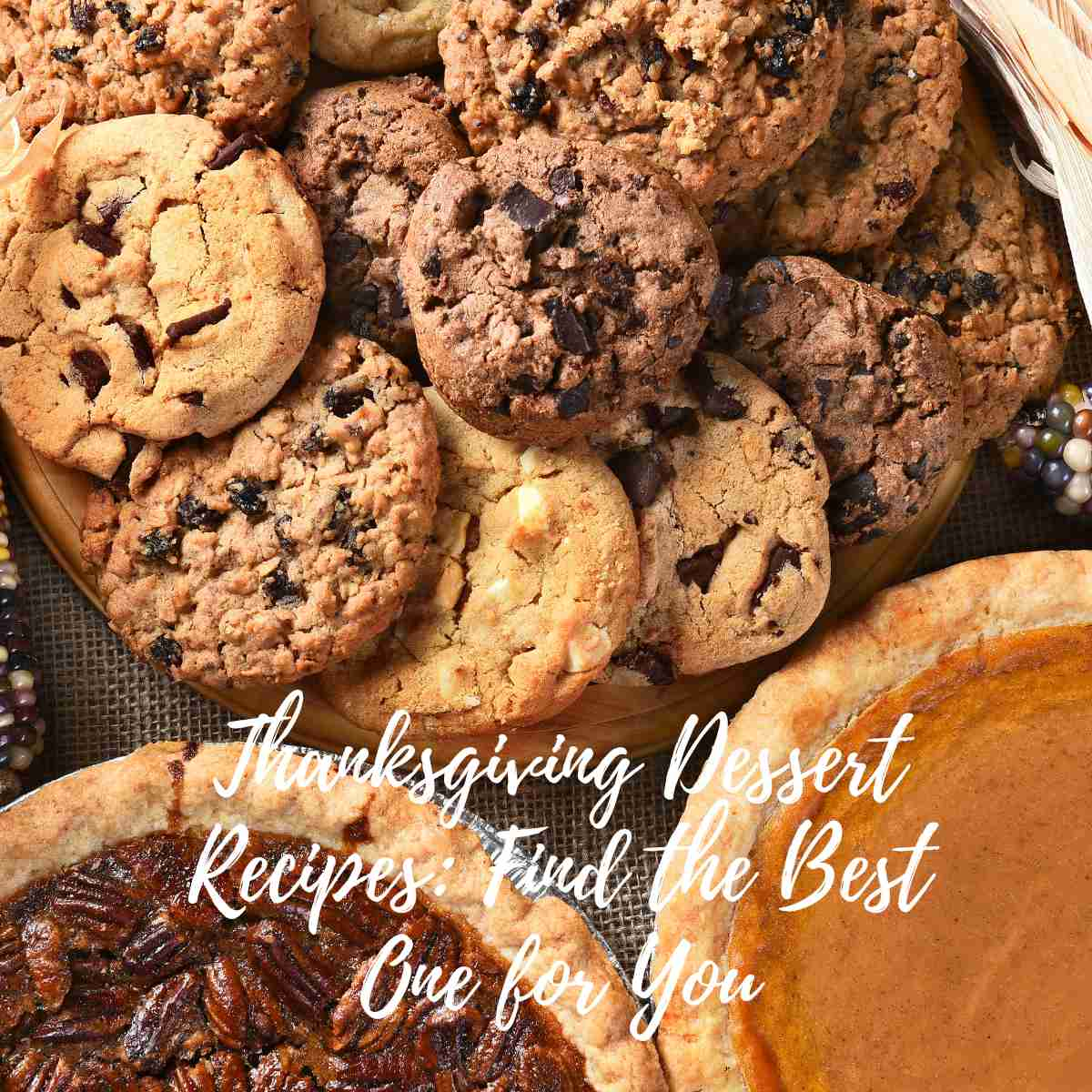 Things to follow for making your dessert right
If you are looking for some tips to mark the cherry on top, then here are some hacks and tips to keep handy. Following them will ensure nothing goes wrong at all.
Let's draw the anatomy of desserts! There are a couple of things that you need to learn. From texture to color, shape, and temperature, everything needs to be properly taken care of. So let's see what are the things that you need for a perfect dessert.
1. Let's talk about the base and the filling- if you are opting for a dessert with a firm base then you can try out either toasted lemon pound to sugary cookie bases and so on. It is like an edible container that holds the filling (the main part of the dessert). So you have to definitely focus on making it good. Graham cracker's crust is an ideal option and even the most common one when you make cheesecake. The belase should be flavorful but nothing too overpowering that it ruins the taste of the filling or masks it.
Filling on the other hand is mainly fruit based or a creamy treat of both. Some fruits like pineapple benefit from roasting and apples need to be baked. While some other fruits like oranges and pears need to be coated in sugar to release their real flavors.
2. Then let's come to the sauces that you need- sauces as needed are both needed for coloring and enhancing the taste of the dessert. They are also responsible for the texture of the dessert world. The most common sauces that we see are caramel and chocolate sauce although the list is simply endless and you can choose according to your preferences. You can either make your sauces at home or choose to purchase the readymade bottles. But you must note one thing! The store-bought options contain several synthetic ingredients and preservatives which might reduce its taste. On the other hand, homemade sauce has got it all! From wonderful flavor to health benefits. So we would suggest you opt for that instead. Invest your effort but get the best out of it.
3. Now comes the texture and garnishing- it shall be understood that different desserts have different consistency and texture and it completely depends on the recipe how it is supposed to turn out. While some are meant to be tough the rest are creamy. You can alter the texture of the desserts slightly by adding some topping! For example, you can add some hazelnuts and candies to your ice cream and it will turn crunchy in every bite. Some molded and attractive shapes can also be put up on the top to make it look unique and irresistible. So one thing is established! You can easily alter the texture of the desserts with a garnish or a wonderful topping too! All you need is some creativity, that's all.
Tips to making the perfect dessert at home
1. Do not forget to season your desserts- if you assume that seasoning is only for savory food items then that is a concept which is absolutely wrong. You will not believe what just a pinch of salt can do for a chocolate or caramel dessert. Make it and find out.
2. There is nothing that a scoop of vanilla ice cream can not fix- when we say this, we are actually vouching for it! Whether something has gone wrong with your dessert or it tastes unusually bland, you can fix the situation with a dollop of vanilla ice cream.
3. If you are baking brownies do be careful- timing is an essential factor when you are working on making brownies! A couple of minutes prior to the baking time mentioned, you can just check whether it is done or not! Never exceed the given time or you might end up with a burnt batch of black bricks. You should check it sometime before the given time and remove it from the oven! All it to rest for a while and your brownies will be done!
4. Use milk to make your dessert moist- if you observe that the dough or the cake mix has turned too dry then here is a quick fix for you! No need to worry as long as you have some milk in the house. A dash of milk is perfect to render the dough or the mix with a moist texture.
5. Make your toppings ahead of time- when we say this, trust us you can save up a lot of time here. It doesn't feel right when the guests are in the house and you are spending all your time in the kitchen. Yes, you need to converse and spend time with the visitors so here is an idea for you! Make the toppings ahead of time, lay them on a baking sheet, and freeze it
6. Use brown butter to enhance the taste of the dish- do you know, what we mean by browning of butter? Well, all you need to do is take the butter and toast it in a pan. Allow it to acquire the brownish hue and that is when your butter is ready! So if any recipe calls for butter, you can replace it with brown butter and see how delightful that shall be for the taste buds. 
7. Avoid the bottoms from getting soggy - either the bottom will be too soggy or too hard if you keep the tarts and the cheesecake directly in contact with the baking sheet. This also applies to cakes, cupcakes, and so on. Then what can we do? You will have to place them on parchment paper first so the dessert doesn't come in direct contact with the baking sheet. This way you can also ensure that each part of it is getting evenly baked.
Here are some Thanksgiving desserts that we are sure you would like to make this season.
Delicious Thanksgiving Dessert Recipes with a Twist | Best Ideas for the Holidays
The delicious and crumbly cupcakes with seasonal veggie taste so good! Drizzled with the warm essence of cinnamon in every bite, the luxurious cream cheese frosting simply can't be missed out on.
Baked with a cookie crust, the sweet and savory apple pie recipe with a rich caramel frosting is simply so good. Smooth and enriching we must say!
The subtle glazed cinnamon cake with the apple crumb is not only delectable but the best one to pick to celebrate the seasonal bliss. Crumbly, tender and gooey, you should give it a try too! Let us know how it was!
There are not many words to describe the magnificence of the buttery soft bourbon pie with cinnamon, clove, and nutmeg conferring a sense of warmth. Flaky crust with tender filling, this is the best one!
The sweet and syrupy pecan topping is the highlight of this cheesecake! So if you are a fan of pecan then you should give it a try right away! Complete your Thanksgiving feast with this cheesecake after the meal. Everyone will definitely be delighted with the same.
The sweet and seasonal maple cheesecake is our favorite! So if you haven't tried it yet then you definitely should. Creamy and gooey in every bite, you might even find the kids stealing from the kitchen! We can't guarantee the adults of the house as well.
As we said, you can not imagine the wonders seasoning can do to sweet dishes. The salted honey pie is wonderful and flooded with the essence of sweetness filled with a crispy crust. So are you ready to experience its bliss?
The wonders of the Thanksgiving season are best felt with a dessert for your company! Try out the amazing apple crisp shortbread bars which are super easy for one to make. Flavored with nutmeg, the shortbread bars are lovely!
The fudgy and tender pumpkin brownies are the perfect definition of a seasonal dessert. You cannot end the season of Thanksgiving without a pumpkin brownie during the Sunday brunch. If you are wondering for a while what to make during the holidays, now you have it here.
You are exactly ten minutes to make this bunch of maple cookies with pumpkin glaze! But the best part is that you do not even need to bake them. Enjoy a glass of milk for breakfast!
If you are in the mood for something easy-peasy and sweet then the extra creamy pumpkin cheesecake is what you need! A crispy crust with a thick layer of icing is exactly what you need to cheer yourself up during the holidays.
If making a complete apple pie is a big commitment for you amidst the busy schedule then you can go ahead and work on the apple pie cupcakes indeed! We can guarantee, the process is very easy and gets done in a jiffy!
How can we miss out on carrots which are an integral part of the Thanksgiving season! Celebrate the season of harvest with the awesome care of cake cheesecake and if you think it is something boring then observe the expression of your child at the very first bite. It will prove to you otherwise.
You shall be delighted by the taste of cinnamon apple cobbler for breakfast! What a wonderful way to begin your day! Syrupy, sweet, and crunchy, do give it a try for sure. Plus, it is healthy so that is all you need for breakfast!
Sweet and savory, the salted caramel apple pie bars are simply outstanding! These are small bite-sized appetizers that you can serve during the gathering with tea!
If you are like one of us who cannot stay away from coffee even in their desserts then this pumpkin coffee cake is meant for you. Delicious and totally irresistible, there is also a layer of rich cream cheese icing on top.
We have another awesome recipe at your disposal! Thank us later, now quickly go ahead and make this pumpkin pecan cobbler perfect for a lovely Sunday breakfast. Crunchy, sweet and smooth, your entire family will surely love it. Shall we then?
We will not lie but this pumpkin cake will definitely make your world shake under your feet! Drizzled with chocolate chips and bearing the sweet essence of pumpkin, you have made the right choice to celebrate the holidays and enjoy the best dessert!
The moist Rum Cake is something without which you simply cannot end the celebrations! Having a couple of friends over this weekend? Then what are you waiting for? Make this one right away! Perfect to go with a refreshing glass of beverage!
The caramel apple dump cake is simply outstanding to serve as dessert! Syrupy and sweet, the dump cake is so gorgeous and loaded with thin apple slices! What a fabulous idea to indulge in over the holidays.
Frequently asked questions associated with making Thanksgiving desserts
1. What makes a dessert good?
There are several things that you need to keep in mind as you make desserts! From texture to flavor and appearance, all need to be taken care of! A bit of seasoning is just the cherry on top.
2. What are some of the tips that you can follow while making desserts during Thanksgiving?
If you are super busy during the holidays then you can opt for some make-ahead toppings for your dessert which you can use from time to time. Remember there is nothing that a scoop of vanilla ice cream can't fix!
3. How do you make desserts attractive?
You need to focus on the visual appeal of your desserts if you wish to make them even more attractive! Sight is what captures us before the taste! Focus on making the toppings right and garnishing the sweet dish well.
4. What are the three main characteristics of making a dessert?
Texture, taste, and look are the three things that simultaneously affect the dessert and make it appealing to the crowd. If it is the festive season then you can definitely opt for the vibrant touch.
5. What is the most important ingredient of making a dessert?
Flour is the most crucial ingredient when you are making any dessert! The type of flour you are using varies depending on the kind of desserts that you wish to opt for.
6. What is the need for dessert during holidays?
Consumption of desserts releases a level of serotonin in our body which makes us feel happy and joyous during these festive seasons
Bottom Line -
Thanksgiving is the perfect time to get creative in the kitchen and serve up something special that your family and friends will love. From traditional pumpkin pies and apple crisps to decadent chocolate cakes and fruity cobblers, you're sure to find the perfect dessert for your Thanksgiving table. Whether you're an experienced baker or just starting out, the sheer abundance of choices available means everyone can find something to satisfy their sweet tooth.
Thanksgiving is a special occasion, so why not take the time to make something special? With a little planning and a good attitude, you can whip up something delicious that will leave your family and friends with happy memories of the holiday. So enjoy the season of thankfulness, and take a few minutes to find the perfect dessert for your Thanksgiving dinner.
"If you can dream it, you can do it," Walt Disney said, and it's the same for your Thanksgiving dessert. With some research and a little effort, you can create a delicious and memorable dessert that will bring smiles to your family and friends. So take that extra step and find the perfect Thanksgiving dessert for you.