Corn! What do we know about corn? Certainly, it is a great food to incorporate into your meal! You will be amazed to find out the benefits and the goodness of corn. Holidays like Thanksgiving are perfect to indulge in amazing recipes for corn! Remember that it is a harvest festival and you can stick to the theme with these wonderful corn recipes that we have brought for you right here! But before that let us quickly glance through the tips to perfecting your corn dish. Let's go!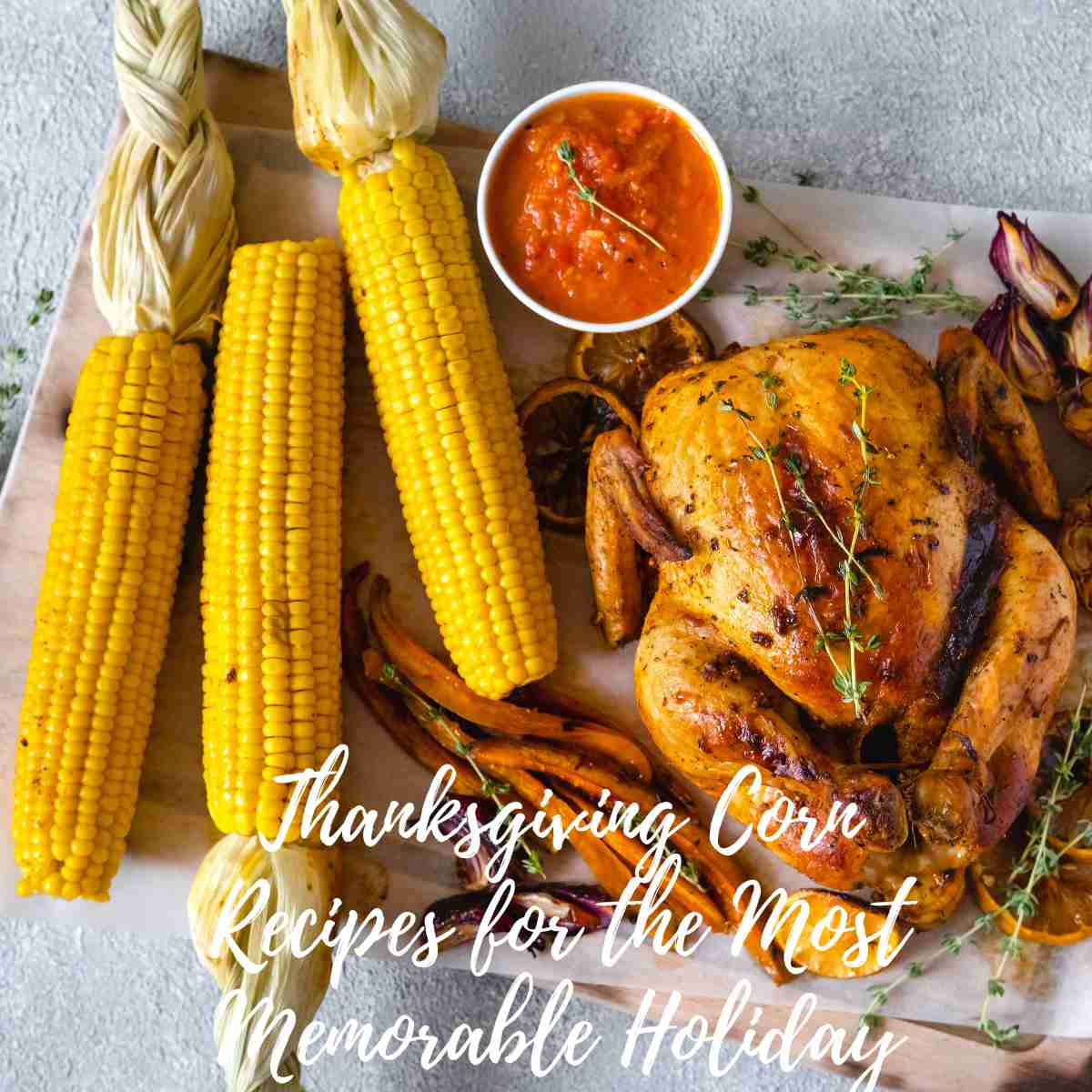 So how do we make our corn dishes taste good
There are so many wonderful ways in which you can cook corn cobs! It isn't a very tough job but if you are aiming to make them really amazing then you have to read on to find more about the ways to get them cooked. To be honest, corn is our comfort dish and we will never deny the fact. This is an all-time staple and especially for summers! If you are wondering about what to prepare quickly as you can not afford to spend much time in the kitchen then you are on the right track.
Symbolic of the American summers, there are seldom any households that do not make corn as their comfort dish. You can definitely grow it in your garden if you take an interest in farming or buy them from the store. If you are preparing corn this season, then here are some tips and methods that will come in handy.
1. Let's begin with grilled corn
All of us love the concept of grilled corn! How charred and smokey the cob gets, it is a real treat. Made on a gas stove, the gas is preheated to the required temperature. Wrap in foil and then you can brush butter on the surface of the corn cob. Grilling must be done for about twenty minutes.
Some tips to keep in mind-
Preheating time is necessary for the coal to heat up. Once you remove the husk, the corn needs to be brushed with some sort of moisture. Then you need to grill the corn properly. This is when you will need the ice cubes to prevent the cob from drying up. The ice melts as the corn is gradually cooking and releases steam. It is also allowed for you to grill the corn with the husk on and there is no need for you to worry. This is in fact an authentic style for grilling. But removing the husk allows you to do a clean job.
2. Next comes boiled corn- you will definitely find this recipe to be very useful. All you need are a couple of minutes to get this done and a healthy dish is ready for snacking. You shall need a large pot of water to boil the corn and about three to five minutes max!
Some tips to keep in mind-
When you are boiling corn it might happen that sometimes you end up boiling the corn too much! Over boiling can make the corn not only hard but deprive them of the real taste of sweetness. Often whenever we boil, we tend to add some salt to the water but that is not the right practice in the case of corn. The traces of calcium in the salt can harden the corn which is not desirable. A little salt is good if you wish to enhance the taste of sweetness.
3. Let's talk about steamed corn- you shall need a steamer basket that needs to be partially filled with water. When the water comes to a boil, the corn is allowed to remain in the water for about five to six minutes. You shall need some butter, salt, and pepper in the dish.
Some tips to keep in mind- the best part about the steaming method is that you hardly need any assistance. It is so simple that you can do it jolly well by yourself.
4. How to make corn in the slow cooker- if you have too much corn to make then you need a slow cooker to do the job. Corn being a great crowd pleaser you shall need them at all festivals like Thanksgiving. Buttered corn cob in the slow cooker is a great dish that steals the show every time.
Tips to keep in mind- now you shall need some seasoning like spices to prepare the corn in the slow cooker. Just one cup of water and a couple of hours is all that you need for tender corn cobs. Start preparing for the method of slow cooker corn ahead of time as the cobs will require some hours to cook with perfection.
5. Let's find out about oven-roasted corn cobs- imagine yourself with roasted corn on a rainy day! Yes, that is exactly what we are talking about! Roasting corn in the oven is very useful if the stove method for roasting is not feasible for you. Wrap the cobs in a foil which will ensure that the corn remains moist and tender during roasting. The oven needs to be preheated at 400°F and the foil-wrapped corn cobs are placed inside the oven! Do not forget to brush it with butter first. Place all of them on a baking sheet and roast for about thirty to forty minutes. In case, you observe the corn isn't tender yet, then allow it to cook for another couple of minutes.
Some tips to keep in mind- if you are preparing dinner and there are other recipes that you wish to work on in the oven then you have to be careful about the time duration these cobs take to roast in the oven. Time yourself and plan your schedule accordingly. Another thing that you must note is the fact that corn cobs wrapped in foil remain hot for about twenty minutes to half an hour so you can enjoy them later.
6. Air frying the corn- as long as you have an air fryer in the house, your job is done so easily that you won't be able to believe in your eyes. Air frying the corn is a great option.
Tips to keep in mind- preheating is done at 400°F and then the corn is allowed to cook in the fryer. This will only take about five minutes. Yes, you heard it right! Serve them hot with some lemon juice and salt!
Now that we are done with the general techniques of making corn, here are some corn recipes for Thanksgiving!
Make Your Thanksgiving Special with Delicious Corn Recipes
Sweet, smooth, and enriching, the recipe of butter corn prepared in a skillet is super easy to emulate. So if you have some corn in the refrigerator and some butter, you know which recipe to go for!
The corn casserole is a sheer treat during the grand meals for Thanksgiving! Juicy and gooey, the flavor of cheese and bacon is palpable in every bite. So make it for sure and dig in!
It is definitely an easy idea and flavored with seasoning, the creamed corn is wonderful as a side dish. Flavorful and creamy, the recipe is super easy for one to emulate. So are you ready to indulge in this dish? Then what are you waiting for?
All you need is a couple of minutes to make your meal so comforting and cozy with the baked creamy corn casserole. Cheesy and smooth, the casserole melts in your mouth at every bite. Shall we then?
The idea for creamed corn is another awesome choice which we have to admit! Whether you are looking for something as a snack or enjoy breakfast, the dish is fantastic and you indulge in the best! Do not miss out on this treat!
Yes, that's right! All you need are fifteen minutes to prepare this recipe! Drizzled with parsley and garlic powder, the dish is such a wonderful indulgence in the middle of the day. Fill yourself up in the middle of two meals.
The garlicky corn recipe with loads of parmesan cheese is exactly what you need to keep yourself content and satisfied in every bite. Serve it as a side dish or enjoy it with breakfast, the options are simply endless. Go for it!
If you have never made corn pudding at home then all we can say is that there is no time to waste now! This holiday tries out the recipe for Nantucket corn pudding which gets ready without much hassle. Grab your spoon and attack!
The creamy corn recipe is ideal for little ones and toddlers! During the great meal for Thanksgiving, there should be something on the table for the kids as well. Here is the recipe for it. We are sure even adults will steal a bite.
The layer of parmesan on the top with a hint of golden hue is the ultimate treat for the eyes and soon for the taste buds as you steal your first bite. Shall we make it then?
This is a sort of corn casserole that you can try out if you are a fan of corn recipes! Delicious and right, the souffle is fantastic and loaded with the essence of cream and cheese sauce. Now you know why it tastes so good!
Well, the combination of cheddar and corn never fails you! Yes, it is true and if you do not believe us then you must make this pie at home and find out about its glorious taste. Are you ready?
Did you try out scalloped corn before? Well, if you did not, then all we can say is this is a major loss for any corn lover. But do not worry! Not anymore! The recipe for scalloped corn is right here so you can try it out during the holidays.
We are not joking when we say that there is nothing as comforting and cozy as the homemade cream corn dish. Fascinating and lovely, you should try it out for sure! Let's get into the kitchen!
How can we ever miss out on this outstanding dish? Flooded with flavors so rich, the cheddar-marinated corn with spicy jalapeno is fantastic and the best thing we came across in terms of corn. Make this casserole today!
The best part about skillet corn is that you can add it to any dish that you want as a topping, salad, soup, and so on. This can also be eaten raw if you wish to solely enjoy the smokey taste of corn with a dash of lemon juice in it.
Want a vegan option for Thanksgiving? Ready with just five basic ingredients from the pantry, this recipe for corn casserole is simply lovely. So what are you waiting for? Make it today!
If you are having a family gathering at home, a couple of kids are inevitably on the guest list! You have to make sure that there is something for everyone to relish. The idea of a sweet corn casserole comes to your rescue during these times.
Packed with bacon and cheese, the creamy corn casserole is ready in a jiffy. No wonder none shall be left in the bowl after the end of the meal given how tasteful and comforting the recipe turns out to be.
The name speaks for itself! Here is a recipe that has acquired the prestige of being everyone's favorite. Delicious, juicy, and rich in flavors, you are definitely going to fall in love with the one we brought exclusively for you.
Frequently asked questions associated with making corn for Thanksgiving
1. What are the three common methods of making corn?
Microwaving, grilling, and boiling are some common techniques acquired to make corn. These can then be converted into a casserole or any other creamy recipe. You have plenty of options given in the list.
2. How do you effectively cook corn?
Clean the threads and silk from the corn cob and then remove the kernel! Now use water to make sure that there is no dirt or dust on the surface of the corn. Allow it to boil in steaming water for a while and your job is done.
3. What are some of the dishes that you can make with corn during the holidays for Thanksgiving?
Corn is an integral part of the Thanksgiving dinner or brunch! You can either opt for making creamy corn bowls or prepare a gooey and rich casserole for the guests.
4. Is there a need to clean corn before cooking?
You are definitely expected to clean the corn before cooking! The husk is removed and the silk is pulled out! The corn cob is cleaned and washed with water before it goes into the boiling water for being cooked.
5. Which is the better technique to prepare corn?
The most effective way in which you should make corn includes steaming mostly. This maintains the nutrients intact in the corn which does not happen completely in case of grilling or boiling! Hence you should opt for steaming corn cob first before you prepare a casserole or cream recipe.
Bottom Line-
With a little bit of creativity, Thanksgiving corn recipes can make your holiday extra special. Whether you decide to prepare a savory classic like cornbread stuffing or a fresh take on a longtime favorite like creamed corn and bacon, the options are endless. Your family and friends will be sure to thank you for taking the time to make their Thanksgiving memorable. So, get creative and whip up something delicious and enjoy every moment of this special holiday!
Thanksgiving is the perfect time to gather with family and friends and share a meal. Make your holiday dinner special with imaginative and delicious Corn Recipes, and you'll create incredible memories that your guests will remember. After all, Thanksgiving is about connection, and classic Corn recipes are the perfect way to do that. So, don't hesitate to get creative in the kitchen and make your Thanksgiving memorable for years to come!