We all made and ate casseroles on different occasions or simply for a meal! However, if you have had the thought that something was missing in each other then perhaps it is not always the recipes but the techniques you follow to make them. There is always a special way in which every dish needs to be made. For example, next time when you are making a Thanksgiving casserole look out for this article and keep it handy so you make no mistakes. Let's read on to find more.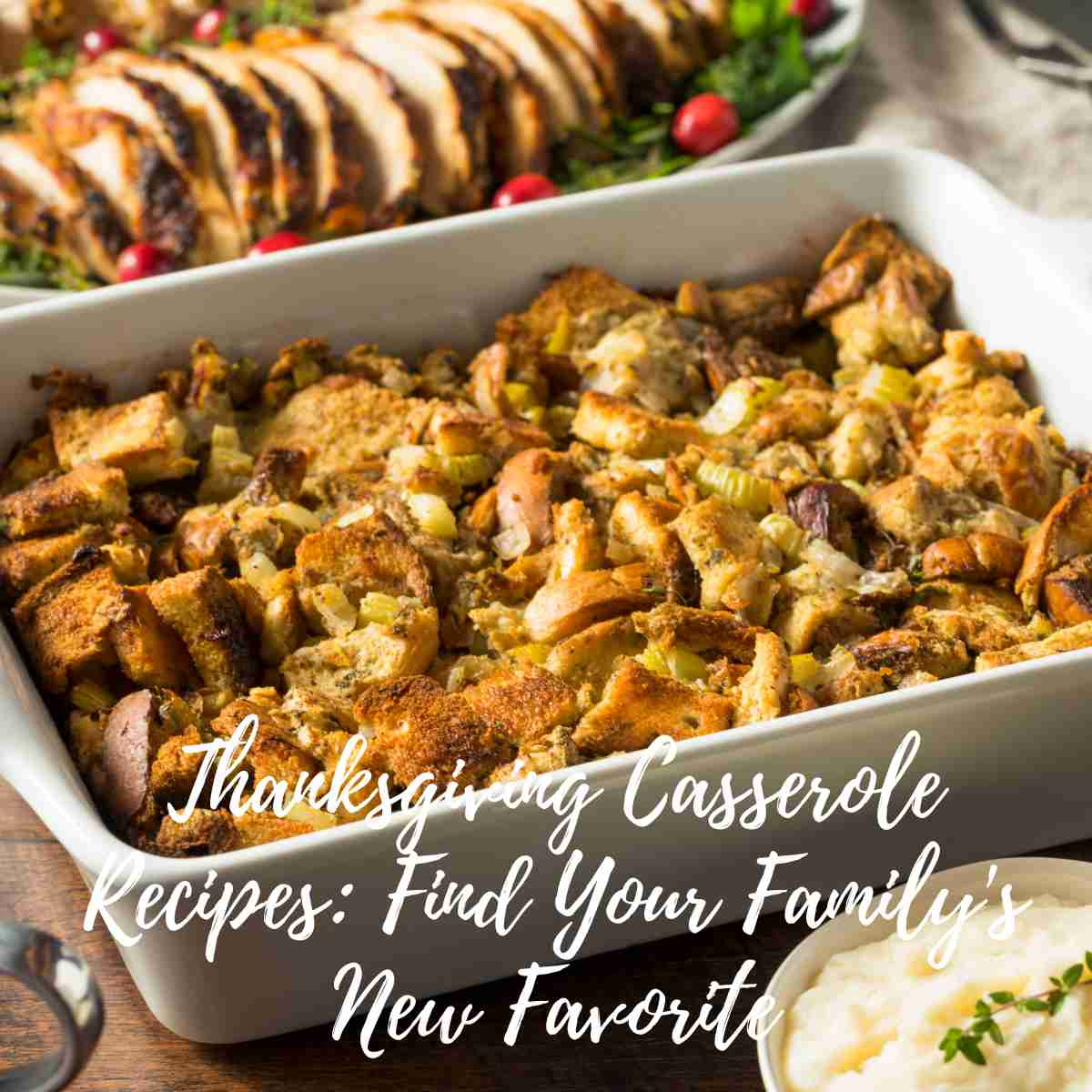 Useful tips and hacks to follow to make casseroles for Thanksgiving
1. Choice of the right baking dish- when you are making a casserole there are some things that you need to be careful about! For instance, a baking dish! This is something we often fail to notice but it is a very vital and preliminary step to making a casserole. Use a small dish if you wish to provide a crunchy topping to the casserole. It is easier and faster to cook in a shallow dish where the topmost layer turns out brown and crispy the way you want. Metal, glass, or ceramic plates are good for that purpose although ceramics heat up much slower than glass or metal.
2. Undercooking the pasta- pasta that is firm is best for making a casserole. Remember that casserole means that you need to cook it once again. Hence when you are boiling or baking the pasta allows it to remain somewhat undercooked so that later it eventually gets cooked while the casserole is allowed to rest. Two to three minutes before the ideal time you should remove the pasta from the gas oven. You can even stir-fry the pasta for a while to give it a brownish tint and smokey taste. This helps you to modify and alter the flavors somewhat.
3. Drain the meat properly- no matter which meat you are planning to add to your casserole, everything works out pretty well. There is beef, sausage, bacon, chicken and so on which you can make with the casserole. Shredded meat is the best but remember to drain it well. Use a paper towel to soak up the moisture from the meat so your casserole does not turn soggy and too runny to bake. Meat often releases fluid while being cooked! You do not want this extra liquid to destroy the consistency of the same.
4. Make use of fresh quality vegetables- if you are adding squash, mushrooms, green beans, and so on, for most of the vegetables, you will need the veggies to be blanched first before they are added to the casserole dish for baking. You can add broccoli and cauliflower florets raw but you can also opt for a roasted version which is soft and more tender than the former. If you are working with frozen veggies then they need to be brought to room temperature and then the excess water needs to be squeezed out as in the case of spinach and so.
5. Be aware of what cheese you are planning to add to your recipe- casseroles are mainly composed of a thick layer of cheese and hence you need to be well versed with which one you prefer to add. You do not have to strictly follow the cheese option which is mentioned in the recipe, rather you can always experiment with the different kinds and especially the one which you prefer. Feta and blue cheese will not melt in the recipe but they are a great source of tangy essence. You can combine it with some other melted gooey version of cheese and serve it in the casserole.
6. It is the art to assemble all the parts of the casserole well- of course, it will not happen on the very first attempt but with gradual practice and time, you will learn to work on them. You just layer the tray up to three-forth its height and then allow some space at the top in case the ingredients bubbles up and do not overflow. Make sure you do not cover it from the top as it causes the formation and accumulation of steam which will prevent the top from becoming crispy and crumbly.
7. Never make the mistake of skipping the topping- bread crumbs are essential to make the casseroles amazing and the texture of the top as desired. You can work with any store-bought crumbs or make it at home, whichever you desire. Some grated cheese, herbs, and spices are other options that can make the top so irresistibly delicious. Crunchy potato chips or tortilla chips are perfect for toppings as well. Add the toppings later for make-ahead casseroles.
8. Make the casserole ahead of time but bake later- you can arrange the layers of the casserole before so you do not spend your whole day in the kitchen while the guests are waiting in the living room! But right before you serve the casserole, bake them. Do not put them in the oven ahead of time because that can turn the casserole too soggy and sticky. Marination allows the flavors to mingle and mix with each other as you give some time for the casserole to settle down before it enters the oven for baking. You need to wrap the casserole property in aluminum foil if you are planning to freeze it. Twenty-four hours should be provided for such frozen casserole to reach room temperature.
9. The technique to freeze a casserole properly- look it is the festive season and you never know when some unexpected visitors might show up! So you should always have a couple of casseroles handy! These can be stored in the refrigerator whenever you are feeling lazy and do not wish to cook. Wrapping the casserole in aluminum foil is the best idea! Double wrapping is ideal so that the casserole within the freezer stays intact and in its actual form. When you need to eat them, just bring them out and bake them fresh and hot.
10. Do not completely forget about a slow cooker- if you are looking for an alternative technique to make casserole then you can opt for a slow cooker! It has a deep bottom where you can set up multiple layers and do not have to bother about the crust getting overcooked or burned. Just toss everything into the slow cooker and practically forget about the casserole and yet the dish will be ready with sheer perfection.
Delicious Thanksgiving Casserole Recipes - Get Ready for the Holidays
Green and flavorful, the broccoli rice casserole is healthy and wholesome to introduce to a meal. Creamy and packed with pumpkin pulp, this vegan casserole is simply a great option to try out this season!
The fun part about sweet potato casserole is that it is amazing from inside and outside both! While the pulpy sweet potato wins your heart as a filling, the marshmallow smokey top deserves admiration and praise as well. So give it a try too!
Cauliflower soaked in cream cheese and cheddar in this recipe for cauliflower casserole is awesome and served with chives and bacon. Delicious and gooey, this is a wonderful recipe that you will definitely grow fond of. Shall we make it then?
Make your meal tastier and healthier with the recipe for butternut squash casserole. Sumptuous and creamy, you are about to be smitten by the gorgeous taste of the dish that you might even give up on a meaty version for this one.
Delicious and tempting, there is no way you should miss out on the scope to relish the candied pecan sweet potato casserole. Oh, we almost forgot to mention the smokey marshmallow top. Shall we try it then?
If the kids usually throw a tantrum to eat green beans then we have a solution for you! The Thanksgiving casserole recipe that we have brought for you will solve the troubles and see how happy the little ones will enjoy this dish and not make a grumpy face.
We have this wonderful roasted carrot and pecan-filled casserole which is further adorned with goat cheese! So if you are looking for something healthy here is the best option you have got.
Well, if it is Thanksgiving then there is no way you should miss out on the classic sweet potato casserole. There is canned yam too to enhance the taste of the dish even further! Indulge in the creamy treat!
If you have some leftovers from the last night's grand celebration for Thanksgiving then you should go ahead and prepare this chicken rice with broccoli casserole. Packed with flavors such as an enriching and luxurious amount of cheese, do give it a try!
Filled with ground beef and bell pepper, the Philly cheesesteak casserole is a lovely creation with loads of cream and cheese on top. The flavor of the tangy sauce in it is worth the effort too! Shall we try it then?
Packed with the flavors of cheddar, bacon, and jalapeno, this is an excellent idea for one to make as the festive season is just around the corner. Delectable and gooey, this is a creamy and spicy treat worth dining with. Do give it a try!
The occasion of Thanksgiving calls for you to make the Cowboy casserole which is made with ground beef, cheese, and sour cream. But there are still more delights left for you! The topping is made with crispy tater tots.
The wonderful idea of Sloppy Joe casserole is lovely and loaded with everything that you desire! Creamy and rich, this meat-filled version of Sloppy Joe in a casserole is simply outstanding. The base is made with bow-shaped pasta and Manwich sauce marinating diced tomatoes.
The wonderful meatball pasta bake is something that is surely going to bring water to your mouth! Do not believe us? Try out this authentic Swedish casserole and find out for yourself. If you haven't planned tonight's dinner yet, then try out this one right away!
Well, if you are craving something rich and gooey then the best option turns out to be the mashed potato casserole with a layer of crispy meat! This gives the ultimate sensation of temptation that one is hardly able to resist.
Served with frozen brown and cream of chicken soup, the Pepper Jack potato casserole is another exciting idea for the season. There is onion, garlic, parmesan, and bacon to make it a great meal for the night!
We can't guarantee how much will be enough to feed the family! Because no matter how much you make it is going to fall short given the brilliant burst of flavor one experiences in every bite. Tomato, green chile, and cheddar do a great job!
Indulge in the Southwestern delicacy with the Green chile chicken and rice served in a casserole. Sumptuous and creamy, this is an excellent idea for one to ravish this Thanksgiving season.
The combination of potatoes and sausages soaked in cheese tastes early delectable! How can you even think about celebrating Thanksgiving without a casserole on the table? If some guests are coming over then the sausage casserole is the best to relish!
There is no way we are going to miss out on the chicken and dumpling casserole! Delicious and gooey, you just need a handful of ingredients to prepare them with perfection. So are you ready to indulge in its glorious flavors?
Frequently asked questions associated with making a casserole for Thanksgiving
1. What is the secret to making the best Thanksgiving casserole in the world?
To ensure that the Thanksgiving casserole recipes cool fine, you need to chop the veggies, meat, and parsnip in equal sizes. This ensures that you cook evenly and the casserole tastes good as it imbibes the flavor of the spices well.
2. How can you enhance the taste of the casserole you are making?
If you wish to enhance the taste of the casserole that you are planning to make then add some freshly chopped herbs to the dish. It gives a fresh dose of flavor to the creamy treat.
3. What are the main components of a casserole?
The main ingredients to making casserole are protein, starch, some veggies, and sausage. Add some sauces and cheese to the dish to escalate its taste even more.
4. How is a casserole generally cooked?
The casserole is a dish with loads of cheese and cream along with meat and veggies which are presented in different layers. These are often cooked uncovered and slowly in the oven. It is often used as a side dish which is so convenient to make.
5. Which vessel should you use for making casserole?
Stainless steel pans and trays are the best that you can use for baking the casserole. It should have a non-stick coating so that the casserole and the cream do not stick to the vessel and get burnt.
Bottom Line- well, that is all about making Thanksgiving casserole during the holiday season! We will not keep you waiting anymore as the preparations for the festive week have already begun. So get all the ingredients ready and get started with the preparation. We can hardly wait to hear from you!