Kids might run a thousand miles away from pepper if you serve them salads or raw! But if we say that there are some perfect snack options with pepper then here is what you can work on. Making snacks is no longer a tough job with so many options waiting for you right here! It already seems that you are excited about making some snacks for this evening! Why not try them out now? Here are some hacks and recipe tips that you can follow to make some fantastic and refreshing stuffed pepper recipes.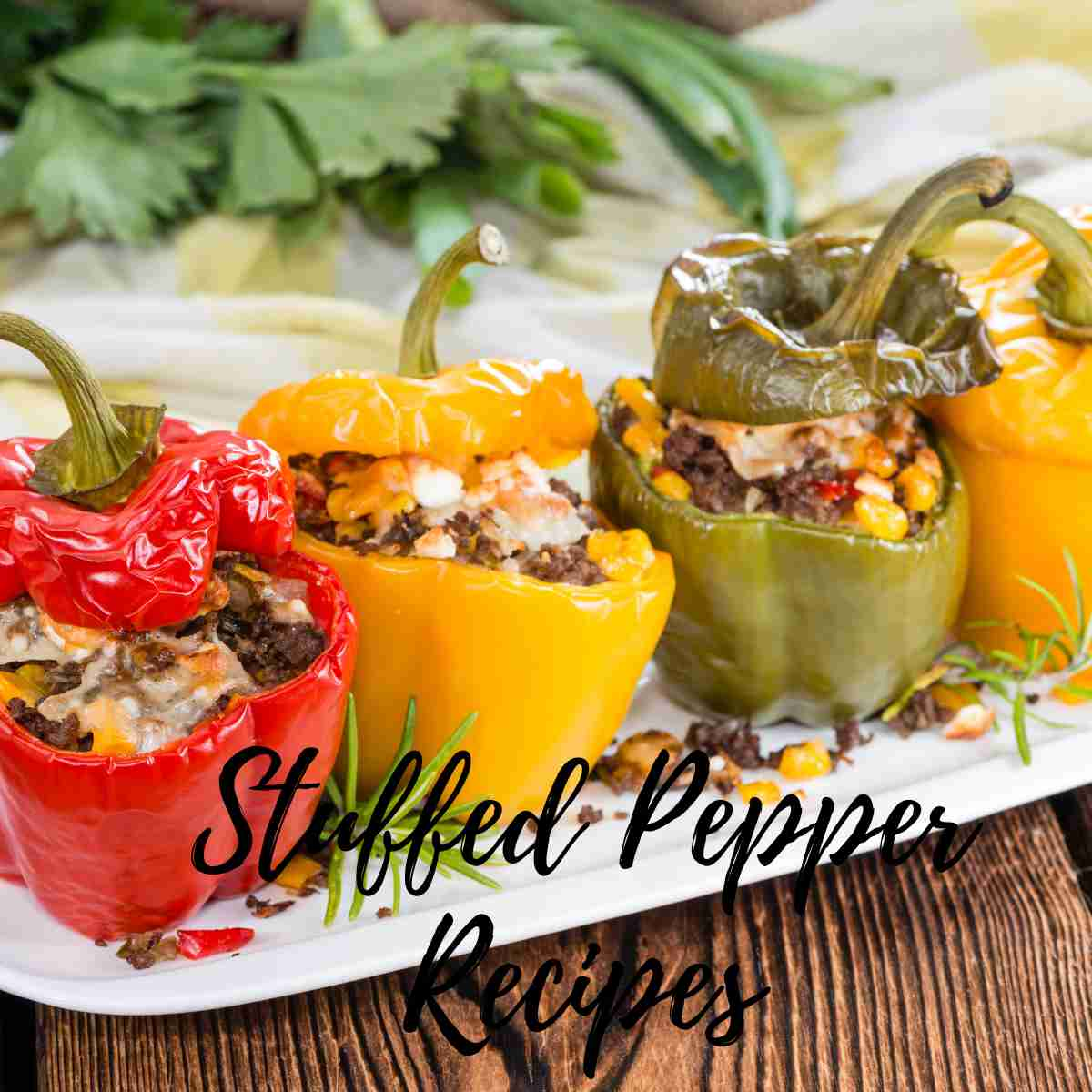 You will be thrilled to know that there are so many variations that you can bring with stuffed pepper so let's not waste a minute!
And the best part about making these shaped peppers is that there are so many options! From the filling of cottage cheese to meat, there are so many versatile ideas that will simply be so tempting indeed.
What do you need for prepping the veggie in stuffed pepper?
Firstly you need to slice the pepper and cut it out into two halves! Then scoop out the filling so that you can begin to work on making a new veggie or eat-based filling. You can either scoop out the seeds or tap them in the sink to remove them completely.
Is it necessary to cook the pepper before you stuff it with fillings?
Cooking pepper is a good idea before you stuff it with fillings although a raw bell pepper is even better. At this time the skin is tough and a taste of crispiness is also acquired at the same time. So when you bake them later you can still maintain a consistency and mushy texture as well.
How long should you ideally bake the stuffed pepper recipe?
Stuffed pepper can be baked for thirty to thirty-five minutes covered so that the steam that rises can form a soft texture for the pepper. Whereas, you will additionally need another ten to fifteen minutes for baking it uncovered for the cheese to ooze out and turn brownish.
Can you bake stuffed pepper ahead of time?
You can cut the pepper and store it ahead of time. This needs to be kept in an airtight container and the fillings to be stored in another. This way when it is time to make them, you can simply stuff the fillings and bake them in the oven.
What are some of the main ingredients required in the preparation of stuffed bell pepper?
If you are planning to make stuffed pepper then here are some basic ingredients that you can make use of!
Uncooked rice
Olive oil
Chopped onions
Tomato paste.
Ground beef
Diced tomatoes
Oregano
Kosher salt
Pepper
Parsley.
Directions-
Preheat to 400°C, in the oven, and add uncooked rice to it. Heat oil in a skillet and dice the onions.
Tomato paste and garlic are roasted in the pan together as they start to release the fragrance. Brown beef is mixed and cooked for about six minutes until it starts to become pink.
Mix the beef and the mixture with rice and then season with oregano, pepper, and salt. Give up fifteen minutes for the liquid to be released and then dried up.
Now spoon the beef mixture into the pepper and fill up to the brim. Flavor with cheese and then cover with foil.
Take about thirty-five minutes for the pepper to turn tender and then cook without the foil covering! This time the cheese will melt and release the gooey texture.
Sprinkle with parsley and you are good to go.
Fabulous stuffed pepper recipes to follow
If you are looking for a tasty and healthy appetizer then there is nothing better than ground beef stuffed pepper!
And guess what, since it is easily prepared in a skillet, you will not even have to waste much time in the kitchen.
There is beef, mushroom, and tomato sauce which makes the stuffing so delicious!
If you are trying out the bell pepper stuffed recipe for the first time then do not forget to give it a try!
Baked as sides, do not miss out on this one.
Here is a recipe for beginners to engage in!
We have brought you the recipe for stuffed bell pepper that is perfect as a tasty treat with drinks at a party or gathering.
You must be thinking what is so special about stuffed bell pepper?
Well, now you can try it out by yourself and find out for yourself about its amazing presence.
Flavored with seasoned ground pork and jasmine rice, the stuffed bell pepper is the best option when you are looking for something yummy as a tasty treat!
There is oregano and paprika to escalate the flavor of the recipe even more!
Try it out to indulge in its flavorful bliss.
Here is a low-carb meal that you can prepare all by yourself! Stuffed with sausage and cream cheese, the bell pepper turns out to be crispy outside and juicy inside.
The stuffed bell pepper recipe is what you have got for snacks when you are looking for something healthy and flavorful to make!
Topped with cheese and herbs, this recipe is outstanding and you should give it a try!
The classic Cajun seafood stuffed bell pepper has got it all!
From delicious shrimp peeping out of the bell pepper cups or the cheese and veggies, talking about it we can only say it is a great appetizer that you will not regret, rest you need to find out for yourself.
As a healthy, low-carb snack, you can try out the bell pepper nachos! These are super easy to make when you are thinking about making some wholesome snacks for the kids when they come back from the playground.
The Italian stuffed pepper is fabulous in terms of flavor and visual appeal!
Perfect to serve in a party or weekend gathering, you will be the first to grab a couple or more even before the guests find the scope.
Yes, it is true! If you like burgers and bell pepper to come together then that is possible with the aid of the Sloppy Joe stuffed bell pepper recipe here.
The bold and rich flavors of tangy sauce are palpable in every bite.
Whoever told you that being on a diet means bye-bye to all good food they were just kidding!
We have the taco stuffed pepper recipe with cheese, salsa, and sour cream to tempt your taste buds.
And there is no rice so it turns out to be low on carbs.
There are golden brown crawfish tails, bread crumbs, and sweet bell pepper to keep you company for appetizers.
Such an out-of-the-world experience for seafood lovers.
The classic old-fashioned stuffed bell pepper recipe is gorgeous and flooded with the essence of enriched gravy and Italian sausage stuffing.
What a wonderful dish with ground beef and cheese as well.
There is something so special about Mexican stuffed bell pepper! You have to try it out for yourself and find out!
There is ground beef, salsa, and taco to enrich its taste even more.
Topped with cheese, what a fantastic idea to serve as an appetizer to the guests.
Cooked in black bean sauce, the Chinese stuffed pepper is an exclusive way of filling bell pepper cones. You can use shrimp to enhance the taste of the dish. So what are you waiting for, try it today!
The absolutely best-stuffed pepper with ground beef, rice, and tomatoes are combined to create this dish!
Tell us if you do not find this to be a mind-blowing option for parties and light snacking.
Baked until tender, such a wonderful treat indeed.
The stuffed pepper ground chicken is delicious as it is filled with the universal favorite meat!
There is sauce, rice, and gravy which renders the dish with a magnificent and heavenly flavor.
Let's not wait anymore and make it this weekend.
A recipe low on carbs, the Philly cheesesteak pepper is ready in less than thirty minutes!
Enriched with mushrooms and juicy red mushrooms, this is a fantastic dish indeed.
Topped with mozzarella, the dish is ready to hit the tables.
Here is a complete gluten-free dish that you can enjoy as a side! Topped with buffalo sauce and cheese, the combination is simply outstanding.
And guess what, it is absolutely healthy so you can enjoy it as much as you want.
The authentic southwestern essence of the filling in the stuffed pepper is wonderful and you will surely enjoy this dish!
Cooked with ground turkey, chicken broth, and tangy sauce, the peppers are ready to adorn the snacks table this evening.
Shall we try it then?
Packed with veggies, rice, and cheese, the classic stuffed pepper is the ideal choice for the season!
There is loads of meat and veggies to keep you content in every bite and a healthy appetizer to enjoy whenever you have the urge to order.
The stuffed pepper casserole recipe is exotic and flooded with the heat and spicy essence created by paprika!
The ground beef filling is thoroughly marinated in spices so that the healthy pepper no longer feels boring to kids.
Infused with herbs like parsley and basil, the bell pepper pizzas and peas with crayons are a fantastic and unique dish indeed.
There is also some spaghetti sauce which makes this even more ravishing and tasteful.
Shall we try it then?
Packed with tender chicken, bell pepper, and fragrant garlic, the one-pot black pepper chicken is a fabulous recipe.
The one-pot recipe is so easy to cook in a short while.
Combined with sweet and spicy, give it a try!
Exclusive Greek roasted pepper and zucchini stuffed with pastitsio is ready with just four ingredients!
Nutmeg and zucchini stuffed peppers are unique and you should give them a try!
So what are you waiting for, explore it today!
Ground beef kebabs with rice pilaf is another great recipe that you should indulge in.
Flavored with pickle, onions, and tzatziki, the ground beef kebabs are the best to describe in a few words.
Mushroom stuffed bell pepper is succulent and flavored with the richness of spices and broth.
This is a cheesesteak traditional dish that is juicy and healthy in every bite.
Whipped with cheese, this is a great choice for an appetizer this season.
There is melted cheese, tomato ketchup, and mustard as a flavoring agent! Bacon stuffed bell pepper, is completely gluten-free and sprinkled with cheddar cheese!
Here is a keto recipe that you will thank us later for!
A great way to make use of lunch leftovers!
Here is a surprising dish for you to try out when experimenting with bell pepper!
There is no bread needed to make the sandwiches and hence such a great creation!
Tell us how much you liked it!
There is beef, rice, cheese, and sauce, the Mexican stuffed pepper can be prepared with the aid of this recipe.
Indulge in myriad flavors with tomato sauce combined with paprika, the perfect combination of sweet and hot.
Shall we try it then?
Perfect to accompany on a weeknight meal, the taco-stuffed Florida bell pepper is the right option to add to your list!
Ready in a couple of minutes, this is a great choice of the dish!
Are you ready to experience bliss?
Frequently asked questions associated with making stuffed bell pepper
1. What is needed for making stuffed peppers?
Green beans, meat, and cheese, there are so many amazing things that you can use as filling for stuffed bell peppers.
2. What is the benefit of stuffed bell pepper?
Filled with vitamin B6, C, and A, the stuffed bell pepper is replenished with dietary fibers as well. So you can enjoy yourself as much as you want!
3. What are stuffed peppers called authentically?
Chiles Rellenos, the stuffed pepper dishes bear their authenticity through thick and thin.
4. Are stuffed bell peppers good to eat?
Depending on what the ingredients are, you can make a stuffed bell pepper recipe truly healthy. Hence there are several health benefits associated with bell pepper.
5. Should you boil stuffed bell pepper?
You may boil pepper if you want, but they taste crispy and flavorful when left raw and uncooked.
Bottom Line- Let's not wait anymore as the weekends are almost here! The sumptuous bell pepper recipes are here for you. Enriched with flavors so divine, bell pepper dishes are so quick and easy for you to make! So get started and enjoy them hot and fresh.