All of us who love to cook must have tried making so many recipes from meat to veggies and so on! The option simply seems endless! Today we are going to talk about the skirt steak recipes which are trending in the cooking field these days.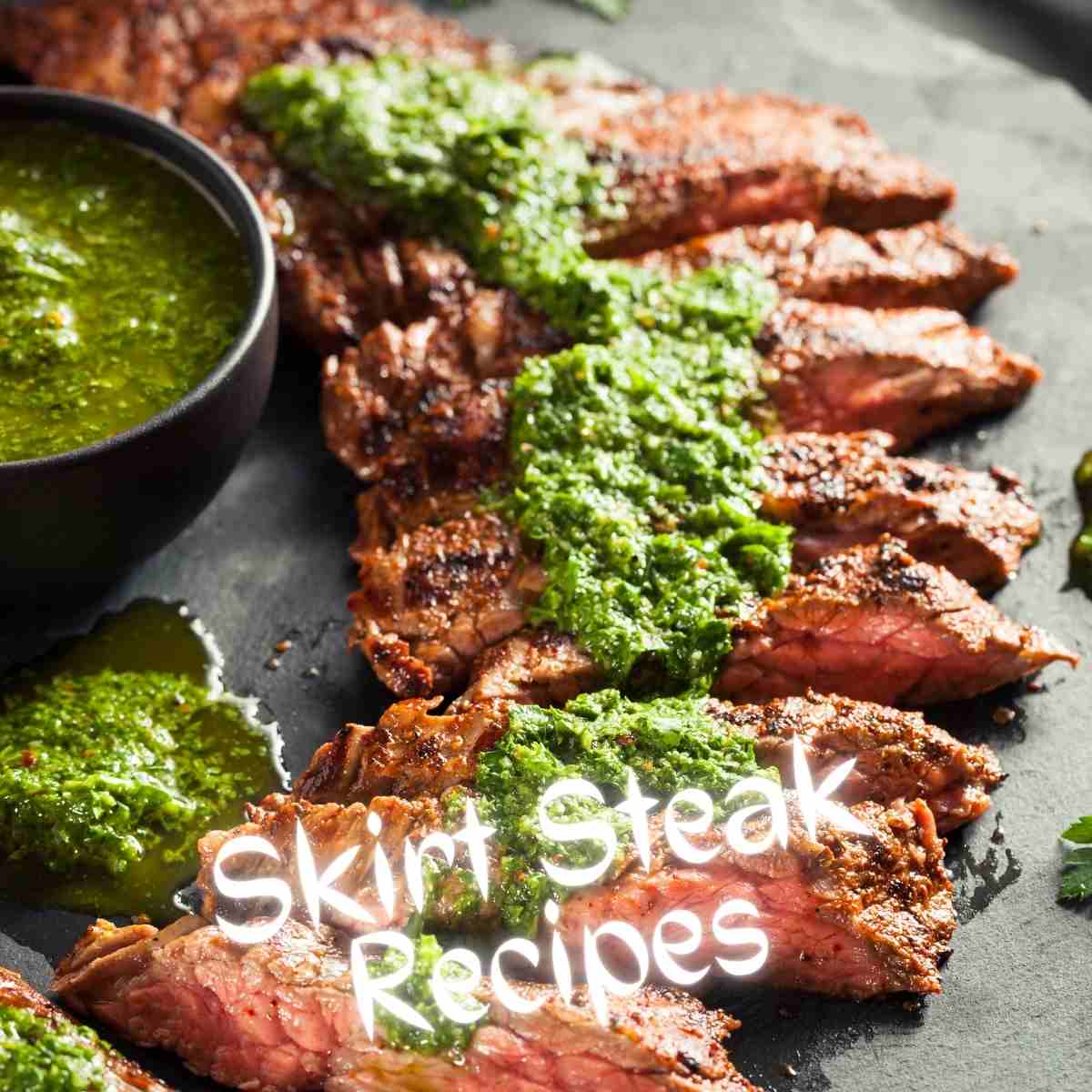 Let us find out what is so special about skirt steak and the techniques to prepare them! Let's see, shall we?
So what exactly is skirt steak?
The name is pretty inventive, right? Well, skirt steak is a slender and long cut of beef from the plate section of the body. You shall be delighted to know that this part of the beef is called the tastiest and succulent of all! This is because there is lots of fat in this region and the meat absorbs flavor from the fat when cooked. Some even marinate it with spices for a while before cooking so that the meat imbibes the flavor well which of course it does with perfection.
Whether you are grilling, or stir-frying, this part of the beef is amazing! They are mainly used in Mexican dishes like fajitas, tacos, and so on.
What are some of the features of skirt steak?
If you take interest in making beef then you should have a clear idea about the best part of the meat. This is basically the trimmed boneless portion of the diaphragm muscle and is extremely juicy to relish. This is attached to the sixth rib and covered with a tough membrane which you are expected to remove before you start cooking.
Read also: Mouthwatering Quail Recipes For All Occasions
Let us learn a little bit about the history -
History about cooking or names associated with dishes quite intrigues us and it shall do to you too! The skirt steak name has been used since the 19th century by the butcher. Ever since then this part of the meat has most commonly been used for preparing fajitas.
Which is the best way to prepare skirt steaks
As we mentioned earlier, skirt steaks are mainly used for cooking fajitas and tacos which are called arrachera by the locals.
So if you truly wish to experience the best of skirt steak then make fajitas and tacos to relish the best of beef.
Probably the best way to prepare skirt steak is on high flame. You need to be quick as too much time can burn them to charge! These are flat and thin sheets of meat which is ideally cooked in a skillet or grilled. Broiling in the oven is also an effective option for making skirt steak or even in a smoker! But no matter where you are cooking, skirt steak never overcooks the meat.
Here is a complete guide to help you out in preparing skirt steaks by different methods.
1. Grilling- perhaps the most common method of preparing skirt steak is with the aid of grilling. You may choose any recipe of your choice and marinate the meat in the spices! Keep flipping the meat piece in the bowl so that the spices are evenly spread over the surface. You can store the neat pieces in a plastic bag and allow the spices to settle down on the meat. It is essential for you to refrigerate the meat while it is soaked in marinade.
There are basically two ways of grilling skirt steaks which are as follows-
Gas grilling
Charcoal grilling.
In both methods, you will hardly need a couple of minutes to cook the meat as they are thin pieces of flesh. Before cooking meat should always be brought to room temperature.
Wait! Are we hungry already? Well, then we can discuss the cooking methods later as well, and focus on the recipes first!
Fantastic skirt steak recipes to explore
1. Skirt steak with Italian Salsa verde
Juicy and easy for you to make, the recipe of skirt steak with Italian salsa verde is gorgeous and created with anchovy, parsley, and Dijon mustard.
2. Skirt steak marinade with chimichurri
Served with herbs and the yummy chimichurri sauce, the skirt steak is juicy and you should try out this recipe for dinner.
3. Garlic butter Brazilian steak
All it takes is fifteen minutes to prepare this succulent recipe with the ultimate smoothness of butter and a garlicky essence. Here is an authentic Brazilian recipe that is completely gluten-free and perfect to indulge in. So what are you waiting for?
4. Balsamic skirt steak with red pepper relish
The combination of sweet and spicy created with tomatoes and red pepper renders this dish with a distinguished taste that everyone will crave. Seasoned with oregano, parsley, and zucchini, there is a hint of lemon too.
5. Grilled skirt steak tacos
This an absolute lip-smacking recipe for tacos that you will surely grow fond of after the first attempt. Filled with chipotle sauce, red onions, skirt steak, and jalapeno, this is a great idea to enjoy corn tortillas with. Do not forget to add a little lime.
6. Skirt steak with avocado chimichurri
A complete gluten-free dish served with avocado, cilantro, and parsley, the recipe is simply outstanding! Cooked with garlic, red wine vinegar, and cumin, the recipe is simply so amazing to relish. And guess what? It is paleo-friendly too!
7. Grilled skirt steak with chimichurri
The salted meat served with chimichurri is a wonderful dish that is flooded with the flavor of oregano and parsley! Topped with a dash of lime, the recipe will water your mouth with every bite! So shall we?
8. The best steak marinade and which steak to buy
The balsamic vinegar with Dijon mustard is gorgeous and served with Italian seasoning and soy sauce. There is Worcestershire sauce with garlicky essence to complete the dish! The recipe is so easy for beginners to indulge in.
9. Gochujang marinated skirt steak
Here is a buttery and juicy skirt steak served with Gochujang and olive oil. We have also added rice vinegar to the dish and enjoyed it with tortillas for the season. Such an exclusive recipe for you to make when craving meat and tortillas!
10. The best and most tasty flank steak
The combination of chives, balsamic vinegar, and Dijon mustard in this recipe of steak gives it a flavourful essence that you should try out. We have used soy and Worcestershire sauce to escalate its taste even more.
11. Pepper-crusted skirt steak with charred leeks
We have prepared the dish with leek, pepper, and mustard to flavor this dish of skirt steak! There is also the presence of peppercorn and coriander seeds making this recipe simply divine to taste. Cooked in canola oil, do not waste a minute and dig in!
12. Spicy citrus skirt steak recipe
The gorgeous spicy recipe for skirt steak is amazing if you are a fan of trying out dishes full of spices! The sweet and sour citrusy essence in the meat is awesome and you should give it a try when especially enjoying a family dinner.
13. No Fail sous vide skirt steak
Cooked with ginger, garlic, and green onions, the recipe of the no-fail sous vide with skirt steak is rich and flavourful! The combination of lime, soy, and Worcestershire sauce in the dish makes the meat even more succulent and juicy.
14. Sheet pan steak and veggies
We have prepared the platter of steak with veggies in a sheet pan and this is rather a quick recipe for you to indulge in. Succulent and meaty, the veggies are tossed in sauce to complement the steak well.
15. Grill marinated skirt steak( Churrasco)
Here is another exotic recipe that you are sure to fall in love with! Gorgeous and topped with sauces and spices, every bite of the meat renders you with a divine experience.
16. Weeknight skirt steak sandwiches with herbed mayonnaise
Tired of trying the same old chicken sandwiches? Well, you should give a try to the weeknight skirt steak which is flavored with herbed mayonnaise and arugula! Do not forget to put in some focaccia as well.
17. Skirt steak with charred okra and plum salad
Here is the ultimate comfort dish that you should indulge in! Cooked with okra, serrano chile, and shallots, the recipe is an innovative creation with skirt steak soaked in Worcestershire sauce.
18. Skirt steak with tiger bite sauce
We are absolutely in love with the skirt steak recipe cooked with tiger bite sauce. Flooded with the flavor of cilantro and cherry tomatoes. The presence of Monk fruit, Thai chile, and fish sauce escalates the taste of the dish manifold.
19. Japanese-style Ponzu marinated skirt steak
How exotic is this recipe cooked in the authentic Japanese style? Flavored with exclusive spices and sauces, you ought to fall in love with the dish. Succulent and meaty to relish this season. So shall we then?
20. Pan-seared steak recipe
If you are craving steak but do not wish to head to a restaurant on a lazy Sunday, then the pan-seared steak is a wonderful recipe for you to relish. Topped with butter, what a sizzling dish it is!
21. Carne Asada made with juicy skirt steak
The secrets to making the best carne asada with skirt steak are cilantro, garlic, and ancho chile. There are loads of radish, guacamole, and mojo sauce added to the dish. Restaurant-style salsa simply makes it impossible for you to resist the dish.
22. Outside skirt steak( grilled Argentinian entrana)
Succulent and meaty, the skirt steak recipe with exotic flavors is outstanding and you should give it a try! Tossed with herbs, the recipes are flooded with flavors and wonderful recipes for you to indulge in.
23. Gochujang marinated skirt steak
A complete gluten-free recipe cooked with scallion and avocado oil is utterly delicious for a meal especially when you are having guests at home. Marinated with gochujang and soy sauce, what a brilliant idea it is to try out!
24. Skirt steak dinner for two
Flavored with chicken broth, the recipe is ecstatic with flavourful sauces used to enhance the taste of the dish! Served with basmati rice, and seasoned with parsley and herbs, you should prepare this one and surprise your partner on the date.
25. Grilled skirt steak recipe
The flavor is with soy sauce and honey, this recipe is freshly grilled skirt steak is amazing and you can enjoy the taste of both sweet and sour. Seasoned with chimichurri sauce, this dish is so outstanding that you will crave more and more.
26. Skirt steak with truffle oil and parmesan fries
Coupled with parmesan French fries, the skirt steak with truffle oil is a ravishing dish that you are about to fall in love with. The presence of rosemary gives a subtle hint of flavor to your taste buds.
27. Roofeeo simply grilled chimichurri marinated skirt steak
Here is another exotic recipe cooked with chimichurri sauce that is flooded with flavors so enriching! Cooked with a dash of lemon and parsley is amazing and you should make it for weeknight dinner.
28. Tex-Mex classic steak fajitas
Are you craving fajitas in the restaurant style? Well, you do not have to head out for that anymore with the recipe of Tex-Mex fajitas cooked with jalapeno, lettuce, lime, and cilantro. So shall we make it then?
29. Sheet pan skirt steak fajitas recipe
Here is a completely gluten-free recipe cooked with green bell pepper, skirt steak, and lime marinade. Cooked with guacamole and soy sauce, we are in love with the dish. Brown sugar is added to enhance the taste of the dish.
30. Best steak fajitas
Garlic cloves, green chiles, and yellow onions escalate the taste of the dish manifold. The flavor of guacamole, cayenne pepper, and soy sauce renders this dish with an extraordinary taste. Enjoy your super easy fajitas for dinner tonight.
Oops, we almost forgot about sharing the styles in which you may cook skirt steak! Let us look back into it quickly!
1. Cooking skirt steak in the oven-
If you are preparing tacos or churrasco then the oven is the right place to make skirt steaks. You can cut them into small portions and then subject them to broiling. Marinate the steaks before you put them in the oven. If you were thawing in the refrigerator then take it out of the fridge and allow it to reach room temperature. This should be done for thirty to forty minutes before you cook.
2. Skirt steak cooking on the stove-
Cooking on the stove gives an attractive color to the meat which will surely bring water to your mouth. Preheat the skillet for five minutes and then add some oil! When the pan seems to sizzle you can add it to the pan and cook for eight to ten minutes. Always cook at 130°F and maintain this temperature constant. Once cooked you can rest it for five minutes and then serve it on the table.
Some useful tips-  
to boost the flavor of the meat you can smoke it. Fire up the smoker by pre-heating it at 225°F.
You may also sous vide shirt steak to enhance its taste and give it a tempting look.
Preheat the water bath and start marinating the meat.
Hence follow any of these methods to cook the skirt steak and the meat will effectively turn out to taste awesome.
Bottom line- now that you have all the necessary tips and tricks for cooking skirt steak go and prepare it for yourself. Weekends are the best to indulge in meaty delights and try out all new recipes. This time give