Christmas meatballs are not just meatballs but they are something that holds immense importance during the time of Christmas or other celebrations and events. Meatballs are something that wins hearts time and again. Whether you are having a normal basic dinner or it is that you have some friends coming over then these are the best treats that you can make for them. We all have some basic recipes which are handed down by our grandparents but just so you have more varieties in your meal, we have brought some exclusive meatball recipes for you that you can consume as a main course or try out as appetizers too.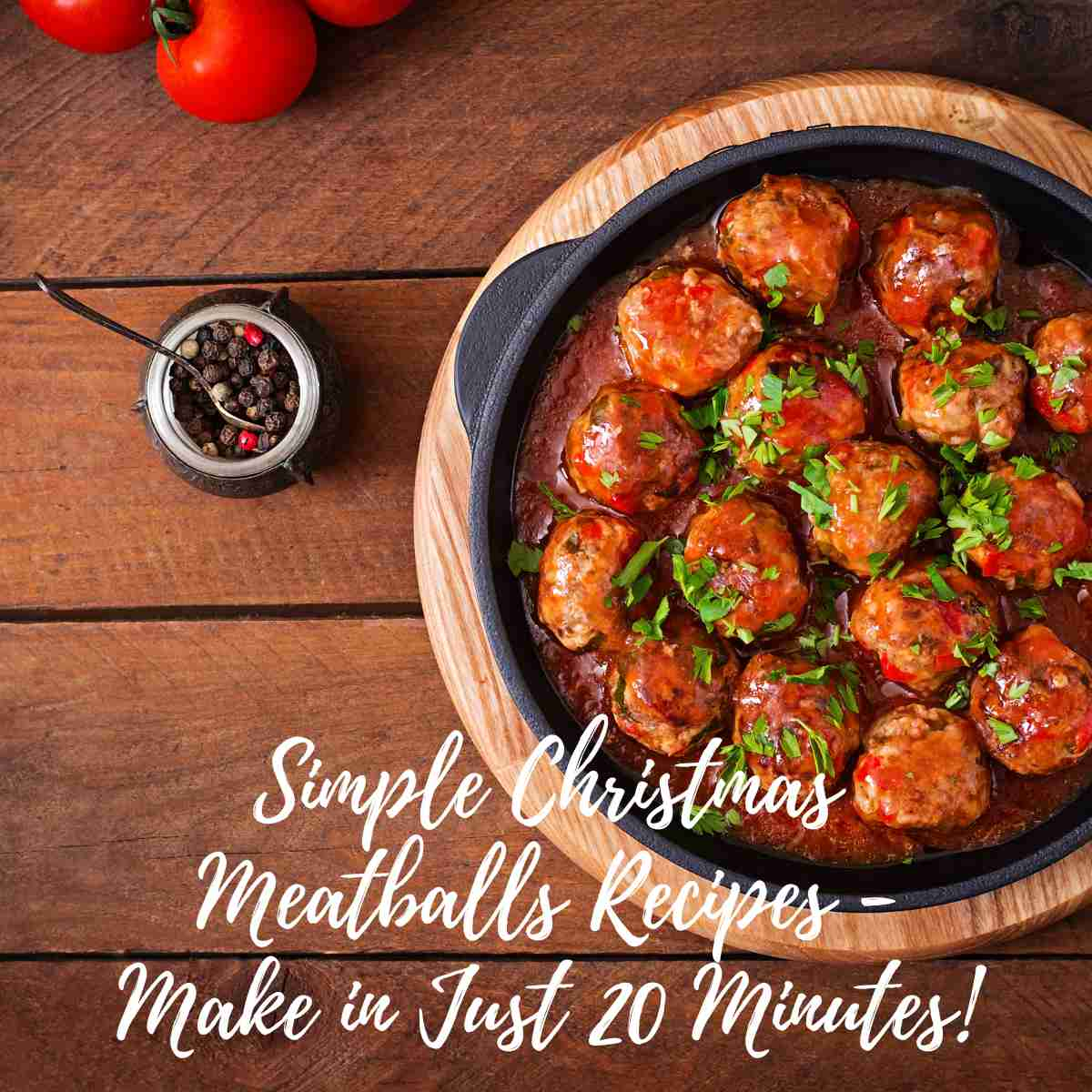 Useful tips for making meatballs during the holidays
1. Always begin with picking the right meat- the preparation of the meat behind with the choice of the right kind of meat. You should opt for buying meat that tastes succulent and looks fresh and art. Dry meat is not at all good to make meatballs. You can choose to work with beef, lamb, or pork as well as the content of fat in such varieties is much more. If you are working with chicken or turkey then there is one thing you have to be careful about! These are lean meat and if you overcook your meatballs then they can turn out to be too dry which you do not want. To yield the best flavors, you can opt for mixing up the meat!
2. Keep the meat cool- it might happen that the meat fat melts in the heat outside the refrigerator. This will lead you to end up with meatballs that lack flavors. So once you are done with making the meat mixture with diced onions and seasonings, you can go ahead and keep it in the refrigerator for a while before you fry these meatballs.
3. Do not forget to add some moisture to your meatballs- commonly we opt for chicken or turkey as we make party appetizers with meatballs! And like we said, lean meat is prone to losing moisture content quite fast. Eggs are a great binding agent which will confer moisture into the mixture to hold the ingredients together. You can even opt for breadcrumbs with milk which are also perfect to add some consistency, stickiness, and moisture to the meatballs without having to worry about dry meat.
4. Taste the mixture before you make it - before you make an entire batch of meatballs that lacks flavor, if it does, it is important for you to add some seasoning to the dish. But that does not mean we are asking you to consume raw meat! You can make a small test pattie with the meat mixture, fry and taste it! If everything is fine then you can go ahead with making the balls or if something is lacking then you can add the required seasonings.
5. Always be gentle when giving shape to your meatballs- there is one thing that you must note! You should not compress the meatballs so much that they turn out to be dry and spongy! This also draws out some moisture from the balls. So there is definitely a way to deal with it! What? Be gentle when giving shape to the balls. You can oil your palms a bit so that the meatball mixture does not stick to your palm as you give shape to the balls. The best thing to do is use an ice cream scoop to make uniform structures, this, in turn, ensures uniform cooking while you fry them.
6. Baking is the best option- deep frying can be unhealthy as the meatballs soak in much of the oil and turn out quite greasy. The best option to avert the situation is by baking them well. This way all you need to do is brush the meatballs with a hint of oil instead of dropping all the balls into hot oil. Baking turns them deliciously brown outside and tender and juicy inside. So we would always recommend you to bake instead of frying as it is a very healthy way of preparing meatballs.
7. Homemade bread crumbs are always the best- although buying breadcrumbs seems suitable when you are running out of time, homemade bread crumbs are simply lovely if you wish to give the meatballs a sense of enhanced taste and texture. And you definitely know why! That is because it is fresh and all.
These breadcrumbs bought from the store have been sitting on the shelf for too long and have artificial preservatives in them. You can always make these breadcrumbs at home because of their freshness and natural taste devoid of preservatives. These are minute details but must be taken care of when making meatballs.
8. Seasoning is highly crucial- if you are making meatballs then the one thing that you must be careful about is the seasoning of the mixture. There should be a perfect balance between the seasonings and the grounded meat flavors so that your meatballs do not taste bland and dead. Cheese and garlic are two important components that must go inside the meatballs as well. And make sure that you are generous with the herbs and the quantity of salt you add or the recipe will not taste good.
9. Mix in the recipes- all of us have a traditional recipe to follow which is handed down by our grandparents of meatballs in every household. But making the same thing again and again for every occasion may not be the ideal situation for you. It eventually gets boring and you have to admit to that! Then what can be done? You can experiment with different recipes and combine them together. This is rather an effective way to boost the flavor of your dish and experience something new with the meatballs too.
10. Dip in your favorite sauce- we all love sauces! That is something one needs to agree upon. But when you are making meatballs you can choose to eat it crispy with a toothpick or you can consume it from a bowl of gravy and sauces. This way you can even end up making two dishes from a single batch of meatballs. So if you wish to turn your meatballs into both a side dish as well as an appetizer, there is no better way than this one.
Well, that is enough discussion about the tips that you can follow to make wonderful Christmas meatball recipes. Now it is time to find out about these dishes. Let's go!
Christmas Meatballs Recipes - the Perfect Holiday Dish
Yes! The lovely meatballs soaked in tape jelly are right here to sway you off the table. The sweet sticky essence on the top makes it such an excellent treat to relish this season. Perfect for the Christmas aura!
Here we have the awesome bourbon meatballs which are indeed flooded with flavors so divine! You will not be able to believe your taste buds. And since it is made in a slow cooker, you do not have to worry about getting them done with much effort.
Here is another recipe that you should try out! Loaded with flavors so enriching, the cocktails meatballs are the boozy treat that you should indulge in. Luxurious and saucy, the meatballs turn out to be great!
The sticky and spicy cranberry BBQ meatballs are the right dose of flavors of sweetness and spiciness that you can indulge in this season. Gorgeous and creamy, you must give it a try for sure. Shall we then?
The seasonal Christmas meatballs are what leaves one craving for more and more! Saucy and enriched with flavors, the recipe turns out to be too good! There is no way you should miss out on this one. So what are you waiting for?
The combination of sweet and spicy cocktail meatballs is delectable and flooded with gorgeous essence. The gravy is so divine that you will be rendered speechless. Seasoned with herbs, go for this dish right away! Tell us how this turns out to be!
The presence of chunky pineapples in the meatball gravy with a smokey hint tastes like heaven. Easy to prepare and ready in a jiffy, you must try it out for sure. Don't be surprised if you are compelled to make it again.
The sweet and sharp honey garlic meatballs are simply lovely and we can guarantee that there is no way you can resist the same. Make it for the guests and see how quickly they disappear from the table.
The gorgeous sweet and sour meatballs will render you simply speechless! Tender, rich and juicy, the recipe is super easy to emulate for one. So if you are wondering what to serve as an appetizer, here is something that you must try out.
The Mongolian meatballs are best consumed with plain steamed rice! If you are a fan of saucy meatball curries, then this recipe is perfect for you to try out. We are so glad to help you out with such an amazing dish.
Yes, we are indeed talking about the gorgeous root beer meatballs which taste so good! Fascinating and rich in flavors, you are definitely going to fall hard for this one. Such a tasty treat to indulge in during the holidays! Shall we then?
Cranberry meatballs are the showstopper of the season! If you like the sauce to be tangy and sweet then this recipe is meant for you! The guests will be highly impressed with your choice of dish to make the party even more sparkling and gleeful.
This is rather a unique idea we must say! The moment we came across this recipe, we knew you would love to try this one and so we added it to the list. The chunky meatballs inside the crispy cupcakes simply taste so good.
Ah! Finally the meatball marinara poppers! Perfect to make your Christmas special, we are super excited to give a try to these dishes! Drizzled with cheese, the recipe turns out to be too good to resist.
Yes! Let's not forget about the party meatballs this season! Loaded with flavors so enriching, you will definitely be overjoyed to give it a try! Smooth and enriching, these succulent meatballs are exactly what you need during the holidays.
The cheesy and rich chicken meatballs are exactly what will render you with a sense of sheer pleasure during the vacation. Flooded with the taste of sauces, these succulent meatballs are perfect to blow one's mind off. Let's make it then!
If you wish to try out something new then you must go for the creamy Swedish meatball treat! Delicious and juicy, it is the gravy which makes your meatballs taste so divine. We have to admit, even the sight of the dish makes one's mouth water.
The teriyaki sauce it is deserves all words of praise! If you are fond of meatballs then you must give this idea a try! Delicious and spicy, we are sure you will love this dish.
The delectable and juicy peach bacon meatballs are exactly what you need to fill yourself up during the occasion of Christmas as the party appetizers are made. The combination of bacon and chicken makes the meatballs taste even better than you can think of.
The sweet and savory pineapple BBQ meatballs are simply lovely and we can guarantee that you will definitely love this dish. Easy to make and ready in a jiffy, do give it a try for sure! And let us know how this turned out to be!
Frequently asked questions associated with making meatballs for Christmas
1. What are some of the things that you must ensure to not let your meatballs break?
If you do not want your meatballs to break then there are some precautions that you need to take into account. Add some eggs and bread crumbs to trap moisture in the meatballs such that the ingredients stick to each other and do not fall apart. The egg acts as a great binding agent which prevents the ingredients from falling apart from one another.
2. What helps the meatballs to stick to each other?
Eggs are the best secret ingredients to make sure that the ingredients stick well to each other. Adhered with breadcrumbs, the moisture is held intact. Soak the breadcrumbs in water and then squeeze the excess moisture to give it a sticky texture.
3. Should you boil the meat for the meatballs before you serve them?
This is to be noted that the meat can be boiled or blanched somewhat to remove the excess fat from the meatballs and keep the juiciness still intact.
4. Why should you add flour to the meatballs?
Flour is sometimes added to the meatballs to prevent the meatballs from getting too dry. It can retain moisture just like bread crumbs. If you are adding both then make sure you do not put in excess into the mixture.
5. What is the reason behind meatballs falling apart?
Meatballs can fall apart if you do not take proper care of them as this might happen in the absence of a binder like eggs in the mixture.
Bottom Line-
The holidays don't have to be a stressful time in the kitchen. By following any of these simple Christmas meatball recipes, you can have a delicious and satisfying meal in just 20 minutes! Whether you serve them as an appetizer, main course, or side, these easy recipes offer a unique and festive take on a classic dish. So, this holiday season, give yourself the gift of time and peace of mind with these quick and tasty meatball recipes. Let's make the holidays a time to savor the good food and good company.
As the late American chef and food writer James Beard said, "Food is our common ground, a universal experience." These Christmas meatball recipes are an easy and delicious way to bring people together and celebrate the joys of the season.