Craving something delicious? Try these simple yet tasty shrimp and rice recipes that take under 30 minutes to make. Browse through our collection to find the perfect recipe for you!
More collections: Mexican Seafood Recipes, Chowder Recipes, Cedar Planked Salmon Recipes, Grilled Salmon Recipes, Delicious Shrimp Recipes, Grilled Shrimp Recipes, Salmon Recipes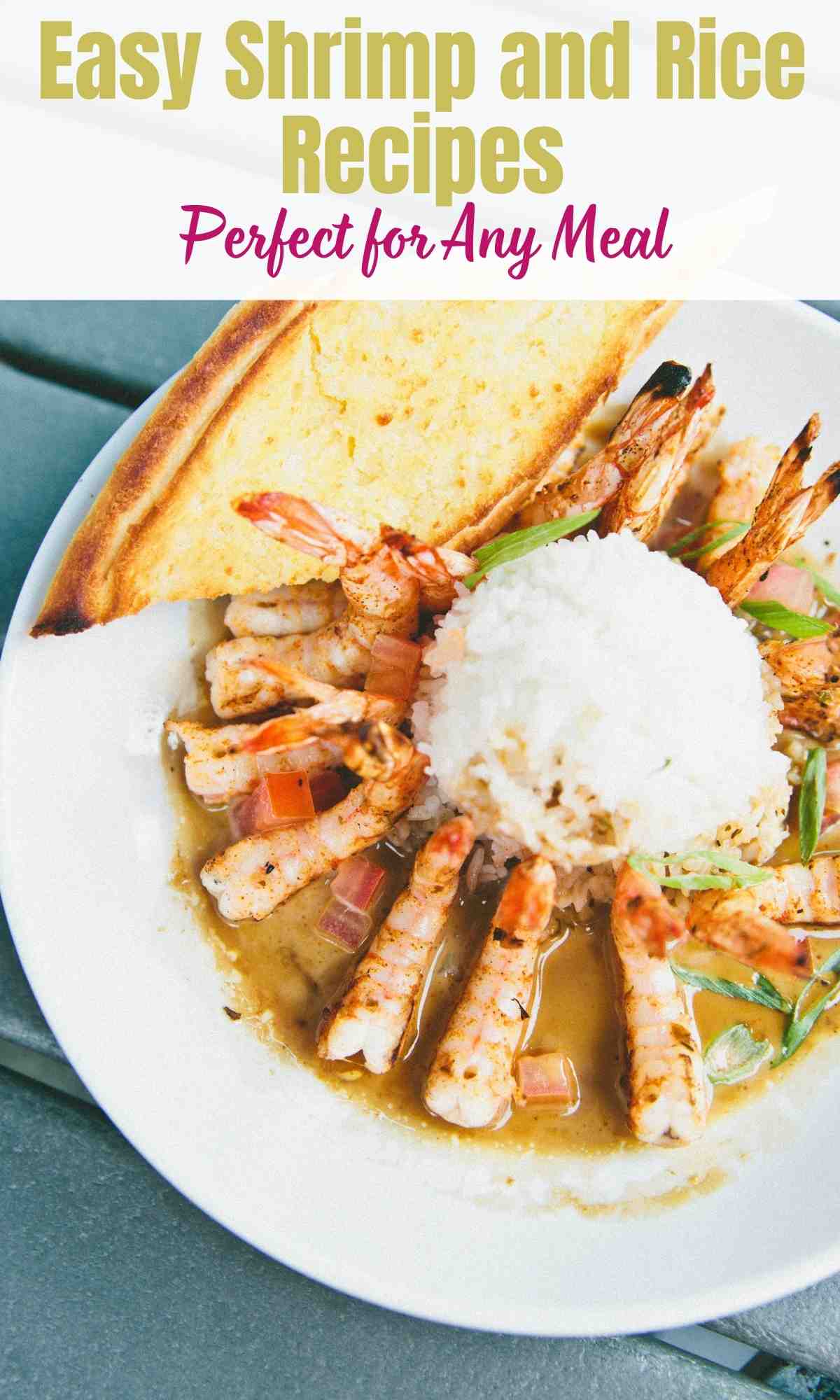 Shrimp is something that is what we all love! If you haven't tried seafood for a long time then the right time has come for you to explore these wonderful rice and shrimp recipes! That is right! You can change your ordinary rice to something yummy and rich with the presence of some shrimp tossed into the rice! However, you need to follow some basic rules so that you do not make any blunders as you make shrimp at home. Let's get started, shall we?
Table of Contents
Blunders that you should avoid while making shrimp at home
Making shrimp is no big deal as long as you follow these basic steps!
1. Always opt for fresh shrimp and rice never buy the wrong size-
There are different kinds of shrimp that are available in the market! Depending on your budget, you can purchase the size you want! From colossal, jumbo to small, the options are simply endless.
This is to be noted that wild-caught shrimp is a hundred times tastier than farm-raised ones. In case you are making something like rice or noodles, small-size ones are perfect. Frozen shrimps are good enough as well.
2. If your method of thawing is not right
Once you have purchased the shrimp and rice probably plan to make it the next day, you will place it inside the freezer! But how do you thaw it later? Sometimes improper thawing can destroy the taste and texture of the shrimp!
You can use a colander and thaw the shrimp in the refrigerator overnight or pack and seal them inside airtight containers and place it under running cold water! Direct contact between shrimp and water should not be made as this can make the shrimp soggy and tender.
3. When you end up overcooking the shrimp
This is to be noted that you should never overcook the shrimp or you might end up destroying its taste completely! The skin will become too tough and chewy while the flavor will be diminished! Hence in the case of shrimp, you are expected to follow a strict time duration as you cook.
In case you are grilling there is a possibility that you might end up overcooking them as they are exposed to direct heat! The best trick is to make use of a skewer. It enables you to quickly flip the shrimps over and not waste time turning them one at a time.
4. Never forget to devein the shrimp
You must have noticed that larger shrimp is easier to devein than smaller ones. It is essential for you to devein the shrimp because although the digestive tract is not harmful to our stomach, there can be dirt and sand which you should never consume.
It can also affect the taste of the shrimp because as you chew, the shrimp will feel grainy. You can make use of a fork or a knife to give an incision to the back of the shrimp and then pluck it out!
5. What to do with the shell
Some prefer to let the shell of the shrimp remain because when you grill it, there is a crispy texture that it acquires while removing the shell is something that you might not enjoy! But there are also perks of getting rid of the shrimp, one can season the shrimp well and it will also absorb the spices well.
Depending on your preferences, you can get it removed or let it remain. However, in the case of small shrimps or when you are making rice with it, the best is to remove the shell and let it remain in case of grilling it and roasting colossal ones.
Delicious Shrimp and Rice Recipes | Easy & Healthy Cooking
Served with plain steamed rice, it complements the taste of the gorgeous and spicy garlic shrimp!
The combination of paprika and parsley is an extraordinary creation indeed.
The preparation of smooth garlic butter shrimp is rich in taste and a great idea that leaves you asking for more!
Savory and smooth, the creamy butter essence is felt in every bite.
All you need is thirty minutes to prepare this wholesome meal! The mild essence of cilantro and lime served with black beans is a wholesome and healthy meal for brunch.
The combination of rice and shrimp is wholesome and packed with great taste!
In the presence of a bowl of rice cooked this way, you do not need anything perhaps on the side. Go for it today!
The zesty and enriching lime shrimp tastes so good! Packed with the essence of cilantro, there is the presence of black beans in the rice which makes your Jasmine rice so healthy and tasteful too! Shall we then?
The combination of shrimp and rice tastes so extraordinary! Packed with great taste and zesty lemony essence, the skillet is lovely and drizzled with some herbs to escalate its taste manifold.
Perfect to call it a meal, do give it a try for sure.
Packed with great taste, ten minutes is all that you need for the preparation of the shrimp!
The sweet essence of honey served with a garlicky hint tastes so extraordinary! Savory and smooth, you will definitely come back thanking us for the idea.
The smooth and gorgeous honey garlic shrimp served with greens is crunchy and crispy at the same time.
Sweet and garlicky, you can enjoy it with rice on the sides. Shall we then?
The jerk shrimp basil rice is awesome and served with herbs on the sides! Rich and cozy, there is pineapple and shrimp which renders it with great flavors.
We absolutely love basil rice and the shrimp makes it absolutely divine.
Drizzled with cheese, the parmesan shrimp and rice is a classic choice and renders one simply speechless!
If you are running short of time then this idea is perfect for a sumptuous meal! Do give it a try for sure.
All you need is ten minutes to come up with this gorgeous blackened shrimp recipe!
Smooth and savory, the perfect blend of spices with rice, makes it the perfect summer meal! Do give it a try for sure. Shall we?
Here is another amazing treat for shrimp lovers! An all-time classic, the Bang Bang shrimp is simply the best and flooded with great taste.
Smooth and saucy, the entire plate will be rendered empty in a jiffy! Are you ready to experience its wonderful flavors?
The lemony herb shrimp with rice tastes so wonderful and is packed with great flavors!
Rich and cozy, this is a gorgeous treat and pretty wholesome too! If you have no clue what to prepare for lunch today, go for this one already!
The Fiesta lime shrimp bowl is wonderful and packed with veggies! Served with corn, jalapeno, and cherry tomatoes, this tastes so good!
Wholesome and rich, this is an amazing treat for the season!
The shrimp rice bowl is wholesome and served as dinner or brunch! If you have bought some fresh shrimp then this rice bowl is the best!
Drizzled with spicy mayo, your rice bowl is ready! Make it right away!
If you are in the mood for something spicy then the Chipotle shrimp rice bowl is the best!
Savory and gorgeous, this is a wonderful treat on a warm summer afternoon! You will hardly need half an hour to cook this right?
Shrimp fried rice tastes so gorgeous that even if you feel full, you will be compelled to eat more.
Savory and packed with veggies, do give it a try! Kids to adults, everyone will definitely love this idea. Shall we try it then?
Hibachi shrimp bowls are another authentic treat that we are sure you will grow fond of at the very first bite!
There is a reason why we say words will never do justice to this dish! You have to make it and find out on your own.
The mesmerizing Mediterranean sauteed shrimp is packed with all that you find fascinating!
The seasonings perfectly complement the taste of the dish and make it so good! Tossed and served with rice, you know what to make for dinner.
The zesty essence of the orange shrimp with the bold citrusy hint tastes so wonderful!
Further, the presence of honey makes it even better! So what are you waiting for? Shall we give it a try then? Let's go!
Other recipes you should check out: Ham Recipes, Halloween Dinner Recipes, Rotini Pasta Recipes, Kohlrabi Recipes, Ground Chicken Recipes, Ground Pork Recipes, Meatball Recipes, Salisbury Steak Recipes, Mississippi Chicken Recipes, Broccoli And Chicken Stir-Fry Recipes, Keto Chicken Parmesan Recipes, Lemon Butter Chicken Thighs Recipes