There is no perfect time to indulge in scalloped potatoes! This is because every moment is ideal! Scalloped potatoes have their separate fan base and whether you talk about Easter or Christmas brunch or simply a family dinner, scalloped potatoes will always steal the show! How wonderful would that be if you could make them by yourself? Did you visit your friends and they made scalloped potatoes and you totally went head over heels? Here are some tips and a list of recipes that you can follow to learn and make scalloped potatoes.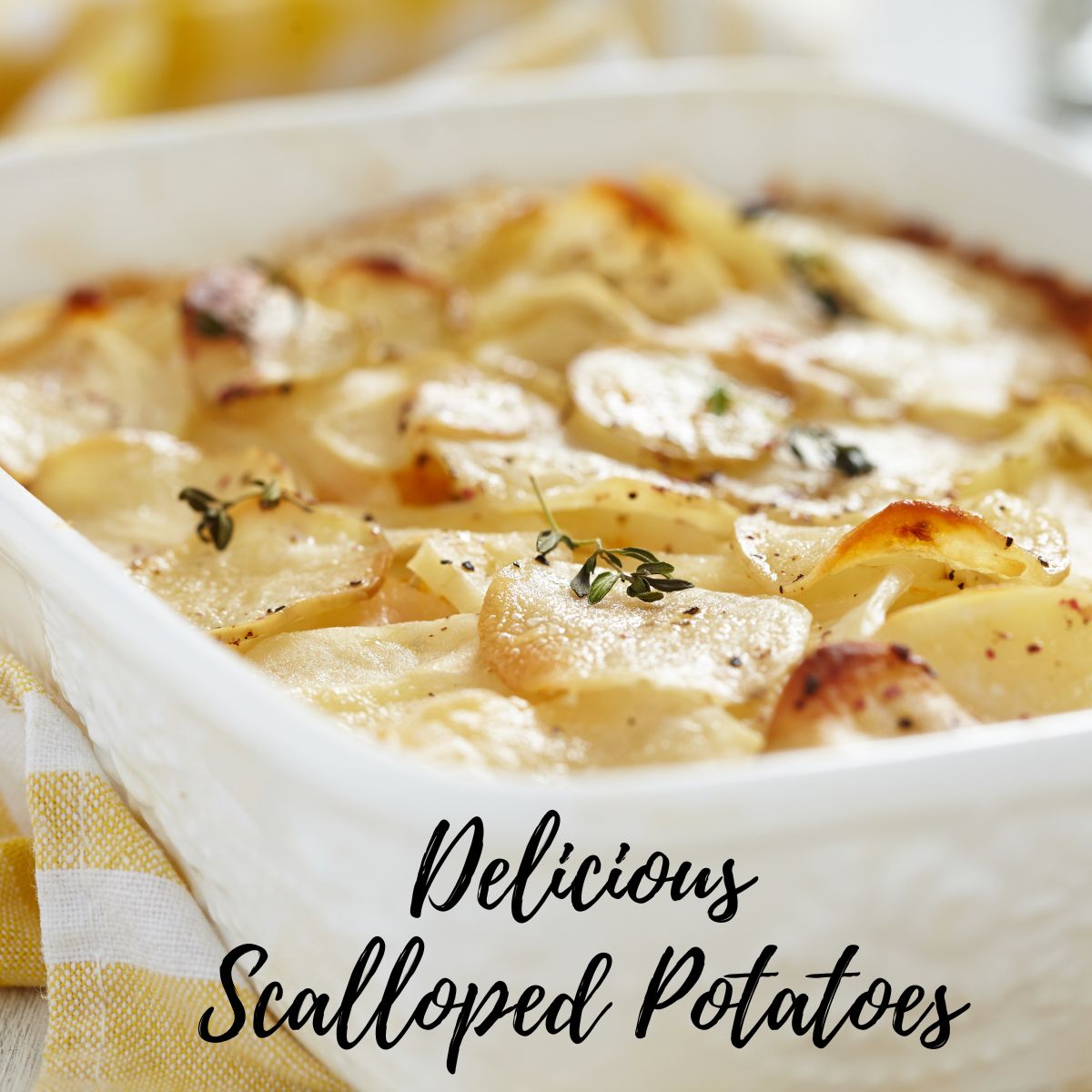 If you are having an occasion at home or simply wish to indulge in a comfort dish during the holidays, the scalloped potatoes have maintained the reputation of being a great pal for family dinners.
So what exactly are scalloped potatoes? These are thin slices of potatoes and onions which are baked with cream until tender and juicy. Isn't it a wonderful idea to relish as a side dish? Not just the vegan dieters but even the meat lovers will be compelled to leave their favorite dish and pick up a scoop of scalloped potatoes from the tray. Although scalloped potatoes originated in England, the word has more to do with the meaning of the style in which the potatoes are chopped into thin and uniform circular slices.
What are some of the basic ingredients that you will need to make scalloped potatoes?
1. Potatoes- Yukon gold potatoes are the best as they can be sliced uniformly and taste divine! You can even work with Russet potatoes but they seem to break apart quickly! Although they taste equally good, you will have trouble maintaining the shape.
2. Onions- do not forget to get onions as they are an essential ingredient of scalloped potatoes.
3. Cream sauce- you do not have to rush to the stores to get cream sauce when you can simply make them at home! Flour, butter, broth, and milk are enough to get the cream sauce prepared at home with perfection. You can add some shredded cheese to enhance its taste even more.
4. Seasoning- the regular seasoning includes salt, pepper, garlic, and onion powder. You can also infuse the dish with herbs like thyme, rosemary, parsley, and so on.
Easy instructions for making scalloped potatoes-
If you are wondering how to make scalloped potatoes with perfection then here are some simple steps that you can follow-
Although making scalloped potatoes is time-consuming and you will need a lot of patience, the methods are pretty simple so you are going to enjoy the process as well.
You need to slice the potatoes thin along with the onions!
Prepare the homemade cream sauce and then layer the sauce with potatoes and onions. Multiple layers can be made according to the quantity you have.
Cover with foil paper and bake the dish! After a while, you can remove the foil cover and bake again. When the potatoes at the top turn brownish and tender you shall note that the dish is done.
Take it off the oven, and cool it for twenty minutes before you serve them on the table. Allowing it to cool down is highly essential and you should not skip this step.
Here are some useful tips-
do not cut the potatoes thick! You should slice them finely so that uniform baking is ensured.
Always cook the butter properly and stir properly! Stirring fat is an essential step that ensures that a smooth consistency can be reached for the sauce. This is called the roux. You can then add flour and milk after that.
Cheese is an extra addition that you can make to the dish! Cheddar or Gruyere is a wonderful option to enhance the taste of the dish.
You can add salt and pepper to each layer so that the seasoning is uniform.
We recommend you cover the foil while it bakes as this allows the process to fasten up.
Is it possible to make scalloped potatoes ahead of time?
Making scalloped potatoes take a lot of time and if you wish to quicken the process for the day then bake them partially ahead of time.
You may bake it for fifty to sixty minutes and then allow it to cool down on the counter. Make sure that the top is covered with foil paper so that the steam itself can bake it a little more.
Then after cooling, refrigerate the dish. Make sure that the tray is still covered.
On the day you wish to consume scalloped potatoes, you can bring them out of the refrigerator thirty minutes ahead of time and then bake them for another thirty-five minutes.
Now let us find out about some exotic and easy scalloped potato recipes!
Delicious Scalloped Potatoes Recipes - All the Tips and Tricks You Need!
If you are wondering what to make for this Thanksgiving dinner then here is one recipe that you can try out!
Sprinkled with herbs, the taste of the creamy potatoes is enhanced manifold! Make this cheesy treat today!
Here is what you will definitely enjoy! We have brought you the exclusive recipe for scalloped potatoes but in a different way!
Make a rollout of it and see how gorgeous this turns out to be!
You will surely thank us later!
Experience the divine taste of Thanksgiving scalloped potatoes with this easy-peasy recipe right here.
Enriched with the goodness of cream and herbs, this is a perfect recipe that even you can make toddlers consume!
The creamy aromatic sauce on the scalloped potatoes makes this dish extremely yummy!
Consume a spoonful of scallops and then you will not know when the whole bowl turns out to be empty!
Yes, it is very hard to stop once you begin to have it!
We are simply enthralled by the taste of the cheesy scalloped potatoes! There is everything that you have been craving for a long time!
From cheese to cream and potatoes, don't forget to make it.
This is a wonderful dish that tastes simply out of the world.
Here is the creamy version of the potato scallops and you should give it a try!
Flavored with three kinds of cheese, this is a brilliant idea when you simply can't stay without cheese in the holidays.
The garlicky essence of the scalloped potatoes will simply sway one off their feet! Plus, it has got cheese and herbs to turn your taste buds on!
The perfect side dish for a delicious dinner date with your partner to savor this weekend.
You definitely have to try this recipe for exotic potato scallops! So simple to make that you will be compelled to try them again and again.
Loaded with bacon and caramelized onions, this is a wonderful choice of recipe that you should not miss out on.
Cheesy garlic scalloped potatoes are right here if Easter or Thanksgiving season is just around the corner.
Flavored with the rich garlic essence, you will truly fall in love with the dish at first sight!
If you are finding alternate ways to make scalloped potatoes then here is a recipe that you should indulge in!
The stove-top scalloped potatoes are perfect as you can save a lot of time.
So what are you waiting for? Make it today!
Mom's homemade scalloped potatoes are the best thing that you can look for! Enriched with milk, Romano cheese gives a distinguished taste to the recipe.
Everyone in your family will be satisfied with the recipe! What a great idea!
The holidays get even more special and joyous when you know the right dish to make!
You will surely find the recipe for classic scalloped potatoes easy to follow as you prepare dinner for the guests.
This is a constant so remember to make them as a side dish.
Potato gratin is a little modified version of the classic scalloped potatoes! So if you are a fan of scalloped potatoes this is ten times better than that!
So you can imagine how wonderful potato gratin turns out to be.
Lip-smacking and gorgeous, the scalloped potatoes combine both, comfort and taste! You do not have to believe it based on our words!
Follow this recipe and see how good it turns out to be!
Infused with the gorgeous presence of herbs, this is a wonderful recipe that consists of Russet potatoes and juicy chicken broth.
Flavored with black pepper and parmesan cheese, you will surely find this dish to be an extraordinary idea for everyone.
The combination of parmesan and white cheddar cheese in this recipe is scalloped potatoes, giving it a refined taste!
Perfect to savor during the cozy and cold winters, you must indulge in this dish right away! Tell us how you liked it!
We have brought you the recipe for classic Poutine-style scalloped potatoes that you will surely be tempted to relish this season.
The presence of beef gravy and mozzarella cheese renders it with a wonderful essence right away!
Do not waste a minute and prepare it right away!
Here is a completely gluten-free recipe that you should indulge in! Flavored with crispy onions and cream, you are surely going to fall in love with its divine taste.
Perfect for a cozy treat during the cold winters.
Cajun scalloped potatoes are prepared with a few simple recipes so you do not have to worry about rushing to the stores!
An authentic Southern delicacy that you must try out this festive season.
Don't waste a minute and start preparing it for dinner tonight.
Sometimes addition and alterations are needed so you do not get bored with the same old!
Here is a recipe for scalloped potatoes which make use of mushroom soup to enhance their taste.
The recipe for scalloped potatoes just gets better with the presence of herbs and cheese!
If you are looking for a creamy treat for brunch this Sunday, don't forget to try out this recipe of herbed scalloped potatoes.
The gorgeous scalloped potatoes are fantastic and you should give it a try! Flavored with simple herbs and pepper, the scalloped creamy potatoes are wonderful and leave you thrilled with every bite.
Let's not waste a minute and get it prepared today!
Juicy and flavorful, the parmesan-rich scallops are the best! There are not any words to describe the magnificence of the dish!
Yummy and enriching, this dish is surely going to make you fall in love with its divine presence.
Try it out for sure.
Here is what you will be truly delighted to try out! The gorgeous cheesy scalloped potatoes are perfect if you are in the mood for vegan side dishes but not boring ones.
The season is perfect with Thanksgiving around the corner to dive into the creamy world of scallops.
The charming presence of the scalloped potatoes on the table will simply sway you off your feet!
It is true that they have ruled taste palettes for ages and will continue to leave their impact during the Thanksgiving dinner.
Not one but three! Yes, you heard it right! This scalloped potato recipe makes use of three types of cheese to prepare this dish.
Topped with cream and sprinkled with herbs, the recipe is simply outstanding and out of the world.
We have brought you the classic French dish that you will surely find tempting enough to enjoy!
The perfect vegetarian potato recipe that you should indulge in this season.
So do not waste a second and try it out right away!
If you wish to indulge in meaty and creamy then we have the enriching scalloped potatoes with ham for you!
This recipe is super easy to make! Enjoy a sumptuous dinner of cream, ham, and potatoes this weekend.
Here is an amazing way to make regular scalloped potatoes delicious and healthy!
This recipe is scalloped potatoes with sausages is a modification that the kids will surely enjoy.
Delicious and rich, you will grow fond of the dish in the first bite.
The surprises with Gruyere scalloped potatoes simply seem never-ending!
We have this awesome dish that combines cheese, potatoes, and cream in the most delightful way!
You do not have to believe in our words if you want! Feel free to try it out and judge for yourself.
The mixture of potatoes and gravy will melt in your mouth to leave an everlasting impact on the taste buds.
Potato gratin is indeed an excellent choice especially if you are planning for a gathering over dinner.
Bottom Line- That's all for today! Now we leave you the rest of the day to choose the recipe you find the best and explore the ways to make scalloped potatoes. We can assure you that you will not regret your time and decision. So are you ready for it?