Impress friends and family with delicious and healthy salmon recipes. Try our quick and easy ideas that are perfect for any occasion! Make it special and get creative with our selection of mouthwatering salmon recipes!
More collections: Mexican Seafood Recipes, Chowder Recipes, Cedar Planked Salmon Recipes, Grilled Salmon Recipes, Delicious Shrimp Recipes, Grilled Shrimp Recipes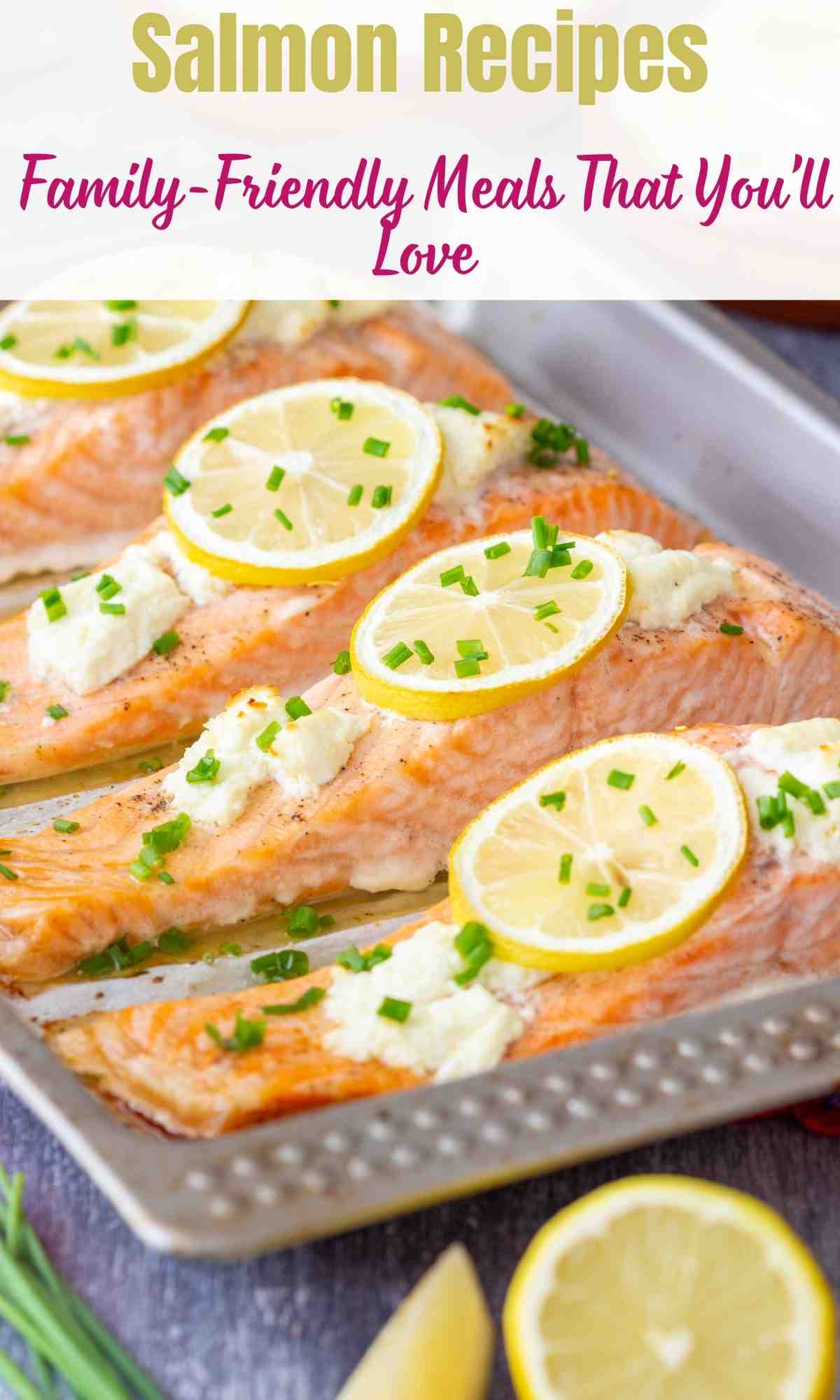 Well, as we know salmon is a fatty fish and consist of several nutrients which are beneficial for both kids and adults. Salmon is the talk of the town when it comes to making seafood. The best thing about salmon is that it is so versatile, there are so many things that you can manage to make with salmon!
Whether poaching, grilling, or roasting, a fancy dinner is cooked in no time when you have salmon at home. Not to forget it is rich in omega-3, vitamins, and protein components which makes it perfect to include in our meals! But to do so, you first need to learn the method of making it right!
Table of Contents
Tips and methods for cooking salmon at home
Making salmon is very easy as long as you know the right methods! All you need to do is be systematic with the process and the job shall be done.
1. So, what is the trick to picking the best salmon from the store
Fresh salmon never smells odd or fishy, perhaps this is the first thing you will note as you near the salmon counter. If you find an unusual odour then the fish might not be fresh. Every part of the skin should be bright and moist! If you observe some discoloration or the skin turning pale then do not buy that fish. Silvery and shiny, the eyes would be glowing for a whole salmon.
Here are ways you can cook your salmon recipe right!
2. The method of pan-frying your salmon
If you are running short of time or you want to keep it simple then pan-searing or frying is the best method to turn the fillet succulent and crispy at the same time. And the best thing is you will not require more than thirty minutes for multiple fillets.
A busy weeknight dinner with salmon is the best. Seasoning with salt and pepper must be done and then fried on butter! You are expected to flip the fillet after five minutes and allow even cooking on both sides. To determine whether your salmon is cooked or not, you need to pierce a thermometer and note if the internal temperature of the fillet is 125°F or not.
3. What is the method of cooking salmon in the oven
Baked salmon prepared in the oven is often served with veggies and dips on the side! These are perfect to call a wholesome meal too! During this process, the oven is preheated at 450°F! The fillet is seasoned with salt and pepper and then seared on a sheet pan brushed with oil or butter.
Twelve to fifteen minutes is enough to do the job and the best thing is you do not even have to flip it! Hence the salmon can be left in the hands of the oven without any supervision and they will come up exactly perfect.
4. Next let us learn briefly about broiling the salmon
However, when you opt for broiling in the oven, you need to keep on checking so that the salmon does not get overcooked which is likely in this case. Broiled salmon takes a jiffy to get blackened so be careful and monitor the oven at all times. This method also takes about five to seven minutes and is hence preferred when you are in a hurry!
Pan-roasting on the skillet and grilling are other methods that are applied while cooking salmon. Depending on which one you prefer the most, you can choose your kind.
Delicious Salmon Recipes - Quick, Easy, and Healthy Ideas
The tender salmon fillet dipped in a handsome gravy of butter and lemon, is not only a treat to the taste buds but also to the eyes. Dig in right away!
This is a fifteen-minute salmon that is ready in no time! Savory and juicy, you can enjoy it for brunch on a warm afternoon as you crave something nice and healthy.
Being of Mediterranean origin, this dish tastes so unique.
Ready in no time, the sweet and spicy sriracha salmon bowl is one of the best to indulge in this season!
Flooded with saucy gravy, there is no way you should miss out on this mesmerizing treat of the season especially if you are fond of salmon.
You can serve the Bang Bang salmon as an appetizer or starter to the main course!
Drizzled with herbs and small in size, these are quite a great way to create anticipation and a craving for the main course right afterward.
The bold buttery flavors of butter honey lime sauce render one speechless in every bite!
Gorgeous and creamy, this is an exclusive recipe with salmon that no one will be able to resist. Get it done in a jiffy!
If you are looking for something succulent, nice, and cozy, then you should try out the salmon patties!
Adorned with a layer of garlic sauce on top, this is perfect to serve at the beginning of the meal!
If you are fond of sushi then the spicy salmon sushi bake is the best thing to opt for!
Tender and packed with veggies, sauce, and fish meat, a lover of sushi can never resist grabbing a bite. Do give it a try!
Gorgeous and zesty, enjoy the seasonal flavors with the wonderful orange-glazed salmon idea that we have for you right here.
Tempting and packed with citrusy essence, you should indulge in its blissful taste! Make it this weekend and enjoy it to your fullest.
If you are looking for something easy and refreshing then you should go ahead with the healthy honey mustard salmon that we have for you right here.
Rich and cozy, the bold flavors of mustard are palpable in every bite.
Here is an authentic salmon recipe that we are sure you will be fascinated with at the very first bite!
Creamy and garlicky, this Tuscan salmon is simply the best and leaves you craving to make more next time.
The gorgeous balsamic glazed salmon is exclusively listed because we knew you would be tempted to try something smoky soon!
The fine flavors of salmon marinated in sauce taste so divine! Savory and smooth, you should opt for this one right away!
If you wish to make your job hassle-free then here is something that we are sure you will find so easy to opt for!
Rich and healthy, served with green stalks of asparagus, you must give it a try!
Nothing is as cozy and comforting as a bite of the honey garlic salmon!
If you find it hard to believe in our words then you must try it on your own and find out! The dish will never disappoint you.
If you are looking for a one-bowl recipe for this afternoon then we have found you the right one!
Served with rice and veggies, the sweet and spicy salmon is not only filling but wholesome too!
Making baked parmesan garlic herb salmon might seem too elaborate but the process is rather very simple.
Served in a foil, you are definitely going to fall in love with this one.
Make it while you spend your time outdoors with your family this weekend.
The brown sugar-glazed salmon gives the perfect shade to the fish making it look so ravenous and difficult to resist!
If you do not believe us then you have to try this out on your own to find out!
No matter how much we try to describe the brilliance of salmon in words, it simply falls short when it comes to the sesame-drizzled salmon bowl.
Served with rice, you can call it a handsome meal!
Making chile lime salmon tacos is the most interesting and exciting salmon dish we came across in a while!
So if your kids are fond of tacos, prevent them from ordering from outside and serve this one next time.
The gorgeous teriyaki salmon is right here to sway you off your chair! If you wish to impress someone with your skills to make seafood then you must try out this amazing blackened teriyaki salmon.
Spicy and packed with flavors so divine, you can hardly resist.
The air fryer ginger glazed salmon is so easy to make! These are small bite-sized appetizers that one can serve at the beginning of the meal to mark a great start and keep the anticipation high for the main course.
Other recipes you should check out: Graduation Party Recipes to Celebrate in Style, No-Bake Halloween Treats, White Rice Recipes, Nutritious Brown Rice Recipes, Italian Cookie Recipes, Flourless Cookies, Easy Small Batch Cookie Recipes, Halloween Mini Pie Recipes