Are you planning to make rice bowls? That's a great idea we must say! A rice bowl certainly completes the meal and is fabulous when you are tired of making side dishes and main courses separately. Here are some useful tips that you will be thrilled to learn about when it comes to rice bowl recipes! Whether you are preparing lunch or a hearty meal at the end of the day, a rice bowl never fails to bring a smile to your face. Are you ready to find out about them?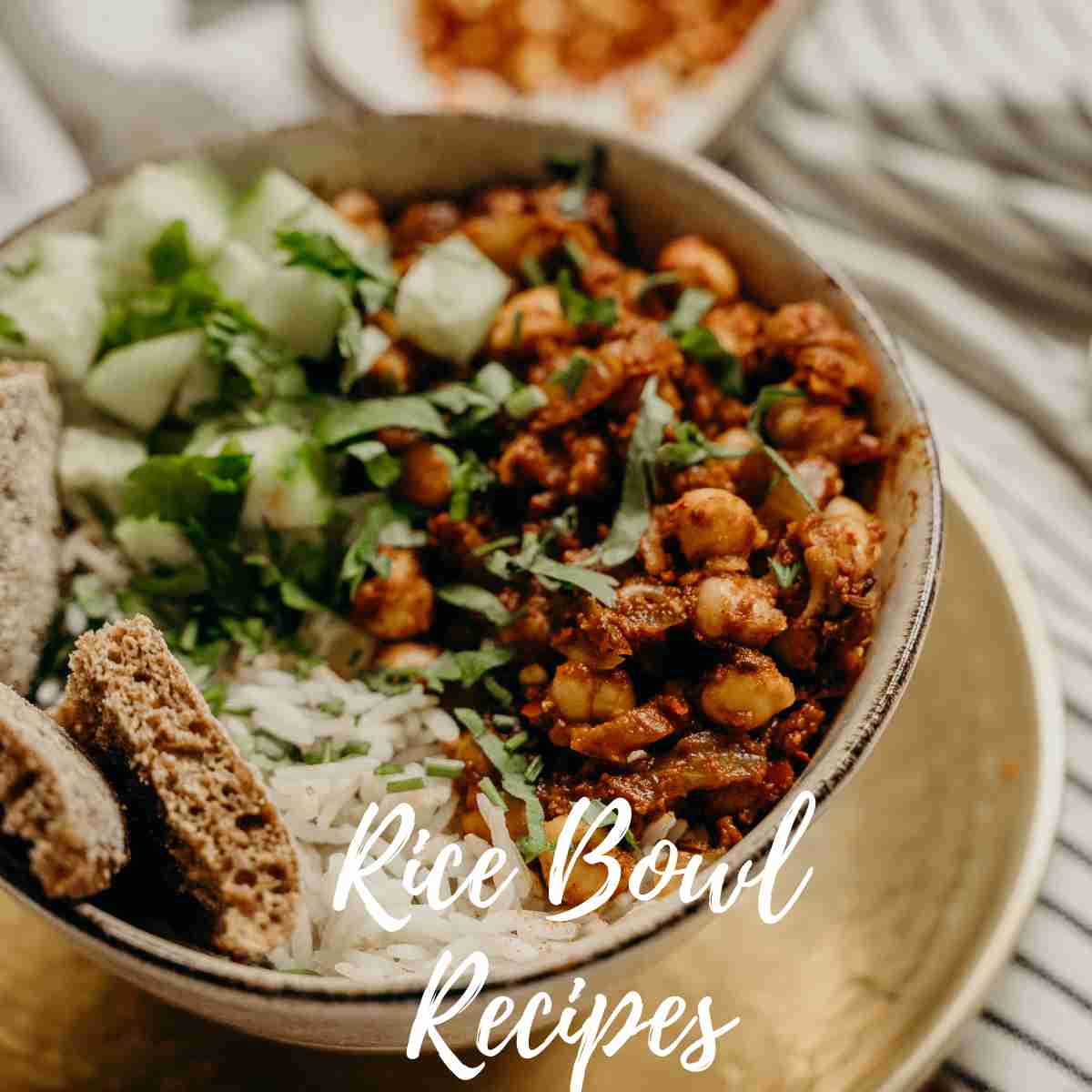 Interesting facts about rice bowls!
We simply can not overlook the importance of rice to the Japanese! Cultivated in all the lowlands, rice is an essential ingredient and is considered a staple by the inhabitants of the region. The rice is served both with meat, fish, and ramen. Eggs and onigiri snacks are also offered in the same way as rice! The raunchy sauces make them such a treat for the taste buds! Ultimate satisfaction we must say! Japanese craftsmanship has given a completely new aura to rice bowls! That's all about the simplicity and yet the excellence the Japanese have put into their rice bowls! Over the years the recipes have traveled all across the world and many modifications have been eventually created. Let's learn more about them!
How can you make a rice bowl?
If you have any leftovers in the house from last night then rest assured that a rice bowl is the only option you have got for the next morning! You know, this is the best part about rice bowls! You can by m use anything with rice to create the dish! So if you are planning to prepare a rice bowl let us learn what are the basics that one can indulge in!
Things you need for making a rice bowl!
Here are some of the basics that you should keep in your pantry as you are making rice bowls! Let's find out!
1. Essential grains- of course, you cannot prepare a rice bowl without rice in it, can you? From white to basmati, brown, or yellow rice, any type may be put to use.
2. Vegetables or fruits- once you have the rice ready, you may go ahead and chop the veggies! They can be grief, roasted, or directly added to the bowl!
3. Proteins- to ensure that the meal is wholesome and filled with nutrients you have to go ahead and add meat like chicken, lamb, pork, and so on to the rice bowl.
4. You also need sauces for garnishing- the recipe of the rice bowl is simply incomplete without the presence of any sort of sauces! This helps to bind the ingredients all into the bowl and make it even more tasteful and amazing.
Tips- if you wish to make the recipe even more crunchy and delectable then you can add some sort of seeds like sesame seeds, peanuts, and so on.
What are some of the best ways to add a sense of flavoring to your rice bowls-
If you are making rice bowls for the first time then it is alright to be apprehensive about the ingredients and how you can make it better. Here are some ways in which you can ensure that the dish turns out to be outstanding.
1. Contrasting different sauces- if you wish to enhance the taste of the rice bowl and make the seasonings even more prominent then instead of adding more of a single kind try out contrasting the flavors! Sweet with spicy and so on, helps you to achieve a distinguished taste altogether.
2. Marinate the meat beforehand- if you are wondering what is the way to enhance the taste of the rice bowl then the best way to do so is with the help of marinating the meat properly. You may use the basic paprika, ginger, and garlic but they act as a great taste enhancer when you marinate the meat beforehand.
3. You must use plenty of sauces, so the dish turns out to be great rice bowls are all about the way you use the sauce! Here we recommend you make use of sauces judiciously so each flavor can complement the other well.
There are different types of bowls that have gradually radiated from the Japanese bowls! If you are in the mood to try them all then perhaps you have to declare a rice bowl week! From seafood bowls to meat-filled and vegetarian bowls, the options are simply endless!
If your kids throw tantrums about eating plain steamed rice then here is a healthy way to accomplish the task which the little ones will enjoy too! Yes, rice bowls. Find out about the recipes now!
Delicious Rice Bowl Recipes - Easy & Healthy Dishes
If you are confused about what to make for lunch so the kids do not leave their rice and veggies on the table, try out this recipe!
The sweet honey essence with savory chipotle sauce makes the chicken rice bowl so tempting indeed.
Of course, you can't miss out on the sumptuous teriyaki chicken!
Flooded with the essence of sauce and perfect seasoning, you should give it a try!
Did we tell you there is also broccoli for a healthy touch?
Running out of time for what to make for dinner? We understand that you had a busy day!
Here come the cilantro lime steak bowls which were fantastic indeed!
All you need is less than twenty minutes to get it done with perfection.
The chicken fajitas rice bowl is delicious and you should give it a try!
Flooded with lime and herbs, the rice bowls are so wholesome and filled with the essence of Tex-Mex sauce!
The cilantro-lime rice is served with Cuban-style black beans and we must say that the combination is simply flawless!
There are succulent meat cubes too so it becomes easier for you to feed the kids without them throwing any tantrums.
If you are looking for something healthy and wholesome then the Teriyaki Chicken poke bowl is fantastic indeed!
Filled with toppings, pineapple, and sushi rice, the Teriyaki chicken rice bowl is fabulous and will leave you asking for more and more.
Sprinkled with sesame you are good to go!
All you need is thirty minutes to prepare the Teriyaki turkey rice bowl!
Cooked with the richness of roasted veggies and ground meat, we can assure you this is the best!
So shall we try it then?
The steak burrito bowl is something that if you make it once you will be compelled to try again and again!
There is Lettuce and salsa added to the dish so the burrito bowl becomes even more irresistible.
Packed with cucumbers, kimchi, and fried eggs, the easy beef bulgogi is the best one when you are in the mood for a sumptuous meal on a hot summer day!
The saucy meat is served on the bed of rice!
Combining all the traditional Banh Mi ingredients, this rice bowl surely deserves your praise! 
We know you will surely consider this to top your list of comfort dishes once you give it a try!
So what are you waiting for? Try it right away!
Why not give a try to the classic honey chipotle chicken rice bowl this season?
The recipe is right here so you can make something wonderful and enjoy it after a tiring day!
Shall we make it then?
The gorgeous California sushi bowls is a scrumptious and the most awesome recipe that you can think of!
Packed with tender crab and rice sushi, you will surely fall in love with its exotic taste. Tell us how it goes!
The Hibachi-style sauteed veggies served over rice need no words for description!
You have to try it out on your own to find out about its brilliance!
Don't waste a moment and indulge in its heavenly flavors. Shall we then?
Are you looking for something to keep yourself motivated to work in the middle of the day?
Then a power rice bowl is what you need to energize yourself!
Here is the recipe so make it quick. Tell us how it goes!
The authentic Korean bowl is right here to sway you off your feet! Also known as the Bibimbap, this is something unique for the season!
Are you ready to indulge in its magnificent taste?
Topped with eggs, the dish is ready!
The combination of garlic beef, carrots, and pepper in sweet honey sauce renders you with a sense of contentment and pleasure at the end of the tiring day!
Garnished with tangy sesame vinaigrette, the dish is ready!
If you are bored with eating chicken every day then you have to give a try to the crispy salmon bowl!
You will regret not having it before. Topped with spicy mayo, the dish is ready to adorn the table.
The flavors of the south will hit you hard with the Southwestern steak bowl!
Rich and flavorful, the dish will leave you content but with the craving for more at the same time!
So try it out right away!
The shrimp burrito bowl is healthy and flavored with loads of veggies and corn and lime!
Infused with herbs, the burrito bowl contains all sorts of nutrients so you feel refreshed!
There is cauliflower too, so dig in as much as you want.
Cooked with boneless chicken thighs, the rice bowl is flooded with flavors so divine!
Sprinkled with sesame, you can enjoy it with herbed rice, and feel so filling!
There is broccoli and sriracha sauce to make the dish even more fantastic!
Here is a gluten-free dish with salmon that you can enjoy even while on a diet! It is called the firecracker salmon bowl for a reason because of the spicy hint it carries!
Shall we try them out this holiday season?
With the contrasting presence of sriracha and honey, the crispy salmon bowl is fabulous with the presence of all the essential seasoning to render it with a divine taste.
Ready in just twenty minutes, if you have brought some fresh salmon fillets from the store, do make this dish.
Here comes the delectable beef and rice bowl made in the authentic Korean style!
Flavored with the richness of sauce and seasoning, the recipe is extraordinary and you should give it a try!
There is no way you should miss out on the healthy Greek chicken bowl which tastes so magnificent and is also nourished with nutrients.
There are loads of veggies with Mediterranean spices and sauces to enhance the taste of the dish!
Packed with salsa, salad, rice, and steak, the burrito bowl is perfect for a hot summer day!
It is meant for lunch plans when you are simply tired but also starving to enjoy something refreshing!
Ready in just twenty minutes, can you believe it?
The gorgeous Mexican rice bowls are the most fascinating recipe that you can think of! Ideal for a weeknight meal when you are running out of ideas, the rice bowls are wholesome and perfect for the season!
With rice bowl recipes, there is no way you can run out of ideas! Here we have the classic Vietnamese grilled pork rice noodle bowl which bears the goodness of rice and noodles too!
Shall we try and find out how good it is?
If your kids are complaining that you have made nothing good with chicken this week then here is the gyro bowl to stop them from throwing tantrums.
There are cherry tomatoes, cucumbers, and paprika for a delightful time.
If you are in the mood for all the best of Japan then here comes the recipe for the Katsudon Japanese pork cutlet and egg rice bowl that you can try out!
You don't need to thank us later for this brilliant idea!
We have brought you the pleasure of enjoying the jerk chicken bowl with the enriching presence of mango salsa and the goodness of coconut all combined in a single dish!
So you know now what to make for tonight.
If you prefer to tempt the guests and your family at the first bite then you have to give a try to this vibrant recipe of the Sanshoku Dan!
Flavored with soboro chicken, it is complete to call a meal!
Bottom Line- You will certainly like the concept of rice bowls as they reduce the work pressure in the kitchen manifold. Instead of arranging a multiple-dish meal, you can make just one rice bowl and it will do the job.