Get ready for guilt-free snacking with the best protein cookies! Enjoy delicious and nutritious protein cookies with all-natural ingredients. No artificial flavors or colors - get your protein cookies today and satisfy your sweet tooth!
More collections: Weight Watchers Cookie Recipes, Nutritious Whole Wheat Cookies, Soft Cookie Recipes, Drop Cookie Recipes, Low Carb Coconut Flour Cookies, Small Batch Cookie Recipes, Muffin Mix Cookie Recipes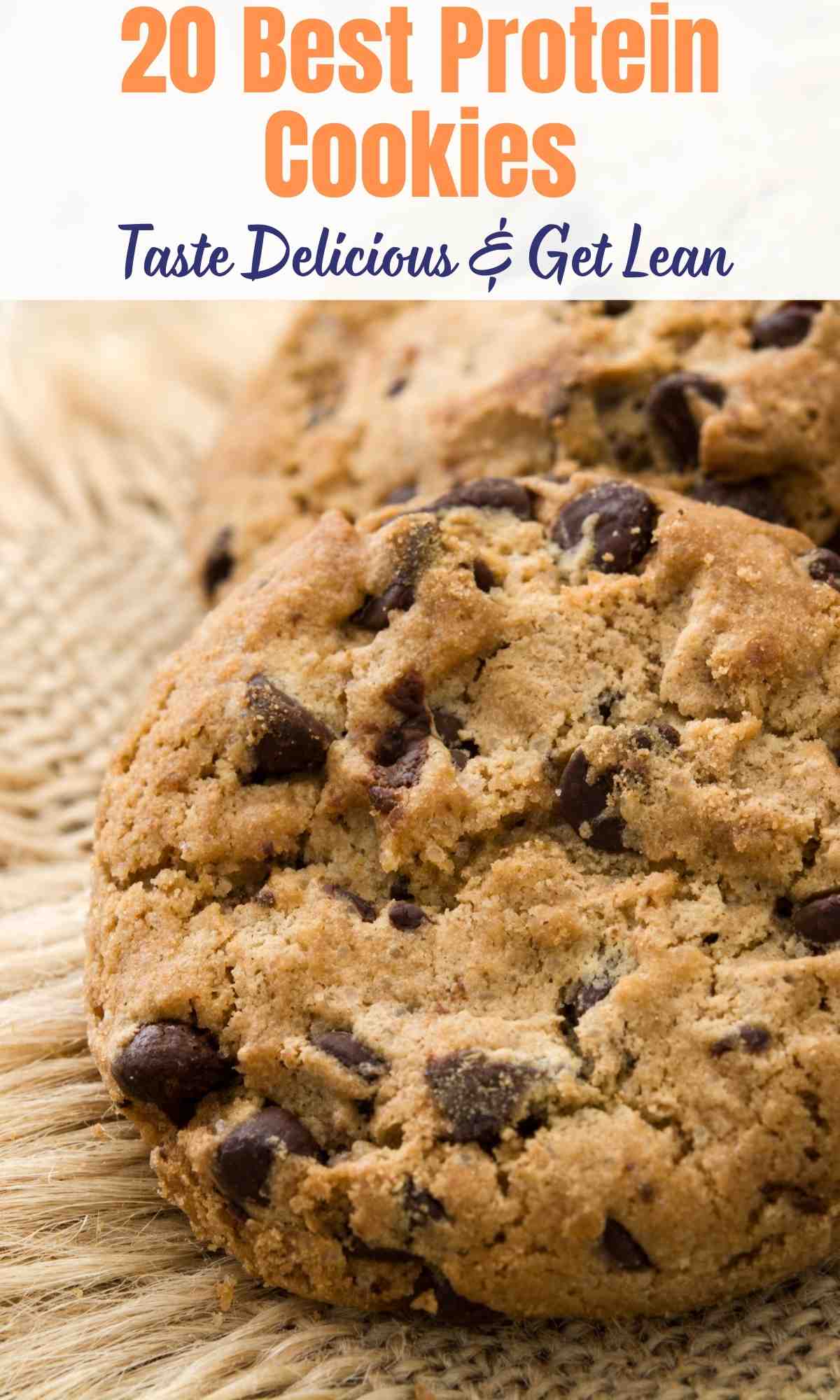 Baking cookies may seem like a daunting task if you are doing it for the first time, but that does not mean you will not enjoy it eventually! In fact, there are so many of us who make it a hobby, and whenever we find some time, we get to indulge in something nice and rich! Cookies like these are what you have been looking for! Yup, one that is a sheer source of indulgence and flavor while also containing all the essential ingredients, especially proteins! So you are about to find out the secret to making cookies with several protein components.
Tips to add proteins to your cookies_ Learn the tricks
What do you mean by high-protein baking?
Cookies that are rich in protein, you can include in your meal, as these will keep your weight under check! Eat more and gain less! Being high in protein, you will also stay full and energized for longer hours of the day! Hence these days, the demand for baked goods is high proteins in the market.
Next, let us learn about the origin now- as we know, proteins are made of building blocks called amino acids! These amino acids are found abundant in both plants and animals! So if you are a vegan and wondering whether you will miss out on essential proteins, well, we can only say that the plants will save you. This is to be noted that there are twenty amino acids and nine of which are extremely essential in your diet and must be obtained from the food itself!
So the more proteins you try to include in your small and big meals, snacks, and so on, the better. Pulses have more lysine, while cereals are relatively devoid of the same. However, pulses have less methionine and tryptophan; whole grains are higher in these sulfur-containing amino acids. You need to combine cereals and legumes to make sure you get all the proteins.
As we know, proteins are essential for the growth and development of the body and the repair of cells! They are also energy-giving substances that make you even more productive.
Here are some ingredients that you can add to your cookies to make them even more tasty and nutritious at the same time.
Grains/Pseudo-grains
Whole Wheat ( 9-15% protein)
Barley (12% protein)
Buckwheat (12% protein)
Milk

Whey protein (11-90% protein)
Nuts

Almond Butter (24% protein)

Nutritional yeasts ( 50% protein)
Seeds

Amaranth Flour (16% protein)

Quinoa Flour (14% protein)
What are the benefits of having protein cookies?
When you come back tired from work and want something to munch on, then you simply do not find the time to engage in making something elaborate! Light and easy cookies are good for quick bites! But that can turn unhealthy if you have ingredients restricted in your diet. Hence you need to opt for healthy bites like protein cookies.
Protein cookies are perfect if you are looking for something healthy to munch on. Post-workout, you can indulge in something light and tempting like this one instead of a heavy brunch. So if you are looking for a new way to feel energized, then you must go ahead with the protein cookies any day! Make
If you opt to increase your muscle mass, then opt for cookies that are rich in proteins. The texture of the protein cookies certainly varies and differs from other cookie choices.
The Best Protein Cookies - Delicious, Nutritious & Guilt-Free Snacks
The rich peanut butter protein cookies turn out to be an excellent choice when you are in the mood for treats post-workout sessions.
Delectable and crumbly, these rich and smooth cookies will melt in your mouth instantly.
Ah, what an extraordinary creation indeed! Flooded with a flavor of richness, the protein cookies are also drizzled with chocolate chips, so you can enjoy the chocolate essence in every bite.
So what are you waiting for?
Yup, that is right! Four ingredients are all that you need to come up with protein cookies!
Tempting and crispy, you ought to give it a try for sure. There is absolutely no need to thank us for the idea! Such an incredible idea it is!
The rich and crumbly oatmeal cookies are ready in no time! Crunchy and healthy, the chocolate chip cookies are fantastic and leave you craving more!
Use the weekends to prepare the cookies right away and enjoy them to the fullest!
The reason to find happiness among the hustle and hard work, the protein vanilla chocolate cookies are simply the best!
Yummy and crispy, you can pair it with a cup of tea as you come back home from work. Shall we, then?
The sugar cookies are so easy to make! All you need are a handful of ingredients and sometime in the afternoon to bake yourself the best treat with a beverage in the evening!
And if some guests are coming over, then you must serve them these cookies too!
Well, that is a lot of proteins to include in your cookie dough! But that is exactly what you need to make you feel energized for the day.
Prepare these cookies right away!
The gorgeous oatmeal protein cookies are ready in less than half an hour. That is all you need to get your cookies prepared in a jiffy!
Even the kids will be craving the cookies even though they despise oatmeal in the morning.
These protein cookies are easy and even hassle-free! And the best part is that you will hardly need time to get them done, and that is because these cookies do not even need baking.
Ah, so are you ready to bake them?
The Snickerdoodle protein cookies are easy-peasy and turn out to be an incredible option!
Crumbly, rich and flavorful, the cookies are exclusive and leave you asking for more. Delicious and ready in no time, you should indulge in it right away!
Did you try some protein Oreo cookie dough yet? If you haven't, then you must!
Delicious and crispy, the cookies are the best thing to cheer you up if you are having a rough day! That's right! Shall we, then?
If you are in the mood for something crispy and rich, then you should go for the oatmeal chocolate chip cookies!
Delectable and crumbly, the cookies are loaded with flavor as well as lots of fiber. Shall we, then?
Here we have the Greek yogurt cookie dough recipe for you! Rich and gooey, you ought to give this one a try!
Thank us later for the idea but before anything, try it out on your own. Let us know how it turns out to be!
Ah, huh! If you are on a diet and wish to relish something luxurious, then you should go ahead with the keto protein cookies!
Crispy and yummy, there is no you should miss out on this incredible treat!
Do not worry if you need something vegan because we have brought you the right thing to relish this season!
Ravishing and ravenous, the protein cookies are fantastic and flooded with great taste. So are you ready to indulge in its blissful taste?
The yummy and healthy chia seed cookies are indeed the best to opt for! Luxurious and crumbly, the zesty lemon flavor leaves you asking for more.
So if you want something for summer refreshment, then go for this recipe right away!
The best part about making chocolate protein cookies this way is to use this recipe! And do you know why?
Well, you do not even have to bake! Yup, that is right! Delicious and such an incredible creation.
Here the high-protein breakfast cookies are splendid, and if you are indeed in the mood for something luxurious and rich, then you should go for the yummy breakfast cookies.
Well, with the holidays around the corner, you must give it a try!
Did you try out almond flour cookies before? Then you must try them out right away with the protein cookie recipe that is here for you.
So what are you waiting for? Make this one right away! So shall we then?
The oatmeal protein cookies are packed with raisins and delicious in every bite.
Crumbly and crispy, the oatmeal cookies are some awesome treats that await you during the holidays.
So if you are looking for something healthy and crispy at the same time, you know what to bake!
Other recipes you should check out: Flourless Cookies, Easy Small Batch Cookie Recipes, Halloween Mini Pie Recipes, Finger Food Recipes, Ninja Creami Recipes, Delicious Tequila Cocktails, Sheet Pan Shrimp Recipes For Dinner