Festive seasons and holidays can be tiring contrary to the regular beliefs. This is because there is so much to arrange. The house gets an entirely revamped look, cleaned, dusted, and taken care of! There are guests pouring into the house now and then and so many preps for the parties. Food! That is the most important thing one needs to ensure amidst the same so that nothing goes wrong in it. But most often the elaborate items take some time to be made and if you have a busy schedule then that can be a hurdle on your path!
So how can we allow that? Here are some wonderful one-pot Thanksgiving recipes which you can get prepared in a jiffy.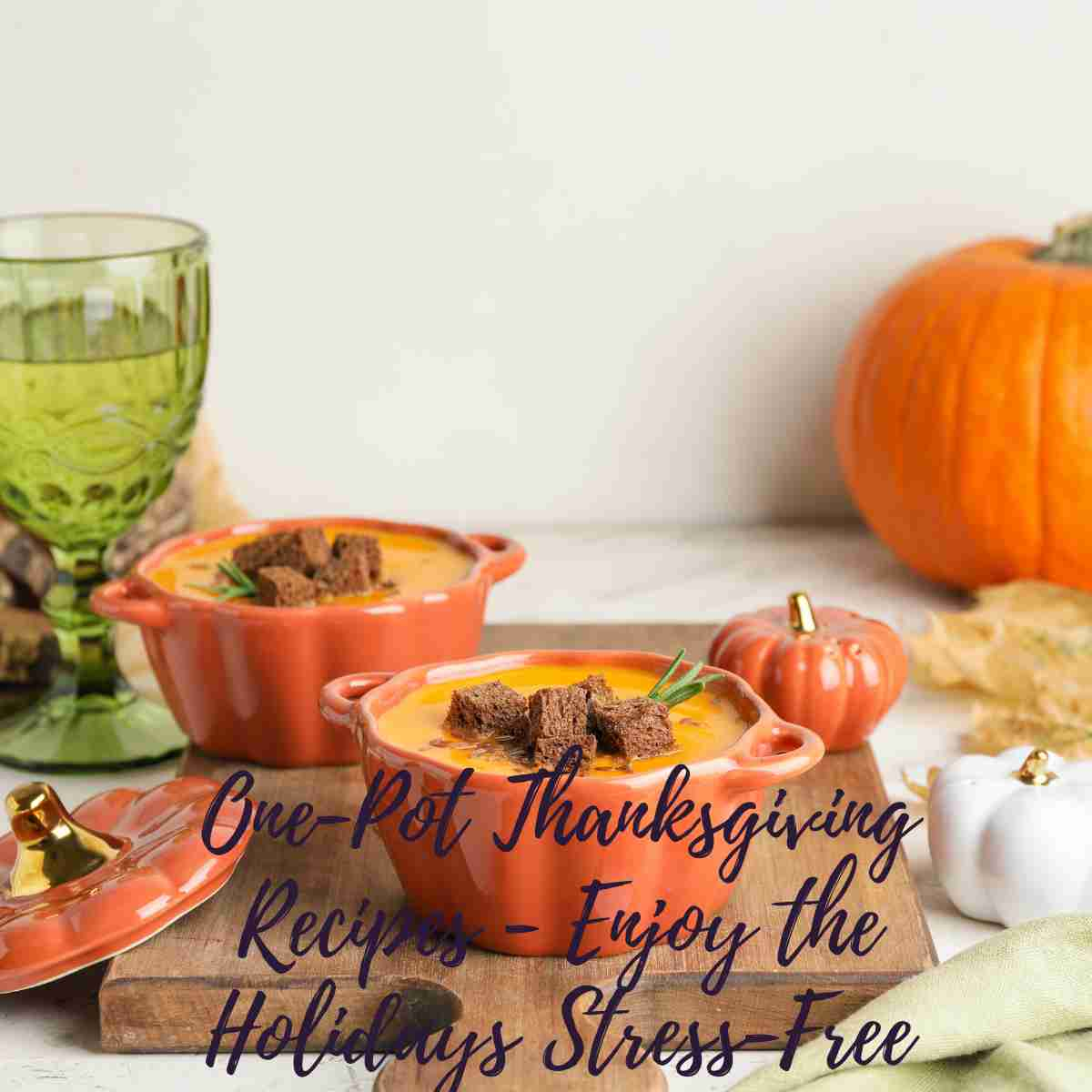 What are one-pot meals?
Cozy and comforting, one-pot meals are completely fuss-free and so easy to handle. Familiar and easy to get rid of the leftovers, one-pot meals are always the hidden gem that you have been looking for.
Different cultures define their one-pot meals in different ways! From Italians preparing one-pot risotto to Spanish paella, the options are simply endless for you. The French on the other hand make casseroles. But one thing is constant among all the dishes, these are extremely creamy and gooey to make you feel comforted and cheered up. The one-pot is the specialty of the meal which makes it so easy for anyone to stir up the meal quickly. The pot can be anything, from a wok to a skillet, Dutch oven, or tagine. Everything is dropped into one oven and then allowed to be cooked all at once.
Simplicity about one-pot meals-
If you are running short of time then it is not possible for you to make your proteins, carbohydrates, and vitamins separately! You need all of them from one single meal. This is where the one-pot meals come in.
It is an all-in-one prep so most of them may not contain all the essential nutrients but most of them are tried to be incorporated in the dish. You might need a small side dish with a one-pot meal but that still keeps the preparation pretty simple unlike beginning from salads and appetizers to the main course.
Cleaning up after a meal is very easy. All you need are a pot and some chopping board and so on. Knives and a couple of other tools. So after you are done with the preps there is hardly anything you need for cleaning up. Often, after the meal we do not have the energy to invest into cleaning the kitchen and here is when a one-pot meal comes of great help. Minimal preps and minimal after-job.
Insights about making one-pot meals- in North America, the concept of one-pot is often used with crock pots. This implies anything that is made in a crockpot is a one-pot which is true but not all one-pot dishes are meant to be made in a crockpot and that is something we need to be careful about. From hearty stews to pot roasts, there are so many recipes that come under a one-pot meal.
A one-pot meal does not take up much time, from traditional fried rice to stir-fried noodles, the duration of cooking however varies.
So in conclusion, we can state that one-pot meals are easier to make but replenishes one with all sorts of essential nutrients that one needs. It is easy both ways! From being super simple to curate to even easier to clean up after the meal, one-pot dishes are pretty compact. If you observe that one-pot meals are made in a pot then let us be honest that one-pot meals are not so! You can even make a one-pot meal in a sheet pan or a slow cooker. The idea of a one-pot implies the fact that one main course consists of all the essential ingredients. You necessarily do not require a side dish.
So, what are the benefits of consuming a one-pot meal
If you are wondering whether one pot meal is enough to satiate your body's need for nutrition then let us tell you, it is more than enough.
Once you simmer the veggies and the meat in the broth, the nutrients and minerals are leached and released into the fluid. This broth is very nutritious and you should not throw it away! Use the broth for making the gravy even. Using the same broth for cooking not only escalates the taste of the dish but also increases its nutritive value. The benefit of consuming a one-pot meal is that you can literally add anything into it from veggies to other greens. And the kids will not even complain about consuming it.
If you do not prefer a particular ingredient but it is essential for your meal then a one-pot meal is the right way to consume them! You can easily mask the taste of an ingredient that you do not prefer to enjoy but is essential for your body.
The one-pot meals are great for the little ones as well! If they throw a tantrum to consume an ingredient then a one-pot meal is a great choice. This way you can introduce them to a variety of new food items which they are about to find out.
So, is there a way to include a one-pot meal in a diet?
While you make a one-pot meal, there are several things that one needs to take care of! Include a protein compound in the dish which is highly crucial. There should be plenty of vegetables and sauce in the dish. A starchy alternative is also required so that it is able to provide you with more energy throughout the day.
Well, that was pretty much a detailed discussion about a one-pot meal! Let us now focus on some of the one-pot Thanksgiving recipes that you can indulge in during the season of Thanksgiving. Let's go!
Quick and Easy One-Pot Thanksgiving Recipes for the Whole Family
Here is a one-pot recipe with delicious gnocchi and chicken served for a meal! The pot pie is super easy to make and looks so irresistible indeed! If you haven't made plans for dinner yet, then why not choose this one?
Here is another amazing idea that we are sure you can make even for the visitors over brunch! The flavored long-grained rice with seasoning and chicken fillet is simply lovely. So shall we make it then?
How can we miss out on the delectable one pot recipe with black pepper and chicken! It is indeed packed with flavors and nutrients so enriching. Easy to make and serve fresh over a warm bowl of steamed rice.
The concept of smoked sausage and rice is outstanding in our opinion! Packed with peas and veggies, the recipe is simply so good that one serving will never be enough. Even the kids will not complain about the veggies this way!
The recipe for the all time classic cajun chicken orzo is right here to sway one off their feet. Creamy and flavored with greens, the chicken orzo, the dish is so good indeed. So what are you waiting for?
Smooth, hearty and comforting, the recipe for Italian sausage orzo takes only about thirty minutes to get done with perfection. Drizzled with shredded cheese, the recipe is wonderful and you should give it a try for sure! Are you ready to make it this season?
The presence of baby spinach and mushrooms in this recipe for chicken orzo is lovely and you should give it a try! Packed with garlic, thyme and parsley, the dish is awesome for the season. Chicken broth and dijon mustard does the job for the taste buds.
Flooded with the flavors of cream cheese and cheddar, the recipe for smoked sausage pasta is ready in a jiffy. This idea is perfect when the kids come home from school.
Here comes the hamburger helper lasagna which is loaded with cream and tangy sauce! Infused with herbs, the lasagna is ready in less than twenty minutes. Yes, it is true, so make it today and enjoy it right away! Thanksgiving is here to make you feel elated and wholesome.
The one-pot chicken enchilada rice casserole is a brilliant idea with coriander, corn, and onions used for seasoning the dish. Packed with chicken and cilantro essence, the recipe is wonderful and gooey!
The wholesome sausage and rice are delectable and flooded with enriching seasoning! The smokey essence of the dish is so fascinating that the excitement of the holidays has increased a notch with this rice and sausage dish. Shall we make it then?
Zesty and packed with bold flavors, the recipe for Spanish chicken and rice is ready in less than thirty minutes. The simple seasoning of the dish is lovely and topped with cream and spices so enriching and gorgeous!
The rice casserole with chicken enchilada and veggies like onions and bell pepper and of course the meat is highly nutritious and flooded with flavors so rich! If you want to combine everything in one, then there is nothing good like this out here.
This authentic Caribbean delicacy is definitely going to introduce you to unique flavors. Served with rice, buttered beans, and carrots dipped in sauce, here is something distinguished to make your holidays special. So what are you waiting for?
Here is a wonderful spaghetti recipe that you can accomplish in a pot! It is true, all you need are a couple of ingredients to toss them all into the pan and enjoy your meal warm and spicy. The kids will be delighted to be greeted with spaghetti for dinner!
Here is a recipe for one-pot pasta which is simply so good! Served with basil, diced veggies like carrots, tomatoes and spinach, the pasta is highly nutritious for all age groups. Sprinkled with cheese, your meal is ready!
Tender, succulent and moist, the smothered chicken is ready within thirty minutes. All you need are some veggies like celery and pepper to keep it company. You can enjoy it with steamed rice on the sides. Shall we try it then?
The Beef pot pie is ideal to make the festive season happening and joyous! The guests will be delighted to find a giant pot pie waiting for them at the table. Crispy crust and succulent meat are always the best combinations.
The tomato beef orzo is delicious and flooded with such a creamy hint! Rich and luxurious, the recipe is the best making your dinner or lunch so wholesome! If you have no idea what to make this afternoon, then quickly get a bowl of beef orzo ready!
The combination of mushroom, chicken and rice bowl is combined in a single dish with this recipe right here. Healthy and tasty, everyone will surely appreciate your effort. Shall we then?
If you wish to eat your ramen in a different way then you should go ahead with this one! The succulent and enriching beef ran stir fry is not only delicious but also nourished with broccoli florets. Shall we try it then?
The creamy cajun shrimp pasta is exotic and loaded with flavors so enriching! The cajun sauce is spicy but it is contrasted with a mild dose of cream so that even kids can enjoy it. And your seafood pasta is ready!
Frequently asked questions associated with making one-pot meals
1. What is the concept of a one-pot meal?
A one-pot meal is a wholesome dish that is packed with all the essential nutrients and served pretty quickly and the clean-up is also hassle-free after the cooking session is over. It is made in a single vessel and hence the name.
2. What are some of the main benefits of cooking a one-pot meal?
You do not have to go through the hassle of making several dishes for a meal and the process of cleaning up your kitchen is very easy after the food is ready. One pot meals are highly nutritious and packed with flavors. These are also quite economic when you are trying to save up resources.
3. Do you have to make a one-pot meal in a pot itself?
One pot meal does not necessarily imply that you have to make the meal in a pot itself! Cooking in a single vessel is described as one pot meal. You may use a sheet pan, crockpot or slow cooker for that purpose, it does not matter.
4. How is cooking a one-pot meal beneficial for Thanksgiving?
One-pot meals are ready in a jiffy so if you are having a busy schedule and no time to rest, then make your dinner preps shorter with such meals. During holidays, we indulge in loads of junk and you can compensate for that with a nutritious meal for dinner which has all the essential nutrients and health factors more or less! Plus, they are so tasty, so why not!
Bottom Line-
This Thanksgiving holiday, make life a little simpler by trying one or more one-pot recipes. Enjoy all the traditional flavors and aromas of the season without all the fuss. You'll be able to relax and enjoy time with family and friends, knowing that your meal prep was a breeze. What more could you ask for?
One-pot Thanksgiving recipes provide a unique and delicious way to celebrate Thanksgiving without stress. You can make multiple memorable dishes, all in the same pot. With these recipes, you can have your (Thanksgiving) cake and eat it too.
Let's leave the stress of the holiday season in the past and try one-pot recipes this Thanksgiving. Enjoy everything the holiday has to offer, without sacrificing flavor or time. And, as Julia Child said, "Find something you're passionate about and keep tremendously interested in it". Let's bring that passion into the kitchen this Thanksgiving and make the holidays a little easier.