Brown rice is something we have with literally anything, curry, gravy, stir-fry, and so on! That is because it is so abundantly found all over the world and matches well with any spice! Although as easy as it seems, brown rice is not that effortless! There are some basic steps you definitely have to follow if you want to enjoy it at its best. And do you know what is the great thing about brown rice, you can literally make them in no time. Serve it to the guests or enjoy it at home for a regular meal, every day is the right day to make brown rice recipes. Let's read on to find more.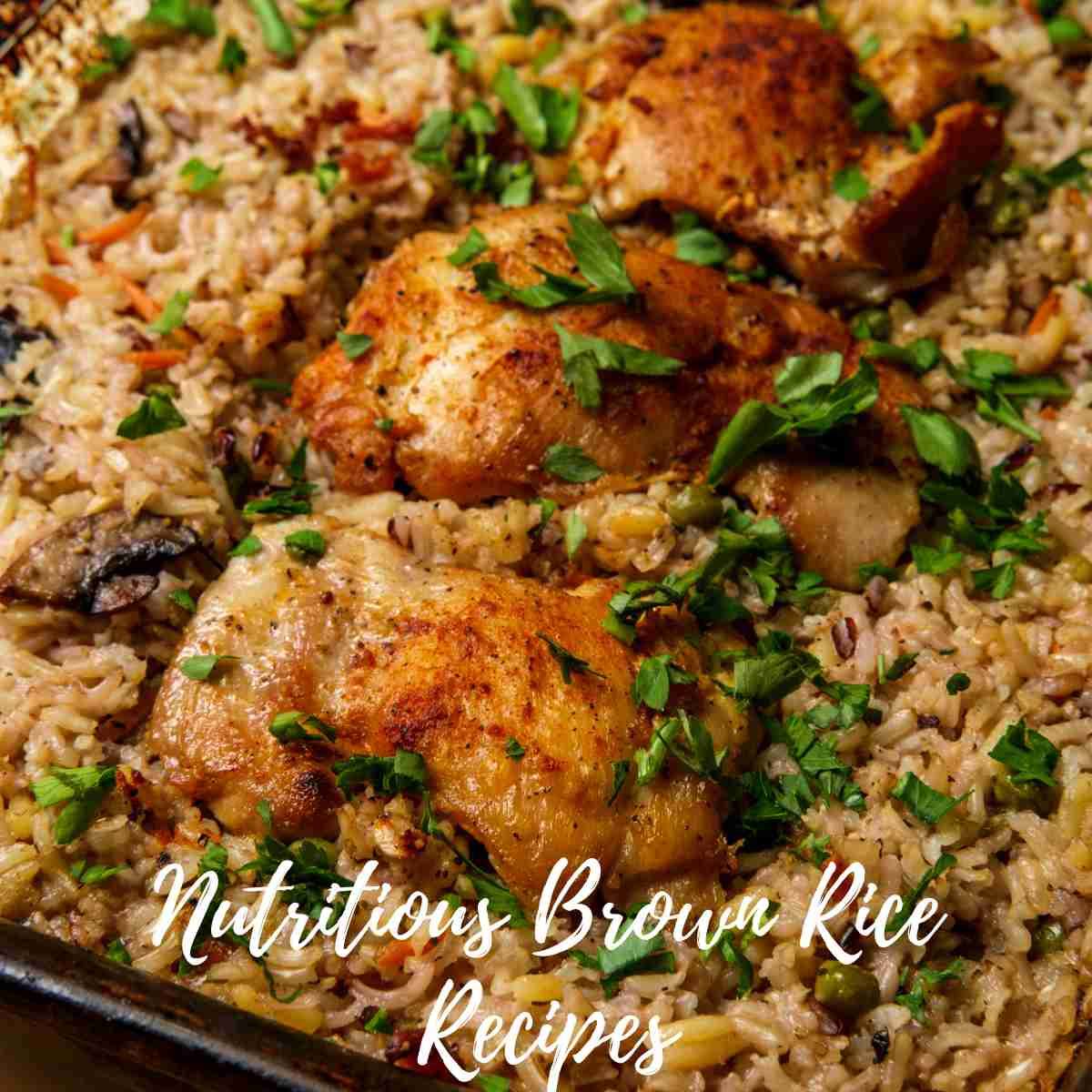 Some useful tips for making brown rice recipes
When you are making rice on the stove
If you are making rice in a gas oven then there are some rules that you need to follow-
1. Begin with washing the rice- of course, there is no doubt about the fact that you need to rinse your rice well. The surface of the grains is dirty and filled with dust. While it has been cultivated, harvested, and processed, the grains are subjected to various treatments which can render them dusty! There can also be some microbes from the soil so it is always recommended that you clean your rice under running water first. The excess starch is also removed through this process.
2. Measure the quantity of rice to water- there is another crucial factor that you need to take into account. You need to maintain a ratio as you prepare rice and steam it in water. Generally, the water-to-rice ratio is taken as 2:1. Which means when you take one volume of rice, use two volumes of water in the pan to boil it. Then you need to combine the rice and water in the pan. Stir it once and then you can cover the vessel with a lid! Then you need to put it up on high flame. Once you observe that the water is boiling, you can turn down the heat and allow the water to now simmer.
3. How much time do you need- this is to be noted that the time of preparation for every kind of rice is very different. While brown rice takes longer than white rice, you still need to check the package and the instructions which are written on it. Use a transparent and you can see through it! This enables you to understand when the rice is ready. Turn off the heat, and allow the water to evaporate or drain until your rice is ready.
When you are making rice in the rice cooker
If you wish to minimize the effort of making rice then you can go ahead and use a rice cooker if it is available at your home. This is an electronic device that comes with instructions as to how you are supposed to handle the machine while making rice. Each one has a separate manual so make sure you go through it first. But do you know what is the benefit of cooking in a rice cooker? You do not have to spend much of your time in the kitchen monitoring the rice so that it does not get overcooked! Add the water, rice and simply walk away from the kitchen area until it is done. There are even mechanisms that ensure that your rice remains warm long after cooking is completed.
1. Wash the rice- The rice cooker is not a magic pot that can remove all the dirt and dust from the grains. You need to rinse it the similar way as you would do making rice on a stove.
2. Measure the amount of rice and water- unlike how a specific ratio is maintained for making rice on the stove, in the case of a rice cooker you have to follow the instruction manual! Depending on the functionality of the device, this ratio is determined for each of such appliances. Combine the rice and water together in the rice cooker! The best part about the device is that it takes so much less time than cooking on a stove.
3. Turn on- turn on the appliance and wait for the rice to get cooked. Do not open the lid in the middle to check as this can affect the rice texture. A sudden gush of cold wind can make your rice turn soggy. There will be an alert provided at the end of the session which you can hear from your bedroom as you relax while the rice is cooking.
So, now your brown rice is ready and you can enjoy it with any sort of curry which you have made to accompany the rice.
What are some of the benefits of eating brown rice
You must have noticed that over time, brown rice has gained much popularity around the world and for better reasons, of course. There are several benefits to eating brown rice which is why dieticians often recommend their patients to consume them as a main course regularly. Let's find out.
The bran and germ are two layers of brown rice that consist of most of the vitamins and essential nutrients. You will be intrigued to learn that rice has been our staple for so many years. Ancient rice harvesting tools have been discovered in China which are eight thousand years old. The two layers we mentioned are usually removed by manufacturers while producing white rice but remain in the case of brown rice which makes it an even more healthy choice to indulge in.
Reduce diabetes- it is to be noted that brown rice has a low glycemic index (GI). As a result, studies have found that consuming brown rice can reduce the chances of type 2 diabetes by 32%.
Improve your heart health- brown rice is a rich source of dietary fiber and hence it is capable of reducing any ailments of the heart and keeping it functional. There are high levels of magnesium in its content which prevents stroke as well. The risk of heart attack can be reduced by 22% and stroke by 12% with the aid of consuming brown rice.
Enables you to control your weight- you can reduce your body mass index considerably with the aid of brown rice. Obesity can also be kept under control with the aid of brown rice. Hence we can conclude that brown rice has several benefits over white rice.
Here are some brown rice recipes that you can try out!
Discover the Best Brown Rice Recipes for Delicious Meals
If you are making brown rice for the first time then this recipe will be of great help. Enjoy a bowl of brown rice with curry on the sides for lunch this afternoon.
Next time you visit the supermarket make sure you remember to get a packet of brown rice. And then you can try out this recipe for toasted brown rice served with sliced mushrooms and thyme.
It does get boring when you have the same steamed rice every day but we can definitely help you out with that! Try out this recipe for Spanish brown rice which you can make for this afternoon and indulge in its magnificence.
Make your afternoons special with the flavored herb brown rice which simply tastes and feels so comforting on a sultry day. Enjoy its blissful taste with a dash of green herbs in it. Enjoy it with some sides!
The idea of cilantro and lime in your brown rice is not only tasty but also so enriching for your health! Zesty and flavorful, this idea turns out to be a great relief on a hot and uncomfortable day during summer.
If the kids are asking you constantly for something nice but you do not want to make them eat from outside then prepare the egg-fried brown rice for them at home and see how delighted they shall be. This is also a great way to feel veggies for the little ones.
There is a reason why this recipe turned out to be a TikTok sensation! All you need are four basic ingredients to make this casserole with brown rice. Tell us how it tasted!
Of course, we understand eating the same staple every day and again and again can get pretty boring! We have brought this recipe for brown rice with parmesan as spinach exclusively for you this season.
You may thank us later for this idea but right now you can go ahead and indulge in its glorious taste and divine flavors. Do you have thirty minutes to spare before dinner? Then do not miss out on this one!
The idea for brown rice with zesty lemon and garlic is simply awesome! Drizzled with thyme and a subtle seasoning, you are definitely going to grow fond of this dish. So what are you waiting for? Make it today!
Make your summers even better and relax with the cilantro and lime infused in your brown rice bowl! Oh, we almost forgot to mention the chipotle sauce which gives the rice such a distinguished flavor we must admit.
All you need is one hour to bake the brown rice in the oven! Delectable and smooth, the idea of making rice is amazing with a dash of herbs in its content! So are you ready to enjoy something healthy as well as tasty? Then dig in!
If you did not try out brown rice pilaf yet then all we can say is that you are missing out on something so good! No longer waste your time and prepare this right away!
The French onion rice is prepared with ground beef and served perfectly during an occasion. If you are celebrating a festival at home, then do it healthily with this recipe of rice beef by your side. Shall we then?
The combination of brown rice and black beans is amazing and you should give it a try! Wait, are you looking for something vegan? Then this is the best option that you have got. Cooked easily in one pot, enjoy a quick meal.
The idea of baked chicken with brown rice in a casserole can be served for Sunday brunch. We can guarantee you that none will be left on any plate at the end of the brunch! Such is its temptation.
Did you try out paella before? Then you must do it now! The healthy and easy chicken breast recipe with veggies and brown rice looks so vibrant and tempting in every bite! Treat both the eyes and the taste buds with this one!
Delicious and creamy, the herbed mushroom brown rice is a completely vegan recipe that you can make to give a new twist to your boring meal. Going vegan is no longer a hard task with such fantastic recipes on the run!
The idea of Mexican brown rice struck us when we came across this recipe and learned about your interest in cooking brown rice. Drizzled with herbs and salsa, this is a brilliant idea that you should not miss out on!
Well, there is no way we were going to miss out on the corn and broccoli brown rice casserole. Healthy and tasty, even the kids will not throw a tantrum in consuming this gooey green casserole for a meal.
Frequently asked questions associated with making brown rice
1. Is it alright to consume brown rice every day?
The nutritional superiority of brown rice over white rice enables one to consume it every day! You can expect weight loss, better heart health, and proper cell functioning with the aid of a diet that consists of brown rice.
2. Is brown rice good for weight loss? Brown rice is proven to cause weight loss as experts have found its antagonistic effect on obesity. It is low in calories and more in dietary fiber which helps to control one's weight.
3. What are some of the advantages of consuming brown rice?
If you are wondering what is the advantage of consuming brown rice then we have several to mention! From controlling diabetes to maintaining body weight and aiding in heart health, the list is simply endless. So now you know why you should choose brown rice.
4. Does eating brown rice help to have better skin?
Brown rice is rich in vitamin D. It is to be noted that skin requires vitamin D to heal itself and prevent excess breakouts on the surface. Hence consuming brown rice has been considered helpful for better skin.
5. Can you eat brown rice thrice a week?
If you want to have brown rice and some other meals too then you can consume it at least thrice a week while for the rest of the days, you can enjoy something else if the routine is getting too monotonous.
6. Can brown rice reduce belly fat?
It has been found that substituting white rice with brown rice enables one to handle belly fat and even reduce it.
Bottom Line- So that was all about the benefits and techniques to make brown rice! Now you have the recipes to make on your own!