Well those of you who love to munch on greens, we have brought you good news! Napa cabbage is another wonderful leafy treat that we are adding to the list if you were not already aware of it! Cabbage is crunchy and sweet! You can add to salad and eat raw with cream or relish it as a cooked dish! There is absolutely no way anything can go wrong with cabbages! So if you are in the supermarket next time and find Napa cabbage make sure you bring one home! Let's find out more about it, shall we?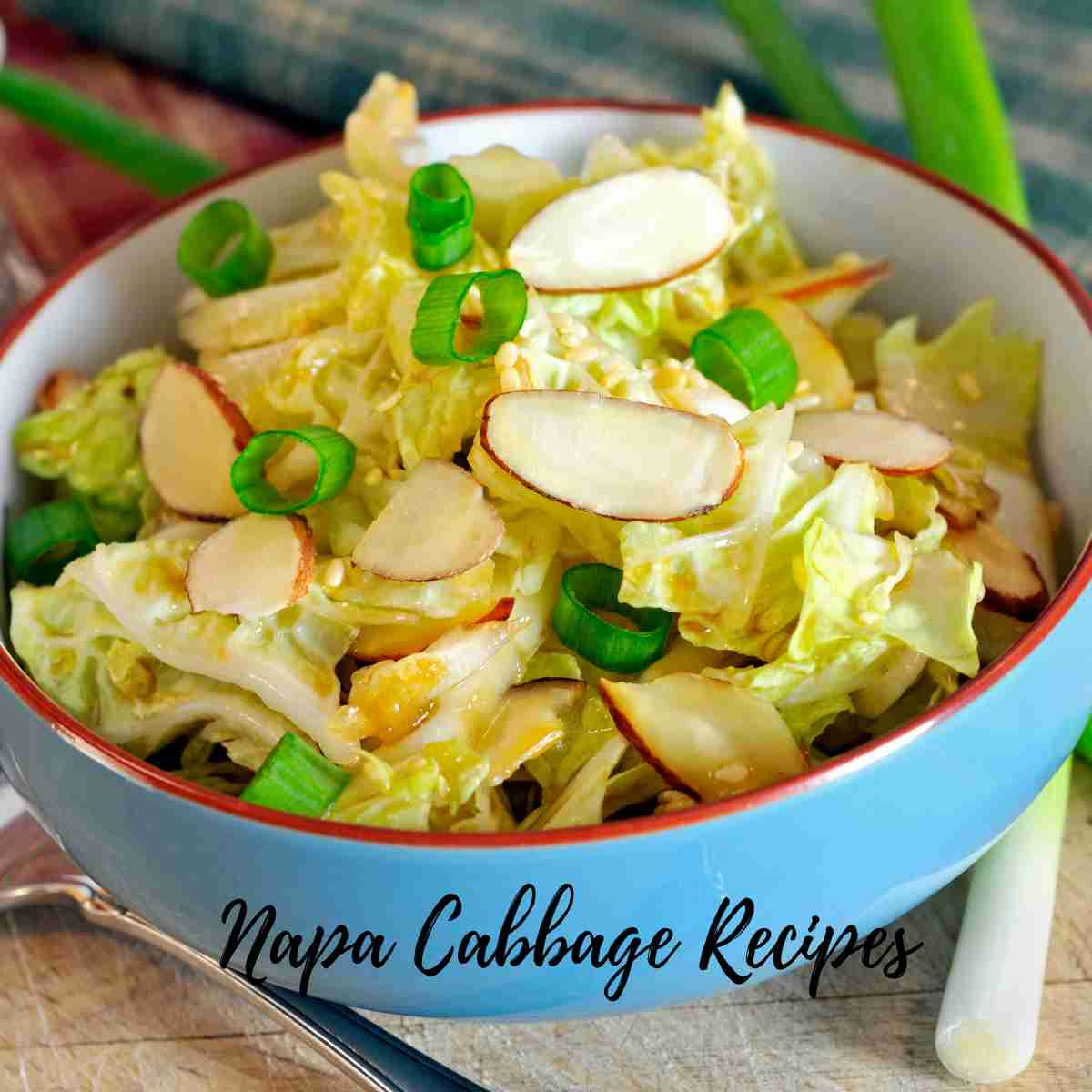 Interesting thoughts on Napa Cabbage-
If you didn't know, Napa Cabbages are also called Chinese cabbages because they first originated in Northern China! In parts of China where the supply of veggies is less, Napa cabbages thrive in abundance and hence they are also called the "King of veggies". You will observe that Korean and Japanese recipes also include Napa cabbages! It is safe to state that most East Asian countries are popular in their usage of napa cabbage to prepare various recipes. The leaves are soft while the stems are crunchy! So if you are munching on Napa cabbages then one thing is assured, you will get the best of both textures. Being low in calories and rich in vitamins and antioxidants, everyone should include Napa cabbages in their dish once in a while. It is also known to contain folic acids and dietary fibers.
When and how to buy napa cabbages-
Napa cabbages are almost found throughout the year! But if you wish to buy them when the quality is the best then you should go for them during the fall and the winter season! As you head to the supermarket for napa cabbages, you must notice whether the stems are tough, leaves fresh and light green without any blemish! A fresh and healthy cabbage should feel heavy because of its dense leafy head. These are more or less some of the factors that you must keep in mind when buying one.
If you are planning to store a part of it that you haven't used in the refrigerator then do so without washing them. Wrap them in an airtight container and this way the napa cabbage can last up to a week without withering.
Do Napa cabbages have a big head_ how to deal with that?
Often you will notice that napa cabbages have a big head and to cut them you will need a sturdy and big chopping board as well. Start with chopping off the stems first! These leafy veggies are dense and you will need much patience in cutting them properly. Make sure that the knife is sharp. Once you have removed the core, take off the leaves and soak them in water. Leave it in water for about ten minutes to wash away the dirt. These cabbages are usually chopped into small leaves and used for making slaw.
What does napa cabbage taste like and how do you eat it?
Napa cabbage has a sweet pungent taste which you can experience when you eat them raw! But when cooked in gravy you can hardly distinguish between the ordinary cabbage and the napa variety!
Whether you are making coleslaw, salad, or wraps, these leaves are highly useful! You can eat them raw but make sure that you have washed them carefully and removed all the dirt and microbes. Stews, kimchi, and stir-fry are some of the other recipes where napa cabbage is cooked before it is served. Pork, shrimps, and mushrooms work well with napa cabbages! Bok choy and turnips are closely associated with napa cabbage.
What are some of the common methods of consuming napa cabbage?
As we said, you can make napa cabbage soup, stew, and so on while they can also be eaten raw with salads, wraps, etc.
Sandwich and wraps- if you are cutting on carbs, then it is best that instead of bread you use a napa cabbage leaf to wrap the roll or sub! These can also be used for the preparation of sandwiches and so on.
Napa cabbage stir fry- you will need some vegetable oil, soy sauce, spicy sauces, and other veggies to work on the veggie stir-fry which contains napa cabbage. Tossed for a couple of minutes, you can enjoy the veggie stir-fry as a side dish or starter.
Napa cabbage soup- napa cabbage is greatly used for the preparation of soup! This is a vegan soup option that many prefer! The flavor of the leaves is wonderfully expressed in the broth.
Here are some recipes where experts have used napa cabbage! We are sure you will find them interesting! Shall we begin?
Healthy & Delicious Napa Cabbage Recipes for the Whole Family
The cabbage stuffed rolls are delicious to describe in a word!
What can you expect when there is ground beef, carrots, onions, and spicy hot sauce combined into the filling?
Of course, it has to taste divine.
Refreshing and packed with greens, the napa cabbage slaw is ready in less than ten minutes!
The sharp presence of avocado renders the recipe with such a brilliant flavor indeed.
Post-workout sessions can be a great treat for your rumbling tummy!
The crunchy napa cabbage salad is loaded with sesame and soy dressing along with crunchy ramen noodles!
Even the kids might ask you to serve them a spoonful and not steer away from greens with this brilliant recipe right here for you!
Most satisfying, the juicy and crunchy napa stir-fry is an excellent recipe that is flooded with sauces and sesame for garnishing!
All you need are ten minutes to prepare this saucy, refreshing treat!
What are you waiting for then? Make it today!
If you are in the mood to try out something new but easy with napa cabbages then you must give a try to the sweet and sour sauce-soaked cabbage wedges!
These are super rich in flavor and perfect as a side dish!
Well, there is nothing as good as the combination of turkey and napa cabbages, and especially if we tell you that it is low on carbs, you should simply dig in guilt-free! Shall we then?
It is alright if you are on a diet and have to control your cravings!
But not anymore with the Chinese napa cabbage salad which is here to deal with your food cravings and satiate them too!
Make it and find out about its excellent taste!
Indulge in a healthy treat with the napa cabbage stir fry which is loaded with sauces and mushrooms to your delight.
Sprinkled with herbs, you will simply not be able to resist it after the first bite.
If you are in the mood for a Chinese specialty then you have to indulge in this exotic recipe of glass noodles and napa cabbage which complement each other so well and bring out the best of taste.
Here is a luxurious bowl of pork and cabbages that we are sure you will grow fond of!
Flooded with Chinese sauce, make sure you do not forget to add this to your meal on one of the family dinner plans.
The wonderful cabbage egg drop soup is ready in less than twenty minutes!
Flooded with the essence of onion and sesame oil, this is a lovely recipe that you can include in your diet and begin your meal with!
If you are running late for work and have no time to get breakfast make sure you pack some easy-peasy napa cabbage roll with chicken to work!
Flavored with spicy peanut sauce, cucumber, and cilantro, your colleagues will surely envy your meal!
The napa cabbage rolls with sticky rice papers are absolutely delicious!
You will continue to hog down more and more until none is left!
So will be the situation with the rest of your family.
The spicy sauces marinating the napa cabbage and veggies make this curry the ultimate side dish to enjoy with rice!
Are you ready to experience the blissful flavors already?
Packed with nutrients and warmth, the napa cabbage soup is ideal when the cold winter nights are bothering you!
Complete your meal with a bowl of soup and see how refreshing and energized you feel.
Such a comforting soup ready in just twenty minutes.
The smooth presence of butter, olive oil, and Apple cider vinegar makes this stir-fry recipe of napa cabbages absolutely healthy and packed with nutrients.
Having greens is no longer a pain to the taste buds with this idea right here.
We have brought you a traditional Chinese recipe that is packed with garlic, red chili, and oyster sauce!
You can enjoy it over boiled rice.
The napa cabbage stir fry has a sharp Sichuan saucy taste which makes them so irresistible.
The yummy Thai crunch salad with peanuts and citrusy essence is something that will make you forget the rest of the main course and only focus on your salad.
The lovely napa cabbage steak is something that you will only realize its brilliance after the first bite!
Served as sides with meat or simply eaten alone, the smokey napa steak is extraordinary in every sense! And guess what?
It only takes you less than an hour to roast them and serve them hot.
Making traditional kimchi is an art and we are sure if you haven't tried making it at home, this recipe will turn out to be highly useful.
Made with fresh napa cabbage, this is awesome.
Indeed, you can now make the ramen noodle salad at home with minimal effort!
You must have had it in some restaurant and wondered what made them so good!
Well, your answer is finally here in the form of this recipe containing napa cabbage, ramen, and veggies.
It is a wonder how the napa cabbage leaves can be used for the preparation of these yummy rolls!
Stuffed with tofu, this is an extraordinary idea to satiate your stomach with a wonderful snack in the evening.
You will not believe us if we say that charged napa cabbage can beat smoky meat!
It simply doesn't matter whether you hate veggies or not, this recipe goes beyond all feelings!
After you are done with the exhausting round of workout and exercise, the turmeric napa cabbage sauerkraut is the best treat that we could think of for you!
Thank us later for this idea!
The gorgeous glass noodles napa cabbage recipe never fails to tempt the taste buds!
If you agree with us, then this recipe with noodles, cabbage, and pork waits for you.
Do give it a try and let us know how it was!
This is for all seafood lovers! We managed to collect this recipe napa cabbage with shrimp in the spicy sauce just for you!
Every bite of this dish will give you a good orgasm.
The combination of bacon and cabbage never fails to surprise us, to be honest!
In this recipe, they have come together in a salad and just consist of five basic ingredients to create an explosion of flavors in our mouth.
We can assure you that the green kimchi salad will never disappoint you! If you are a fan of napa cabbage then you should give it a try!
Crunchy and juicy, what an excellent idea!
Frequently asked questions associated with napa cabbage recipes
1. What are the benefits of eating napa cabbage?
Napa cabbage is loaded with vitamin K and also has antioxidant properties along with folic acid that aids the well-being of our body.
2. What makes napa cabbage different from the standard one?
Napa cabbage is also known as the Chinese cabbage which has a long and elongated structure.
3. What are things that you must look for while buying napa cabbage?
The napa cabbage should be heavy and the leaves fresh and green! There should be no blemish on the stems and leaves!
4. Why is napa cabbage expensive?
Compared to all outer cabbages, napa cabbage is more expensive because it is a winter vegetable however some of the regions where it thrives are affected by heavy rainfall destroying the crops.
5. How long can you store napa cabbage?
If stored properly in a packet napa cabbage can last up to a week in the refrigerator.
Bottom Line- With that, we would like to conclude the discussion on napa cabbage recipes! Now it is your turn to purchase them from the supermarket and prepare dishes from the recipes provided above.