With the holidays almost walking up to our doorsteps, there are so many things on our minds! Since we think alike, you must be preparing for the seasonal break too! So whether this time you have planned to head out for a calm vacation by the beach or you are looking forward to spending it with your family at home, cocktails never fail to make you feel even more light and relaxed. Today we are going to discuss everything that you need to know about Moscow Mules and some personal tips on how to make cocktails at home! Stay hooked to learn more!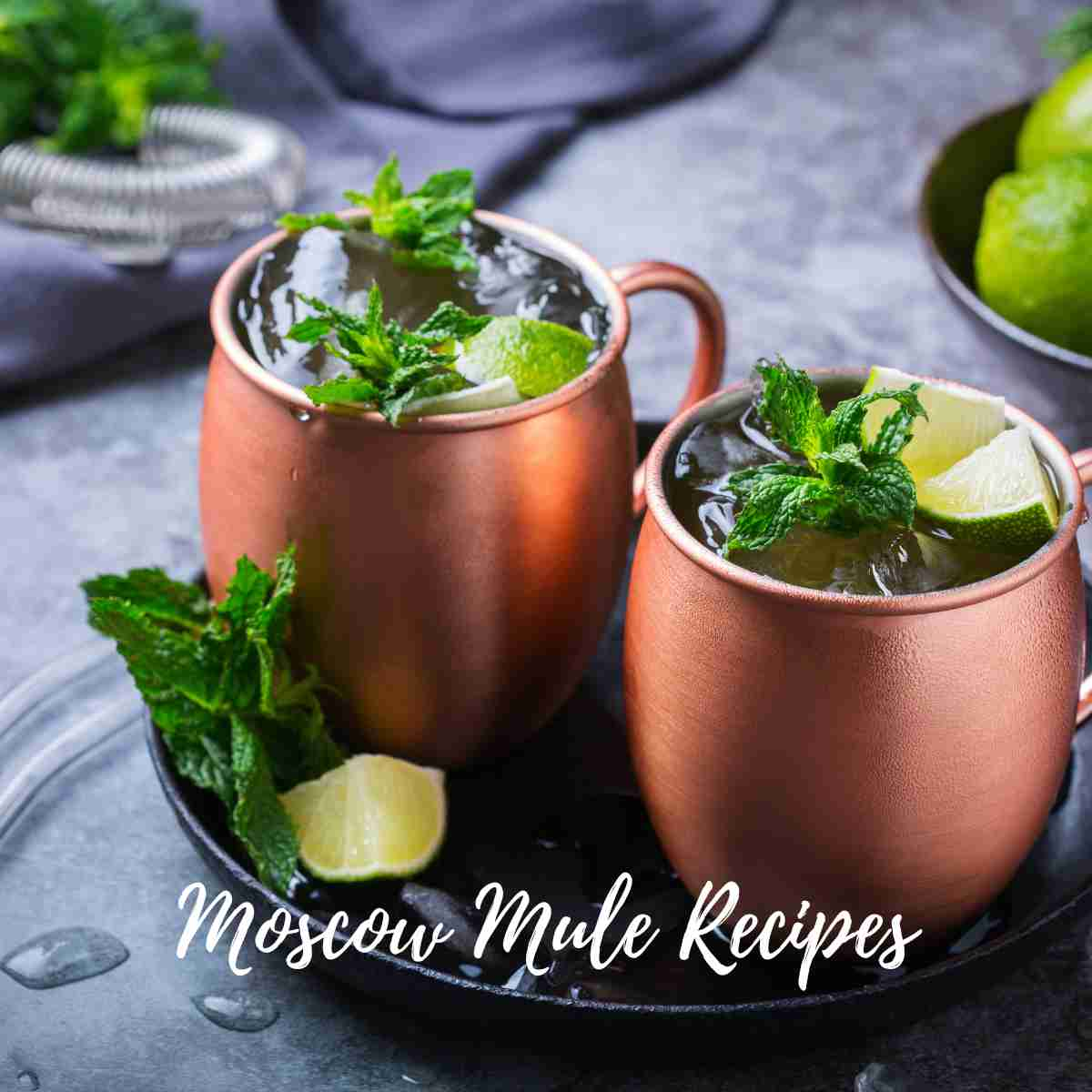 So what are Moscow Mules?
Moscow Mule is a type of cocktail that is prepared with vodka, ginger beer, and lime juice. In the end, you can use a wedge of lemon to adorn the glass! For us, this is the perfect representation of summer through a glass of vodka! It is also known as vodka buck! These are authentic drinks that are served in copper mugs! You must have come across them at some point in your life, tasted them on your own, or seen someone doing it! So if you are someone who takes an interest in making cocktails or wishes to prepare one for the guests at the party, then here is something for you! So read on!
There are so many variations to the Moscow Mules that you can work on! Let's find out!
It is quite needless to say that the Moscow Mules are very popular around the world. Hence there are so many variations that have come up. For example,
Kyiv mule: Vodka.
Aussie mule: Bundaberg Rum.
Bohemian mule: Absinthe.
Dead man's mule: Absinthe and cinnamon schnapps.
French mule: Cognac and angostura bitters.
These are only a handful of ideas and recipes of variant versions of Moscow Mules but there are certainly more to them. Ginger syrup is often used as an alternative to ginger beer and other ingredients that are altered include carrot juice and Mountain Dew soda!
Origin of Moscow Mules
As we said, Moscow Mules are a very famous cocktail around the world. That brings out the question to learn about the origin of the drink. It is described experts that the drink initially originated in Manhattan but later shifted to the West Coast regions. The flavor was established in 1941 and ever since then, it has been a great source of relaxation and a treat to New Yorkers. The story tells us that the drink was discovered by cocktail's inventor Wes Price, getting the idea from Hudes Potache, Morgan's head bartender, and the drink was born out of a need to clear the bar's cellar which included ginger beer and vodka!
But why are Moscow Mules served in Copper glasses?
Copper glasses certainly add a look of charm and confer beauty to the way you present the drink in a better style. These are also useful to keep the drink cool making it ideal as a summer indulgence. It not only reduces the temperature of the drink to frosting levels but also alters the taste of the drink.
What does a Moscow Mule taste like- that brings us to the question that Moscow Mules and how they taste. The drink is a combination of sweet and sour essence punched with the mild essence of vodka! When prepared well, the flavor of vodka is very subtle in the drink, but soothing indeed.
Why is it named Moscow Mules? Do not assume that Moscow Mule came from Russia and hence the name! One thing is for sure, the drink originated in America! It contains vodka which is associated with Russia and ginger beer which has a kick like a mule and hence the drink is probably named so.
Why are Moscow Mules served in Copper glasses?
History - To learn the reason behind the usage of copper glasses you need to dig into some history and science. In the 1940s, three entrepreneurs came up with the idea of making Moscow Mules. Poloroid pictures were snapped when the drink was sold in every bar and they are served in copper glasses.
Science- copper is a conductive material that heats and cools faster! When a refreshing amount of the drink is served with ice in it, the glass retains the chill for a longer time period making it a wonderful summer cocktail recipe.
Taste- some experts are of the opinion that copper reacts with the lemon and vodka in the glass to strengthen the flavor of the drink through carbonation. The presentation also plays a major role in the decision to serve Moscow Mule in copper glass.
Hence these are the main reasons behind Moscow Mules and copper glass.
Tips to make the perfect cocktail at home
1. Always maintain the drink-to-alcohol ratio so that the cocktail is flavorful and boozy at the same time- randomly mixing alcohol with the drinks will yield each glass of drink taste different! Instead, you should follow a particular drink-to-alcohol ratio. This is 1:1:3. One shot of alcohol per glass of the drink will make sure you can enjoy the flavor of the drink as well as the subtle presence of booze. This ratio works for alcohol to juice to low-calorie liquid. This way if you maintain the proportion then you will face no hangover the next day.
2. Use 100% juice to cut down the sugar content of the drink- many artificial fruit juices contain a lot of sugar as a sweetening agent, you do not wish to consume so much every time you make a drink! Instead, look for a bottle of fruit juice that is 100% real.
3. Add whole fruits and fresh herbs- frozen pomegranates, berries, and many other fruits can be added as a chunky treat to the drink. The fibers released from the fruit provide you with loads of roughage as well. The freshness of herbs must also be included in the juices to infuse them with more and more flavor without incorporating any artificial agent.
4. You can create the syrup for the drink at home- the syrups are made in a ratio of 1:1 with water and sugar boiled down to turn sticky and thick. It is always better to make all the ingredients at home so you do not have to deal with any artificial preservatives in your drinks.
These are some of the basics of preparing a cocktail drink at home. Now let's find out about the Moscow Mules recipe!
Delicious Moscow Mule Recipes to Enjoy Every Season
The best part about this refreshing drink for summer is that Moscow Mule does not require elaborate arrangements!
Just a couple of handful of ingredients and your drink is ready to be served.
Served in authentic copper glasses, bring the sense of vintage essence and tradition back to the table!
Enjoy your summer brunch or evening gossip with a glass of Moscow Mule in hand surrounded by your friends at home. Shall we then?
It only takes you less than ten minutes to prepare the Moscow Mules!
So if you have some unexpected friend showing up on a fine summer evening, serve them a glass for sure!
Do not forget to add some ice cubes to it.
Of course, we all like modification, and here is something to your delight!
The sweet and tangy cranberry Moscow Mule is delicious and the best way to bring about a pleasant alteration to the classic recipe.
Do give it a try for sure!
With the advent of the summer season, the Moscow Mule will eventually show up at gatherings and casual hangouts.
Here we have brought you the recipe for the Strawberry Moscow Mule which is wonderful and you should give it a try!
The delectable Peach Moscow Mule recipe is right here and with summers getting just out of hand, you need to relax yourself during the weekend with none other than this peach-filled boozy drink!
What an excellent choice to rejuvenate yourself with energy and enthusiasm.
It is the variations that can be created with the Moscow Mule that make the drink even more tasteful and divine.
This is a classic cocktail that will provide you with the sense of being teleported to the beaches.
The combination of ginger beer with peach in the classic recipe of Moscow Mule renders the drink with an extraordinary flavor.
Smooth and tangy, you will surely thank us later for this excellent idea! Do give it a try this season.
Nothing is as good as the pineapple Moscow Mule.
Compared to the magnificence of the drink, everything shall feel too pale.
What a brilliant recipe to indulge in as you plan to spend your weekend by the poolside. Get it ready in just ten minutes.
The delicious and flavorful Blueberry infused Moscow Mule is lovely and you should give it a try!
Infused with fruits and ginger beer, no wonder this vodka cocktail is so good. What are you waiting for?
All you need are three ingredients, and three minutes to get your Classic Moscow Mule ready just like three minutes of instant noodles!
Jokes apart, this is the perfect boozy drink to make your summers not only bearable but actually enjoyable and fun!
There is nothing berries can't cure! The flavor of the classic Moscow Mule, if it is getting too boring for you each time then try some raspberries in it!
We can guarantee that you will fall in love with the taste of it.
The delicious and enriching Moscow Mule which is already so much popular just got even better with the flavor of berries and other fruits!
If you like unique ideas then here is something that is meant for you.
Go get it done today!
The delicious and enriching apple cider Moscow Mule is what you are looking for this summer and we have brought it here exclusively for you.
The recipe is super easy even for beginners to emulate.
Make your weekends special quickly.
Those of you who are a fan of blackberry drinks can try out this recipe for the rich and gorgeous Moscow Mule variant with the same.
You will be thankful for the idea and make it every Saturday afternoon as you relax by the pool.
All you need are four ingredients to prepare this recipe and guess what? In less than ten minutes!
Enjoy your spa at home with a glass of Moscow Mule on the side. Isn't it an amazing experience?
Well, you will soon find out!
You can prepare both cocktails and mocktails with the Blackberry mint Moscow Mule.
So if the kids are asking you for a refreshing drink during summer, you can make them a non-boozy version of the Moscow Mule with this recipe right here.
You will be amazed by the strong yet subtle flavor of the Moscow Mule.
Even more surprising is the fact, it is made with just three ingredients to be precise.
Get it done today!
The zesty lemon essence contrasted with the sweet cherries in this recipe of Moscow Mules accomplishes a great impact on your taste buds.
Relax your mind during the holidays with such an extraordinary flavor embracing your taste buds in every sip.
The wonderful recipe for the spicy Mexican Mule is outstanding and flavored with a hint of sharp touch!
The salt rim surrounding the cocktail glass gives it an even more exotic beauty. So what are you waiting for? Make it today!
Frequently asked questions associated with making Moscow Mule
1. Why is it called a Moscow Mule?
The name Moscow Mule is not derived from Germany but it was originally created in America. The drink contains vodka which is associated with Moscow and there is ginger beer and lime too!
2. What is the taste of Moscow Mule?
Moscow Mule is sharp, strong, and sweet for you to relish! Making the summers super zesty and flavorful, this is an excellent idea to enjoy seasonal bliss.
3. What is the percentage of alcohol in Moscow Mule?
The concentration of alcohol in Moscow Mule is average so you can enjoy a great drink during the summers. The zesty lime essence is also palpable.
4. Is Moscow Mule a man's drink?
Moscow Mule is consumed by everyone irrespective of gender. The flavor is preferable to everyone due to its gorgeous and refreshing essence.
5. Moscow Mule, vodka, or beer?
Moscow Mule is a vodka-based dish that is prepared with ginger beer and lime juice in it!
6. Does Moscow Mule taste like beer?
Moscow Mule has a subtle taste of alcohol which is masked with other ingredients like fruity juices used in the recipe. However, a mild vodka flavor is felt in every sip.
7. Is Mule a strong drink?
It depends on the concentration of alcohol added to the recipe which determines if mules is a strong drink or not. Generally with the level of vodka added along with ginger beer, Mule is a pretty strong alcoholic beverage.
Bottom Line- Now that you have so many Moscow Mule recipes at your disposal, waste no more time and make your summers even more fascinating. The occasion calls for you to indulge in refreshing and relaxing cool beverage recipes to beat the heat.