Make your next dinner something to remember with these simple and delicious monkfish recipes. Master your seafood cooking skills today with these easy-to-follow step-by-step instructions! Try monkfish for dinner tonight.
More collections: Shrimp & Scallop Recipes, Christmas Seafood Recipes, Redfish Recipes, Yellowfin Tuna Recipes, Spicy Shrimp Recipes, Bluefish Recipes, Salmon And Rice Recipes, Spinach And Scallop Recipes, Fish And Rice Recipes, Dipping Sauces For Shrimp, Lingcod Recipes, Classic Fish Sauces, Kingfish Recipes, Shrimp Pasta Recipes, Best Sauces For Salmon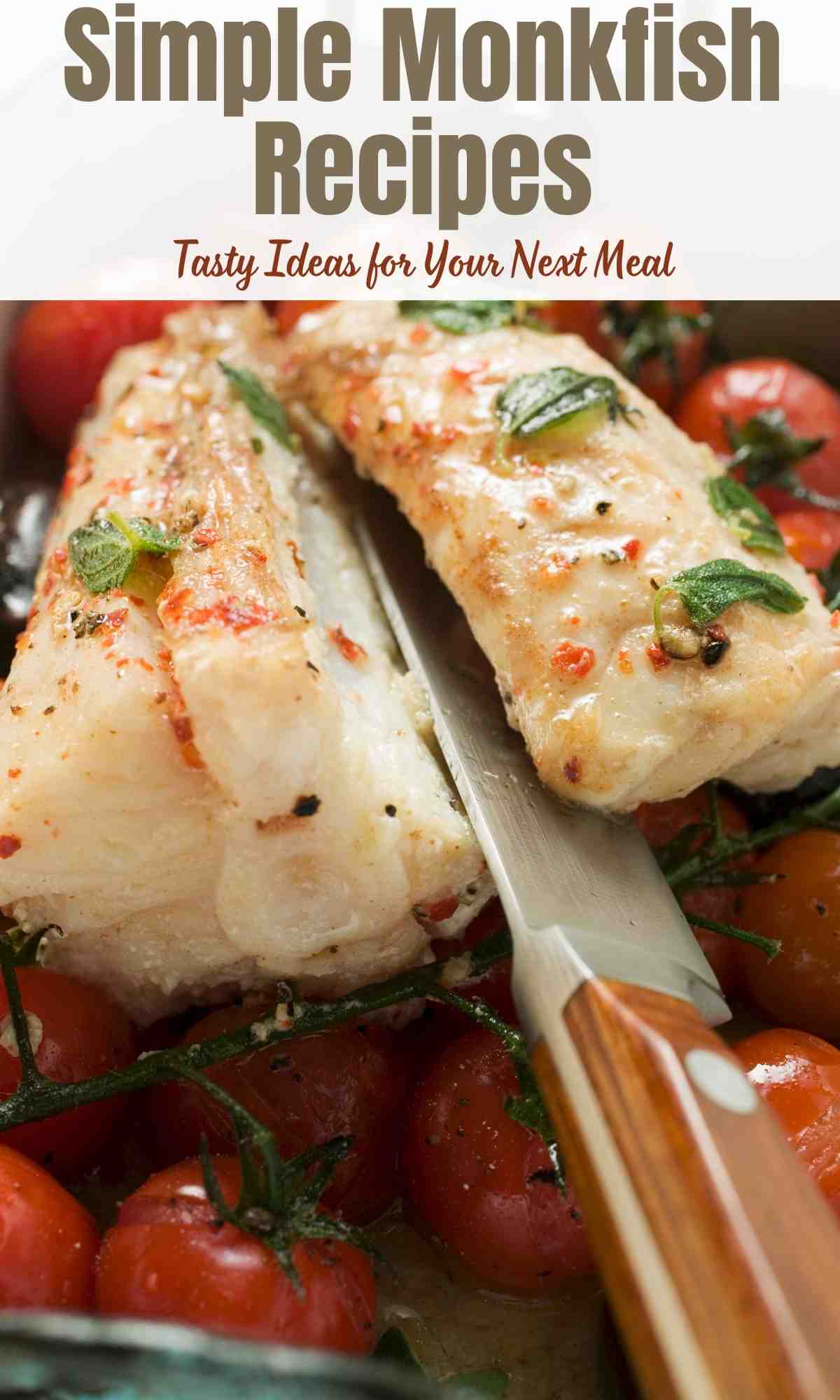 Well, what is usually known as the " Poor man's lobster", monkfish is a delightful seafood bursting with great flavors.
Today we will hold a discussion on monkfish and gather all the information that you should have before you get started with the preps of making seafood at home!
So lately if you have been to the market purchasing seafood like monkfish then this article is going to be highly useful to you! Here are some interesting facts written below for you about monkfish! Let's get started then?
Table of Contents
What is a monkfish?
This is to be noted that monkfish belongs to the Lophius genus, and it is regarded as the predatory bottom feeder which stays very close to the seafloor. It preys on almost all smaller fishes and even the smaller monkfishes too. Also known as American anglers, these are inherent to the region of America and hence the name. The habitat extends from the North Atlantic Ocean, from the Gulf of St. Lawrence to the waters off the coast of North Carolina.
From where can you buy monkfish?
Monkfish is available as deveined or deboned fish fillets in almost all American markets. However, in some places like overseas purveyors, as well as some fishmongers and Asian markets, you can find the whole fish along with the head.
The texture and color of the fish fillet should be white or off-white ranging to even pale grey which are indicators that your monkfish fillet is fresh! It is advisable that you buy fish fillets instead of the whole fish which is much more difficult to tackle, clean, and cook at home.
What is the taste of monkfish?
If you are trying out monkfish for the first time and wondering whether it will suit your taste palette then here is a useful piece of information for you. The fillets are firm and bear a mild sweet taste! Do not let the weird-looking face, sharp razor teeth scare you off into thinking it tastes bad( that is why we said, buy fillets instead of whole). The texture is dense and the flavor of the fish somewhat resembles lobsters.
What are some of the ways to serve monkfish?
Now although we will discuss the recipes in detail later on, here is a little glimpse of how you can consume seafood like monkfish! Since the flavors are subtle you need to make sure the taste of the sauces does not turn out to be overwhelming either. One can use olive oil and lemon juice to marinate the fish fillet so that the zesty essence can complement its lobster-like taste.
You can opt for different spices and herbs to express the best taste of your monkfish fillets. These have at least three grams of protein per serving and can be paired well with veggies on the side. Some such options include baked root vegetables with rosemary, or rice topped with the sesame seed and seaweed-based Japanese seasoning furikake.
Why is monkfish difficult to cook and the skin turns rubbery?
Well, although this is a great centerpiece for the table, one needs to be tactful as they cook monkfish at home. Often if you do not remove the membrane or the skin of the fish, they tend to turn out rubbery and shrink as you cook them. This makes the flesh become distorted and lose its shape too! The flesh at this point often turns out to be dry. Overcooking can lead to your monkfish fillets turning rubbery
Easy and Delicious Monkfish Recipes | Master Seafood Cooking Today
If you want to try out monkfish in their true form then you should go ahead with this gorgeous recipe with herbs and brown butter!
Smooth, luxurious, and creamy, you ought to give it a try! Shall we then?
The combination of brown butter with garlic tastes so divine! Serve your monkfish fillets this way and it will be so hard to tell whether you are having lobsters or not!
A great way to organize a luxurious meal for guests on a low budget.
Here is another delightful idea for the seafood lovers! This time you can make your seafood with monkfish served in lemon butter caper sauce!
Rich and cozy, you should indulge in its blissful taste.
Well, for all the lobster lovers, here is some good news for you! Now you can enjoy the same taste at a pocket-friendly price with the Catalan monkfish recipe that is right here.
So what are you waiting for? Make it right now.
Now bake your monkfish with the recipe that we have for you right here! Served with smooth lemon butter sauce, the fragrance and the flavor of the recipe are both tantalizing.
No wonder, once you grab a bite, it is so hard to resist yourself.
The name is pretty unique, isn't it? Well so is the taste! But we will not reveal all of it to you! If you wish to find out then make this dish for yourself at home.
Are you looking for something succulent and flooded with great taste? Then the stuffed monkfish recipe is the best to indulge in this season!
Drizzled with herbs and seasonings so enriching, you ought to give it a try!
Savory and flooded with great taste, this monkfish curry is one of the show-stoppers on the list!
The gravy marinating your fish fillet is going to make you drool. Rich and smooth, this idea is gorgeous and such an incredible treat for the season.
Make your fish curry a little tangy and spicy at the same time with the recipe that we have for you right here!
The combination of prawns and monkfish always stands out among the rest especially when served with tomato sauce.
Now make something crispy and delightful with your monkfish with the air fryer that is lying there in the kitchen!
Ready in a jiffy, you ought to give it a try. Serve it as a snack with tea in the evening!
Ah, here is another delightful recipe that you should try out if you want to make your fish fillets in a new style.
This recipe is super easy to follow and hardly needs much effort! Shall we try our hands at it?
Meaty, robust, and smooth, Tom Kerridge's monkfish is lovely and loaded with great flavors.
Smooth and enriching, this dish is the best to indulge in this season! Serve with rice and make your brunch wholesome and filling too.
Ah, here is another delightful monkfish recipe that we are sure you will find hard to resist as you lay your eyes upon it.
Tender, rich, and flooded with great taste, there is no way you can say no to this one.
For the lobster lovers, if it is the end of the month and you seem to find it hard on your wallets then simply satiate your cravings with this French monkfish recipe that is right here. Shall we then?
Making monkfish with capers is an excellent idea and you should give it a try if you want your meal to be extra special for Sunday brunch.
The combination of crispy skin and tender fillets, the idea is lovely with a hint of capers.
Make your fish even more delightful and rich with the caper butter sauce which can simply make you drool. Fifteen minutes is all that you need to make this gorgeous dish. So what are you waiting for?
The smooth and scrumptious fish soup is gorgeous and flooded with great taste! Savory and rich, making fish soup is super easy and hardly needs much effort.
Ready in no time, this will provide you with a sense of warmth in every sip.
Ah, if you are fond of seafood then Portuguese rice stew is a staple that you can try out anytime for brunch!
Served with monkfish, this recipe is lovely and such a wonderful surprise that everyone will encounter at the table.
Delicious, smooth, and enriching, your fried monkfish with garlic and herb mayo tastes so delightful.
Seasoned with herbs and creamy mayo, you will certainly be compelled to make it again. Let's get started with the preps then.
Try out something simple and basic with your monkfish fillet if you are making it for the first time in your life.
Served with tomato, ginger, and garlic, the flavor of the curry is still so comforting!
Other recipes you should check out: Kohlrabi Recipes, Chowder Recipes, Traditional Mexican Soup Recipes, Greek Lemon Chicken Soup, Pumpkin Soup Recipes, Tasty Crockpot Taco Soup Recipes, Creamy Corn Casserole Recipes