If you are making mini cookies for the first time then let us tell you that this section of cookies are flourishing at a massive rate ever since it came into being. Imagine the different shapes and figures one can create with mini cookies! They are perfect for any sort of celebration like birthdays, baby showers, Thanksgiving, Christmas, and so on. If you are one of us who likes to experiment with different sorts of cookies and enjoy the art of baking then we are sure you will find this article quite an interesting read!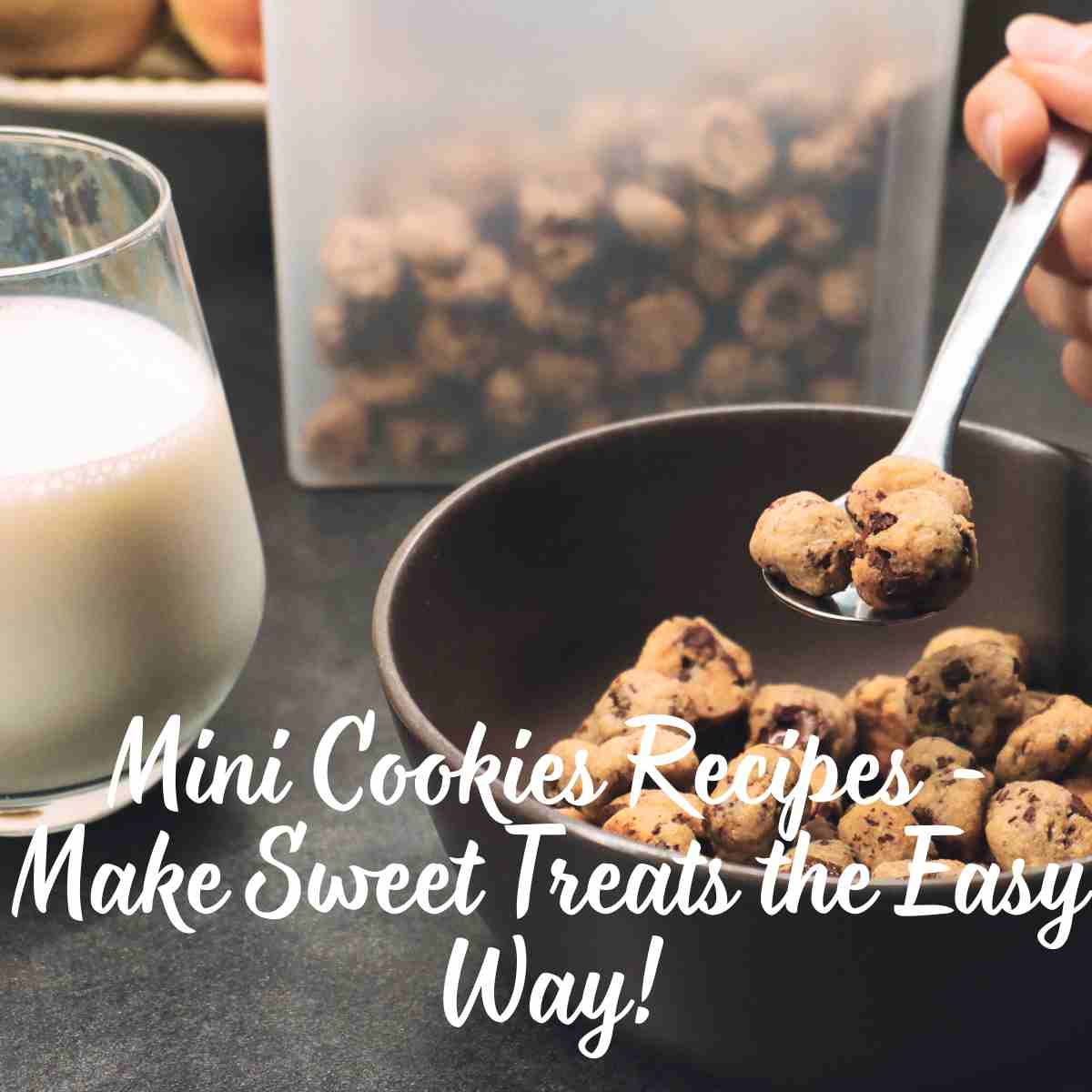 Some of the tips that you must follow while making mini cookies
Rules for mini cookies are more or less the same as you do for normal cookies but there are some exceptions that we would particularly like to bring to your notice. So let's go!
1. You should not combine mini cookies with regular cookies- when it is time to bake, you might think that both kinds of cookies are made of the same composition so why not bake them all at once? But that is where you are about to make the mistake! If you bake cookies of uneven size together, they are prone to get burnt or remain undercooked. For instance, if you adjust heat according to the smaller ones, the larger cookies will fail to bake effectively while if the heat is adjusted according to the regular cookies, the smaller ones are likely to turn brown and get charred. You should have a separate batch for the mini cookies! Make sure that you space them closely to one another as this prevents the cookies from getting over-baked. The time duration for baking mini cookies is definitely less than the larger ones. You must always take them off the tray about one minute before as mentioned in the cookbook so that you can minimize the risk of getting them burnt.
2. Never complicate your designs- when you are baking cookies, especially the smaller ones you need to work on the smaller surface! Never complicated the designs so much that you have a tough time emulating them for all the batches. The patterns should be especially simple if you are making it for the first time. And be careful that you practice first on a couple of mini cookies or regular ones before you begin with the proper ones which are to be served to the guests.
3. Use a single consistency for making the icing- when we usually adorn the regular cookies, there are two sorts of consistency that are taken into account as one uses the icing. These are namely, flood or outline consistency! However, when we are talking about mini cookies, you should always stick to one consistency for convenience! Since the mini cookies offer a small surface, you will have to work with an idea and icing which is rather simple to handle! Under such a circumstance, it is best for you to stick to one type.
4. How to give effect to the cookies- one can opt for airbrushing and sprinkle effects to enhance the beauty of the cookies! You simply can't end it with just icing! That will give a very minimal look and if you want to go beyond then start with some effects for the topping! Airbrushing is regarded as the best option along with some colorful and vibrant sprinkles on top. With airbrushing, you can immediately make your cookies more impressive without having to spend a lot of time designing. Everyone is fond of sprinkles, more color is always the better choice.
5. Packaging is also a must- you will not believe it but packaging the cookies properly can take the game of making mini cookies to the next level. Yes, that is very true! Jazz up the look of the cookies with clear bags, cute tags, or a bag topper, and tie it all up with a bow. That is why we say packaging is such a vital part of baking cookies! Once your cookies are cool and you have adorned them well, the job is still left! Cute baskets and wrappers are good too when you wish to hand over Easter presents in the form of mini bunny cookies!
These are hence some of the tried and tested methods that can't go wrong! Especially if you are baking for the first time, then we guess this article will act as your constant guide.
But if you are still confused about how to adorn your mini cookies, we will not leave you in a state of a dilemma! Below are some methods that you can emulate if you cannot come up with your own plans for creativity. Read on to find more!
Rules for decorating the mini cookies
If you are decorating mini cookies then of course there are a couple of things that we said must be taken into account! Let us recapitulate before we begin. Here are some tips which are simply indispensable to the process of adorning the mini cookies!
First thing first! You have to uniformly distribute the mini cookies on a tray and evenly space them out! But make sure that the gap between any two cookies is less so that they do not get overbaked. Do not make the mistake of placing regular cookies with the mini versions and you know why we say that!
There is one thing that you must take into account! You have to make the mini cookies fun and exciting but do not make it too complicated. Rather you should opt for cookie designs that look quirky but the effort to create them is minimal! Remember the moto highest level of fun and the lowest level of work when it comes to designing the mini cookies.
When you are icing the mini cookies, we recommend you go for the tipless icing bags! The medium consistency is the best when it comes to decorating the mini cookies. 20-sec icing is the best option and you can use the same bag for flooding and outlining as well.
If you want some pop-up colors to jazz up the look of the cookies then go ahead with the sprinkler! They are the easiest option we have to admit.
And finally great packaging and you are good to go! Keep it simple but cute so that they turn out to be quite an eye-catching option.
Well, that was a long-drawn but interesting discussion about handling mini cookies! Now it is time for us to check out the mini cookies recipes!
Discover Delicious Mini Cookies Recipes That Are Sure to Please!
If you are already obsessing over chocolate chip cookies then why not make the miniature version as well? Now you can make more with the same amount of dough!
If you are craving cookies but hate to head to the market for some readymade ones and also have limited resources in the pantry then this cookie recipe will come to your rescue. All you need are just three ingredients.
That is right! All you need are just five ingredients to come up with these chunky shortbread cookies adorned with colorful sprinkles all over. If you are going to bake cookies consider this choice.
Ah, what a lovely creation! The mini chocolate chip cookies taste simply out of the world! Yup, we aren't joking! They will win your heart in the very first bite. So if you have some time to spare this weekend why not try them out?
The zestful and gorgeous lemon sugar cookies are not only good to taste but the sight of them will bring water to your mouth! That is how tempting they are! You do not have to take our word for this, try and find out on your own!
For pistachio lovers around the world, we have brought this recipe for pudding cookies with pistachio and white chocolate chips. If you haven't tried this one yet, we must say, you are missing out on something so divine.
The miniature brownie version in the form of cookies is rather a surprising treat and when we came across this recipe we knew this one has to make it to the list. We are aware of your preferences.
If you are on the lookout for something seasonal and refreshing you must go ahead with the lemon crinkle cookies! They are absolutely the best idea one will come across. Delectable and crumbly, do give it a try for sure.
Make your holidays even more special with the mini M&M cookies that we have for you right here! The recipe is easy to emulate and requires zero effort! Yup, you heard it right lazy bear! Go for it now!
The salted caramel shortbread cookies are worthy of every word of praise and appreciation. If you are fond of chocolate caramel flavor then this Christmas you must indulge in this treat right away! This version of the shortbread cookies is simply awesome.
Zesty and tasteful, the lemon and slice cookies are lovely and such an exciting treat for one to relish this season! If you wish to bake something light and crumbly then go for this one right away! Thank us later for the idea!
The miniature version of the Amaretti cookies is ready right here! Filled with tasteful essence, you are definitely going to love this idea! And if that is not enough let's talk about its magnificent charm! Perfect to offer to the guests.
The gorgeous look of the Danish butter cookies is enough to leave one tempted to make it this season! Ideal to go with a warm beverage in the evening, and refresh yourself after work with its splendid presence! Shall we try it then?
If you are in the mood for something exciting and vibrant then you must go ahead with the animal cracker cookies which indeed taste so brilliant! Flooded with icing and sprinkles, you will definitely love these wonderfully shaped cookies. Go for it!
Well, a cookie shaped like a waffle, is a fresh take on one's baking experience! Here is the recipe which will enable you to experience something unique! Go for it already! And let us know how this turned out to be!
You must have tried apple pies so many times in your life but did you ever try the cookie version of the apple pie? Well, if you did not then here is something to leave you spellbound. Make some for us, please!
Well, how can you miss out on the mini egg cookies with the wonders of Cadbury? Especially with kids in the house, this idea is simply indispensable. Go for this recipe right away! So what are you waiting for?
The small-batch sugar cookies are super rich in flavors and a wonderful treat for the season! Easy to bake and perfect for any time of the day, munch on them whenever you are looking for something to nibble on! Shall we?
The nutty and gorgeous cookies are wonderful and flooded with rich icing! Delectable and easy to create, there is no way you should prevent yourself from indulging in this wondrous treat. Shall we try it out then? Let us know how this turns out to be!
The rich cinnamon essenced toast crunch cookies are lovely and such an exciting treat indeed! Topped with icing, the recipe is wonderful and leaves one completely swayed off their feet! We are not even exaggerating a bit!
Frequently asked questions associated with making mini cookies
1. What is the secret to baking great mini cookies?
If you want your mini cookies to turn out tasty and crunchy then you have to follow the instructions of the recipe carefully! Do not try to improvise unless some alternatives are mentioned!
2. How can you prevent the cookies from turning hard?
While you mix the dough, do not knead for too long or the texture of the cookies will definitely be affected! On the other hand, you should focus on blending them well but not too much rather! Once the ingredients are smoothened, do not overwork the dough anymore.
3. Why do you need to cool the dough before baking the cookies?
The cookies might spread on the baking tray once you bake them and fail to even rise! As a result, you need to first refrigerate the dough and allow it to settle down amidst the cool ambiance! This also helps the ingredients to mingle with each other and then become firm.
4. Why do you need to add eggs to the cookie dough?
It is vital for you to add some eggs to the cookie dough as this enables the cookies to rise! Acting as a levitating agent, the eggs need to be present at room temperature so that they can accomplish their purpose.
5. What is the need to cream the butter?
You need to cream the butter with sugar so that it can trap air bubbles! This is a crucial factor to trap air as the cookies become fluffy and crunchy due to creaming.
Bottom Line:
It's undeniable that we all need a little sweet treat now and then. If you're looking for something simple and fun to whip up in no time at all, mini cookies recipes are the way to go! With just a few ingredients and a few steps, you can make delicious, bite-sized desserts that will bring a smile to everyone's face. A few minutes in the kitchen followed by a few minutes to cool down in the refrigerator is all that it takes to make remarkable, mini cookie masterpieces. So, don't be afraid to get creative and try a variety of recipes to customize the treats to fit your taste and create happy memories with your family. After all, as "Aesop" once said, "No act of kindness, no matter how small, is ever wasted."
Go ahead and give it a try - create a mini cookie experience that you and your family will never forget!