Experts always prescribe making your breakfast heavy and that is because your stomach is at rest for the whole night and out consumption, as well as digestion strength is maximum during the early hours of the morning! Throughout the world, everywhere everyone stresses a wholesome breakfast. Even if you are running late for work, do not skip your breakfast is what we mean to say! Even if that means that you have to wake up early then so be it! Mexicans are especially focused on preparing a heavy breakfast and that is because lunch is served not before four.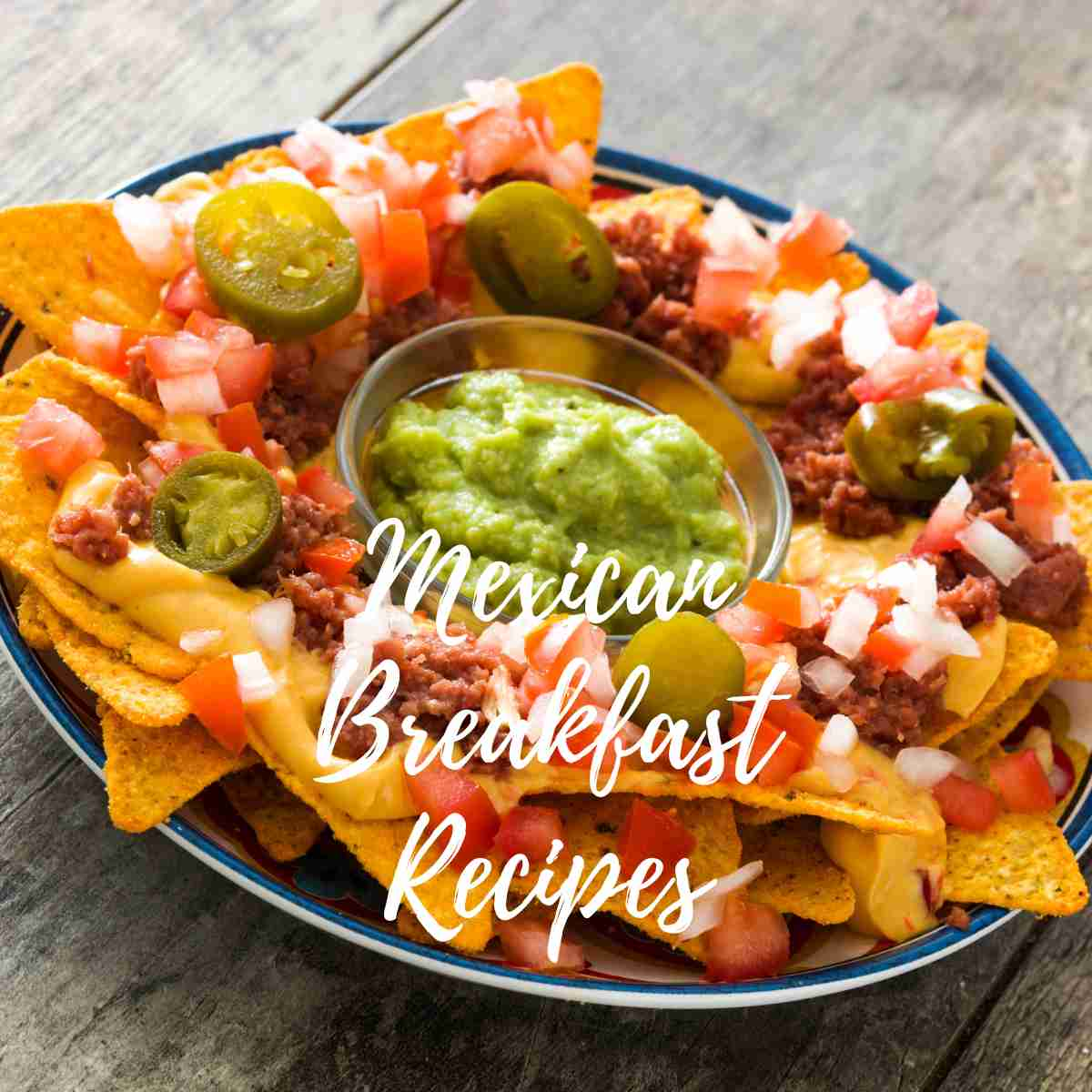 General Overview of Mexican Breakfast
In most North American countries breakfast is light but wholesome so that one can go through the activities of the day! It is called "Desayuno''. Eggs and corn-based dishes are the most common ones that you should indulge in.
So what makes the breakfast dishes in Mexico so special? We mean that if you are in town then do not miss out on the scope to grab a couple of dishes right after you wake up and set out on your adventure.
1. Hot drink and pan dulce- this is to be noted that the Mexican Breakfast starts with a drink and pan dulce! If you are wondering what pan dulce is then it is a dish that is a type of sweet bread. For drinks, you can get coffee, hot chocolate, or their traditional rice-based drink called the "atole". Mexico is also famous for tropical juices since so many tropical fruits are found in abundance here. So before you begin the main course, a glass of fruit juice is quite refreshing indeed.
2. Street food for breakfast- street food is a specialty of Mexico and there are so many varieties that you will find on the streets which are also nutritious and filling! Mexicans often include this street food on their menu during breakfast. Tortillas with beans and cheese are a wonderful recipe that you simply can not miss out on for breakfast. Here is a tip for you! If you are planning to save on your pocket then you have to make sure that you eat such street food to fill yourself up in the morning so that in later halves of the day you can save up and grab small portions.
3. Huevos Rancheros - so smooth tortillas served with lightly fried eggs and drizzled with some spicy or tangy sauces are the best way to serve the Huevos Rancheros which are not only filling but also sumptuous too! This dish is more famous on the northern borders rather than the central Mexico region. However, you will find them in the eggs column on the menu card.
4. Chilaquiles- if you are looking for something famous in Mexico then the Chilaquiles is a wonderful option! It is prepared with fried tortillas and served with sauces, cheese, and cream! Don't forget the infusion of herbs as well. Beans, eggs, and meat are added as well. The specialty of chilaquiles is that they should neither be too soggy nor crispy!
5. Huevos Ala Mexicana- this is the Mexican version of scrambled eggs! Served with veggies like onions, tomatoes, and chile peppers, the taste of ordinary scrambled eggs is escalated manifold. The best part is that when the scrambled eggs are served on the plate it resembles the color of the Mexican flag! Isn't it fantastic? It should be noted that the scrambled eggs are spicy and prepared with chopped jalapenos.
6. Enchiladas Suizas- the tortillas are flooded with ground meat in the filling and topped with green tomatillo sauce. Garnished with shaved cheese, the recipe is simple to make for breakfast. So if you are in Mexico, try the Enchiladas Suizas which have nothing to do with the Swiss.
7. How can we forget breakfast tacos- filled with meat and guacamole, this is the most common type of taco we enjoy. However, you can certainly go ahead with a variety of options too! Since it is morning you can keep the filling light and vegan as well. But that is totally up to you! In fact, tacos are not just meant for breakfast you can consume them literally any time of the day!
8. Tamales- prepared with corn masa and different fillings, the tamales are wonderful to consume during breakfast or rather any time of the day. Wrapped in banana leaves or corn husks, these are then deep-fried. Workers in Mexico prefer this dish because tamales are quite cheap and affordable.
So if you were wondering why Mexican breakfast is so special then here we have listed the reasons above! Now let us find some exquisite recipes to try out for Mexican breakfast.
Delicious Mexican Breakfast Recipes - Try Something Different Today
Tortillas served with fried eggs and veggies are the perfect choice of dish to keep you filled till late lunch period.
Ready in just twenty minutes, the classic Heuvos Rancheros is fantastic and you should try it out!
Huevos Rancheros breakfast Tostadas are small bite-size appetizers that are delectable and flavored with enriching toppings!
So if you wish to keep it light then do not forget to try out this recipe for sure.
Scrambled eggs and melted cheese makes it simply so irresistible.
The presence of jalapeno, tomato, and cheese makes it a spicy and creamy delight for any food out there.
You may try out this breakfast dish literally any time of the day.
Topped with crispy tortillas and scrambled eggs, this is so wholesome!
Here is a traditional recipe with tortillas and salsa that will completely sway you off your feet!
Juicy and perfect for a light meal in the morning, you may even include it as a brunch appetizer.
Are you in the mood to indulge in a Mexican classic? Then you should try out none other than Huevos Rancheros!
The scrumptious topping of cheese and veggies on the tortillas renders it with a taste so divine.
You can enjoy the biscuits with pork chorizo gravy! Delicious and creamy, the recipe is simply outstanding and you should give it a try too!
Flavored with red and yellow chopped onions, the dish is truly the best that we can think of.
If you are in the mood for something gooey and tender then there is nothing as good as the Mexican breakfast bake!
Here we have the best that you can think of so do not waste a minute and dig in!
Mornings will certainly be lit with such an exotic recipe adorning the table.
If you are a fan of Mexican cuisine then why not begin the day with the classic Mexican omelet?
You will love the essence of rich cream on top and a dash of herbs.
This is also a keto-friendly and low-carb dish to begin your day with!
The breakfast enchiladas are delicious and you should give them a try!
Flooded with cheese and veggies, and smothered with salsa, the bacon enchiladas are simply awesome.
Low in calories and high in protein, what else can you look for to make your breakfast meal even more special and healthier?
This is a one-skillet dish that hardly takes you any time at all.
Shall we try it then?
Here is a gluten-free and vegan recipe that we are sure you will find so amazing for breakfast! Even on a diet, you can enjoy breakfast tostadas with avocado, cherry tomatoes, and a hint of cilantro!
Do not miss out on this today!
If you are running out of time but needs to make something quick and filling then the breakfast hash with chorizo and eggs is perfect indeed.
Do not waste a minute and prepare a healthy meal for the mornings.
Corn tortillas with salsa are something that every Mexican household has made and make every other day!
There is no doubt about that! So if you wish to see what exactly it tastes then you do not have to visit a Mexican cafe or restaurant because it is possible for you to make it at home.
If you have some leftover curry or filling from last night then here is a recipe that will teach you to make the best use of leftovers.
Try out the spicy breakfast tacos and relish them with every bite.
Topped with salsa, chiles, and cheese, the easy Mexican chilaquiles are ready in a jiffy!
So if you are late for work then do not skip the meal completely, pack yourself some delicious Verdes for lunch.
Drizzled with maple syrup, the Churros French toast casserole is brilliant and you should give it a try for a tasty treat!
Beginning your day with a sweet casserole is always the best we must say!
It is alright if you do not have the appetite to eat huge meals in the morning!
The egg salsa is light and easy to digest so you do not feel bloated and full.
The sumptuous broth will leave you craving more and more.
Filled with chorizo and cheese, the Mexican breakfast casserole is gooey and enriched with the veggies of your choice.
It is a colorful recipe that will make your mouth water and leave you totally tempted indeed. Shall we try it then?
Because although it looks huge, the preparation is pretty simple.
The Tex-Mex flavor of the Mexican burrito will simply sway you off your feet!
The Mexican breakfast burritos are perfect to make use of last night's leftovers wisely so there is no wastage.
We have brought you the perfect breakfast for a lazy Sunday! Flavored with fried eggs, queso fresco, and avocados, you are up for a treat!
There is more to keep you invested in the divine presence of the chilaquiles!
Flooded with chorizo sausage, chives, green chiles, and salsa, the breakfast skillet is wholesome and filling!
You can make it within a jiffy and serve it fresh to your family as they crave something nice and refreshing in the morning.
So here comes the most awaited breakfast casserole of all time!
We have the wonderful recipe of Tex-mex Migas breakfast casserole which is creamy, and filling but not overburdening on your stomach at the same time. Are you ready to relish the treat?
You have to give a try to the exotic breakfast quesadillas that are simply going to leave you craving more and more.
At least that is what it did to us! Try it out and let us know if you like it or not.
How far will you go for a sumptuous breakfast in the morning?
Well, if your heart answers as far as it takes then do not forget to indulge in this recipe of Huevos ahogados.
Topped with fried eggs and jalapenos, this recipe is outstanding.
If you are feeling lazy and do not wish to make much for breakfast even then you can indulge in an authentic Mexican dish!
Flooded with the essence of cheese and finely chopped veggies, you should give it a try!
All it takes is fifteen minutes and minimal effort to prepare this dish with chorizo!
Flooded with the essence of meat, beans, and queso fresco, this is a lovely option to savor for breakfast we must say!
Yes, the name sounds intriguing indeed! Divorced eggs Mexican breakfast is wonderful and flooded with only the best!
So are you ready for the magnificent treat that it offers?
Find out for yourself and let us know.
If you thought nachos are only for watching films then you are completely wrong!
Here come the loaded breakfast nachos to your delight.
Topped with nachos and cheese, this is an excellent option indeed!
So what are you waiting for?
Packed with potato, bacon, sausage, and eggs, we have the breakfast skillet recipe right here for you!
This is the perfect choice if you are looking for a scrumptious idea that will suit your taste palette and not be too heavy to get you bloated.
The chorizo omelet is perfect when you are looking for a light side dish or a quick breakfast!
Eggs packed with veggies and ground meat! The smoothness of butter and cheese is felt in every bite.
Shall we give it a try then?
The gorgeous presence of fine cilantro is fascinating and tastes so divine!
Sauteed onions and veggies make this recipe simply outstanding! A smokey essence sauce served with herbs!
There is oregano and jalapeno for seasoning as well. Shall we try it then?
Bottom Line- Here come the Mexican breakfast recipes which you will be confused about which to make and which to skip! We'd suggest picking all of them each day and making this week Mexican week. So do not waste a minute and get started with them already!