Pasta is a universal love language! There is seldom anybody who will despise pasta! Given how versatile it is and easy to make, we all prefer to consume pasta now and then! There are so many kinds that you can make! From wonderful pesto to tangy sauces, you can never really run out of ideas when it comes to enjoying pasta! And the shapes! What can we say about shapes? From penne, spaghetti to linguine! There is no end! Today we are going to discuss everything that you should know about linguine recipes!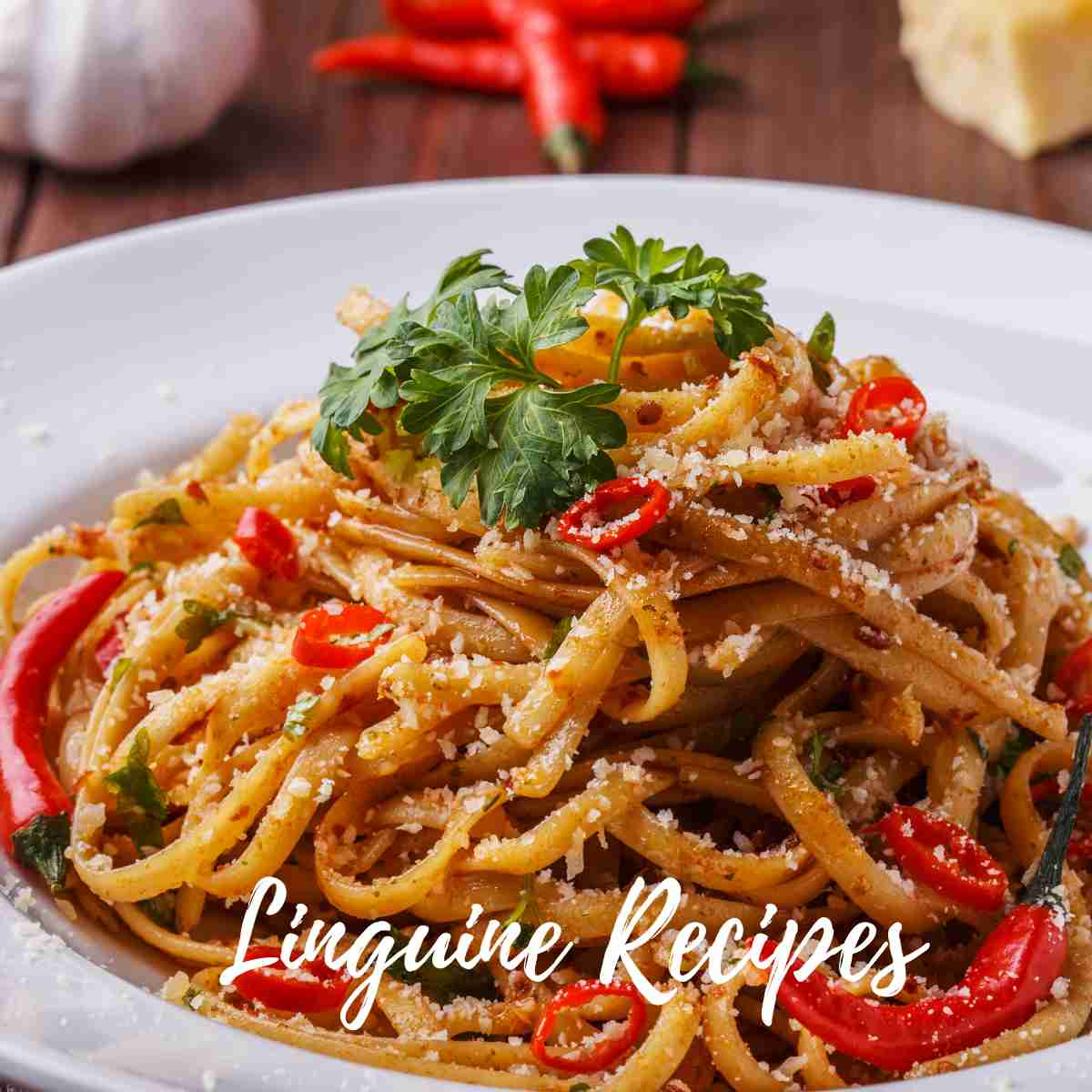 A little about the history of linguine-
Originating in the northwestern region of Italy, the linguine pasta was created in the Liguria region of Italy! These are best served with seafood like clams and so on.
What is linguine?
Made with durum wheat semolina and eggs, these are elongated pasta strands. These pasta strands are usually four millimeters wide and the cross-section of a tongue is similar to the cross-section of a linguine! Hence the name, linguine means little tongue. To be honest, preparing homemade fettuccine is way more difficult than making fettuccine because of the shape and structure of the former. Since this sort of pasta originated in the coastal region of northeastern Italy, Linguine is mostly served with seafood like salmon, shrimp, clam, and so on according to the traditional recipes.
Linguine with cheese, potatoes, and beans is also very common.
Difference between Linguine and spaghetti
Linguine versus spaghetti- to be honest, the difference between linguine and spaghetti is very less! In fact, you can use it as a substitute for each other! These are marinated in thin sauces like Alfredo, and so on such that the taste of these extruded pasta is enhanced. There are two main types of linguine, fresh and dry! Depending on what you are cooking, the time may vary!
How to cook linguine pasta? You need to add a pinch of salt to the water and boil the linguine! Again like we said, depending on the quality of the linguine, whether it is the dry or fresh variety, the time of boiling may vary considerably! The fresh version takes about three to four minutes while the dry version needs ten to fifteen minutes to get ready!
You must have noticed before if you engaged in cooking pasta, that right after boiling, the starch in the pasta absorbs moisture! So what experts prefer to do is prepare the sauce before the pasta boils! So when the pasta is ready, the sauce can be added immediately! This way they absorb more sauce and taste better. Olive oil is added to prevent the strands from sticking to each other.
Is there a different variety of linguine? In the modern day, a new version of the linguine has come up too! These are thinner than the regular variety! Instead of a four-millimeter thickness, these have a width of two millimeters! The thinner version is called the linguettine, or linguette fini.
If you can't find linguine then the best substitute to it is the Trenette, a ribbon pasta, which is midway between fettuccine, and linguine. These are slightly more difficult to find! So the most common substitute can be spaghetti.
Some interesting facts about Linguine
1. National Linguine Day-15th September
If you didn't know already, 15th September is regarded as National Linguine Day. This is because linguine is the world's oldest pasta along with fettuccine, which was developed about four hundred years ago! So if 15th September is nearby, you can celebrate it by only making pasta for the meals throughout the day, from breakfast to dinner.
These are thinner than fettuccine and hence very delicate too! You can cook it with thin sauce but that is not the only limit for linguine! It works well with plenty of herbs and sauces!
Try These Delicious Linguine Recipes for a Delicious Meal
If we haven't mentioned it yet, the taste of linguine pasta is simply heavenly! Topped with spinach, this is a healthy recipe to indulge in!
Your taste buds shall be flooded with the smooth essence of cream sauce.
This recipe is meant for seafood lovers! Topped with shrimp and Tuscany sauce, the recipe is ready in less than twenty minutes.
Such an excellent idea that will leave you completely smitten!
So if you have a date planned for tonight, then rush to the markets in the afternoon and get the special linguine pasta!
Cooked in cajun sauce, this will certainly impress your partner! Enjoy the night and the meal!
We are proud to announce that there is good news for seafood lovers! Pasta like that of linguine works well with canned clams!
Here is the recipe and we are sure you will find it utterly tempting to try out this season!
You have to try it out on yourself to find out about the classic combination of cheesy parmesan with pasta!
Drizzled with smoky garlicky essence, you will certainly thank us later for this excellent idea! Shall we begin to make it?
The parmesan garlic linguine is the best thing that you need when you had a busy day and didn't find the time to make a proper dinner!
All it takes is a couple of minutes to toss the pasta in a cheesy sauce and garlic and you are done!
Imagine chunks of chicken breast pieces in the creamy and tangy pasta!
Yes, that is exactly what we are talking about when it comes to the chicken la zone pasta decked with sauce and herbs!
You will surely regret not trying out the cajun shrimp pasta before!
The combination of shrimp and linguine always steals the show and we have to admit the truth!
If you wish to find out then quickly make a bowl of it for yourself.
The Cajun chicken pasta takes about thirty minutes to get prepared so you do not have to worry about preparing dinner ahead of time!
Weeknights can get busy and here is the best way to deal with it!
Enjoy the creamy cajun pasta nevertheless with this easy recipe right here.
What a lovely idea it is to try out the combination of shrimp and linguine with the bang bang sauce!
Thank us later for this idea because you are surely going to drool over every bite of the shrimp linguine recipe that we have brought for you right here.
The lemon pepper pasta is a wonderful creation for the ones who would like to taste the zesty flavor of lemon!
The sharp flavor of pepper essence is also appreciable and you must give it a try!
An authentic linguine recipe, if you want something traditional then here it is all the way from the coastal towns of Italy!
The combination of tomatoes, basil, and garlic does truly leave you satiated in every bite.
The delicious shrimp linguine is made even more tasteful and healthy with the zucchini and tomatoes in it!
You don't have to take our words in it, make it for yourself and find out!
The linguine chicken and tomatoes are detectable and make sure you do not forget to make it on a weekend to surprise your family!
The tangy tomato essence with succulent meat in every bite of the linguine is simply outstanding!
The Tuscany specialty will make your stomach growl at the sight of the recipe!
The duo of pasta and shrimp is brilliant and the best thing that you can make for a Sunday brunch.
How can we miss out on authentic Italian shrimp with linguine? But that is not it!
The spicy sauce marinating the pasta is what makes it even more special!
So if you are fond of hot and spicy then you know what to try!
The garlic parmesan pasta is something that you can even allow the little ones to enjoy!
The creamy and gooey essence is its specialty and certainly will make you crave more!
Filling and wholesome, try it out today!
The brilliant Spaghetti Aglio Olio is the perfect substitute in case you went to the market but did not find the linguine variety.
Sprinkled with parsley, the recipe is perfect and don't miss out on this one!
There are so many wonderful ways in which you can style your spinach pasta!
The creamy gravy with mushroom is loaded with the best of flavors and is ideal to send your taste buds into a state of food orgasm.
Linguine is the oldest kind of pasta and if you wish to immerse yourself in the true colors of Italy then there is nothing better than making linguine at home!
This recipe of pasta with tomatoes, basil, and brie might appeal to your taste buds!
Find out for yourself.
The savory and luxurious butter garlic shrimp with linguine is the best option ever!
The smooth touch of white wine on linguine is wonderful so don't forget to give it a try!
The exotic crab linguine lives up to the name and origin of the pasta in coastal parts of Italy!
Flooded with the presence of spicy sauce, let us tell you that you are up for a treat!
The summer Italian pasta is so-called because of how refreshing it can be for a light brunch in the afternoon.
Topped with spinach and sun-dried tomatoes, your pasta is ready to head to the table!
Look quickly it disappears from the table!
The delectable linguine pesto pasta is flooded with rich cream and spices!
It is surprising how the pesto flavors work well with linguine!
The presence of shrimp only helps to further escalate the taste of the recipe.
All you need are five basic ingredients to prepare dinner for tonight!
The Angel Hair pasta is drizzled with sauce and herbs and to your relief, it is a vegetarian recipe so you will have no trouble consuming it as a vegan.
There is not much to describe the classic linguine pasta with tuna and tomato sauce except that there is actually no appreciation that can do justice to its flavor.
If you haven't tried tuna and linguine before then you should now!
If you are disappointed that you have been to the shop looking for linguine but found none and are now worried about the meal, then the spaghetti Alla Siciliana is the way to rescue yourself!
The finely chopped garlic and bacon in the pasta taste so brilliant!
And guess what, all you need are ten minutes to prepare the pasta!
If you are exhausted after a tiring day, treat yourself to the garlic bacon pasta!
Make your pasta healthy with shrimp, asparagus, and cherry tomatoes in it!
This is an extraordinary recipe that will set your mood after an exhausting workday!
End your day on a good note with pasta in it!
Here is a fancy and sophisticated Italian-American pasta option that you can try out!
Flooded with clam sauce, this is a lovely option and you should make it this summer season! Extraordinary and perfect for a quick meal!
Shall we try it then?
All it takes is thirty minutes to prepare the salmon lemon pasta!
It is packed with a creamy essence that leaves an everlasting aftertaste in your mouth!
Are you ready to experience the blissful taste? Then get ready!
Frequently asked questions associated with making linguine pasta
1. What is so interesting about linguine?
Linguine pasta is the oldest pasta that originated in northwestern parts of Italy and is mainly composed of seafood items because of the coastal setup.
2. What is the feature of linguine pasta?
Linguine pasta is elongated in shape and resembles spaghetti more or less!
3. What is traditionally cooked with linguine?
Linguine is cooked with clams, salmon, shrimp, and so on! Since linguine originated in the coastal region, pasta works well with seafood dishes.
4. What type of dish is called linguine?
Linguine is a kind of pasta that is available in both dry and fresh forms.
5. What should linguine taste like?
There are several sauces that can be used in the preparation of linguine! Depending on the seasoning, the taste of linguine will vary.
6. Is linguine vegan?
The dry linguine pasta is vegan! However, depending on the ingredients you decide to add to it according to the recipe, it may not remain so!
Bottom Line- With so many recipes that you have at your disposal, there is no way you can run out of options. So start right away!