Embarking on the journey to go completely carbohydrate free takes a lot of effort and understanding of the concept! However, if you feel that everything is soon going to turn boring we will not let that happen! After all, following a diet necessarily does not mean that you have to give up on everything that is good! For example, today we have brought you the hacks to make low-carb keto alfredo sauce. So let us waste no time and get started with exploring the quick tricks and tips! Shall we?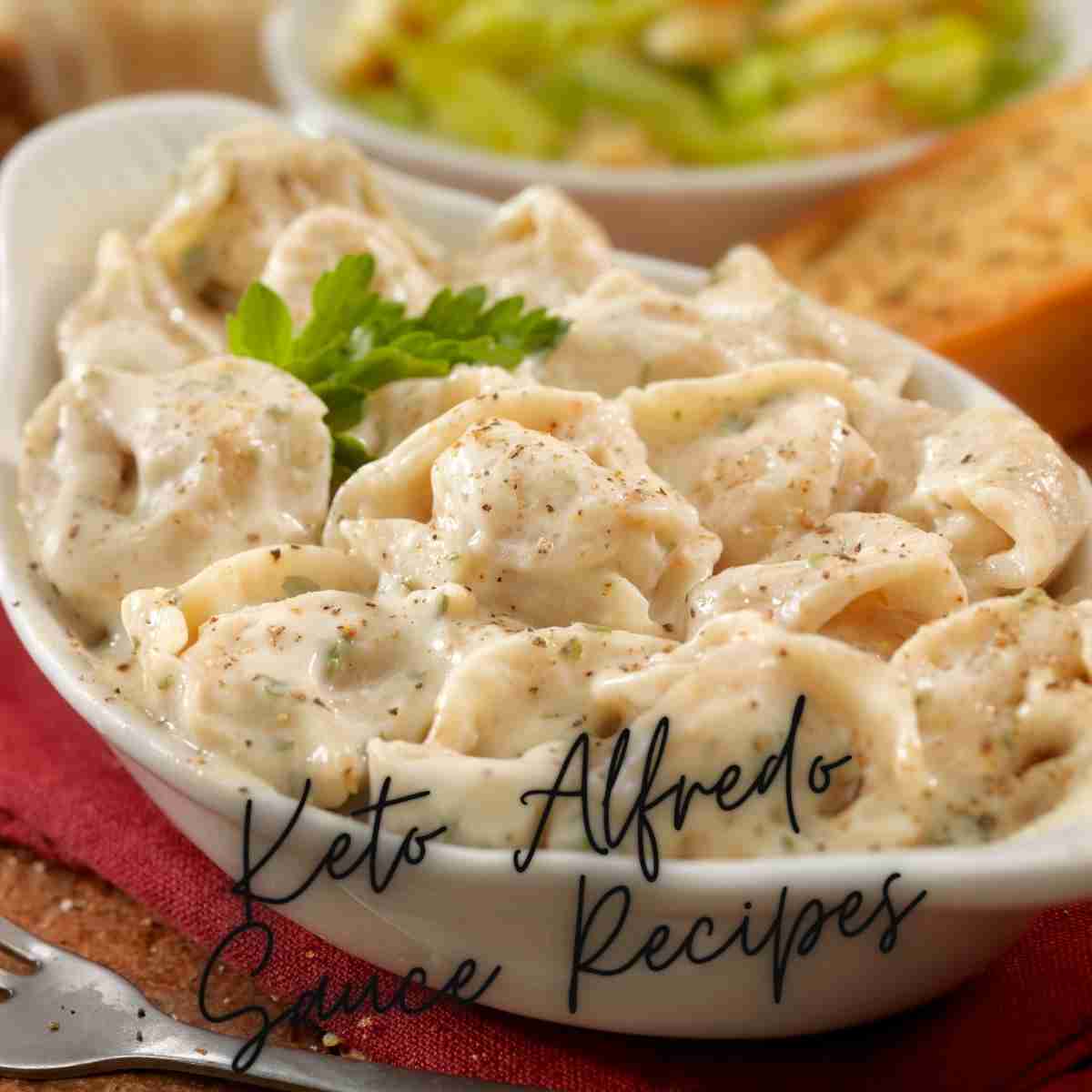 General overview- keto alfredo sauce is simple for you to make and does not need any exclusive ingredients! Spare ten minutes from your day and just a couple of ingredients to create this dish!
Since you are making the alfredo sauce at home you can monitor the content of the dish! There is no artificial thickening agent like corn starch that can go against your diet. Whether you are making pasta, noodles, or chicken, Alfredo sauce comes to the great rescue! Why buy it from the store with artificial preservatives when you can make it at home so easily?
So, what exactly is alfredo sauce? We have experienced the hype about alfredo sauce in cafes and restaurants and heard how amazing it is! So did you try it for yourself? Wondering what it is all about? Let's find out. This is a creamy sauce made with parmesan, butter, and spices! If you are buying it from the store then there might be cornstarch for thickening, preservatives, dried veggies, and so on!
The specialty of creamy alfredo sauce is that it is indeed super duper creamy and rich in flavors. It is completely keto-friendly so you can add it to any dish that you are making and guess what, the sauce can be prepared in just ten minutes! That's right! Amazing isn't it? Plus, just 2.8 net carbs preserve! You should definitely include it in your diet!
Let's learn about the ways to store alfredo sauce
If you have made lots of alfredo sauce that is not humanly possible to finish in a day and neither do you want to have alfredo sauce with every dish that you make over the week, then let us relieve you with the fact that alfredo sauce can be stored in the refrigerator easily! Pour it into an airtight container or freezing bag and keep it in the refrigerator for up to two to three months! Needless to say that homemade alfredo sauce has a pretty long shelf life. If it turns out that after freezing and thawing the sauce turns out to be lumpy, you can solve the problem by reheating. Let's learn how to do it right.
Reheating- if you are freezing the sauce then you first have to thaw it in the refrigerator for the whole night. Then you can reheat the sauce in the microwave or oven under low flame for a long time. You have to keep stirring throughout so that lumps are cleared off! If you still observe some lumps then give it a blend as well.
The sauce might become thick over the days you freeze it so while reheating you can simply pour more cream to thin out the consistency.
Quick steps to prepare alfredo sauce-
1. Saute- butter is added to the pan and sauteed under medium flame! Add chopped garlic and cook until the fragrance is released.
2. Simmer- then the heavy creamy is added and allowed to simmer until the quantity is reduced to one-third of the original.
3. Thicken- the heat is reduced and whisk parmesan cheese into the pan and stir till smooth. Then the spices are added and stirred to spread them uniformly and prevent lumping. If the sauce turns out to be too thick add cream and if it is thinner than expected pour more cheese.
So, that is all you need to learn about making alfredo sauce! Let us quickly now check out some of the recipes where you may use this homemade recipe as a taste enhancer! Let's go!
Creamy alfredo sauce recipes to try out at home
Absolutely gluten-free and containing only three grams of carbs, you must indulge in the delicious and smooth gravy of the gorgeous alfredo sauce that is simply so amazing to enjoy with pasta, noodles, and so on. So what are you waiting for?
Can you spare just ten minutes before dinner? Then you should prepare alfredo sauce which is a keto diet but even ideal for the kids! Watch them delightfully savoring the gravy flavored with a high of garlic and pepper.
If you are in no mood to prepare an elaborate dish and almost planning on ordering from the restaurant then halt a minute! Why risk your diet for a small indulgence? We have the all-new alfredo sauce recipe for you which takes moments to get prepared! Toss veggies or meat or both and enjoy a wholesome meal!
Yay! Did someone say a lot of cheese and cream? Yes, that's right! The alfredo sauce is tasty and healthy at the same time! And of course, kids love it because of all the gooey cheese they get to enjoy.
Flavored with nutmeg, garlic, and pepper, it is pretty simple to make the low-carb recipe of alfredo sauce which is flooded with the goodness of cream.
6. The best keto pasta carbonara with low-carb homemade pasta sauce
Convert your boring dietary meal into some exciting and yummy with the best keto pasta carbonara which is perfect! Simple and sumptuous, treat your taste buds to this amazing shrimp pasta with alfredo sauce.
Enjoy the sumptuous pasta recipe with alfredo sauce that you can prepare at home! Give a sense of uniqueness to your dinner with the easy-peasy pasta in white sauce! You would not expect it to turn out so well!
8. The best homemade alfredo sauce
If you are making alfredo sauce for the first time then do not worry because you can cook it even blindfolded! That's how easy it is to make this creamy sauce which you can pour over spaghetti and garnish with herbs for dinner.
Bored with the monotonous steaming veggies every day? Pour some alfredo sauce over the broccoli and see how good these greens taste! It even becomes easy to convince the kids to have their veggies if served with something so tempting.
Creamy, cheesy, and luxurious! All in a single bite! Make your dinners special with minimal effort of ten minutes as you prepare the alfredo sauce to pour over the meat or spaghetti or literally anything that you desire and see how amazing they turn out to taste.
This recipe is a unique way to prepare alfredo sauce which has discarded cream cheese and is flavored the sauce with whipped cream and butter! Garlic, nutmeg, and egg yolk have been added to enhance the taste of the sauce!
The healthy and flavorful alfredo sauce is served with roasted garlic to escalate its taste! Garnished over palmini noodles, surprise your partner at dinner with this dish as they come home tired from work.
Cooked with Italian seasoning and three types of cheese, you can imagine what a treat it shall turn out to be for cheese lovers! A fantastic way to make the kids have chicken and broccoli which they simply can't refuse.
Explore the exotic flavors of the keto alfredo sauce prepared with cream cheese and a richness of butter and parmesan! The hint of nutmeg and garlic gives a distinguished taste to the sauce as you pour it over the meat or noodles.
All you need are simple four ingredients to cook this sauce! And guess what, pour it over anything that you wish, from pasta to noodles, meat, or veggies that give it a smooth flavor!
16. Keto Roasted Cauliflower Alfredo Sauce
How exotic is this recipe cooked with cabbages? Yes, you heard it right! Cabbage! Want to learn? Then go ahead and learn the recipes for a tasty treat tonight. Sprinkled with parsley, the sauce is outstandingly garnished with a little black pepper.
If you wish to savor something smooth and creamy this season then go ahead and prepare the alfredo sauce tossed over noodles and herbs! This is a sheer temptation that you cannot stop yourself from devouring more and more.
Tossed in Italian seasoning, the keto chicken alfredo curry is perfect to make when the guests are coming over. Sprinkled with basil, the recipe is easy to emulate even for beginners. Use some broccoli as well along with the meat!
19. Homemade alfredo sauce
Cooked with garlic and onion powder, no matter what you cook in this homemade alfredo sauce, it is destined to taste divine! Saucy and creamy, you simply can't wait for dinner time to arrive so you can quickly dig into what's there on the table!
We have prepared this recipe with homemade alfredo sauce marinating the shrimp and zucchini noodles! You may even serve it with spaghetti squash and the fragrance will tantalize the whole atmosphere of the kitchen! Don't be surprised if you find neighbors asking what you were cooking last night!
Making the keto chicken alfredo for dinner is so easy! Tossed with shredded meat and broccoli florets, the recipe is exotic! Sprinkle with herbs to give this recipe a distinguished flavor, waiting for dinner to get ready becomes simply impossible.
We have brought you the exotic keto alfredo chicken which is a traditional chicken breast dish that you should make for Sunday brunches! It will be a delight to observe the guests savoring the dish and asking for more!
Delicious and creamy, the easy keto alfredo sauce is outstanding and gives a distinguished flavor to the simple tofu and noodles! You may even herb the sauce with basil and a hint of garlic powder to enhance its taste.
We have come up with the recipe for the low-carb cauliflower keto alfredo sauce which is so healthy and yummy at the same time. There is parsley, cream, and cheese as a taste enhancer! Be prepared for a sumptuous meal at the end of a long day!
Why always make the same old alfredo sauce when you can customize it according to your choice of flavors? Explore this all-new recipe of garlic and green olive sauce too!
26. Keto asparagus shrimp alfredo
Asparagus and shrimp in alfredo sauce have always stood out among the rest! There is no easier way than this to marinate your shrimp and asparagus in a creamy sauce than this one! Try it out for sure!
How exotic is this dish prepared with thick cream and cheese? If you are a true cheese lover at heart then you simply cannot stop yourself from making this sauce! Pour it over some steamed veggies to enjoy a tempting treat post-workout.
Savory and smooth, the homemade alfredo sauce never fails you! Perfect to serve with veggies or meat, look how the platter goes empty within minutes as no one wants to spare even a drop of it! So what are you thinking? Make it today!
Here is another recipe for keto alfredo sauce to make your low-carb diet enjoyable and yummy! And guess what, it is good for both kids as well as adults, so you can prepare a whole pan of pasta dipped in this sauce and serve it hot at dinnertime.
This recipe is both vegan and low on carbs! That's how healthy it can get without having to compromise with your taste buds. It shall be a treat for them too!
Some frequently asked questions about preparing alfredo sauce
1. Is there a way to thicken alfredo sauce?
Cheese is a healthy way for keto dieters to thicken the alfredo sauce without having to indulge in starchy cornflour! You can put more parmesan cheese to thicken the consistency even more.
2. Is alfredo sauce gluten-free?
Homemade alfredo sauce is gluten-free! The traditional recipe avoids all sorts of starchy material but even the store-bought ones are healthy and do not use gluten at all! You should still check the label to be sure before buying.
3. What is the amount of carb that you will find in alfredo sauce?
The amount of carbs in alfredo sauce is as low as 2.8g in ¼th cup of alfredo sauce.
4. Is alfredo sauce keto-friendly?
Althigg alfredo sauce is rich in fat, and the absence of carbohydrates makes it a keto-friendly diet. Although if you are purchasing it from the shop be careful about the carb content through artificial preservatives and thickening agents.
Bottom Line- Now that you are aware of how to make alfredo sauce, do not buy from the stores anymore and make its healthy version at home.