Dumplings are something that dominates the taste palette of kids to adults! No matter how much you have, they are never enough! From roadside options, and takeaways to big fancy restaurants, everybody serves dumplings and there are so many varieties and flavors indeed! If you are a vegan there are veggie-filled ones for you, if you like meat then there are that too! Whether you are making soup or preparing some pan-fried dishes, homemade dumplings can be literally a part of all. Hence you have to find out the ways to make your favorite snack at home! Let's go, shall we?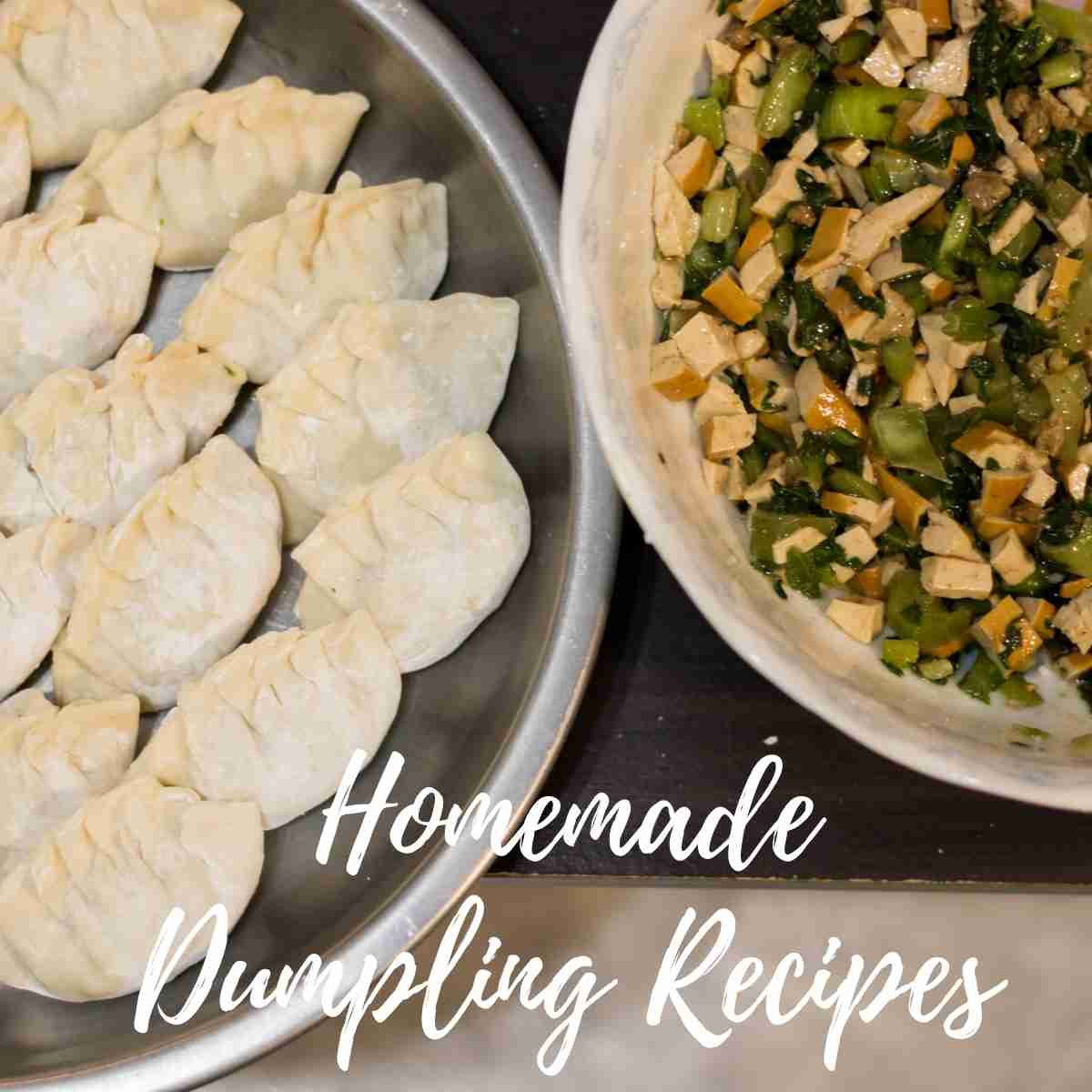 Let us learn what dumplings are first!
Dumplings are pockets made with dough and packed with fillings like vegan cabbage to meat. If you like to have dumplings then here is a perfect guide to assist you on this journey of food and creation.
To be honest, chicken dumplings are the showstopper and most famous of all! You can drop them in stew or enjoy them with a gooey broth!
What are the major ingredients required to make dumplings-
The ingredients that are required for making dumplings are pretty simple and you will have most of them at home.
Flour is needed to form the dough which is shaped into pockets to hold the fillings intact.
Baking powder- this is used as a leavening agent which lifts and makes the dough fluffy.
White sugar- a hint of sugar is always so good to give a tender taste of sweetness to the recipe.
A pinch of salt- this is to maintain the balance and enhance the taste.
Butter or margarine- butter acts as a binding agent to hold the other ingredients together in a dough. If you want a healthier substitute for butter, then margarine is a great idea.
Whole milk creates softness and a tender, moist essence.
Is there a way to predict that the dumplings are ready?
Use a toothpick or a fork to determine whether the dumplings are ready or not! Pierce them into the skin of the dumplings and if they come out clean then your dumplings are ready to adorn the table.
What is the best way to store dumplings-
If you have some extra dumplings that you simply do not have the appetite to finish then you can pack them into air-tight containers and store them in the refrigerator for about two to three days at least. You can reheat it on the gas stove for ten seconds before eating or simply microwave them.
How can you freeze dumplings?
You can make a sufficient amount of dumpling dough and store it for use later on. You can freeze the dough on a baking sheet in the refrigerator for two to three hours and then transfer it to the freezer. You can place it inside an airtight container and the dough will last up to three months. You can thaw them for thirty minutes before use and then make your favorite dumplings.
The three major ways to make dumplings -
1. Steaming- the steamed dumplings are more tender and the dough layer is thinner than the boiled ones. However, they are a little stretchy! You should make use of hot water dough to create these pockets. A bamboo basket steamer is the best for you to make these dumplings! The morsels remain tender when you use hot water dough. Bamboo steamer baskets are the best since they are cheaper versions of steamer baskets and have a nostalgic edge to them. Napa cabbage leaves or parchment paper can be used to line the basket from the inside. Cover it and steam for about ten to fifteen minutes.
2. Boiling- perhaps the boiled dumplings are the best as you can serve them with soup or chile broth in dumpling noodle soup. You must have seen wontons, isn't it? They are a type of boiled dumplings only! You should make use of tap water to boil these dumplings as such water can maintain the pressure on the dumplings as they are boiled under high temperatures.
3. Steam frying( pot sticker method)
The dumplings are seared to create a golden and crisp effect. Now water is added and covered with steam. When the water evaporates you can slightly lift the lid. This method gives a crispy crust to the dumplings and is known as the potsticker method. Although it is prescribed to use a non-stick frying pan, a general cast skillet is fine too! You just need to heat them until you observe the steam coming out and then add some oil. Frying the dumplings for two to three minutes is enough to turn them golden brown.
Let us now learn about some homemade dumpling recipes! Let's go!
Filled with ground pork, the homemade recipe for dumplings is truly fascinating!
Sprinkle it with some sesame oil and you are good to go!
The presence of Hoisin sauce and cabbages makes them a healthy treat as well as a saucy delight.
Made just from scratch, the homemade chicken dumplings are delicious and flooded in creamy gravy!
Juicy and flavorful, the old-fashioned dumplings are exotic for you to relish. Sprinkled with herbs, this is a wonderful idea indeed!
So make it for dinner tonight.
3. The fluffy dumplings
The boiled and fluffy dumplings are the best option if you are looking for something cozy for brunch!
Don't say it is winter and you haven't tried making dumplings yet!
Try out this recipe today and indulge in its creamy sauce.
The easy-drop dumplings are the best when you need to make something quick for dinner!
Soak them in soup or gravy and serve fresh.
This is an excellent idea for you to try out as you look for some comfort dish after a tiring day!
The scratch and fluffy dumplings are the right dishes that you must look for!
Sprinkled with herbs and creamy in every scooping, all you need are a couple of ingredients to prepare the dumplings and boil the soup.
Exotic and yummy, the best chicken and dumpling soup is the right source of comfort and delight in every bite.
Flavorful and rich, you are certainly going to fall in love with its amazing presence after a long day!
A sheer treat to the taste buds, the pork chive dumplings are perfect to make especially if you have a special family dinner during the weekends!
Spend quality time with your loved ones as you all enjoy the presence of smooth and succulent pork chive dumplings.
If you are looking for something unique to make then the flat dumplings are an innovative idea indeed!
But guess what, the best part of making flat dumplings is that nothing can go wrong with it.
For the dumplings and chicken lovers, we have good news! Here is the chicken dumpling recipe which allows you to make fluffy and flavorful treats!
With winter around the corner, the dumpling soup is something that you should not miss out on.
The authentic Xiao long bao is a wonderful idea that we are sure you will love to indulge in this season!
The recipe will make it impossible for you to resist the urge to make it again and again.
If you like spicy, saucy, and hot then the steamed dumplings are the best to indulge in!
Tossed in the dipping sauce, this is the perfect option for the ones looking for a sizzling and saucy treat this season.
As we know, old is gold, and the age-old chicken and dumpling recipe in soup rule the heart of dumpling lovers to date!
You can make it at home to find out the magnificent flavors that we are talking about.
We have brought you the amazing chicken and dumpling soup that is truly the best you can make! Ready in just thirty minutes, winter just got warm and cozy with the presence of the chicken and dumpling soup for dinner on the table.
This recipe is for spice lovers who wish to have a twist in their dumpling soup recipe!
The spicy and tangy gravy is not only comforting to the taste buds but such a treat for the eyes to behold as well.
Are you in the mood to try out something spicy and unique? Then you have to give a try to the Chinese dumplings recipe that we have brought for you right here.
Sprinkled with chopped spring onions and sesame, they are good to go!
The gorgeous Asian dumpling recipe is something that you will thank us for later about!
Prepared with ground beef and served with a spicy dip, the idea is excellent to go ahead with.
The gorgeous and flavorful Bisquick dumplings are the right source of warmth and comfort on a chilly winter night!
And guess what?
All you need are two ingredients to prepare the Bisquick dumplings and get it done in just twenty minutes.
Shall we try it then?
If you take interest in the myriad flavors of Asian cuisine then you have to give a try to the wonderful Asian pork dumplings which taste simply out of the world.
So what are you waiting for?
The succulent and meaty chicken momos are the best! And it is everyone's favorite!
Flavored with dipping sauce and sesame oil, this is a wonderful recipe that you can make this season!
Prepared right from scratch, this is a great choice of dish to indulge in.
In this recipe, they have decided to add pork and cabbages, and that is how the chicken cabbage truly turned out to be something so awesome.
Try it for yourself and find out! Make it today!
If you haven't tried out dumplings yet at home, then the Bisquick dumplings are the right option for you.
Gorgeous and yummy, you can even feed these to the kids because the spice content is low and healthy for the little ones.
Steamed dumplings with vegan sauce allow you to indulge in the juicy flavors despite being a vegan dieter.
Packed with scallions, soy sauce, and tangy ketchup, this is an incredible idea for you to try out during the weekends.
You can go ahead with a chicken filling or vegetables to create this amazing dish!
Flavored with sesame oil and gorgeous sauces, Chinese chicken dumplings will steal the show.
Let's dive into the soupy world of dumplings and gravy that leaves you craving more!
The wonders of the Caribbean dumplings will leave an impact on your taste buds long after they are gone.
The herbed soup with a hint of pepper is truly comforting when you have had an exhausting time managing daily chores.
The Korean dumplings are simply exotic! If you haven't tried them before you are about to embark on a fine journey of flavors!
Prepare this family meal for the summer season and enjoy a hearty lunch with your loved ones.
The homemade chicken and dumplings recipe is something that you deserve to enjoy for the winter.
There are three ways to make the dish, either crock pot, baked, or boiled, choose your convenience and get started.
Cooked with ground pork, the homemade dumplings are the best when you wish to spend the weekend enjoying something delicious and enriching!
There is green onion and soy sauce as flavoring agents to escalate the spicy essence of the dish even more.
If you wish to try out something apart from dumplings then mushroom dumplings are the best idea you have got.
Served with teriyaki dipping sauce, this is a wonderful choice of dish to enjoy during the winter.
Enjoy the perfect dumplings with stew and casserole by trying out the recipe that we have got for you!
Gorgeous and rich, the dumplings are a great source of comfort especially if you are in the mood for a cozy meal at the end of the day.
Sticky rice dumplings are another fantastic dish that you can prepare to explore some myriad essence of Chinese cuisine.
Sticky rice dumplings are a wonderful idea that we are sure you have not tried out before.
Shall we check it out then?
Chicken and dumplings with tortillas is a unique recipe that we are sure you are seeing for the first time!
If it is true then we have this amazing idea that looks and tastes so divine indeed.
Bottom Line- Making dumplings at home just got easier with so many amazing choices that are right here. So if you are craving them for a while, then this is your opportunity to put on your chef's hat and get started! Tell us which is the one you like the most!