Holidays are simply not complete without the intervention of meat and we have to agree to that! If you are like one of us who can not say away from meat for a long time then you have chosen the right article to read! Ham is significant in a wonderful gathering like Thanksgiving which calls for us to prepare delicious cuisines and indulge. It is the time of the year when family and relatives gather together to have feasts and parties. So naturally you cannot afford to go wrong with your ham! Let's find out some tips that you can follow to cook the most delicious ham recipes ever.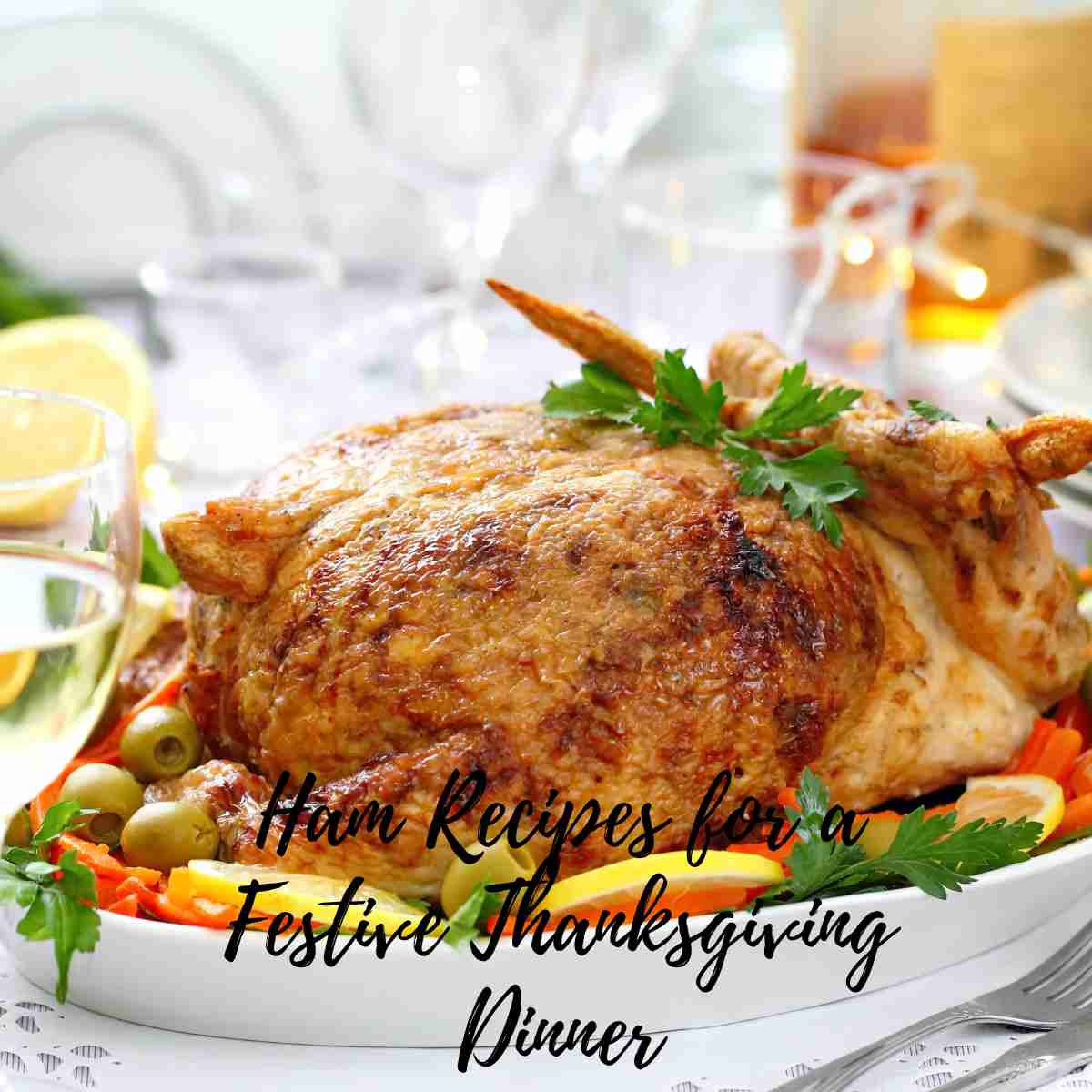 Tips and hacks to perfecting your ham
First, you need to determine the kind of ham that you are working on! It is the type of ham depending on which the technique of cooking is determined. Hams are cut into two pieces which include the shank and the butt. The bottom half is leaner and is called a shank. It is richer in flavor and used for cooking on occasion.
The different kinds of hams are as follows-
1. Country ham- these are rather rare to find than the standard city ham. Popular in the south, these are also regarded as the Virginia Ham. They are given a dry rub and then allowed to smoke up a bit, the taste is more or less like prosciutto.
2. Boneless ham- just as the name suggests, the boneless ham is pressed into an oval shape. The texture is tender but you have to be careful when cooking it. These are prone to becoming dry and to prevent so you have to follow certain techniques.
3. Fresh ham- if you visit a nearby butcher and get ham from the store instead of a supermarket then they offer you fresh ham! These are extremely juicy and such a delectable treat for a festive meal.
4. City ham- similarly the version of ham which is commonly found in the city and packed and processed by several manufacturing departments is regarded as city ham! These are first brined, fully cooked, and smoked before they are packed. Glazed ham is what is made with this version of meat found in the market.
Well, now that you are aware of the version of hams available in different regions, let's learn these tips which will help you to cook them better.
1. Score the skin well- you shall need a sharp knife to score the skin first. There are some tools that you should keep handy in the kitchen where you frequently cook meat, like a chopper, knife, and so on. Then you need to cut through the skin and the fat so that the flesh is clean! Create a diamond pattern so that when it is glazed, the beauty is unparalleled. 
2. Next you need to glaze the ham- it is the glaze that is majorly responsible for enhancing the flavor of the ham, no matter which kind you plan to select. You can get super creative with the sugar and seasoning variety that you choose. Out of so many recipes that we have provided you with, the options are simply endless. Brush the glaze on the surface of the ham for about fifteen minutes! This ensures that the skin is perfectly pretty and looks gorgeous!
3. You should always check if the ham is covered while you are cooking it!
Look, there is one thing that you will agree with us! There is absolutely no one in this world who likes a dry ham! But they often tend to dry up as you cook them in the oven! So, is there a way to deal with the situation? Well, of course! All you need to do is take an aluminum sheet and cover the ham with it! You might need to take them off, every time you brush it with glaze but remember to put them on again.
4. Allow the ham to rest properly - once it is brought out of the oven, that is not the end of cooking ham! You need to allow the meat to rest for a while during which it further imbibes the flavors. You should at least leave your ham alone for fifteen to twenty minutes during which the temperature of the meat continues to rise and it cooks itself. Finally, you can remove the aluminum foil and allow the ham to be carved. This is the time that is essential for the ham to redistribute its juice and turn tender as well! Hence, this is to be noted that the resting period is absolutely essential for your ham to taste good and you should not make the blunder of serving it right away!
Tips for baking a ham-
If you are baking a ham for the first time then here are some useful tips which will come to great aid! Following these tips will ensure you make no mistakes at all! Let's read on to find out more.
You should first allow the ham to settle at room temperature. At least thirty minutes to an hour should be provided for the meat to leave the refrigerator and acquire room temperature. Cold meat is difficult to cook as it is unevenly heated up and you can not afford such a blunder with so many guests in the house.
The skin is scored with a sharp knife which cuts through the skin and fat!
Place the ham in the cooking pan and allow it to smoke up a bit. Cover the pan with aluminum foil so that the heat and moisture do not escape from the pan.
Place a cup of water at the bottom which will gradually release the heat.
Then comes the time for you to roast the ham! This is done at 350°F.
You need to keep a thermometer handy so that you can record the internal temperature of the meat. When the internal temperature of the meat reaches 130°F, you shall know that the meat is done. However, this will take about forty-five minutes to one hour.
Now, do not forget to allow the ham to rest after it comes out of the oven. This is a part of cooking when the temperature of the meat continues to rise. After about fifteen to twenty minutes you are allowed to place the meat on the plate and serve it on the table.
Here are some outstanding ham recipes for Thanksgiving! You should definitely give them a try!
Delicious Thanksgiving Ham Recipes for a Festive Meal
Succulent and flavorful, the ham meat is studded with slices of pineapple which oozes out syrup and juice every second. The brown sugar glaze does wonders to enhance the taste of the dish. So dig in!
The brown sugar-glazed ham is another extraordinary idea to bring water to the mouth of the guests as you invite them over for Thanksgiving dinner! The recipe is pretty easy to emulate and cook your ham with perfection. Shall we try it then?
Recipes like this way make your Thanksgiving even more special and exciting! There is no way you will have any ham left on the plate with this meat recipe. The flavor of honey combined with Dijon mustard is palpable in every bite.
You are definitely not going to miss out on the brown sugar ham which is indeed the best! It is the presence of mustard and its essence in every bite which renders the recipe such an extraordinary taste. Do not believe us? Give it a try on your own!
All you need are a couple of ingredients to come up with the brown sugar ham! And the best part is that the ham is cooked in a crockpot so you literally do not have to supervise the dish. Enjoy when the time for dinner arrives.
Apart from turkey, if there is something else that suits the table for Thanksgiving dinner, then it is the ham! Perfectly glazed, do give it a try!
We can guarantee that the sight of the dish will make you hungry. Rich, succulent, and flavorful, this is a brilliant idea to make your celebrations even more outstanding and joyous every time! Shall we?
There is nothing as good and tempting as a plate of ham on the table! Succulent and dripping with honey, the glaze is perfectly done. Succulent and rich, this is an excellent idea that you should not miss out on! Shall we then?
Rich and smooth, the brown sugar glazed ham is a great choice of dish which makes one's celebration hearty and joyful! There is seldom any meat lover who does not like ham, so make it for the party right away!
There is a reason indeed why the peach-glazed hams are called sensational! If you haven't tried it yet, then you definitely should. Succulent, smooth, and enriching, what a brilliant idea it is! So what are you waiting for? Make it today!
If you wish to try out something more unique with ham then you should go ahead with the bourbon orange mustard ham which is dripping with flavors so enriching indeed. Thank us later for the idea but right not immerse yourself in the comforting presence of the bourbon glazed meat served with a zesty orange essence.
If you are fond of maple syrup then quickly go for the maple glazed ham which tastes so good we must admit! The recipe is easy even for beginners so you make no mistake.
The presence of chipotle sauce renders the meat with a flavor so divine! Smooth and sweet, the ham will be the first to disappear from the table. Do not believe us? Make it and find out!
Sweet, savory, and rich in flavors, the bourbon honey-glazed ham is the end goal for any festive season! So if you are celebrating Thanksgiving go for the dish right away! The recipe is fantastic and you should definitely give it a try!
The honey-glazed ham wasn't just enough so this recipe aims to make it better with the apricot glaze too! The combination of two flavors does great justice to the meat and soaks it in gravy so enriching. Shall we make it then?
An all-time classic, the recipe list for glazed ham is incomplete without the mention of the pineapple glazed variety! Sweet and savory, we can guarantee you will find it very hard to resist yourself at the table to finish it all.
Ham and Thanksgiving go hand in hand and so we decided to come up with the recipe that we recently came across! The orange glazed ham is a wonderful idea that you should try out and tell us about it!
Ham ready in a crockpot is always the best as you hardly need to spend time in the kitchen monitoring your meat! Toss them all in and wait for your meat to process itself! Yes, that is how easy it gets with the recipes that we have for you right here.
Recipes like this will make you drool at the table but with a hint of embarrassment! The baked ham recipe is succulent and flooded with a gorgeous taste. Delicious and meaty, pair it with bread, and let's call it a festive dinner.
If you did not try out this trio then we have nothing to say! The apricot maple bourbon glazed ham is the ultimate treat! The season of Thanksgiving is not over yet so you can still make this grand ham recipe and invite over some friends.
Frequently asked questions associated with making ham for Thanksgiving
1. What is the secret to making the best ham?
If you want your ham to turn out good then you have to cook it slowly and on medium flame. Make sure that the temperature is maintained constant without much fluctuation for the meat to cook right.
2. How can you make your ham taste better?
If you want your ham to taste good then you must glaze it with maple syrup or a sweet sauce! The sweet and savory essence of the meat is a sheer treat to the taste buds.
3. Should ham be baked or roasted?
Both the techniques of baking and roasting are equally applied while cooking ham. You can choose to do either, whichever is convenient for you.
4. Do you need to soak the ham before baking?
Ham tends to get dried out very soon but there is definitely a way to deal with the situation. You must soak the ham in water for about an hour before you turn it to the oven for baking.
5. How long should you allow a ham to cook?
Approximately the time required to cook ham includes thirty-five minutes to forty minutes.
6. How do you keep your ham moist during cooking?
You should wrap your ham in aluminum foil so that the surface of the ham remains crispy and juicy as well.
7. Which is the best liquid to cook ham?
Ham must be soaked in water, fruit juice, or honey while cooking to enhance its taste.
Bottom line:
Thanksgiving dinner is a wonderful way to celebrate, but it can be hard to come up with something new to serve. These delicious ham recipes will surely make for a festive and memorable Thanksgiving. From baked glazed ham to flavorful rosemary and garlic ham, to sweet and sticky honey-mustard ham, these recipes are sure to please everybody at the table. These recipes are also easy to make and are sure to make a lasting impression on all of your guests. So this Thanksgiving, try one of these delicious ham recipes – you won't be disappointed.
Don't let Thanksgiving dinner become a bore – dig into something clever and delicious with one of these easy and scrumptious ham recipes. As Julia Child once said, "People who love to eat are always the best people" – so this Thanksgiving, make sure to make a meal that brings family and friends together.