With the season of Halloween just knocking at the door we can hardly wait for its arrival! There are indeed so many arrangements that need to be made and decorations that are still undone! Amidst all of it, you must come up with ideas for Halloween treats as the kids will soon come knocking at the doors asking for candies! Nothing like the taste of homemade Halloween barks! You must be remembering them from your time when you used to be a kid and your grandma would make you so many of them! Here are some interesting facts and ideas that you must gather about Halloween barks before you begin making them! Let's proceed with the discussion.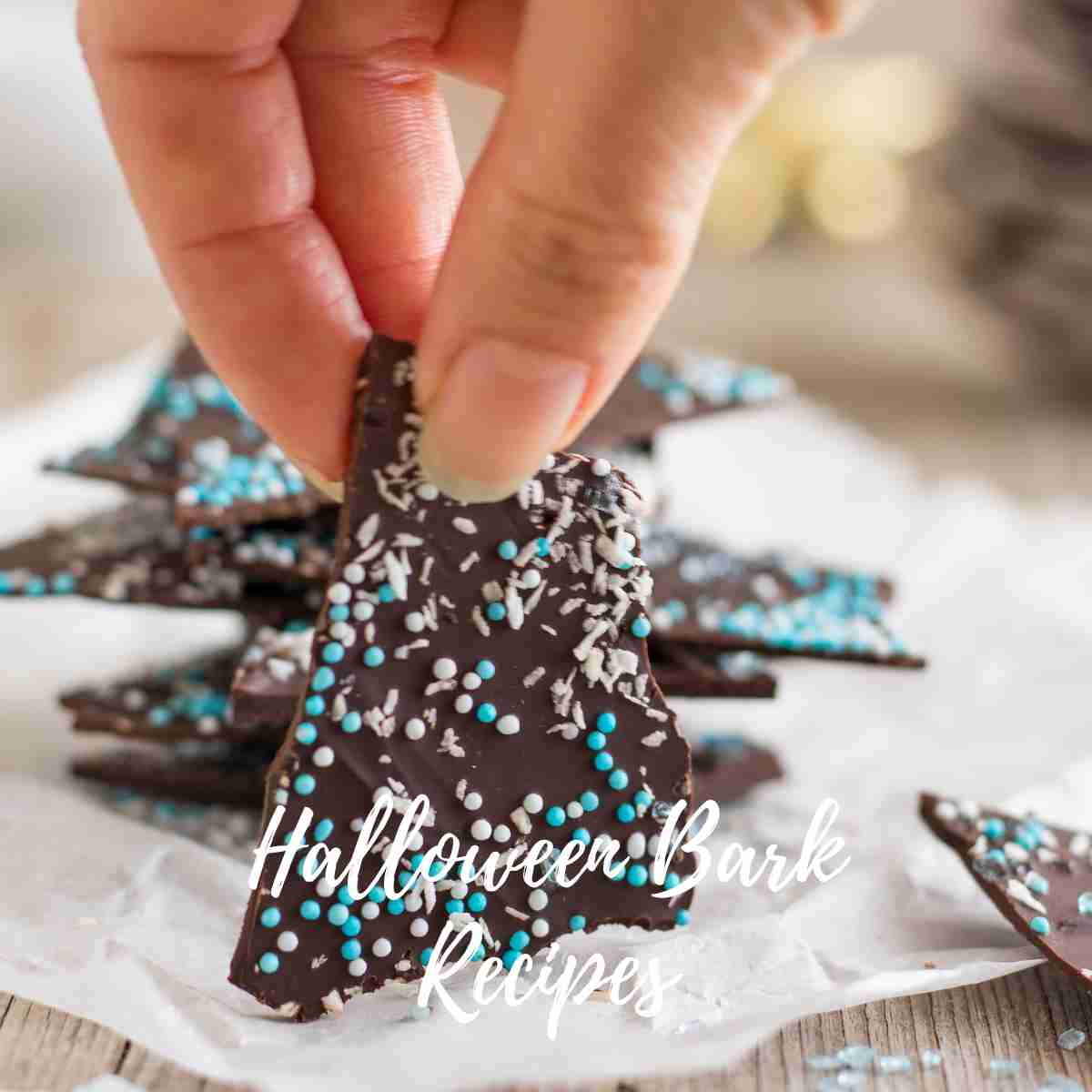 Learn about barks and why are they called so-
Whether it is Christmas or Halloween, there is one thing that remains constant! These are the candies that you simply cannot miss out on! Although the shapes and the flavors may vary, it is the emotions that are associated with candies and barks that make them so good! But have you ever wondered what Halloween barks are called? You, in fact, do not need a reason to make barks! These are good during any time of the year but when it is Halloween you simply cannot miss out on them. These are sheet candies that are broken down into irregular shapes and are mainly of peppermint and chocolate flavor. You can definitely come up with more and more ideas, shapes, and forms for making them even more special. It is the shape of the candies which gives them the name! The candy barks are mainly made of chocolate and as a result, these look like the bark of the tree! Hence the name most probably! These Halloween barks were first sold in Florida during the 1960s.
During those days, the barks used to be sold for $1.20 for a pound and the festive season marked the rush hours in the confectionery for barks and chocolate candies. These peppermint or chocolate barks resembled a French candy called the "mediant" and the latter was also broken down into irregular pieces and then sold. This might have contributed to the popularity of the chocolate bark in the market. Almonds, cherries, and other treats are often embedded on the surface of these barks making them suitable for both Halloween as well as the Christmas season. The common ingredients used for the preparation of mediant included Cacao nibs, apricot, rose petals, fresh honey, crushed coffee beans, marshmallow, and so on.
So what is a Halloween bark?
From the discussion above, it is clear that Halloween barks are chocolate or peppermint sheets that are studded with nuts, berries, and dry fruits! These are then randomly broken down into small pieces and served as treats to the little ones or offered to the guests as a sweet appetizer at the parties. This bears a rustic look with the roll edges and the irregular shapes in which these barks are designed! You have to make a huge sheet of chocolate or any other flavor and then break it down just like broken pieces of glass and fill it inside a jar or serve them on a tray!
Barks are a traditional Halloween treat, so we can not guarantee how long they will last on the table as they carry a sense of nostalgia! These chocolate barks generally resemble broken shards and hence the name. Other commonly available options include almond barks and so on. Fruity barks are very common these days and you should definitely try them out during the holidays. There are different kinds of Halloween barks that you will come across! Let's learn about them quickly!
Chocolate barks- this is the most common option among all when we are describing barks! It is in fact, the color of chocolate that gives the distinguished hue to the candy and its name! These chocolate barks exactly look like a sheet of tree bark that has been removed from the trunk. If you have seen a chocolate sheet or a bark in making before then you will be surely aware of what we are talking about. The chocolate barks are mainly studded with nuts and crushed candies from the top! There are even pretzels that adhere to the surface and remain embedded at the top. We simply can not think about making barks for Halloween and not trying out chocolate barks. Chocolate is something that almost everyone prefers universally and so it becomes easier to cater to the guests at the party with a tray full of chocolate barks. If this season, you are planning to make barks, then simply do not miss out on the traditional chocolate version.
Candy barks- There is no way we can miss out on candy barks either! After all, Halloween is all about candies, treats, and wonderful sweet dishes which makes the occasion even more vibrant and special! If you have decided to make candy barks for the first time then this is indeed a great idea we must say! And the best part is you will only need a couple of ingredients, two to be precise to make these candy barks! Studded with weird but tasteful figures, Halloween is all about going beyond the ordinary and making something as special as candy barks. Toffees, almonds, and whatnot, the options for Halloween candy bark treats are simply endless! These are candy bars does not mean these cannot be chocolate.
White chocolate barks- during Halloween, there is no pause button to your level of creativity and imagination! From crushed candies, M&Ms, and cookies, the white chocolate barks look so gorgeous with so many wonderful treats on top. Since the main color of the bark is white, it prominently displays the other colorful treats and their brilliance. Instantly your attention will be drawn toward the white chocolate barks displayed on the table. The sky is your limit when it comes to adorning the barks with treats, do not forget to add some peppermint candies for a sense of originality too!
What are some of the basic ingredients you need to make Halloween barks
It is simply impossible for one to make chocolate bark without chocolate chips and oil. Name of the other ingredients you will definitely find in the individual recipes but these are the two most important ingredients that you can not miss out on. So stack up your pantry with chocolate chips during the festive season along with almonds and so on.
Halloween Bark Recipes: Delicious Treats For Spooky Season
So you already know what is the best part about making this recipe for Halloween barks! You do not need to bake them making it so easy for you to create them without any hassle of handling the oven!
The classic chocolate Halloween bark takes only about ten minutes for one to create with ease! Studded with candy corn and other spooky treats, you must give it a try! The recipe is very simple to emulate and ideal for the holidays.
All you need is an abundance of treats to make the Halloween trash barks! There is a reason why the trash barks are called so! There are too many candies and treats on top, the bark is hardly visible.
The Halloween barks are super easy and the combination of sweet and salty is what makes them even more special! Adorned with pretzels and spooky eye candies, this is an excellent creation that you should not miss out on! Shall we try it then?
The transition between the two flavors is what makes them so extraordinary and marvelous! The Halloween chocolate and peanut butter barks are extremely yummy and drizzled with loads of candies on top! Do give it a try before Halloween ends.
The violet Halloween barks are very easy and if you are fond of candies then there is no way you should miss out on this one. Brilliant and carrying an aura of spookiness and macabre, make this one for sure!
The spooky-eyes Halloween chocolate bars are fantastic and loaded with treats on top! The numerous spooky eyes studded on top gives it a sinister aura and a weird sense of macabre too! However, there is no doubt about its brilliant taste!
The Hocus Pocus Halloween chocolate barks are super exciting with fabulous colors and gorgeous flavors. This is indeed a magical treat that you should not miss out on! What an extraordinary creation that leaves you craving for more and more!
The Boo Bark for Halloween is a marvelous creation that leaves you completely swayed in the first bite. Delectable and crunchy, the kids will be delighted to be offered the Boo barks as they come knocking at your doors.
Halloween is the season of macabre and thrill and if you haven't tried the spooky chocolate Halloween barks yet then you definitely should. Studded with chocolate candies and marshmallows, the idea is simply beyond words of description so you need to try and find out!
All it takes are some pretzels, candies, and colorful sprinkles to adorn the candy barks with magnificence. Gorgeous and tempting, the kids will simply not be able to keep their hands off the plate. And do not be surprised if the barks disappear from their jar in the middle of the day!
Halloween is the celebration of joy and jubilance which is simply incomplete without the lovely Oreo candy barks! Further drizzled with candies and broken M&M, you simply should not miss out on this one.
The Halloween barks are delicious and flooded with a taste so divine! If you had almost forgotten about treats then this recipe will come of great help at the last minute. All you need are a handful of ingredients and that's all!
The spooky Halloween white chocolate bark is another great way to create fancy and yummy treats for the little ones. Drizzled with candies on top, your white chocolate bark is ready in a jiffy! Shall we try it out?
The sweet and salty Halloween barks are the most exotic combination of flavors that you will ever experience! This is a wonderful idea when your kids are whining for chocolate and candies. Do give it a try for sure! Shall we then?
The Halloween double chocolate barks are exactly what you need to keep yourself satiated and full! The tempting chocolate barks are delectable and you should give it a try! Such a flavorful and yummy treat for the little ones.
The spooky chocolate Halloween barks are very easy to make and you can store them as many as you want to hand over to the kids who visit you during the festive season. These barks can be even packed in small boxes and handed over as gifts.
The white chocolate Halloween barks shall need only twelve minutes for one to prepare the dish! Delectable and gooey, these never fail to win the hearts of kids as well as adults.
There is no way you should miss out on candies and treats for the Halloween season! The no-bake Halloween desserts are absolutely lovely and you should give them a try! Packed with flavors, this is such an extraordinary creation indeed! Shall we then?
The Halloween candy barks are super exciting and flooded with green chocolate and candy earthworms! Make your occasion even more special and fantastic with the creepy Halloween candy treat for the little ones! What an extraordinary idea indeed!
Frequently asked questions associated with making candy barks
1. Where does chocolate bark come from?
Chocolate barks are broken pieces of chocolate in irregular shapes acquired from a large sheet of chocolate! The best part is that with many of these recipes, you do not even have to go through the trouble of baking.
2. When was chocolate bark invented?
Chocolate bark was invented during the 1930s. These emulated the style of a French dessert and soon gained much popularity.
3. What is candy bark made of?
Candy barks are mainly made of chocolate and peppermint! Other flavors are also available and you can easily make them at home.
4. When did peppermint bark come into existence?
The peppermint barks originated during the 1998s drawing inspiration from the French mediants. During Christmas and Halloween, there are no bakery and confectionery stores that do not sell bark! And you can even try them at home with so many recipes at your disposal.
5. What are the benefits of having chocolate bark?
If you thought chocolate barks are only good for treats then you are wrong! These also have health benefits! It reduces the chance of stroke, cancer, and dementia due to the presence of antioxidants and other important constituents of dark chocolate.
6. Why are chocolate barks named so?
Chocolate barks are called so because of their appearance! It seems like a sheet of tree bark has been removed and laid on the table! These are then broken down into small pieces and served in a bowl.
Bottom Line- Making chocolate bark is no rocket science and anyone can make it without having any experience in desserts. Barks are super easy and cute with so many wonderful ideas waiting for you to make Halloween even more fantastic and so delightful!