Discover the top grilled shrimp recipes! Quick and easy ideas to add amazing flavors to your seafood dishes. Try something new and wow your guests with delicious grilled shrimp dishes.
More collections: Mexican Seafood Recipes, Chowder Recipes, Cedar Planked Salmon Recipes, Grilled Salmon Recipes, Delicious Shrimp Recipes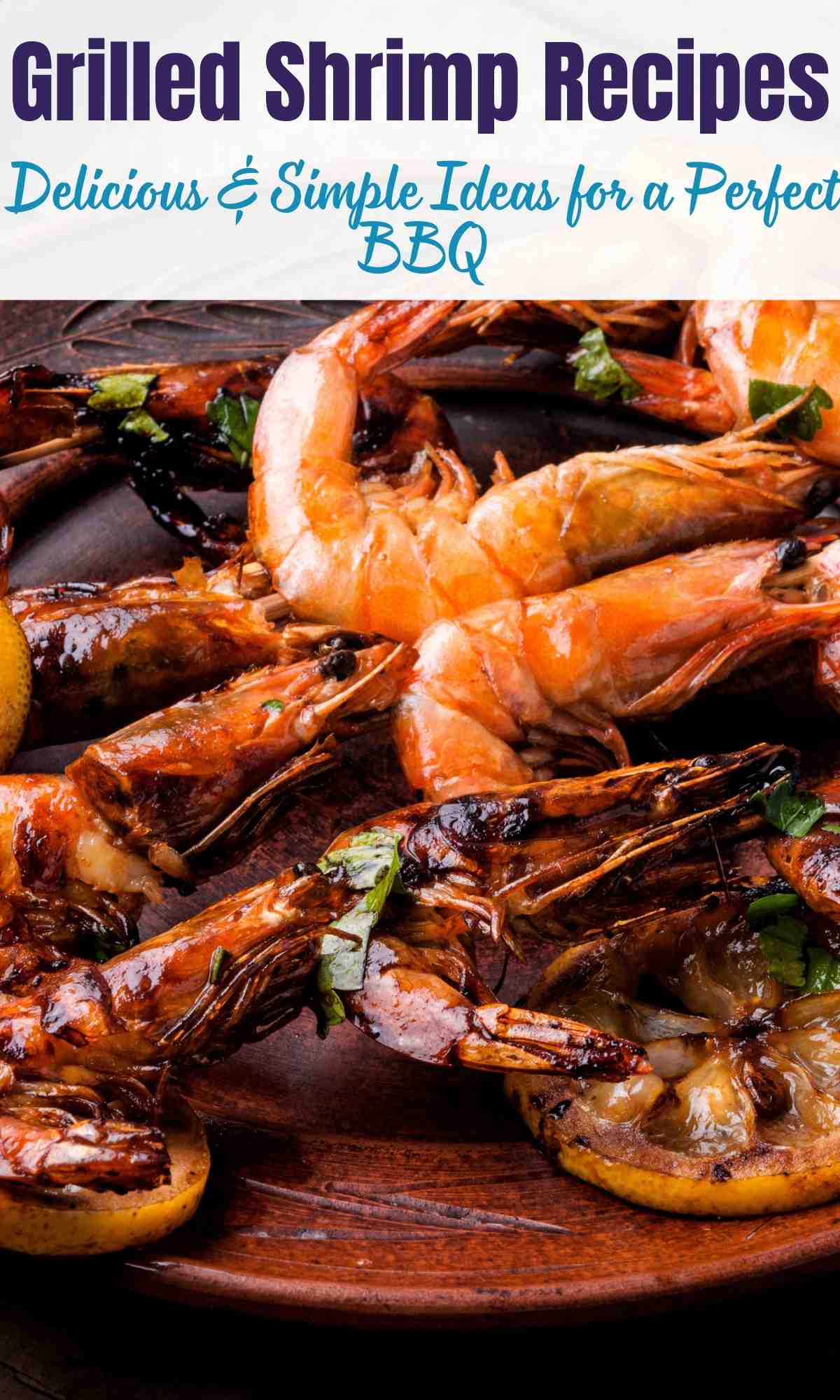 If you are planning to make shrimp at home tonight or, by the end of the week, set up the grills, then that is exactly where you should be! Whether you make shrimp all the time or you are grilling shrimp for the first time in your life, in both cases, it is always wise to have some guidance! We all love seafood, isn't it? Especially when it comes to having shrimps, it is fair to say you will hardly find anyone. Here are some useful tips for you that you can keep in mind as you make shrimp for your loved ones.
Table of Contents
Things you should know about grilling shrimp at home
1. Buy fresh shrimp
The most important rule of grilling is to opt for buying fresh shrimp! It is essential for you to buy the right kind. Often the heaps of shrimp displayed on the racks of supermarkets may have been thawed and frozen several times. During this time, the taste of the shrimp might have deteriorated, and even the texture will be chewy and tough!
Hence the packaged shrimp is the best option as they are still fresher than the former. While buying, there is one more thing that you need to take care of! Purchase shrimp that are colossal in size so that it is easy to grill them.
2. What to do with the shells
Now, it totally depends on your preference whether you want the shells or if you wish to remove them while grilling! Here is one thing that you must understand, there are perks of both! Keeping the shells will make your shrimp crispy and give a wonderful crunchy edge.
However, in the absence of the shrimp, the seasoning will penetrate the surface better and enhance the flavor of the skin. But there are high chances that the flesh can get overcooked as the shrimp is directly exposed to the high flames.
3. What is the concept of deveining the shrimp
If you want your shrimp to taste good and not grainy, then it is essential that before you cook the shrimp, you devein or remove the digestive tract! You need to give a slight incision with a knife and then pull the dark string out with the aid of the edge of the tool.
There is as such no health effects from consuming the vein, but it often contains sand and can turn the shrimp grainy while you consume it. In the case of jumbo prawns and shrimps, these are even easier to remove.
4. You can marinade according to your choice
Depending on the recipe that you are following and the instructions that are provided, you can marinade your shrimp the way you want before you grill them. You can even soak it in lime juice so that they become fluffy and the flavor is enhanced.
5. What is the ideal condition for grilling shrimp
There are a couple of rules that you need to follow and set up conditions that are ideal for grilling. Generally, the grill is preheated at 350-450°F. Then the shrimp is placed on fire and grilled for about five to seven minutes on medium flame.
You must flip the skewer halfway through the process so that the shrimp gets equally roasted on both sides. When the outside skin of the shrimp is a combination of pink and white, with the meat turning opaque, your seafood grill is ready. However, do not overcook, or the shrimp might become tough and chewy!
Top Grilled Shrimp Recipes | Quick & Easy Ideas
The idea of chimichurri shrimp first came to our head when the discussion of grilled shrimp came into being.
All you need to spare is twenty minutes before you enjoy the most awesome treat in the world.
The garlic and butter duo is of contrasting flavors! While one is mild, the other presents bold flavors. And guess what?
Ten minutes is all that you need to work on the shrimp. So what are you waiting for?
It is indeed a wonderful experience to indulge in creating the best marinade for shrimp. The combination of sweet complementing spicy is indeed admirable!
So what are you waiting for? Make this one right away! You will not have even a single bit left on the plates, we can guarantee.
Luxurious and rich, the citrus-marinated grilled Shrimp is simply the best and leaves you craving for more.
The mild essence of lemon contrasted with garlic is something we find too hard to resist! And so will you!
The gorgeous chili lime shrimp is wonderful and brings the best of both worlds!
Gorgeous and seasoned with the right dose of spices, you ought to try out this exclusive recipe of shrimp at home. There is no doubt you will come back later thanking us for the idea!
Grilled shrimp skewers are wonderful, so if you are looking for something nice and cozy to accompany as an appetizer, then you should go ahead with this idea right away!
Rich and smoky, everyone will fall for it at the very first bite.
Drizzled with liquor, the grilled shrimp tastes so good, we shall admit!
So if you have a gathering at home and are wondering what you can set up on the grill, then here is what you should try out.
It is no big deal coming up with the gorgeous garlic butter creole shrimp!
Savory and packed with great taste, this is a wonderful recipe and surely one of its kind. Smooth and comforting to the taste buds indeed.
If you have a weekend gathering, then grilled shrimp kabobs are a must!
Succulent and rich in flavor, the seasonings are used exactly to the right to give them a divine taste. So what are you waiting for? Make it today!
The citrusy essence of the shrimp is its specialty, so if you are in the mood for something unique, then go for this treat right away!
Packed with great flavors, this is an incredible idea leaving you with a craving for more.
Cajun garlic shrimp is smothered with butter and tastes so comforting on a warm sunny day!
Savory and packed with herbs, what a wonderful idea it is. This is an amazing treat for spice lovers.
Here is something that you simply cannot miss out on! We almost forgot about it until we finally came across the Argentinian shrimp that tasted so gorgeous.
Savory and smooth, you can enjoy them as an appetizer with a drink on the side.
Here is a reputed recipe that is the ultimate showstopper! If you are looking for an all-time classic with grilled shrimp, then you must go ahead with the Texas Roadhouse recipe that is right here for you.
Preparing garlic honey shrimp is so easy that even beginners can try their hands at this one.
The sweet essence of honey with the rich garlicky hint is absolutely the best one can think of. So what are you waiting for? Prepare it today!
If you are looking for something which is hassle-free and you do not have to clean the mess afterward, then we have found you the right thing.
If you are heading for trekking, make this one right away!
The smokey blackened shrimp recipe is exclusive and packed with great taste! Dip in sauce and enjoy to your heart's content.
Rich and crispy, the shrimp tastes so nice that you will be compelled to eat more and more.
Here is another marvelous idea if you are having some friends over this evening!
Served with avocado and corn tastes so refreshing with some cocktails on the side!
Try them out and let us know how much you like them! Shall we?
The spicy grilled Shrimp is the best! Packed with the right dose of seasoning, this is a wonderful recipe that is something at least a spice lover cannot resist!
But if your tolerance level is low, good luck, pal!
Well, if you are heading outdoors for a hiking trip this weekend, then why not enjoy some shrimp surrounded by the lush green woods?
Delicious and hassle-free, these are so easy to get done in a jiffy. Shall we try it, then?
The list is simply incomplete without the presence of the gorgeous margarita shrimp in it!
Make your weekend special with the extraordinary treat this soon will turn out to be!
If you have guests coming over this weekend, don't forget to try this out.
Other recipes you should check out: Graduation Party Recipes to Celebrate in Style, No-Bake Halloween Treats, White Rice Recipes, Nutritious Brown Rice Recipes, Italian Cookie Recipes, Flourless Cookies, Easy Small Batch Cookie Recipes, Halloween Mini Pie Recipes