Most of us have come to know about fried green tomatoes from the movie released in 1991, you have had a similar source for information as well! But now we are talking about making them in your kitchen! There is something so special about fried green tomatoes! The juicy and ripe fruit slices coated in crispy cornstarch and deep fried in oil are perfect for snacking hot and fresh.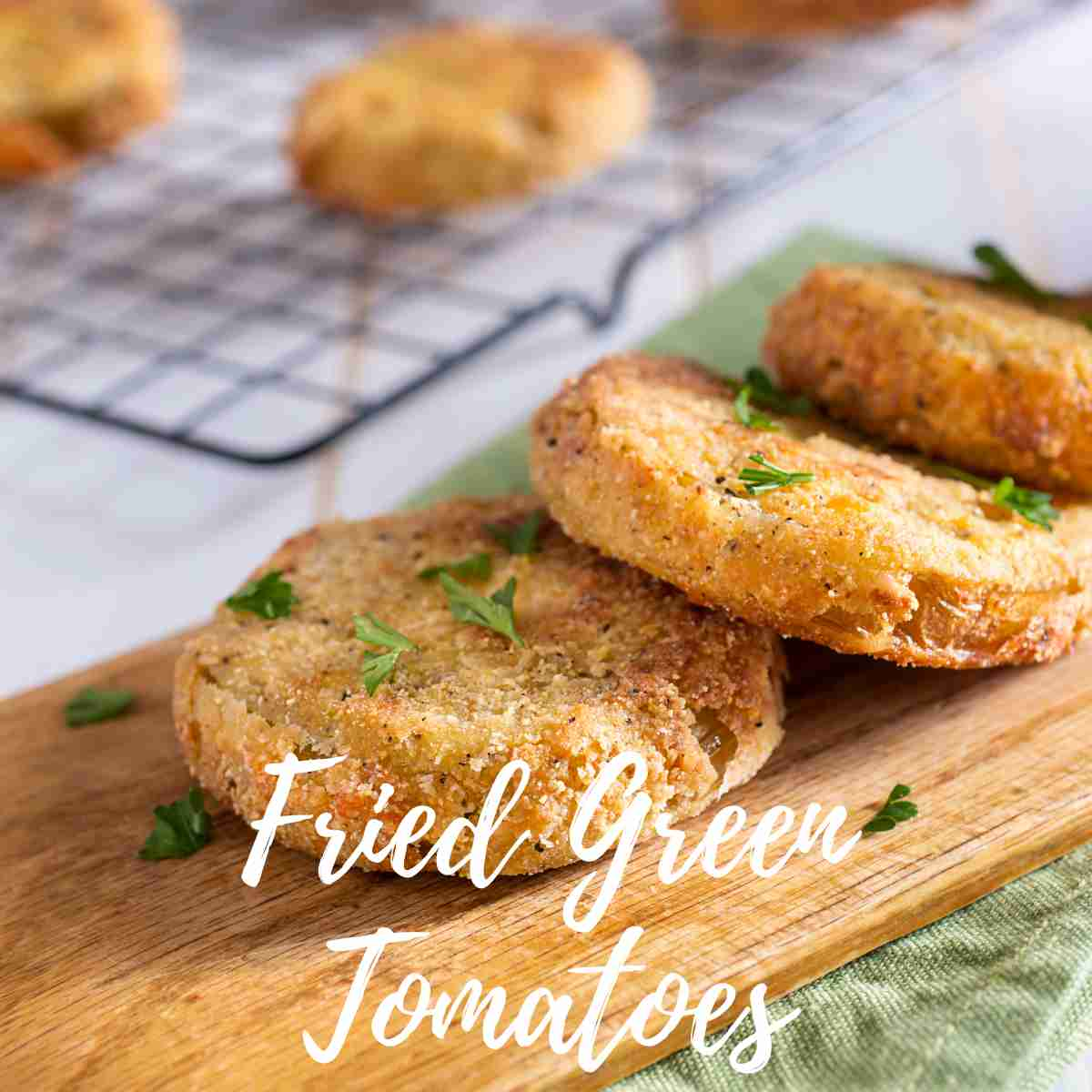 The secret lies in the sauce- if you are making fried green tomatoes for the first time then you may not know so let us share the secret with you! The bliss of fried green tomatoes lies in the sauce. Whether you are using lemon juice, worcestershire sauce, parsley, or whatnot, it depends on you what you wish to add to your green tomatoes to escalate their taste and there are so many recipes as well. So you do not need to worry! You can even add sour cream and mayonnaise to the batter and freeze them overnight so that you can marinate and fry them fresh the next morning.
What are fresh green tomatoes and how to serve them best
These are basically tart green tomatoes, which you can dip in a batter and fry in oil. These are great sides to literally any meal that you consume! Or if you are watching a match or series then these fried tomatoes are great to accompany you as a constant pal throughout the session.
Some of you must be wondering if eating unripe tomatoes is such a treat or not! But let us tell you that they have a sour taste which makes them so yummy in every bite. These are authentic Southern snacks that you can enjoy to your heart's content. Did you hear about fried green tomatoes before? These are in fact lighter than red tomatoes as the juice and pulp are yet to develop! If you do not originally belong to the south then you will have hardly any clue of what their origin is!
Some of the varieties of green tomatoes include Beefsteak, celebrity or early girl tomato, and so on! Did you hear about fried green tomato sandwiches before? Well, they exist too!
The Heirloom variety of green tomatoes is widely used for making their fried version!
Basic ingredients that you need for making fried green tomatoes
all-purpose flour
buttermilk
Green tomatoes
canola or grapeseed oil
cornmeal
bread crumbs (use plain breadcrumbs)
kosher salt and freshly ground black pepper
cayenne pepper
So these are some of the basic ingredients that you can collect before you start making fried green tomatoes at home. Canola or grapeseed oil is used for their higher smoking value so that the green tomatoes can be fried till they brown on high flame.
Basic steps to making fried green tomatoes -
All you need to do is make a batter with cornstarch and cayenne pepper along with bread crumbs to marinate the slices of green tomatoes.
Now dip the tomato slices into the batter and fry them in the boiling oil.
When the temperature of the oil reaches 350°F you can drop the sliced tomatoes in the batter into the ocean of boiling oil! You should maintain this temperature as the ideal parameter for a golden brown crust or the heat will be too high to burn the crust or too cold to leave them soggy.
Quick tips- when you are frying the sliced green tomatoes, make sure you do not crowd the pan all at once. This will prevent them from turning crispy and golden brown. Make in separate batches so that each piece is crispy and yummy.
What is the taste of fried green tomatoes? To be honest, they are a little sour and tangy! If you caramelize them then the taste of the fruit will be enhanced manifold.
Is there a way to freeze the fried green tomatoes?
Like any other fried food, you can prepare the fried green tomatoes ahead of time and keep them in the freezer. Slice the tomatoes and then lay them on a vegetable board! Place wax sheets on them to cover them. You can then transfer them to a frozen bag! When you feel the need to cook them then they need to be thawed first. Dip them in the batter and fry them fresh and hot!
What are some of the dips to serve as sides with fried green tomatoes-
Some of the common dips and sides that go well with fried green tomatoes are 3-ingredient garlic aioli, buttermilk ranch dressing, and so on. You can even pair it with Greek yogurt and cucumber tzatziki dip or simple roasted tomato sauce. Don't forget creamy avocado salsa verde which works well too!
Crispy and juicy in every bite, this is a healthy snack that you should make with tea!
Light as well as filling for a couple of hours in the evening, you can save yourself for dinner with this tasty and flaky indulgence.
Perhaps you ate them the first time at your grandmother's place when you visited her as a kid!
If you are wondering how to bring back the magic of your grandma's fried green tomatoes then you can follow this recipe.
Of course, you need to have something on the side when you are enjoying fried green tomatoes! The dipping sauce recipe here will provide you with the ultimate comfort and treat to the taste buds!
It contains Creole mustard and mayonnaise as taste enhancers!
This is a vegetarian dish that you can introduce on the table at a small gathering that you host in your house during the weekends if you do!
They are perfectly crispy treats to be enjoyed with ketchup and dips.
Do you have too many of them in the vegetable rack? Then you can put them to good use with the perfect fried green tomato recipe that we have brought for you right here.
If you are tired of spending more than ten minutes in the kitchen every day and it is a holiday, we support you completely!
But you might feel hungry in the middle of the day!
Nibble on the healthy snacking option of fried green tomatoes that can be made in an air fryer.
Juicy and succulent, a perfect treat for vegan dieters! Dip in mayo or ketchup and enjoy as many as you want to your heart's content.
Instead of simply going ahead with cornstarch, the recipe has modified itself to create them with panko bread crumbs and that gave such a crispy taste to the slices!
You do not have to believe in our words, try on your own and find out!
Fried green tomatoes, that's a wonderful option that you can serve with beverages to the guests in the evening!
Even the kids will enjoy munching on them as appetizers!
The sour and savory taste is outstanding in a word!
You are up for a healthy and super-crispy treat with this recipe of fried green tomatoes on the sides!
Juicy and enriching, this is a brilliant idea that we are sure you will find easy to make to nibble in the middle of the day!
Here is another recipe that you can follow to make the most amazing fried green tomatoes!
This southern snack has turned out to be a favorite for everyone!
So what are you waiting for?
Make it today!
Fried green tomatoes are healthy and tasty at the same time! This recipe makes use of olive oil to fry them so even you can enjoy the fried treats in spite of being on a diet.
What a fantastic idea!
Let's not waste a second and indulge in the wonderful taste of the BLTs filled with crispy green tomatoes served homemade with garlic aioli!
Do not waste a minute and prepare it for snacks this evening.
Wondering what to make as a vegan appetizer to the meal! Slice some green tomatoes and follow this recipe to make the best appetizer of the season!
This makes it easier for you to feed kids greens which they would otherwise despise!
The fried green tomatoes in summer turn out to be refreshing snacks without having to put much effort!
Indulge in the juicy and flavorful treat with this easy-peasy idea waiting for you right here!
All you need are just five ingredients to follow the recipe for kettle-chip-crusted fried green tomatoes!
Succulent and rich this is a wonderful idea for you to ravish! So don't waste a second and start frying them already! Shall we?
If you have an air fryer in the house then your job is half done already! Check out this all-new recipe of fried green tomatoes that you can easily cook in the appliance and enjoy fresh within a couple of minutes.
How can you simply eat fried green tomatoes without any dip on the sides? So we have brought you this exclusive recipe as a surprise to accompany the tasty snacks!
This creamy sauce provides you with the ultimate comfort!
A perfect and nourishing treat for the summer, the crunchy fried green tomatoes are indeed the best!
There are loads and loads of dips that you can enjoy with! Wish to beat the heat of the summer?
Cool yourself with these delicious and refreshing snacks.
The recipe helps you to make the fried green tomatoes but that is not the end of it!
Topped with pimento cheese, bacon, and jam, they look so fancy to display on the appetizer table at the parties.
Tossed and turned over buttermilk and coated in cornstarch, all you need to do is dip the sliced tomatoes in oil and fry them away!
Once they are golden brown you can enjoy them to the fullest.
Drizzled with creamy crawfish alfredo, the crispy fried green tomatoes become so irresistible indeed!
Flavored with herbs, you can serve them with tea or as an appetizer at the gathering this weekend.
If you are bored of having the same fried green tomatoes with ketchup then we have brought you a recipe that you will surely like!
Enjoy them with the remoulade sauce and tell us how much you found it ravenous and engaging.
The fried green tomatoes are the best if you are looking for something delicious and drool-worthy!
You do not have to trust in our words, check them out for yourself!
We are sure you will not regret this experience.
To enhance the taste of the dish even more, this recipe makes use of herbs as an additional supply!
And guess what, it actually works out so well to complement the tangy and sour essence of the fried green tomatoes.
If you have been trying out fried green tomatoes just as a crispy appetizer then we have a surprise for you! This recipe makes use of shrimp creole sauce that is drizzled on the fried tomato slices to enhance their taste manifold.
If you wish to make the fried green tomatoes healthy to include as snacks in your diet then you have to give them a try to the oven fried version!
And guess what, there is spicy ranch sauce too on the sides!
Of course, you can try out a modified version of the classic fried tomatoes, and here is what we have brought for you!
Garnished with a dollop of goat cheese and herbs, it tastes divine!
But there is no harm in sticking to the basics right? If you don't have many ingredients in the house and just green tomatoes, cornstarch, and ketchup then they are enough to try out this recipe.
The way you present your dish attracts the guests! So here is a recipe that serves fried green tomatoes with a smooth drizzle of remoulade sauce and spicy ranch dressing.
They are perfect to work as appetizers for the evening.
If you are not satiated by a couple of fried green tomatoes or you wish to make them healthy snacks for the evening then you should make these fried green tomato BLT sandwiches!
These are further filled with luxurious dressing and veggies!
Bottom Line- So whether you are hungry in the middle of the day, or you want something as a side with your cup of tea, fried green tomatoes are a great idea always! Even the kids find this fried version of tomatoes so yummy that you can make them a couple of slices to enjoy as snacks while watching cartoons.