If you are on a keto diet or avoiding gluten, then it might sound like a lost case for you to indulge in cookies anymore! It can be sad if you have to give up on your favorite thing one fine day! But there is something you can definitely do to deal with the situation. At least we have got solutions for you so you are not deprived of the presence of cookies in your life! Here are some flourless cookies baking tips that you can learn before you get started with the preparations. And there are a bunch of recipes waiting for you as well. Let's get started, then!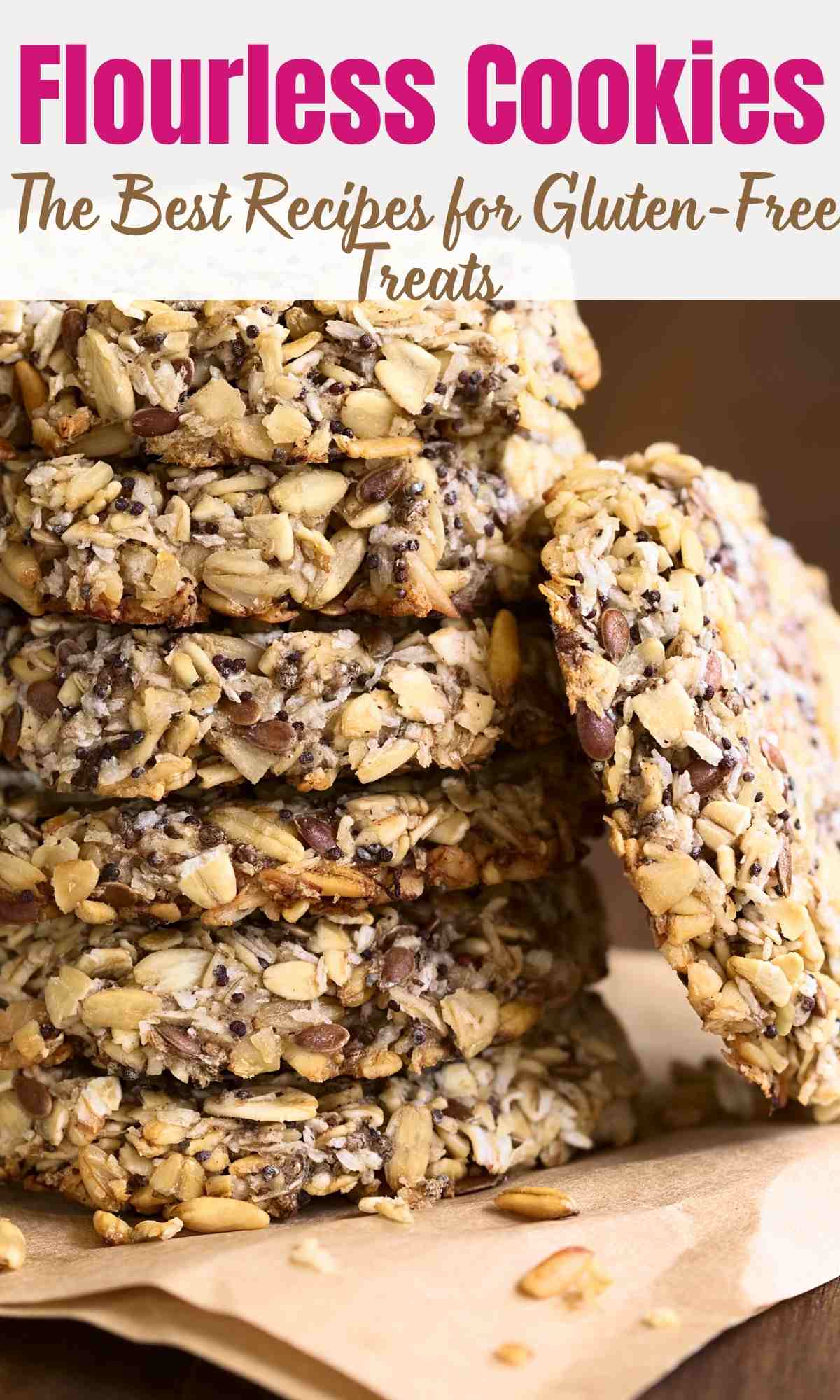 Table of Contents
How can you make the best gluten-free cookies for you?
1. First, you have to make sure that all the ingredients are gluten-free!
There are several processed food containers and readymade mixes which are used for making cookies! Although these brands and companies vouch for their products to be gluten-free, some items can easily slip in slight gluten in your diet here and there, and you will end up breaking your cycle unconsciously. 
Even though the label states that the product is gluten-free, you are expected to still go through the ingredients column first and find out for sure! Do not blindly trust anyone when you are subjecting your body to the process of ketosis. It is always better that you prepare all the ingredients at home as much as you can so you can monitor the composition of the cookies.
2. Make sure you use a binding agent while preparing the gluten-free cookies
The cookie mix can turn out to be loose, and the cookies are brittle and dry in the absence of gluten! You need a gel-like substance to bind the ingredients together! Hence you must add some binding agent into the mixture, which can be xanthan gum, flax, and so on. A one-fourth teaspoon is enough to do the job!
3. There is no need for you to worry about mixing the dough for too long
Unlike in normal cookie dough where if you over-mix or overwork the dough, the cookies can turn out to be hard and dry; there are no such issues in a gluten-free mixture. Over-mixing often activates the gluten, and that makes your cookies tough, which is undesirable in the case of the former!
In fact, you are expected to mix the cookie dough for longer than usual to enable it to bind well when the gluten-free mixture is concerned.
4. Chill the dough
It is a universal rule when it comes to baking cookies, whether you bake gluten-free cookies or regular ones! Chilling the dough is required so that the dough does not spread on the surface of the plate! Cookies will lose their shape, turn out flat, and be overbaked if that happens. Cooling, on the other hand, tightens the dough and gives it a sense of firmness.
5. Scoop the dough slightly smaller than what you do for regular cookies
Gluten-free cookies often tend to fall apart! If you wish to prevent that situation from occurring, then you are expected to scoop out small dough! The cookies are usually brittle, and if you make them large, then chances are all might break and fall apart soon.
So if you use three tablespoons of dough for each cookie, make it two when baking gluten-free ones! Smaller cookies are easier to handle.
Let us now find out about some gluten-free and flourless cookie options!
Delicious Flourless Cookies - Make the Perfect Dessert with Our Recipe!
If you thought baking flourless cookies was a complicated process, then you should try out this one!
Simple and ready with just four to five ingredients, the idea turns out to be splendid.
The rich and luxurious chocolate cookies are no longer a dream for dieters, as we have brought you this recipe for crumbly and delectable cookies for the season!
Scrumptious and gorgeous, you must give it a try for sure. Shall we, then?
Ah, what a lovely treat, especially when you crave something nice during the holidays!
Rich and crumbly, this is an excellent treat for the season!
Drizzled with chocolate chips, you must give it a try for sure. Shall we begin then?
Keto chocolate flourless cookies are an incredible source of delight for the taste buds!
Packed with the flavors of rich cocoa, the cookies are totally gluten-free and render you speechless with every bite. Are you ready to indulge in its magnificence?
Yup, you heard it right! Just a handful of ingredients are enough when you are making this rich peanut butter treat!
Delicious and chewy, you can spare a moment during the weekends; try out this recipe for sure. Perfect for when you are on a diet!
If you are fond of oatmeal cookies, then you would love to try out the chewy and crumbly treat of the season!
Delicious and smooth, these are a perfect source of taste and nutrition while you stick to your keto diet.
If you have the basic ingredients of four to six items from the pantry, then go ahead and prepare the chocolate chip cookies for the season!
A source of delicious treats during the holidays!
Satisfying and luxurious, the three ingredients brownie cookies are here to sway you off your feet! If you haven't tried it yet, then you should start with them right away!
Let us know how much you loved this one for sure! And if possible, could you leave some for us too?
Tempting and highly flavorful, the flourless peanut butter cookies recipe is right here to leave you with a sensation of ultimate temptation.
Gooey and crumbly, you must make them if you are bored and feel like baking this afternoon.
The steel-cut oat cookies are nothing but a few simple steps that you can follow to get them done in a jiffy!
Rich and crispy, these cookies are the ultimate treat of the season.
Ah, are you making peanut butter cookies this season? Then please leave some for us too!
The combination of oatmeal and butter turns out to be a grand success every time you bake them! Nothing can go wrong with this recipe!
The oatmeal cookies are exactly what you need to make you feel content and satisfied with every bite!
If you are looking for something nice and crispy, then try out this one with tea in the evening! You can even serve them to the guests.
Here is another peanut butter cookie recipe that we are sure you will definitely love at the very first bite!
Rich and smooth, make your diet fun-filled and yummy with the presence of these cookies in your kitchen.
Have you tried the chocolate oatmeal cookies yet? If you haven't, then here is your golden opportunity this weekend to come up with the healthy treat of chocolate and oatmeal.
So are you ready to experience its blissful taste?
The luxurious chocolate walnut treat is right here if you are bored with the same old diet that you have been following for a while!
Rich and savory, you are definitely going to fall in love with the cookies and their perfect blend of flavor and texture.
Did you try out the flourless monster cookies yet? If you haven't, then you should know that we have this recipe for you right here.
Let us get started with the preparation, then! Shall we?
Here is another marvelous treat that we are sure you will love to indulge in!
Rich and luxurious, these cookies are the best thing that you will come across!
The zestful essence of lemon makes you crave this treat more and more.
Adorned with M&Ms, the flourless jumbo cookies are exactly what you need as a treat!
Packed with the rich essence of peanut butter, you will definitely thank us later for the idea! Shall we get started, then?
Oatmeal cookies with chocolate chips turn out to be an extraordinary treat for the ones who are looking for something nice and refreshing for the season!
Drizzled with chocolate chips, the oatmeal cookies are the perfect choice, we must admit.
If you are in the mood for something nice and crumbly, then go ahead with the almond butter cookies, which can be prepared with just three basic ingredients.
Let's get started with the preparations already! Shall we? Good luck!
Conclusion
If you're looking for a delicious, gluten-free treat, then flourless cookies are the perfect choice. With a few simple ingredients, you can create a variety of irresistible cookies that everyone in the family will love. From Chocolate peanut butter swirls and Lemon almond drops to Date walnut crumble and Coconut-Cashew clusters, you can make all kinds of heavenly gluten-free treats that will leave everyone asking for more!
Let your creativity and imagination be your guide – these recipes are sure to satisfy your sweet tooth without any of the gluten-induced misery. So, go ahead and treat yourself to some delicious flourless cookies and enjoy the taste of guilt-free indulgence! As Lao Tzu said, "The journey of a thousand miles begins with a single step," and a single step can also begin with a single cookie.