Start your day off right with these easy and nutritious flaxseed smoothie recipes. Learn how to create delicious drinks for breakfast, lunch, snacks, and more, all with the power of flaxseed! Get creative and explore the endless possibilities of nutrition and flavor with these recipes.
Making a smoothie is no big deal and with the association of this drink with several health benefits, consumption and preparation of smoothie is something that you will find in every household.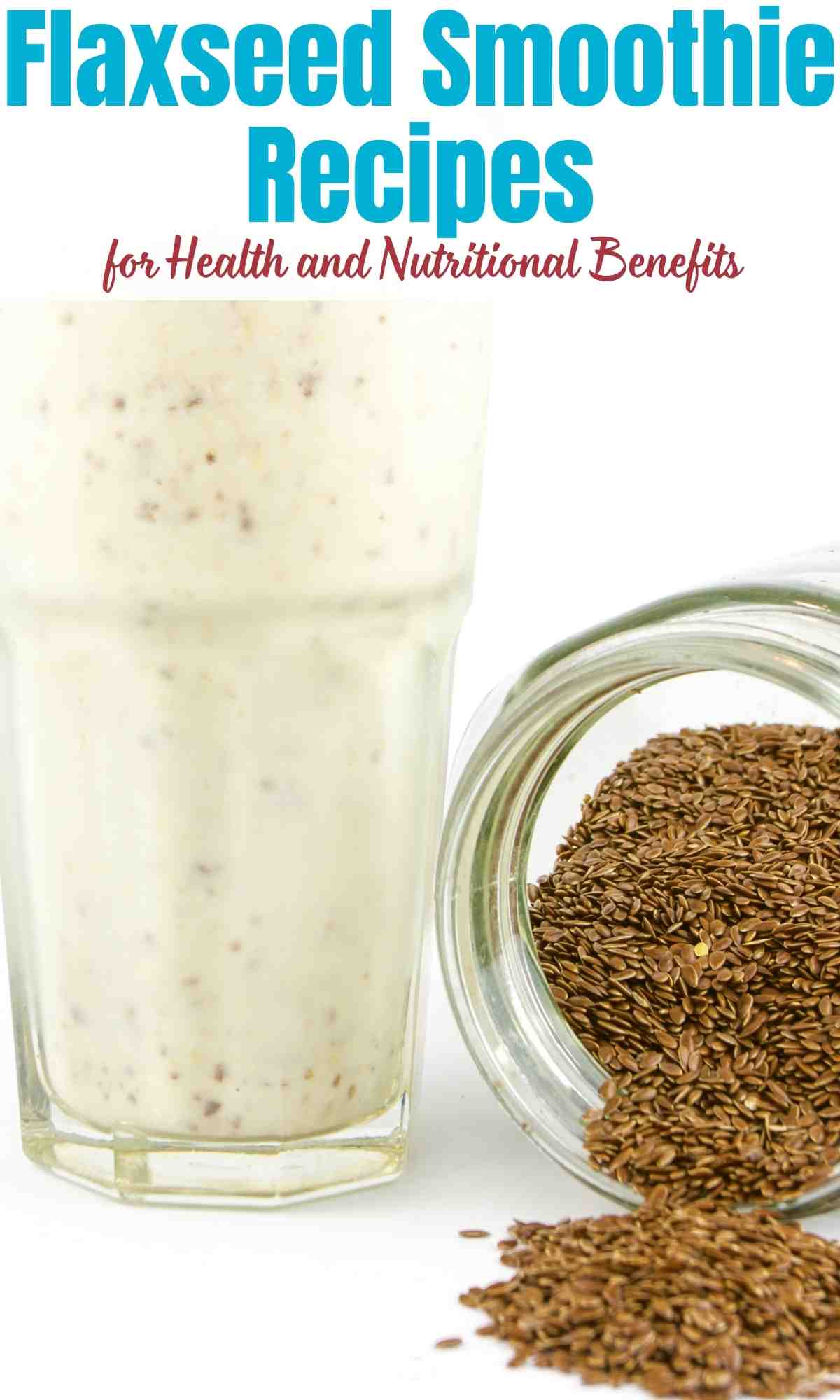 So if this is your first time making a smoothie or you wish to gain more insights about the benefits of having a smoothie, you are looking at the right article! Quickly go through the benefits and right at the end of the articles, wait for you, twenty exclusive flaxseed smoothie recipes. Let's go!
Table of Contents
How does a smoothie provide the liquid food benefit?
As we all know, a smoothie is basically several veggies and fruits combined in the oven to make a smooth blend. Whether someone is on a diet, healing from a sickness, sticking to liquid food, or recovering from a health condition, you can consume these smoothies as a part of your daily habit to gain back strength.
After a major or minor surgery, often doctors will recommend you go ahead with a diet that consists of a smoothie at some point in the day.
More collections: Indian Fish Recipes, Summer Mahi Mahi Recipes, Flounder Recipes, Thai Shrimp Recipes, Sea Bass Recipes, Trout Recipes, Snapper Recipes, Vitamix Smoothie Recipes, Anti-Inflammatory Smoothies
How does a smoothie help you to detoxify the body?
Well here is an interesting fact for you to study! Are you looking for a way to clean and detoxify your body? Well, then having a glass of smoothie can certainly help you out. A plant-based green smoothie particularly helps in the cleansing process even more. Add some spirulina and wheatgrass to your glass of smoothie for better results, as experts would often suggest.
Can a glass of smoothie help in brain development?
A glass of smoothie at the end of the day is blended veggies and fruits! All the benefits of a plant-based diet are directly transferred into your body through a glass of simple smoothie. So are you lately fighting against brain fog? Well, then you have to go ahead and drink a glass of smoothie! Often we feel clouded and dull and that is something possible due to excess stress and demand for massive productivity.
Antioxidants and natural sugar which is found in pomegranates, berries, and so on, can help in brain development and better functionality. The sharpening of mental focus is directed by antioxidants called anthocyanins! It is found in most of the fruits and helps one combat against Alzheimer's and dementia. Neurodegenerative disorders are kept somewhat under control by a healthy diet like this one.
Can a glass of smoothie help to reduce mood swings?
Yes, indeed! A glass of smoothie is capable of reducing mood swings and it is a proven fact that a glass of fruity drinks like the ones we mentioned below. Avoid the consumption of tobacco, caffeine, and alcohol to switch to a better way of living with a glass of smoothie to keep you company. So next time you reach out for a cup of coffee in the morning, try to substitute it with a glass of smoothie instead.
Does smoothie help in fighting depression?
With each one of us trying to combat the struggles of life and feeling stressed with every passing hour, you can do it with some help.
Adding a smoothie to your diet can help to increase the consumption of nutrients and lead you to a healthy lifestyle. Although not directly associated with combating depression, a switch to a healthy lifestyle can certainly be of great benefit.
Now with that, we would like to conclude our discussion on the benefits of smoothies! More of that later! Let us go through some of the flaxseed smoothie recipes!
Healthy Flaxseed Smoothie Recipes: Create Nutritious Drinks for Breakfast & Beyond!
The combination of strawberry and banana gives a thick texture to the smoothie while the presence of flaxseed offers several other benefits. Shall we try it then?
The tempting and cozy superfood smoothie is lovely and packed with great taste! Not to forget the presence of flax seed in it.
If you are fond of berries then you simply cannot miss out on this one.
You have to try out the strawberry spinach flaxseed smoothie!
Delectable, creamy, and perfect to keep you company in the mornings, the idea is splendid!
Savoury and comforting, thank us later for the idea. Shall we get started with the preps then?
Here is another brilliant idea! The presence of mango and avocado makes it the ideal summer smoothie to relish this season.
Flax seed is used to give a thick base to the smoothie and make it taste divine.
If you are willing to make something healthy and creamy for breakfast then don't forget to add a glass of smoothie on the table!
This one here is made with chia, berries, flax and so much more. Go through the recipe quickly.
The combination of banana and flax gives a gorgeous texture to the smoothie and makes it so filling!
If you are rushing to work and need to binge on something quickly then go ahead with this one. Shall we?
The delightful and cozy blueberry flax superfood recipe is splendid and packed with wonderful essence!
Smooth, creamy, and juicy, don't worry if you didn't find time in the morning to make anything more! A glass will keep you full till the afternoon.
Here is the most iconic duo ever! The pair of oatmeal with flax seed is splendid and you are surely going to enjoy this one so much.
Sweet, creamy, and cozy, the idea is amazing and ready in just a few minutes.
The presence of strawberries gives a sweet essence to the drink while spinach makes it smooth and green!
If you are looking for a smoothie with flax seed then you have to go ahead with this one.
Ah, here is a delightful treat to greet you at the table in the morning!
Delicious and luxurious, the presence of peanut butter leaves you tempted for more.
Add some banana and flaxseed and the recipe is ready in no time.
The trio of banana, flax, and berry makes this smoothie the ultimate treat of the season!
You can prepare it any time of the day and relish it to your heart's content. Packed with nutrients, this is a must-have.
Not one but three gorgeous flavors for you to try out! Tempting, smooth, and savory, every sip will make you crave more.
You can choose your favorite or make all three of them. So what are you waiting for? Let's give it a try.
Do you want something citrusy with your drink? Well, then the orange flax smoothie is something that you must never miss out on!
The strong punch of orange accompanied by the goodness of flax, is the best.
When it is the season of fall, you simply can not miss out on the healthy spice pumpkin smoothie!
The recipe is very easy to emulate and the drink tastes marvellous! If you wish to find out then make it at your home today.
There is something extraordinarily good about the flax smoothie! Whether you are suffering from pain or cramps, this one is a magic potion and we can totally vouch for the recipe.
So what are you waiting for? Go make it right away.
The combination of peanut butter, and flax seed with Greek yogurt results in this wonderful protein smoothie that is right here.
Juicy, creamy, and flavorful, you shall be tempted for more and more after every sip until the glass is empty.
Here is another delightful and healthy recipe at the same time! Yup, we are talking about the all-time classic flax seed smoothie.
Delectable and rich, it is not only healthy but also a great experience for the taste buds.
You must go try out the strawberry smoothie that we have for you right here!
The presence of flax along with oatmeal gives the drink a distinct texture along with a sense of fullness which will prevent hunger pangs for a long time.
Also called a milkshake, you can try making a couple of glasses for breakfast!
The kids will be delighted as you prepare them for school along with a glass of creamy smoothie in hand.
Let's try it, shall we?
Flax with berries is an all-time favorite couple! The benefits of consuming flax seed are endless.
All we can say is that you would hate to miss out on such a healthy source of indulgence. Wish you good luck!