Stuffed cookies are our favorite! To be honest, what is there to not like about stuffed cookies? There is a creamy and juicy filling, a crumbly crust, and lots of sprinkles! All the best things combined into one create the stuffed cookies and so it is wise to say that there is no one who stands against stuffed cookies. It is also called stuffed biscuits which are filled with peanut butter, Nutella, or caramel depending on the recipe that you follow. Today we will discuss the tips to make them and enjoy your holidays with such wonderful stuffed cookie recipes!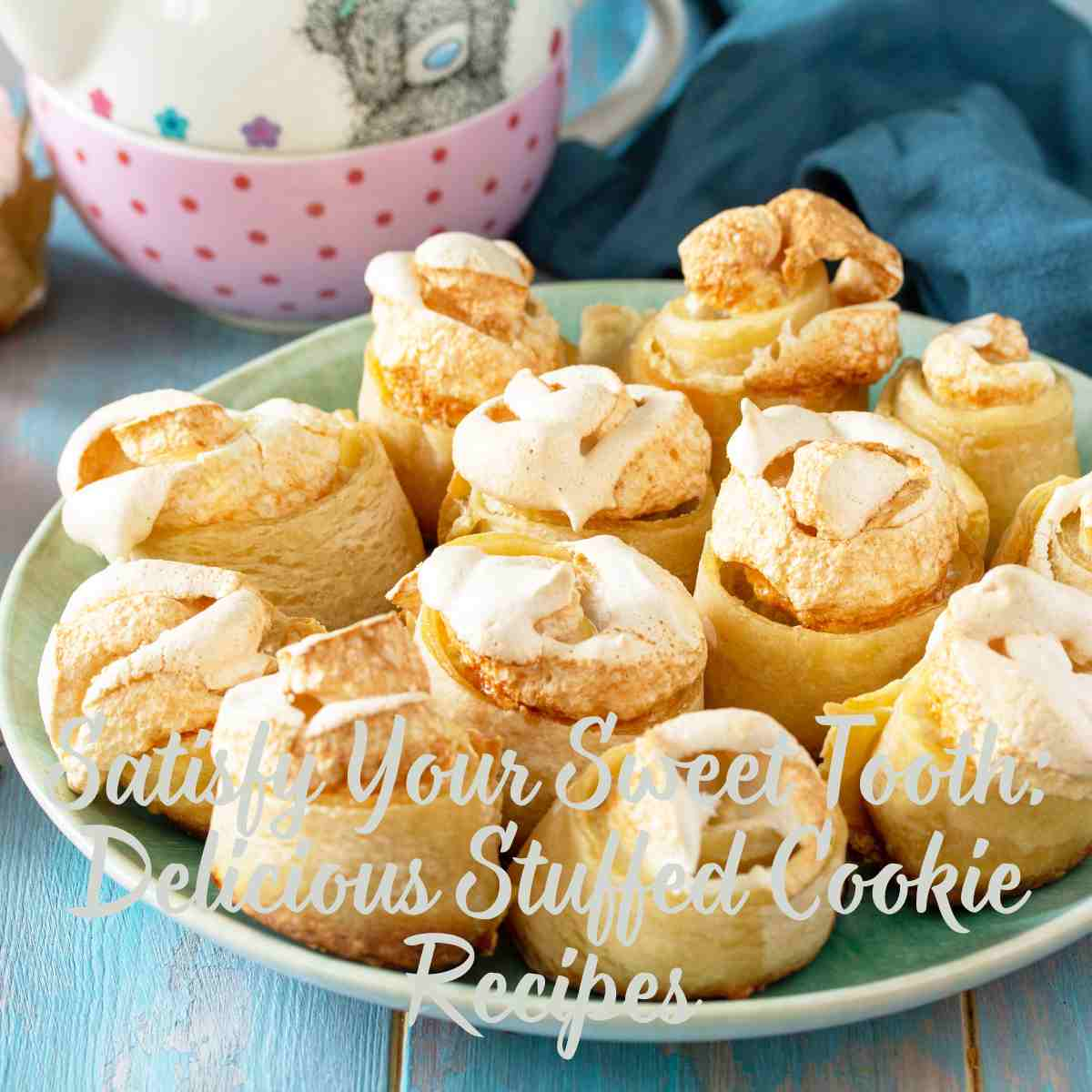 Tips to get your cookies right
Stuffed cookies follow the generalized rules which apply to any other sort of cookies that you are baking. So let us quickly learn about them!
1. All the ingredients must be present at room temperature -
Whether you are making stuffed cookies or you are enjoying a simple one, this rule can not be overlooked! If you do then at the end you might not have any cookies in hand buy some rock-solid hard chunky dough! No matter what ingredient you are adding to the cookies, all of these items should and must be present at room temperature! This has a valid reason why we stress the matter. Have you seen a lumpy butter piece? These are so hard for you to blend! But when you keep all the ingredients at room temperature then the butter is so easy for one to cream.
Similarly, if we talk about eggs, these are something we add to the cookie dough so that the cookies rise when they are getting baked! However cold eggs have no such impact on the batter! All ingredients must be brought out of the refrigerator about one hour before so they get some time to relax at room temperature but if you fail to do so then be prepared to deal with the lumps. But wait! Did you forget to bring out the eggs? No need to worry! Just dip them in a bowl containing lukewarm water and leave for two to three minutes. Here is a great tip to save your day.
2. Never forget to cream the butter with sugar-
If you are someone who constantly bakes then you will not miss out on this step but as a business gunner, we often forget or skip this as unimportant! Contrary to what you think, creaming the butter with eggs is absolutely essential for the cookies to turn fluffy and flaky!
As the butter is creamed it traps much of the air bubbles which helps the top of the cookies to rise and the texture to become fluffy. However, do not leave the butter to get too runny, either through melting or whisking for a long! Runny and liquid butter are unable to hold the air bubbles well. Then the purpose of the step gets completely defeated.
3. Do not over-mix the cookie dough( another major blunder to avoid) -
You might end up with a dough that is overworked as a result of which the cookies turn out to be dry, stiff, and hard. Overworking the dough activates the gluten and renders the cookie with a texture that you might hate to consume. Blend the dough until needed but not too much.
However, that does not mean you leave the mixture lumpy! Blend until all the ingredients have become smooth and stop right there! Yeah, we understand but you have to resist the urge to overmix.
4. Use a cookie or ice cream scoop if you have-
If you scoop and shape a part of the dough on the baking tray with your hand then all the scoops may not be of equal quantity! As a result, some of the cookies will be thin while some will be thick. And do you know what happens if your cookies are uneven?
No matter how perfect the dough is, you end up with some over-baked ones and some under-baked ones. Hence you need an ice cream scoop or a cookie scoop to take an equal amount of dough as you lay them as cookies on the platter ready to bake.
5. Chill or age your cookie dough-
We almost forgot! You need to chill your cookie dough in the refrigerator for about thirty minutes to one hour before it goes off to be baked! This prevents excess spreading of the dough on the baking trays. If you have time, then you can even opt for aging them overnight as well. This way the flour gets fully hydrated and imbibes all the ingredients well to yield better texture and flavor of your cookies. Opt for either of the two options before you bake!
6. Always opt for silicone baking sheets-
Always frantically looking for parchment paper in the kitchen rack is not cool at all! Then what can we do? The modern silicone baking mats are an excellent choice to substitute the former. This is to be noted that parchment paper is not completely non-stick and with time as the silicone baking sheets came up, the bakers have shifted to the better option.
Plus, you might exhaust yourself of parchment paper right at the prime moment! What will you do if you didn't check it before and now you have none? Rush to the stores? Do not create such hassles in your life and replace parchment papers completely with silicone baking sheets instead. These are reusable and a one-time investment too!
7. Always bake at the center of the oven-
It is the center of the oven that receives optimal heat! So when you are making cookies, remember to distribute them in batches so that every time only a small portion enters the oven and gets the optimal attention. We insist you place the cookies at the center of the oven so that all the parts of the cookies bake equally well without any part remaining under-baked.
8. Never over-bake your cookies-
If you bake your cookies too long then you will run the risk of getting them burnt or over-baked. That should not be the situation with the holiday cookies as everyone is eagerly waiting for the cookies. Instead, always set the timer to five minutes less than what is mentioned in the cookbook or the recipe. If the cookies are still runny or soggy then check and put it inside the oven for another couple of minutes.
Well, we can see that you are already hungry and craving something nice, so let's explore the recipes already!
Delicious Stuffed Cookie Recipes - The Best Examples To Try
The crumbly carrot cookies are extraordinary and loaded with great taste. Seasonal and perfectly filled with cream cheese, the recipe is one of its kind. Shall we try it then?
The delicious and gooey salted caramel cheesecake cookies are delectable and flooded with great taste! Smooth, rich, and fancy, the cheesecake cookies are fantastic and flooded with gorgeous taste. So are you ready to indulge in its blissful taste?
The gorgeous Nutella stuffed cookies are loaded and if you are fond of chocolate then there is no way you will be able to resist this tempting dish! Packed with great flavors, so what are you waiting for? Get started with them already!
The chocolate chip cookies are simply tempting and such an extraordinary treat indeed. Packed with rich peanut butter, the chocolate cookies are a treat to the taste buds. Drizzled with chocolate chips, your cookies are ready!
The lovely apple pie cookies are simply outstanding! There are no words that can do justice to its marvelous experience! Crumbly outside and sweet and tender inside, go for this batch of cookies right away! Let us know who this turns out to be!
The chewy and delectable chocolate cookies are not only great in taste but bear such a divine look! If you are a cookie lover then there is no escape for you. Drizzled with chocolate chips, the cookies are ready right away!
The crumbly blue monster cookies are simply the best! Topped with Oreo biscuits and loads of cheese, you should give it a try for sure. With holidays around the corner, you must try out this dish right away! Go for it!
The delectable and chewy stuffed cookies are filled with surprises! In fact, you should not be amazed if your kids turn into cookie monsters and attack the kitchen at night! When it is Reese's Cookies, everyone loses control over themselves.
Do you like chocolate cookies? Then make it an even more delicious experience for yourself with the Churros chocolate stuffed cookies! The recipe is simply extraordinary and you are definitely going to thank us later for the idea. Shall we then?
No wonder this recipe is a great people-pleaser! Although the name is quite elaborate, it is very easy to make this lovely treat with zero hassle. Indulge in its divine taste and satisfy your taste buds.
The red velvet cookies are fascinating and filled with Nutella, we will not waste your time describing their magnificence! Rather you should go through the recipe and make it right away! Thank us later for the idea! Make it right away!
Ah, great news for caramel lovers! We have this awesome caramel-stuffed snickerdoodle cookie recipe that you can try out this season! Packed with wonderful taste, the grainy cookies with gooey filling win all hearts over. Go for it!
S'mores stuffed cookies are brilliant and loaded with great taste! Delectable and lovely, the tender filling with crumbly texture is simply outstanding! If you are in the mood for something nice and rich, then you know which recipe to try out this season!
The gooey and rich strawberry shortcake cookies are meant to lift your mood! A cookie with magical powers to make you feel elated even on days you are down, prepare them right away and indulge in its awesome taste. Shall we then?
Yup, we are talking about the brilliant chocolate cookies which always leave one craving for more. But that is not it! There is an entire Oreo cookie inside it! Yes, can you believe it? Well, then what are you waiting for?
As if peanut butter stuffed cookies weren't enough that they went another step ahead with the peanut butter jelly stuffed cookies! Luxurious and the best treat for the taste buds! There is no way even a single crumb will be left on the plates.
There is a catch! This is no ordinary sugar-stuffed cookie! The icing is stuffed in the center in the form of adorable animals. Yup, you heard it right! So let's not waste a single second and get started already! What a delightful surprise for the little ones!
Filled with cheesecake and strawberry jelly, the strawberry cookies are the best indeed! Drizzled with colorful sprinkles, go give it a try for sure. Let us know how it was!
The lovely cheese-stuffed cookies in rich chocolate flavor taste is so good indeed. There is nothing that can beat the combination of cheese cream and luxurious chocolates. Let's not waste a minute more and get started with them, shall we?
The rich frosting sugar cookies are simply so easy for one to make! Packed with colorful sprinkles, the recipe turns out to be so luxurious and creamy indeed. Crumbly and gooey, are you ready to indulge in its blissful essence?
Frequently asked questions associated with making stuffed cookies
1. How long can you keep your stuffed cookies fresh?
Homemade stuffed cookies can stay fresh for up to two to three weeks! However, if you freeze them then these sorts of cookies can remain intact for even two to three months. Hence you can make them once and enjoy them all over the year!
2. What is the secret to making stuffed cookies?
Stuffed cookies must not be overcooked as the fillings can overflow or turn out to be dry! You must maintain the temperature intact and not exceed the baking time.
3. What are the skills for baking stuffed cookies?
The cookie dough must be creamed nicely and then laid on parchment paper. Place it inside the refrigerator for another hour and then bake your cookies! Again, you need to make sure that you do not exceed the baking temperature. 
4. How can you make the cookies hold their shape?
If you want the cookies to hold their shape then you have to opt for placing them inside the refrigerator to chill for about an hour. As a result, the cookies will not spread much when they are placed on the baking sheet.
5. What makes the cookies soft and chewy?
The cookies remain soft and chewy when you bake them slowly at a temperature not exceeding more than 375°F.
6. What makes your cookies flat and fluffy?
If you want your cookies to remain flat and fluffy then you need to cream your butter well! Also, remember to use good-quality butter to do the job!
Bottom Line:
No matter which stuffed cookie recipe you choose, it's sure to satisfy your sweet tooth. From classic cookie sandwiches to gooey brownies with a twist, you're guaranteed to find something that will please everyone in the family. So why not mix it up and try something new today?
Have fun, get creative, and remember: stuffed cookie recipes are a delicious way to end any meal on a sweet note. Best of all, you can always experiment with new and exciting fillings to make them your own. As the old saying goes, "A cookie a day keeps the grumpy away." Keep the sweet vibes going by baking your way through these tasty stuffed cookies!