Do you like croissants? Oh, we do too! That is why we decided upon making these fancy delicacies for breakfast or dinner! However, rushing to the confectionery every day is not an option so we decided why not make it in the house. Well, if you haven't done it before, you can definitely do it now! Obviously, there are certain tips and hacks which you should keep with you if you are preparing croissant sandwiches and we are here exactly with what you need.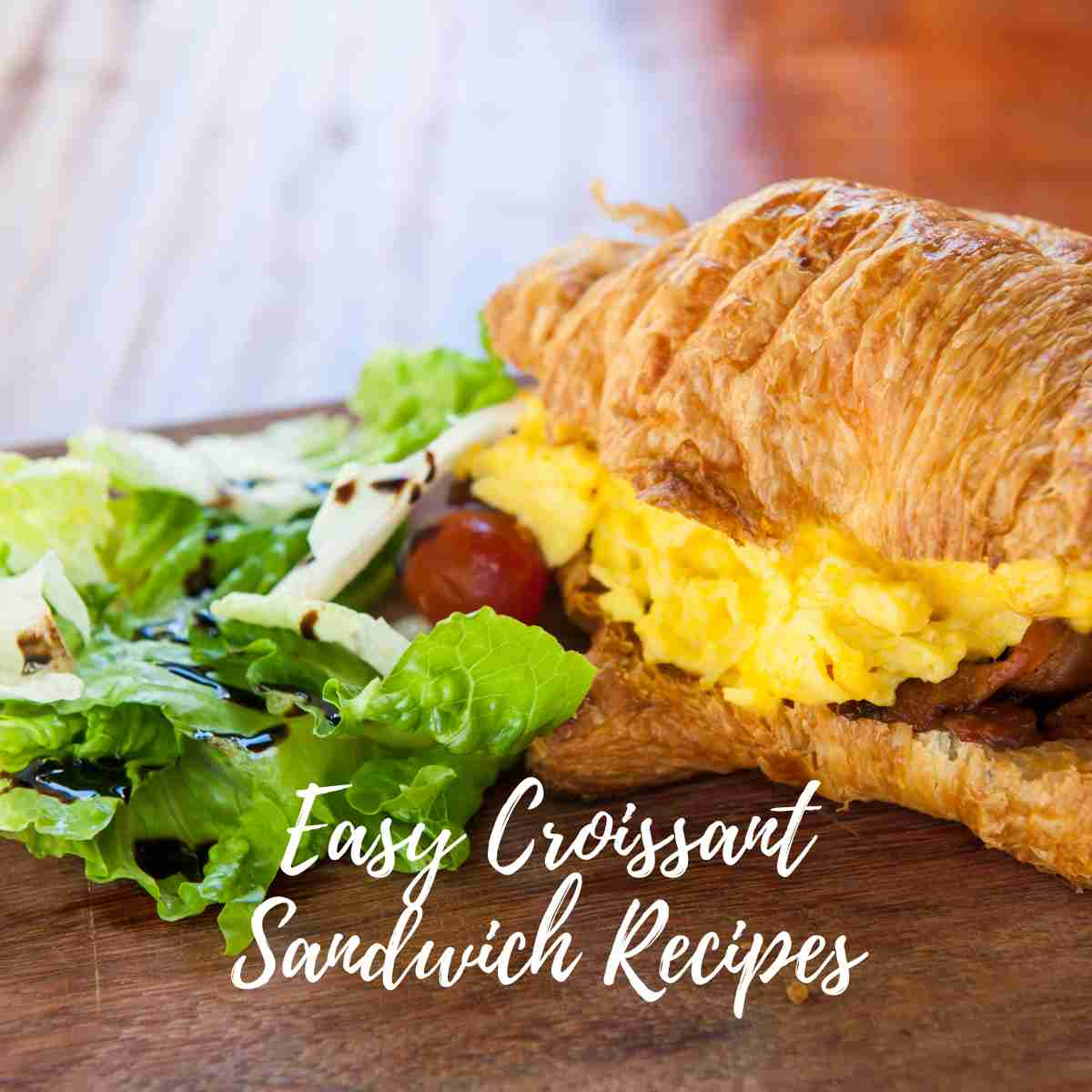 Tips for making some wonderful croissant sandwiches for the season
These warm and flaky treats are ideal to mark the beginning of the season of fall! You can even enjoy it with tea in the evening as the winter chill makes you draw yourself into a blanket. The origin of the buttery croissant dates back to the 13th century. Quite old isn't it? Well, something so good will definitely find its place in the pages of history. But more of that later. Whether you prefer a buttery croissant or exotic meaty ones, the options are simply endless! Let us not waste a minute more and get started with making these exotic treats. So what are the tips that you should keep in mind?
1. Use a high protein baker's flour- stone ground organic flour is recommended by the chefs and so you must use them. Make sure no matter what you are baking, the recipe should be good and healthy for all age groups and hence the choice of the right flour is highly essential! Choose one which is rich in proteins and fibers so you can derive the essential nutrients.
2. Next check the quality of butter- the flavor of a croissant is much dependent on the taste of the butter and the quality of the same. Since you have opted to make something fancy do not compromise with the quality of the butter that you are planning to use. Remember that it is the key ingredient and if anything is wrong with the butter then the whole thing can go down the drain. Choose a butter that is at least 84-87% fat and there should be no watery content.
3. Then you also need to master the technique of marinating- the layers of croissant are a result of butter being folded on the dough. This happens multiple times with alternate layers of butter and dough. This step is crucial if you wish to make your croissants successful and rich in flavor. Hence you need to give extra attention to the layering so that each of them turns out to be weightless and flaky just as you desire.
How do you pick the best croissant?
There is definitely a way to know whether the croissant turned out well or not! Let's find out what these exactly are!
1. It should crumble in your hands- the best part about eating croissant and recognizing that it is fresh comprises the flaky layers crumbling upon your palm at every bite. While the outside should be buttery and tender, the inside should be light and fluffy. It is the mess that the croissant creates on the plate which determines whether they are fresh or not. The flaky layers should create a sound of crumbling in your mouth and then slowly melt away into a buttery delight as you chew on it more.
2. Check the slight salty essence- apart from the buttery taste and fragrance the croissants carry, there should be a subtle hint of salt in the taste which enables you to determine that the croissants are fresh and healthy.
3. Learn the difference between soft and hard croissants- the fresh and real croissant will taste buttery and flaky! It will crumble at the first touch. There would be a subtle caramelised buttery essence but it should not be very sweet. They are extremely crispy and crunchy in the center so you can take that as an indicator to determine whether your croissants have turned out best or not. So if you are not in Paris, yet you can bring Paris home with these wonderful croissants that you are about to make.
A fun fact about croissants- dating back to 1838-39, croissants have emerged among the French and gained rather rapid popularity. When Austrian officers moved to Paris, they also brought along with them the croissants. These patties used to be the remains of the Ottoman Empire which lost the siege of Wein in the 17th century. That is the reason why you will find that several fundamentalists abandon croissants.
So we can conclude that croissants were Austrian-inspired patisserie and quickly spread to all parts of France and Paris during the 17th century.
Origin of croissant sandwiches
As we discussed, it is a pastry of Austrian origin that gained much fame in Paris until everyone began to associate this patisserie with French breakfast itself. It is the historical present shape of the croissant in its name. Layered with butter and folded over one another several times, the sandwich croissant is a modification made with the classic idea. Kipferl was famous in the Austrian and French bakeries for a long time but the modern concept of croissant arrived only during the 20th century. This happened when gradually the bakers replaced brioche dough with yeast-levitated ones.
Later during the end of the 20th century, factories also began to produce these frozen croissants which you can enjoy as a light snack while you are at work or feeling hungry in the evening. However, these contain preservatives and nothing is as good as the homemade version of croissant.
History of croissants- if you are not aware of the history of croissants then this is a column that you will definitely find interesting.
Brioche buns shaped like croissants were called kipferl first. This was first produced in 13th-century Austria. There were but fillings or simply butter in the center of the kipferl during those days. In 1839, kipferl was first introduced in France. Austrian artillery officer, August Zang, set up a bakery in France and sold these crispy buns. The bakery was famous for serving Vietnamese specialties along with Vietnamese buns and so on. Later when the French adapted the dish, it was given the name of croissant. Several French recipe books published in the 20th century mentioned the recipe of croissants in them.
Now that is enough about the history of croissants! As we have sensed, you are already excited to try them out! So let's go!
Delicious Croissant Sandwich Recipes: Easy-to-Follow Options
The croissant breakfast sandwiches are filled with ham, eggs, and dijon mustard! What else do you need to begin your day on a fresh note? If you are planning to make sandwiches tomorrow morning, then try out this recipe for sure.
If you are looking for ways to make your scrambled eggs even more tasteful then try out this recipe of croissant buns filled with scrambled eggs and greens! This is indeed a filling and healthy dish for the morning.
Here we have an Italian version of the sandwich that you must indulge in! Filled with meat and veggies, there is no better way to begin your day on a fresh note. Are you ready to make it?
If you are looking for a tasty and sweet treat then you must try out the creamy croissant filled with the tangy goodness of strawberries and the loads of almond whipped cream. So what are you waiting for?
Here is a classic recipe to make the club croissant! You can enjoy it during dinner with soup on the side! Replenished with veggies and green along with meat, you will definitely regret missing out on this one. Shall we try it then?
If you are a fan of ham and cheese then this baked recipe for croissants is exactly what you need. Delectable and spongy, the buttery croissant will melt in your mouth at every bite. Do not waste a minute more and make it today!
If you are a fan of croissants and like sandwiches too then you can club them together in this recipe for croissant breakfast sandwich packed with eggs, veggies, and meat! Get your one ready to take for lunch at work.
If you have chicken salad leftover from last night then you know which recipe that will come to great use. Tender, filling, and wholesome, this is the perfect way to make sure that no food goes to waste.
Well, there is nothing that can beat the combination of ham and cheese. Delicious and gooey, this is indeed a great choice of dish which you can hardly resist as you walk over to the table for breakfast.
The recipe is rather very unique and there are not many words to express its magnificence! Make it today to find out for yourself the divine taste of the croissant sandwich. You will definitely be compelled to make more next time.
Delicious and delightful, the idea of sweet and savory honey mustard ham and cheese croissants will leave you craving more and more. Juicy and succulent, this is a brilliant one for one to indulge in this season. Shall we try it then?
Well, there is not much to describe the delicious croissants made with mudroom and brie except that they are utterly sumptuous and taste out of the world. So what are you waiting for? Grab your favorite today!
If you are wondering what to make for breakfast tomorrow, then we have got you covered here. The croissant sandwich is a marvelous creation with ingredients that everyone prefers. We will not confide much, you have to check it out to learn more.
There is nothing as tempting as the croissant club sandwich which is cooked with prosciutto, turkey, and avocado. But of course, there is more to it. There are cucumber, tomatoes, and mayo to enhance its taste even further.
The delectable chicken salad croissant sandwich is brilliant and a great choice of the recipe to consume something healthy and flavourful in the morning. Rich and luxurious in every bite, you will definitely thank us later for the idea. Shall we then?
There is not much to describe the pineapple chicken salad sandwich except that it has no parallel. Rich and gooey, every bite of this croissant will teleport you to a world of sheer contentment and bliss. Give it a try for sure.
Brilliant will be an understatement when we are talking about the Monte Cristo croissant sandwich. Fantastic and creamy, there is everything from meat to cheese that you can enjoy for a hearty lunch in the afternoon. Just too good to miss out on!
We know what exactly you need to make for Sunday breakfast! Try out this recipe for the croissant sandwich which is flooded with creamy, meat and greens! The kids will be delighted to find their plates filled with amazing treats instead of boring toast and jam.
It is alright if you do not find time in the morning to make something elaborate! You can still enjoy a hearty meal before you go out for work! The croissant breakfast sandwich is loaded with eggs, ham, cheese, and greens!
What can be any better than being greeted with a turkey croissant in the morning so you begin your day on a fresh note? The fine butter garlic essence is palpable in every bite.
What a lovely idea to make during the holidays! If you are craving meat for a long time then you must prepare the delicious bacon, ham, and cheese croissant which will win all competitions featuring the best in taste.
Frequently asked questions associated with making croissant sandwiches
1. What is the secret tip to making the best croissant in the world?
You should focus on creating the layers property and the job is half done. A croissant should be flaky and light while the layers crumble down at every bite.
2. How do you toast croissants to make sandwiches?
You need to preheat the oven at 400°F and then bake for five minutes. This will turn the croissant to become firm and less crispy. Toast for two to three minutes on either side and it is ready to get filled with the stuffing.
3. How do you cut croissants for making sandwiches?
As we know, you need two slices of bread to make the croissant sandwich! For that, you need to cut the croissant into two halves lengthwise and then fill it with stuffing and greens.
4. Should you toast the croissant to make sandwiches?
It is essential for you to toast the croissant for five minutes at 400°F before you fill it up to make the sandwiches. This makes the bun firmer and less crispy.
5. What can go wrong with making a croissant?
There are a couple of things that can definitely go wrong about making croissants if you do not follow the recipe carefully or do not measure the ingredients properly.
Bottom Line- So now that you more or less know how to make a croissant, here are some recipes that you can quickly prepare.