Christmas cookies are something that speaks to our hearts! Wait, are you a cookie lower like us too? Then you must join us on this journey to enjoy some truly sumptuous cookies during the holidays. However, we must admit that baking cookies is an art and there are a couple of techniques that you must learn. With these hacks at your fingertips, there is no way anything can go wrong. So are you excited already? Then let's get started! With Christmas knocking at the doors, we can hardly contain ourselves.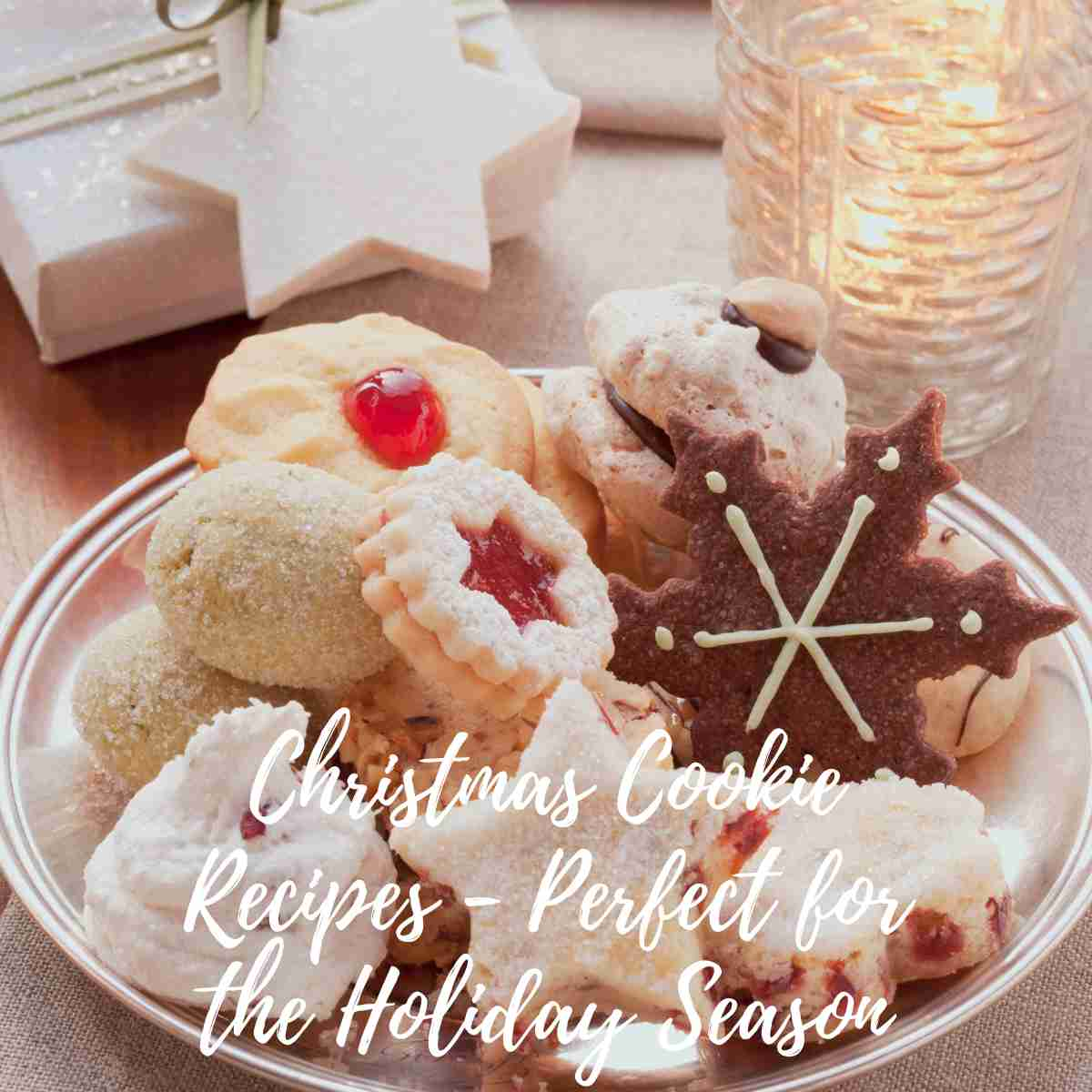 Tips to making the best Christmas cookies in the world
1. Soften the butter at room temperature but not too mushy-
There are some recipes for cookies where you are expected to add the butter at room temperature! When the recipe states that you need to use the butter at room temperature then you must. However, do not melt them too much so that it turns completely liquid or mushy. Semi-solid is the ideal texture to opt for!
2. Eggs should be of the right size and always present at room temperature as you make the dough for the cookies- the recipes will state the right size of eggs that you are expected to opt for! Make sure you follow the instructions carefully. However, no matter what, there is one thing that is absolutely indispensable to making cookies! Eggs should always be added at room temperature. It acts as a levitating agent but when the temperature is not right, the purpose completely fails.
3. Never be shy about seasoning your cookie dough with some salt- like we say, seasoning is not just for savory items but also for sweet dishes! So next time you are making a batch of caramel or chocolate cookies, add some salt to the cookies too! This also gives a sense of balance to the flavors of the cookies.
4. Use non-stick baking mats to cover instead of parchment paper- most often we make use of parchment paper because it is budget-friendly and also soaks the excess grease and spreads the heat evenly. But to be honest, if you want a better version of parchment paper then you must opt for the baking mats. These are non-stick and reusable so you can make a one-time investment. Non-stick baking mats are indeed an excellent option to substitute parchment paper.
5. Upgrade from chocolate chips to chocolate shavings or chopped chocolates -
If you wish to change and alter the traditional flavors of the chocolate cookies then you should go ahead with chocolate shavings or chopped chocolate chunks instead! This gives a great flavor to the cookies and makes them taste so different. You will notice the difference instantly.
6. Put your cookies in the freezer for half an hour if they are spreading too much during baking- you can prevent excess spreading during baking with this technique that we have here. You have to freeze or put it into the refrigerator for about fifteen minutes. This will enable you to maintain the right texture of the cookies.
7. You can continuously alter the kind of flour that you are using- depending on the type of flour you are using, the taste of the cookies will definitely be altered. From all-purpose flour to oat flour and so on, the options are simply endless and if you enjoy baking, then this holiday provides you with the opportunity to bake these amazing treats and enjoy your creation.
8. Allow the timer to stop about five minutes before the time which is mentioned in the recipe- for instance, if the recipe asks you to bake for thirty minutes then you must reduce the temperature by five minutes. This will prevent your cookies from getting overbaked. Different ovens have different configurations and so it is safe to stop the timer five minutes prior.
9. How to take off the cookies from the parchment sheet-
The cookies might stick to the parchment paper while you try to remove them. But there is an effective technique that you can follow. Toss them back into the oven for another thirty seconds and then pull them out with a fish spatula. This simply works wonders. The warmth helps to release the grip between the sheet and the cookies and the spatula comes to your aid as the tray is hot and you need something thin to slide between the two. Fish spatulas are easily available in the market and you can work with them! These are quite cheap so you can stock your kitchen with a couple of baking tools. A fish spatula is one of them! So now you are aware! Next time the cookies refuse to leave the tray, apply this method and the job will be done.
10. Allow the cookie dough to settle down- the best way to process the dough and allow it to settle down is to place the dough in the refrigerator for twenty-four hours. The ingredients can react with each other and give a texture to the dough which is beneficial while you bake the cookies. This method is known as resting or ripening the dough. It ensures that the taste of the dough comes out well when you bake them into cookies due to thorough blending. The flour can absorb the liquid and the sugar can completely dissolve in the dough to render the required flavors to the cookies. You will also observe that the cookie dough which is allowed to rest in the refrigerator yields the perfect brown cookies.
11. Allow the cookie tray to cool down before you place the next batch- you may have more than one batch of cookies to make during the holidays! That means after every round of baking, the cookie tray will be hot! Make sure you give it time to cool down before you place the fresh batch. This is because if you place the new ones on the hot tray, the bottom will get burnt and the spreading will be too much. If you observe that it is taking too much time to cool down the sheet trays then you can keep two alternatives, so that when one is cooling, the other can carry the fresh batch into the oven.
Now, that is a lot of advice we have provided! That is enough for you to know to bake great cookies! Follow the steps and nothing can go wrong! Here are some recipes for Christmas cookies that you can indulge in. Crispy, cakey and delicious, you will surely have a great time baking them and then munching on them!
Delicious Christmas Cookie Recipes: All the Classics and More!
Delectable, creamy, and crumbly, the recipe for Pink grapefruit cookies is right here. These are a batch of fresh sugar cookies drizzled with colorful sprinkles on top and rich creamy icing.
The soft Snickerdoodle cookies are exactly what you need to keep yourself content during the holidays! Delicious and chewy they are best to go as breakfast with milk for the little ones or serve as a side dish with tea to the guests.
Sounds contradicting right? Well, that did to us too! But we guess that is what makes these cookies so special. Topped with marshmallow bites, the cookies simply taste so good. Do give it a try for sure.
The mild cinnamon essence cream cheese cookies are exactly what you need to keep yourself satiated in the middle of the day when you suddenly get some cravings. Tender inside and crispy outside, thank us later for this brilliant idea! Make your holidays special now!
Recipes like these are what we live for! With the advent of the holidays, give a try to the cheesecake thumbprint cookies loaded with raspberry filling in the center. Delicious and gooey, the tangy essence gets to you! All you need are exactly five ingredients.
These cookies are indeed so special! The shapes of the cookies are what you will find so tempting and gorgeous! Delectable and flavorful, sprinkled with colorful toppings, everyone will be impressed by your idea!
Well, there is nothing that the cookies lack! From pretzel bites to M&Ms, the toppings are what makes them so irresistible. Crumbly and sweet, the recipe tastes so good and simply out of the world. Shall we try it then?
If you are fond of peanut butter and marshmallows then you have the perfect recipe in front of you! The Classic fluffernutter cookies are indeed the best and you should give it a try for sure. So what are you waiting for?
Dipped in liquid chocolate, the Ritz s'mores cookies are gorgeous and render you with a sense of crispiness! From kids to adults, the recipe is excellent and loaded with sugar dust. Well, you know what to make during the holidays this time!
Dreamy coffee cake cookies are indeed an irresistible treat filling your taste buds with a sense of orgasm! That is what the coffee cake cookies make you feel! Instead of enjoying a cup of coffee, you can create these coffee cake cookies.
The center is filled with Hershey's Kisses, and the soft and chewy peanut butter blossoms are a unique creation. Smooth and chewy, you are definitely going to fall in love with the recipe at the very first bite. In fact, it is impossible to stop at one!
You can expect these batches of cookies to disappear overnight! Rich and smooth, the recipe is such a delightful treat with milk or refreshing warm coffee by the side. Drizzled with chocolate chips, your red velvet cookies are ready.
Well, you can simply not run out of ideas when it comes to making orange cranberry shortbread cookies. Rich and creamy, the shortbread cookies are lovely to serve as tasty treats during the holidays. Shall we try it then?
If you are trying your hands at baking for the first time then you can go ahead with the simple sugar cookies adorned with vibrant and colorful sprinkles! Delectable and crispy, you will definitely like the taste of it.
Did you try out something like this before? Surely not! We brought you this exclusive and brand-new recipe for Pistachio cookies. Drizzled with pistachio crumbs and white chocolate chips, the contrasting green cookies are simply lovely. So what are you waiting for?
Do you know, what is the best part of these whipped shortbread cookies? You do not even have to bake it at all! Rich and luxurious, these cookies are super rich in flavors and packed with sprinkles on top!
Drizzled with chocolate chips and salted flakes, the rich and fudgy cookies with a hint of brownie tastes so divine. This recipe combines the best of brownies and cookies in one go. The crinkle cookies are indeed the best!
The recipe for Cappuccino swirl cookies is right here so you can enjoy coffee in all forms. The creamy swirl cookies are lovely and loaded with Hershey's Kisses to make them even more enriching and irresistible. So can we try it out then?
Wait, are you telling us that you did not try making cookies this season? What are you waiting for? These cookies are excellent and the best way to make your holidays even more special and yummy too! Go for it!
Here is another excellent idea that you must take into account! The fresh and crumbly Christmas cookies with white chocolate and juicy cranberry taste so good! Tangy and flavorful, these cookies are perfect for a great Christmas treat to serve to the guests.
Frequently asked questions associated with making cookies for Christmas
1. What is the trick to baking great Christmas cookies?
If you want your cookies to turn out good then you must allow the dough to cool down first! Blend well and allow them to bake at the ideal temperature! When done, do not forget to let them cool first.
2. What is the golden rule for baking cookies?
" Make it cold and bake it hot", you must have heard about it! Baking is essential for cookies to turn out crisp but you must also ensure that the dough is cooled overnight in the refrigerator.
3. What is the ideal temperature for baking cookies?
Cookies are usually baked at 350°F. However, due to different configurations of the ovens, you must keep the temperature around 325-375°F and that will jolly well, do the job! Take them out five minutes before the baking period is over!
4. Is there a way to make sure that the Christmas cookies stay chewy and soft?
There is only one way to make sure that your cookies turn out soft and chewy at the same time. The temperature of the cookies should be maintained at 375°F and the baking duration should be short to turn them crisp and crunchy.
5. What is the trick to making your cookies taste better?
Salting your cookies is the best way to ensure that they turn out fresh and flavorful. Remember that seasoning is not just for savory items but desserts too!
6. What are the main components of a great Christmas cookie?
The texture and taste of the cookies are two important factors that you need to take into account while baking them.
Bottom Line- These wonderful Christmas cookie recipes and tips that will ensure you bake the best batches over the holidays.