Chicken thighs or legs are succulent part of the bird which has flesh as well as bones to give them a juicy and soft texture. Yet, if you do not know the right way to cook meat, it may get hard and dry. Did you go to the shop in the morning to bring home chicken thighs? Well, then tonight's going to be special! Here are ways to prepare chicken thighs effectively and recipes that will certainly be useful. Without any more delay, let us find out.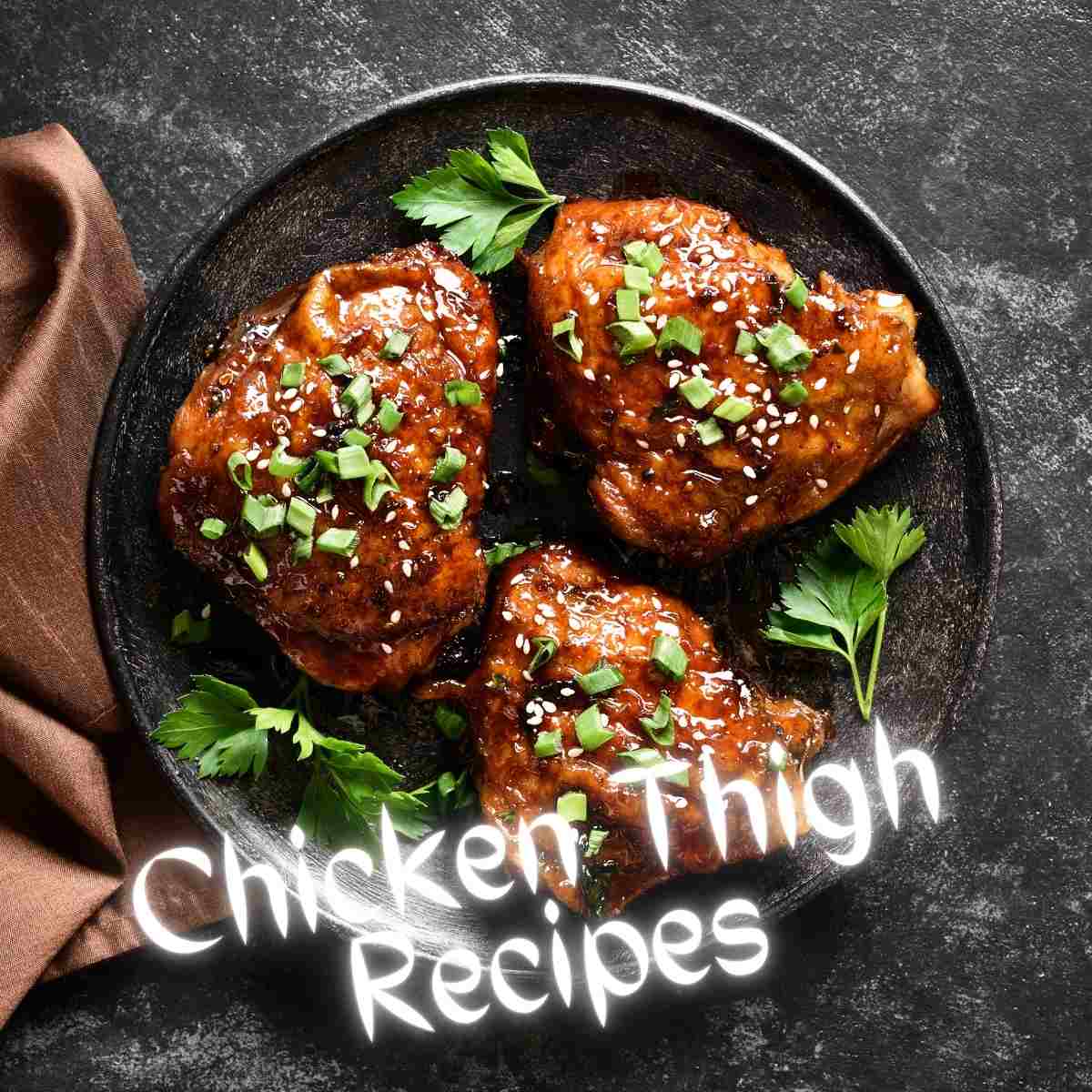 Types of chicken thighs available in the market-
There are mainly three types of chicken thighs available in the market and these are as follows-
Bone-in, skin-on chicken thigh- these comprise more fat! The bones inside absorb the heat and as a result, the meat takes longer to be cooked. You can leave the skin on while cooking and peel them off while serving to cook well.
Boneless, skinless chicken thigh- removal of the bone and the skin requires more processing and if you wish to get them for tonight's dinner then they are certainly the costliest ones let us tell you. But it is totally worth it when the meat melts in your mouth! Without bones and skin, they are still succulent and tasteful. Finally, the bone-in and skinless thighs- if you like to nibble on the bones then the chicken thighs with bones but without the hassle of removal of the skin make it easier for you to enjoy the thighs.
Something important to note- you should always cook chicken meat in such a way that the temperature internally reaches 165°F. You should allow the meat to rest for a while after cooking so that the spices and the gravy seep into the meat and are soaked in well.
Ways to cook chicken thigh recipes-
1. Cooking chicken through broiling- Cooking in the broiler is the easiest method to make chicken thighs and they are prepared in a jiffy! If you are cooking with the skin on then you can place the meat in such a way that it is upside down and the skin faces the pan! Flip it after a while to cook well. Broil for about five minutes and the dish is ready to adorn the table.
2. Poaching chicken thigh- poaching is the method that is generally used for cooking chicken breasts but thighs are prepared in a similar style as well! Remove the skin after poaching and after the process is done, the thighs are shredded to add to soup, stew, and so on.
3. What is the method to grill chicken thighs- the chicken thighs are initially marinated in spices and sauces. The grill grates and the pan is oiled with the aid of a brush. However, you need to pat the chicken thighs dry before you start adding the marinade! After marinating with spices you can set it up on the pre-heated oiled pan for twenty minutes. You should flip the meat in between so each portion of the skin is charred well.
4. Frying chicken thighs- Fried Chicken is perhaps the tastiest recipe of all kinds. There is absolutely no one who eats chicken and does not like fried meat. Boneless and skinless chicken thighs are the ideal options for frying them. Use a cast iron skillet for this purpose. You should preheat the oil to 375°F and fry the meat pieces for about eight to ten minutes until they turn completely golden brown.
5. Baking chicken thighs- you need to preheat the oven to 425°F and pat dry the chicken thighs with a towel. Then season the meat with spices and cook for twenty minutes at the internal temperature of the meat being 165°F. Bring it out and allow it to cool for five minutes before serving.
6. Pan-sear chicken thigh on the stove- to use this method you have to drizzle the skillet with olive oil and pat dry the meat before marinating it with spices. Cook for five to seven minutes before flipping the side at 165°F.
Now let us find out about some of the chicken thigh recipes, shall we?
Yummy chicken thigh recipes to try out
1. Oven-baked chicken thigh
Smeared with herbs and soaked in juicy gravy, the tender chicken thighs are honey glazed and a recipe that you must try out! Succulent and ravenous, you will crave more after the first bite.
2. Garlic lemon chicken thighs
This recipe is rather easy and quick to get done with perfection! Chicken thighs marinated in lemon zest and served with a garlicky essence is the best dish that you can ask for after a tiring day at work.
3. Peruvian chicken with green sauce
We have come up with a delicious Peruvian chicken that will remind you of the summer! Cooked in enriching spices, you can serve this to guests who will be highly impressed with your cooking skills! The garnishing is done with green sauce.
4. Sweet and spicy glazed chicken thigh
The flavor of garlic, brown sugar and cayenne pepper blend quite well to create this recipe so flavourful and rich! The sweet and spicy glazed chicken thigh is cooked in olive oil and tossed with paprika to give a spicy hint.
5. Easy skillet chicken thigh
Easy to cook in a skillet, the succulent chicken thighs are soaked in gravy, and such a wonderful dish to explore! You can enjoy it with a bowl of rice or simply with bread whichever you desire.
6. Chicken thighs with creamy bacon mushroom thyme sauce
If you are on a diet and looking for a recipe that is gluten-free and low on carbs then the chicken thighs soaked in a creamy sauce and served with bacon and mushroom should be your choice. Sprinkled with thyme, the dish is extremely yummy!
7. One pan Mediterranean chicken and rice recipe
We are absolutely in love with this one-pan Mediterranean chicken and rice recipe which is flooded with flavors so divine. Thank us later for this comforting recipe cooked with lime and herbs.
8. Chicken in white wine
Cooked in loads of tomatoes and onions, the creamy chicken is marinated in fascinating flavors that you will savor in every bite! The recipe is prepared with white wine vinegar to give a taste of finesse. You should try it too!
9. Barbeque chicken thighs in the oven
Barbeque chicken thighs are an all-time classic that you ought to try out! Juicy and flavorful, the recipe is made with sweet bbq sauce and onions tossed with herbs. So what are you waiting for? Make them now!
10. Grilled boneless chicken thighs
Sprinkled with parsley and paprika there is the right combination of spices and sweetness to come up with this dish! Being completely gluten-free you can eat as many thighs as you wish to hog down. So shall we make it then?
11. Simple crispy roasted chicken in the oven
Making roasted chicken in the oven is so easy that you will make them again and again after you learn this recipe! Topped with spices and herbs, the sharp garlicky essence is felt in every bite.
12. Garlic butter chicken thighs with sweet potatoes in a skillet
Oh so simple and mouth-watering is this recipe of garlic butter chicken! Tossed in the richness of garlic and cooked with fried sweet potatoes, you can enjoy this wholesome recipe with a bowl of rice or garlic bread sticks on the side.
13. Garlic butter chicken recipe with creamy spinach and bacon
You are getting double doses of the meat including sliced bacon cooked in a creamy spinach gravy! The garlicky essence gives it a distinguished flavor and is served with a bowl of rice for brunch.
14. Korean chicken thighs
Served with steamed rice and greens, the Korean chicken thighs are delicious and sprinkled with sesame seeds. We used rice vinegar, soy sauce, and chili paste to cook this dish. And brown sugar is added for flavoring.
15. Pan-seared cajun butter chicken thigh
The saucy pan-seared chicken thigh is so yummy that you will be compelled to make it again and again! Cooked with exotic spices and sauce, the cajun butter flavor is simply so divine. We are a fan of the dish and you are certainly going to thank us soon for the suggestion.
16. Chicken cacciatore
The sight of the pan containing chicken cacciatore will bring water to your mouth! The flavourful and rich gravy is served with almost anything, bread or rice! The tender meat is soaked in gravy and tastes so juicy.
17. The black pepper chicken and garlic noodles
Cooked with basil, cilantro, and broccoli, you should try out the chicken with garlic noodles which is an amazing combination. The duo is prepared with coconut milk, honey, and soy sauce for flavoring.
18. Honey chipotle grilled chicken skewer
How can we miss out on the succulent and smoky grilled chicken skewers which are the best appetizer for guests? Prepared with the sweet touch of honey and yummy chipotle sauce, you should try out this one.
19. Baked sage chicken meatballs with parmesan orzo
Tossed in parsley, sage, and shallots, the baked chicken meatballs are wonderful. We have grated parmesan cheese and added it from the top for garnishing. Marinated in cream, and cooked in white wine and vinegar, you should try out this one.
20. Roman-style chicken recipe
The flavourful and juicy chicken thighs are tossed with parsley, tomatoes, and bell pepper. We have added oregano, garlic, and caper to complete this dish. The presence of white wine in the recipe escalates the taste of the dish even more.
21. Classic chicken cacciatore
If you are looking for a cacciatore recipe to cook chicken then go ahead with this recipe flooded with the flavors of butter and herbs! The correct blend of spices and sauces renders you with this magnificent taste that you will hardly be able to resist.
22. Paprika-baked chicken thighs
Paprika-baked chicken thighs are spicy and the right dish that you need on the table during chilly winter nights. Infused with smoked paprika and the richness of cayenne pepper, you should try this out for sure.
23. Juicy cajun butter boneless thighs recipe
How delicious is this recipe of chicken legs with boneless cuts? Succulent and flooded with the flavor of butter, the recipe is simply so good that you will be left with a full tummy and an even fuller heart.
24. Braised chicken with veggies
We have prepared this recipe of braised chicken served with tender veggies floating in the smooth broth! The perfect healthy and wholesome dish that you can try out this season. Easy to make and super comforting in every bite. So shall we make it then?
25. Hungarian chicken paprika
Those of us who can't enjoy chicken without spices should go for this recipe! Flooded with flavors so divine and cooked with olive oil, this is a wonderful recipe that is meant for the ones with high spice tolerance levels.
26. Filipino chicken adobo
We have brought you this exclusive chicken adobo recipe all the way from Filipino! Served with saucy gravy and flavored with ginger, garlic, soy sauce, and vinegar, the recipe is a must-have for you to indulge in. Give it a try for sure.
27. Grilled chicken thighs with chimichurri
We have come up with gorgeous grilled chicken thighs which will bring water to your mouth! Served with chimichurri, the recipe is so easy for you to make and perfect to create when the guests are coming over. They will be highly impressed with the chimichurri meat!
28. Honey garlic baked chicken thighs
Cooked in sesame oil and served with garlicky essence, you should thank us for this extremely easy recipe for making chicken thighs for beginners. Let's not forget the contribution of honey towards flavoring the recipe.
29. Caramelized onion rosemary chicken thighs
We are here to help you make the yummy caramelized onion rosemary chicken thighs cooked with ginger, garlic, and honey as well! A hint of butter and lemon juice is enough to give the onion rosemary chicken its distinguished taste.
30. The garlic mushroom chicken thighs
Let us not miss out on the garlic mushroom chicken thighs which are cooked within thirty minutes! So if you are craving something ravenous for dinner quickly prepare yourself the mushroom chicken thighs with garlicky essence.
How to understand that the meat is cooked
Well, after much discussion about the recipe there can be another question that you should think about! How exactly do we understand that the meat is cooked? Well, there are ways to know that!
Make use of a meat thermometer- At an internal temperature of 165°F chicken is cooked fully! So while roasting or grilling you have to check with a meat thermometer whether the temperature has reached the given mark or not.
Feel the meat with your hands- you have to pinch the meat to see if it is soft enough and whether the skin has turned whitish to realize that your chicken thighs are completely cooked.
Poke or see the size- you may cut a slice or poke to see if the juices are running out to determine that the meat is cooked.
You can also observe the size and whether it has shrunk to determine whether your meat is cooked or not. Meat shrinking in size due to heat and charring is a sign of well-cooked meat.
Bottom line- so that's all about cooking chicken thighs! So buy some today and get started with making them.