If you are baking cookies with a cake mix for the first time then you must go ahead with this article and read it from cover to cover! Baking cookies are not a hard job but we have to admit that it is rather a very systematic process to keep in mind! Today we are going to share some insights with you about cake mix cookies in case you are going to do this for the first time! So without any more delay, let us get started, shall we?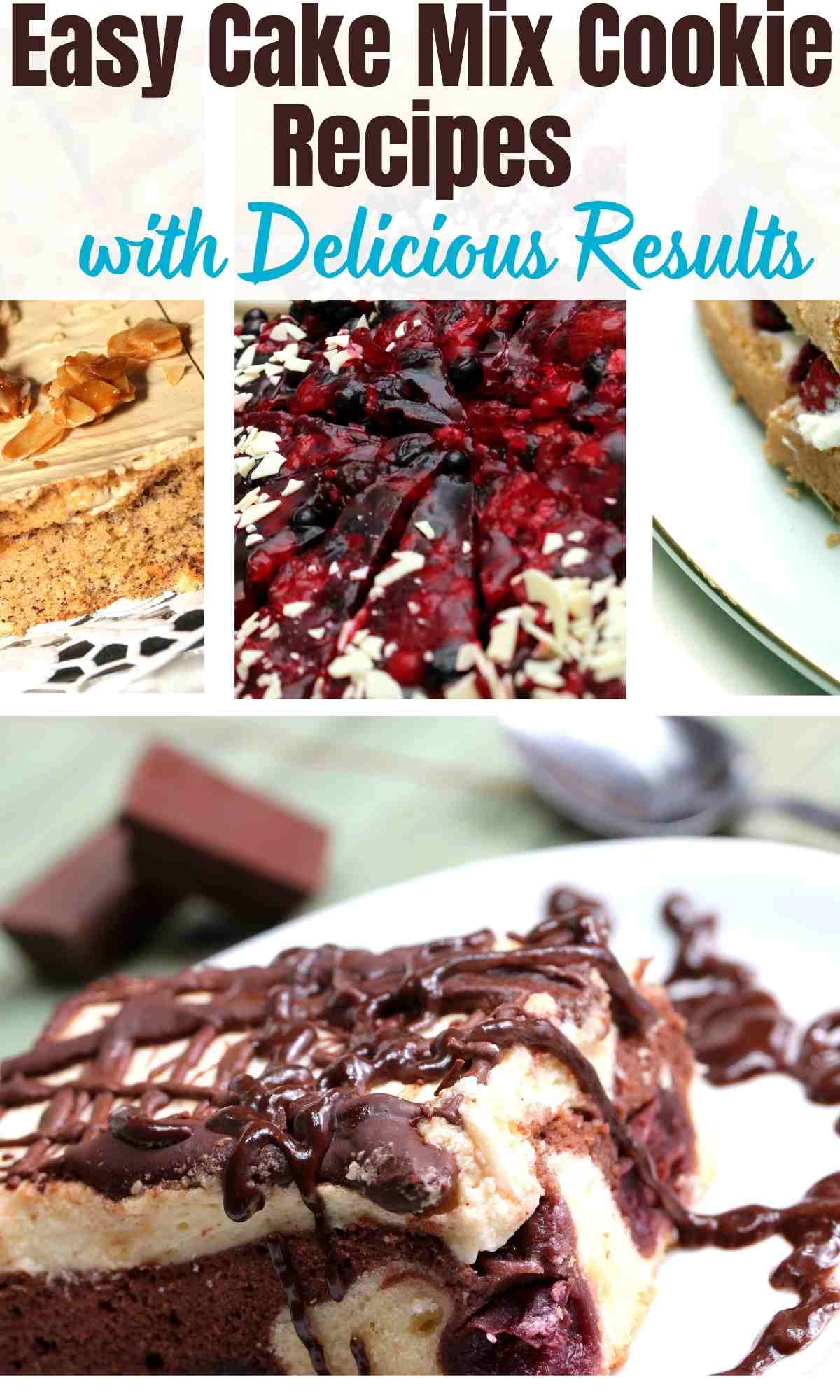 Table of Contents
Tips to enhancing the flavor of your cake mix cookies_ concepts that you should follow
1. Learn where exactly to substitute
This is to be noted that from the baker's point of view, you are encouraged to substitute and experiment with the ingredients but only up to the limits of the recipe! If it is mentioned in the recipes then as a beginner, you can swap the ingredients otherwise in the first attempt, this will not work quite well in your favour.
With practice you will soon acquire the skills to umdeetajsd what can be a great substitute for others but that knowledge will come with time and patience.
2. Always use butter
If you have been using margarine for your cookies, then let us tell you for cake mix cookies, you will never be able to pull across the right strings of flavor! Instead, you should opt for butter whenever an instant cake mix is concerned.
This will enable you to enhance the taste and the quality of the ingredients as well. Of course, there is nothing that can ever beat the taste of butter, no arguments regarding that! Let's move on to the next rule now!
3. Substitute with 1:1 ratio of margarine and butter
If you are making cookies where you can not add too much butter due to health reasons then we understand the need for you to substitute the fat with margarine!
But we will still recommend you to not completely swap butter with margarine and rather use the one is to one ratio where you can use half butter and margarine in the content of the cookies.
4. Coconut oil is always an incredible idea
Yup, we are talking about coconut oil, which can be the best option when you are making cookies, especially the cake mix ones!
Whether you are talking about butter, margarine, canola, or vegetable oil, all can be substituted with coconut oil instead. And let us tell you the flavors of the cookies will simply be divine rest assured.
5. Use maple syrup, instead of granulated sugar
If you are thinking about enhancing the quality of the cookies with cake mix then instead of simply opting for granulated sugar you should go ahead with the maple syrup instead.
Maple syrup, made from the saps of maple trees contains delicious essence which is particularly good during baking. One cup of granulated sugar must be substituted with ¾ cup of maple syrup!
6. Add ingredients like vanilla essence
If you bake regularly then you must be aware of the ingredients like vanilla essence! These are essential as artificial agents to enhance the taste of the cookie manifold. The smell and the taste of the cookies both are impacted by the presence of vanilla essence in the cookies!
Other ingredients that you can use to escalate the taste of your cookies include rum, ginger, almond essence, and so on.
Here are some cake mix cookie recipes for you to indulge in!
Easy Cake Mix Cookie Recipes with Delicious Results
If you are running short of time then why even go through the hassle of elaborate cookie baking?
Instead, you can opt for this recipe where you can enjoy your snickerdoodles with a box of simple cake mix.
We are talking about the outstanding cookie mix lemon cookies!
These are rich in flavor and you will hardly be able to believe that the cookies are so easily curated. Shall we try it then?
These monster cookies are perfect for the season of Halloween!
Vibrant blue in shade and gorgeous in every bite, you are definitely going to love this one!
Plus, there are treats studded to the surface even! Shall we? Let's go!
The vibrant batch of cake mix cookies is exactly what you need during the holidays!
Rich in sweet essence, you are definitely going to make them again and again.
So shall we get started with the preps then? Good luck!
If you are fond of cookies then go ahead with the cake mix cookies which are ready with just three ingredients!
Rich and crumbly, the cookies are yummy and flooded with great flavors.
Sweet and savory, if you are running out of time, then these cookies are the best!
Nothing as good as the Kentucky butter cake cookies which turn out to be an extraordinary treat!
Delectable and crumbly, the cookies are flooded with great flavors that you will hardly be able to resist.
The moist chocolate covering the sheet cookies turns out to be an extraordinary treat!
Packed with nuts, this recipe turned out to be a brilliant choice! So are you ready to give it a try? The Texas cookies are the highlights of the season!
The zesty and rich lemon crinkle cake cookies are splendid and a great treat!
Zesty and enriching, these cookies are the highlights of the season! Make sure you try them out!
The rich and crumbly cake mix is a great choice if you are fond of easy-peasy cookie recipes!
The zesty lemon essence turns out to be a creative choice that renders you simply speechless. Shall we make it then?
If you are in the mood for something nice and cozy then you should go ahead with the gorgeous yellow cake mix cookies with a sumptuous jelly in the center.
Flooded with great essence, this cookie is one of a kind.
How can you miss out on the smooth and luxurious butter cookies with crumbly pecan in the filling?
Rich and yummy, there is no way you should resist yourself indulging in something so divine! Shall we then?
The vibrant creamsicle cookies are indeed a wonderful recipe that makes you crave more!
Perfectly suited to the theme of summer, every bite will make you crave some more and more until the jar goes empty!
The best part is it's so easy to make!
The cream cheese cookie mix recipe is another exotic treat with the goodness of nuts in them!
Smooth and savory, you are definitely going to fall in love with the treat! Are you ready to experience its blissful taste?
Get ready with your baking gloves as we are about to make the red velvet cookies!
Flooded with white chocolate chips, you are definitely going to fall in love with this one! So let's get started then!
Are you ready to dig your hands in a dough full of chocolate chips?
Well, then you have to try out the recipe for cookies made with cake mix and then served with loads of chocolate chips! Shall we then?
The copycat crumble cookies are prepared instantly with a cake mix so that the job is hassle-free!
The gorgeous pink velvet cookies are exactly what you need to satiate your taste buds during the holiday season!
Ooey gooey butter cookies are the most splendid treat for the holiday season!
Enriched with the best, you are definitely going to thank us later for the idea!
Lovely and topped with icing, if you want, quickly bake these wonderful butter cookies.
The crumbly and gooey fudge cookies melt into your mouth and leave an everlasting impact on the taste buds, a flavor that you will hate to forget!
Drizzled with chocolate chips, are you ready to give this one a try?
The classic German cookies are indeed a brilliant recipe that you can bake without any hassle!
The rich chocolate flavor is the specialty of the cookies! Try it out now and let us know how this one turns out to be!
The delicious and creamy key lime cake mix is indeed a wonderful recipe that will leave you with an aftertaste so divine.
Packed with flavors so enriching, let's not waste a single second more and get started now!
Conclusion
With easy cake mix cookie recipes, you can have delicious results in no time. Whether you're baking for yourself or for a special event, using a cake mix to make cookies can save you time and effort without sacrificing the yummy flavor of homemade cookies. Not only are you able to customize the mix with different add-ins, but you can also adjust the cookie's texture and size. The end result? Deliciously moist and irresistible cookies that are sure to please any crowd. So why not try baking a batch today and see for yourself just how amazing these cake mix cookies can be?
As we've seen, cake mix cookies don't require a lot of effort or time. But as the saying goes, "Good things come to those who bake." So don't be afraid to whip out a cake mix and start baking some amazing cookies. You might just be surprised by how delicious the results are.