Let us tell you that broccoli and chicken are old friends! If you are preparing any recipe broccoli then toss some shredded meat into it and see how extraordinary the flavors turn out to be! Indulging in broccoli is a great idea that has got it all! From wonderful flavor to being packed with nutrients. However, it does get boring when you are having broccoli every day! So why not make it chicken and myriad spices to add a hint of variation? Let's find out.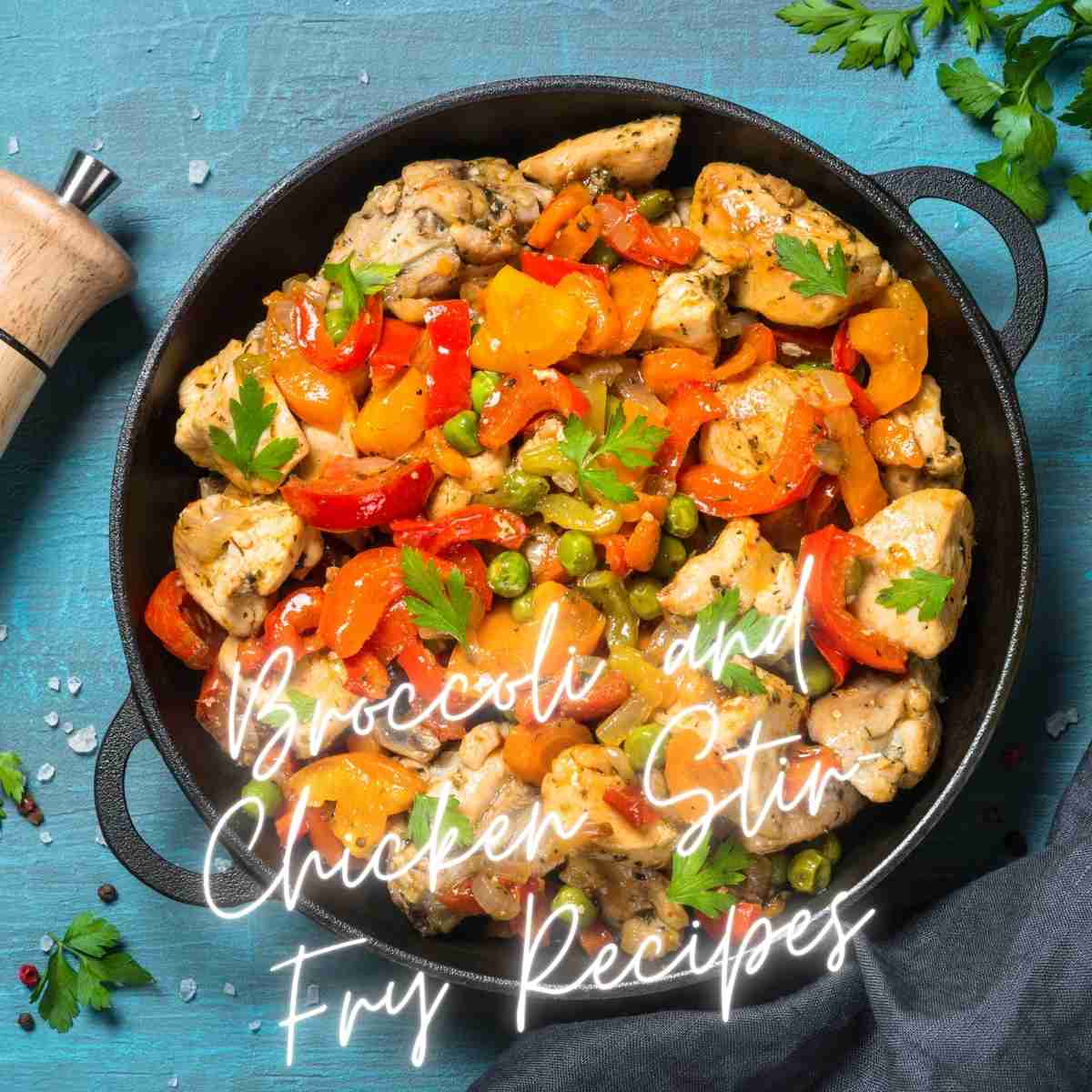 Stir fry for thirty minutes and the recipe is ready with chicken, broccoli, and a bowl of rice on the sides. Whether you are preparing lunch or packing tiffin for the kids at school, there are different recipes for all!
So what do you mean by a stir fry?
Stir fry is an Asian technique to cook veggies and meat! All you need to do is cook in a heated pan with some oil and toss it with sauce! That's all, your stir fry fish, meat, or veggies are good to go on the table.
But do you think stir fry is healthy for you to consume?
Stir fry can be a healthy option if you cook it in the right way! The amount of oil you use determines the quality of the stir fry that you will enjoy.
Learn some tips-
Stir fry does not require you to put on a heavy layer of bread! In case you are stir-frying meat than a thin layer of cornstarch is enough.
When you add sauces to the recipe, it is essential for you to check the content behind it! Go for sodium-less sauce which is a healthy option. Lower sugar varieties are a good option as well.
Prevent yourself from adding too much oil to the recipe! Stir-frying occurs under high planes and less oil so the dish contains a smokey essence.
Chicken breasts have considerably more fat than other pieces and as a result of which you will not need much fat.
Which is the chicken that is best for stir fry?
Boneless and skinless chicken breast pieces are the best when you are tossing them with veggies like broccoli and carrots and so on.
However, you should not cook them for too long, or else they will become chewy and hard.
Is it good to blanch broccoli before you cook them?
Blanching broccoli will not be important if you cut the florets small! Stir-frying them is very easy to ensure that cooking is done properly. However, if you opt for bigger slices of the florets then you have to blanch them a little before you fry them. Blanching small florets will melt them into a paste and prevent them from getting cooked ideally!
Some tips to stir fry properly
If you are making broccoli stir fry for the first time then you can follow these hacks to ensure that they turn out to be perfect.
The oil should be hot enough when you are cooking broccoli and chicken! Once the oil starts to boil, it is the ideal time for you to add the ingredients! You can check the temperature by placing a wooden spatula in the oil and when you see bubbles forming, know that they are ready.
Chicken should be fully defrosted and brought to room temperature before you cook them. Cold chicken can be difficult to cook as it will not get uniformly prepared! Bring the meat to room temperature and then cook it in hot oil! Thawing is an essential part of preparing chicken.
Make sure you cook the meat in small batches for uniform cooking again! If you are soaking them in cornstarch mixture then it is essential that each piece turns golden brown properly before you toss them in the sauce.
Once the meat is cooked you should add the veggies! Whether you are blanching the veggies or not, the time required for cooking meat is longer than that of veggies! Adding them all together at once will destroy the taste of the vegetables as they will get overcooked and some even burnt.
Try out these amazing stir-fry chicken and broccoli recipes
You will not believe how easy it is for you to make chicken stir fry in a jiffy! Toss the meat in sauces and then add the blanched veggies! Perfect and simple side dish prepared in just twenty minutes.
Broccoli and chicken stir fry is a classic dish that comes to your rescue when you wish to combine health and flavor all at once. Do not believe us? Then you have tried it out on your own!
Broccoli and chicken stir fry are detectable and creamy! Serve it over rice and enjoy your meal for brunch! Tossed in oyster sauce and sriracha, this dish is meant for spice lovers! Garnished sesame, your meal is warm and ready!
4. Best chicken and broccoli stir fry
A sheer treat for the taste buds, the chicken and broccoli stir fry is gorgeous! And guess what you can make a lot and freeze it to enjoy for the next day's meal as well. Isn't it great?
If you are super busy and do not have time to make an elaborate dinner then check out this recipe which is healthy and crispy! Juicy and rich, the color bell pepper gives a vibrant essence to it too.
A classic chicken broccoli stirs fry recipe is right here for you! Glazed with sauces, all you need are a few handfuls of ingredients to come with a bowl of easy-peasy stir fry! Serve it with anything on the sides.
Sweet and sour broccoli chicken is a fresh take on something old and classic! Check out this recipe flooded with the sweetness of pineapple! Rich and saucy, we are in love with this dish and you should try it out too!
The crispy chicken stir fry is another fascinating recipe that calls for your attention! There are spicy and sweet spaces to maintain the perfect balance! Veggies and meat tossed in sticky gravy are perfect to be used as filling.
All we can say is that there is lots of chicken and lots of veggies in the recipe for meaty stir fry with greens! Marinated in gravy, this dish is the best when you are running short on time.
Your day gets better in the presence of this soupy and saucy chicken and broccoli stir fry recipe! Surprise your partner with a warm and cozy meal like this one on a long and tiring day!
Trust us on this, you will not find a better recipe for broccoli than this one! Combined with meat, the dish turns out to be an extraordinary affair! Sprinkled with some sesame seeds, what a wholesome choice it turns out to be!
Oyster sesame and sriracha, we have got it all in one dish! Soon you are about to find a comfort dish to add to your weekly kitchen list with this recipe right.
The shredded meat tossed in veggies is served with fresh broccoli florets! If you find it hard to feed your kids broccoli, it will be impossible for them to reject this dish! In fact, you will be surprised to find the bowl empty in a while.
The sweet and savory, honey garlic chicken stir fry is the best option for you to indulge in during the holidays! Marinated in sauces, the recipe is perfect to make when you are craving meat and veggies together.
15. Delicious chicken and broccoli stir fry
Chicken and broccoli stirred never fails you when you are tired and do not want to engage in much cooking! Ready in just half an hour, ask the kids to join us at the table for brunch with healthy and saucy greens.
The simple teriyaki chicken stir fry is the easiest thing that you can come up with! Sweet, savory, and crisp, escalate the joy of dinner time with something so luxurious waiting for you at the table.
Let's not forget that chicken is universal meat and you can literally prepare anything with it! Try out the flavorful stir fry with scallions, broccoli, peanuts and so much more. So what are you waiting for?
There is no way we are missing out on this exotic recipe of chicken stir fry with veggies like mushroom, bell pepper, broccoli, and so on. Chop the veggies and get started to make their rice for brunch this afternoon.
Making juicy chicken stir fry is so much easier with the recipe that we have here! Simple and cozy, the flavor of the sauce marinating the meat gives it a distinguished essence! If you find broccoli unbearable this is a great way to befriend them!
The healthy and guilt-free recipe for broccoli stir fry is right here to rescue you from the boring days! Tossed in sauces, you will surely find this dish to be so tempting indeed.
The idea of chicken stir fry is always so perfect! There is nothing that wouldn't pair up well with the dish! Rich and saucy, the tender meat cubes are perfect for you to indulge in.  Thank us later for the suggestion.
There is nothing much to say about sweet and spicy chicken and broccoli except that it is the best that we can think of! You must try out the recipe during the weekends to find out for yourself.
If you are sick of having rice every day for dinner then give this one a try! The yummy chicken ramen noodles with broccoli are perfect to savor in every bite! A fresh way of enjoying veggies with a hint of greens.
Going on a diet is so exciting now with the keto stir fry chicken right here for you! Cooked with sesame and scallions, the recipe is simply outstanding! Scallions and broccoli enhance the taste of the dish even more.
With this recipe, you do not have to get into the hassle of making a side dish and main course simultaneously! This is one in all dish with noodles, chicken shreds, broccoli, and sauces added all together.
Chicken stir fry with broccoli and bell pepper always turns out to be good! There is nothing that can go wrong with something so simple as this one! Try out this one for sure!
We have brought to you the exclusive recipe for chicken stir fry that is guaranteed to become your next comfort dish! Flooded with the goodness of creamy saucy, the broccoli florets and bell peppers taste divine.
The wonderful recipe for chicken ginger stir fry will never disappoint you! Flooded with the richness of sauce and spices, you are certainly going to enjoy this dish till the last drop remains in the bowl. Shall we make it then?
You can modify the recipe of classic stir fry with beef and see the difference! Certainly a great idea with a fuss-free procedure, this should top the chart. Are you ready to devour the beef and broccoli stir fry?
Why order from the store when you can make them all by yourself? Check out this recipe of broccoli and chicken that is better than any restaurant creation! Do not believe us? Find out for yourself.
Frequently asked questions about broccoli and chicken stir fry
1. Do you cook broccoli before the chicken?
It is better to blanch the broccoli florets before you add them to the sauce and meat! If the florets are small you directly add them to the sauce however after the chicken is cooked.
2. Is there a need to constantly stir during the process of stir-frying?
To mix the ingredients properly so that cooking is done faster you have to constantly stir! This allows even cooking without getting the chicken or the veggies burnt.
3. Can you stir fry without butter or oil?
It is possible for you to stir-fry without the presence of butter or oil! A little water or broth is enough to do the job.
4. How to keep the veggies crispy during stir-frying?
To keep the veggies crispy during stir-frying the best method is to not overcrowd the pan. Making in small quantities is the ideal way to ensure uniform cooking.
5. How long should you blanch broccoli before stir-frying?
The ideal time to blanch broccoli before stir-frying is around one to two minutes.
Bottom Line- So shall we begin to make them already?