There is no longer any need for you to rush to work hungry and starved because we have brought you the best breakfast bar recipes in the world! Understandably, there can be multiple reasons due to why you do not feel the urge to make an elaborate breakfast in the morning! Sometimes, you wake up late, or sometimes you are too exhausted to repeat the same routine again and again. Well, all those worries no rest in peace in the past! Follow these tips and hacks and your breakfast bars shall be simply flawless! Let's begin, shall we?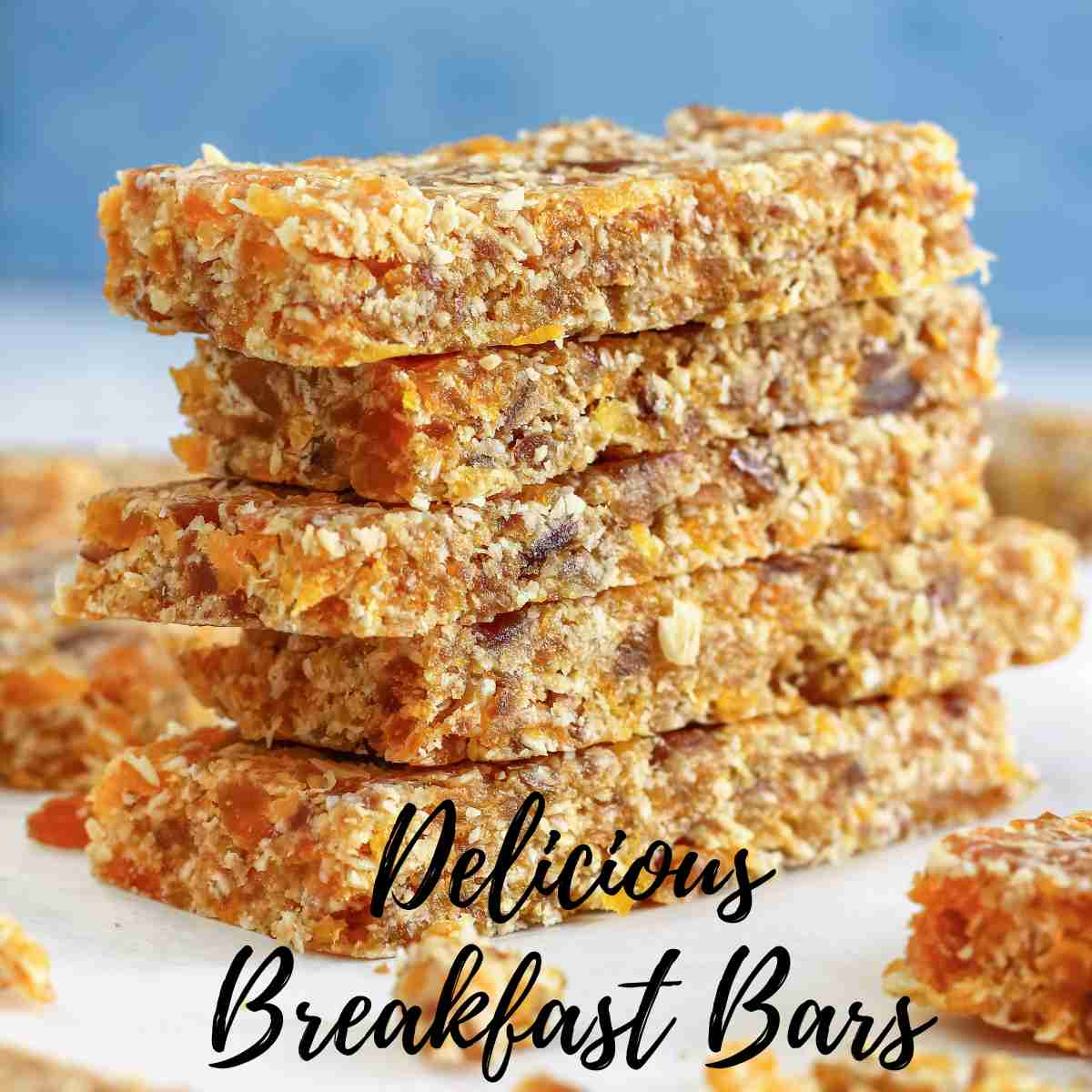 Are shop-bought breakfast bars healthy_ why do you need to make them at home?
Breakfast cereal bars can always be a quick option and you may readily swap the bowl of cereal with a breakfast bar because why not! It is easy and so much more convenient! Woke up late? Rushing to catch the bus? Of course, you can't carry that bowl of cereal and milk with you! But a cereal bar can definitely come along! Thus comes the need to buy loads and loads of breakfast bars to last you the month! But what if we say that breakfast bars are not very healthy?
Not when you are purchasing them from the stores. There can be a lot of artificial sweetening agents which can go against your diet plans. There can certainly be hidden sugar and saturated fat which you may not even notice as you buy and consume these breakfast bars! But slowly, you will notice the difference in your health! Thus, we always recommend you make them at home! This gives you access to monitor the ingredients that go into the bars.
How to store homemade breakfast bars
Of course, there will be a surplus as you make the breakfast bars but the question is how can you store them? The homemade breakfast bars can be stored in an airtight container away from direct sunlight! Make sure you keep the container in a cool place this way they can last about ten days!
Although with them they might tend to become chewy but still the taste will remain intact! If you want they can even last up to three months! But to achieve this you need to store the breakfast bars in the freezer and wrap parchment paper around them so none of them stick to each other.
How to prevent breakfast bars from falling apart?
This might have in the case of homemade breakfast bars! To prevent the breakfast bars from falling apart and maintain a sticky consistency, there are two steps that you can take into account.
Allow your breakfast bars to fully bake- when you are baking the breakfast bars the most likely mistake that might occur is that you do not allow the breakfast bars to bake properly which leads them to be turned into crumbles. Even if you are opting for a no-bake breakfast bar, especially then, you have to allow all the steps to complete properly! Otherwise, we can't guarantee that your breakfast bars will crumble in a couple of days.
Add some Chia seeds - sometimes the addition of chia seeds to the breakfast bars can give them not only consistency but also a texture that will not crumble easily. They not only have good binding properties but also fiber, antioxidants, minerals, and healthy omega-3 fatty acids. Adding chia seeds to any breakfast bar recipe does not even change its taste so you do not have to worry.
Make use of some honey- in the baking world, the binding property of honey is also well-praised! So even if your recipe does not call for honey, adding a dash of honey will not cause any trouble.
Let's find out about some exotic and healthy breakfast bars!
Delicious, Nutritious Breakfast Bars: Enjoy A Healthy Start to the Day
The banana bread oatmeal bars are packed with the sweet essence of banana in every bite!
Crumbly oatmeal makes it a healthy treat that you can savor every morning or even any time of the day you are feeling hungry!
There is no need for you to start yourself to work as long as you have this breakfast bar recipe at your fingertips!
Prepared with seeds, nuts, and fruits, this is a completely gluten-free option.
The combination of raspberry and maple syrup is thoroughly appreciated.
To make it healthy, the recipe makes use of coconut sugar and oil! Are you ready to indulge in the blissful taste of berry oat bars?
Then make it today!
Those of you who are fond of Apple pies will find this idea highly useful!
It is alright if you can't enjoy a whole pie due to lack of time to bake them, a nutritious apple pie oatmeal bar is a great substitute.
End your Sunday brunch with a breakfast bar and see how energized you feel throughout the morning to work in the yard and clean the house.
This breakfast bar recipe consists of a smooth touch of butter, and is drizzled with dark chocolate!
This is a copy of the recipe for the famous breakfast bar which is offered by Starbucks!
You can make it home without having to spend a penny.
Topped with shortbread crumbles and filled with juicy fruits, this is simply amazing.
The smooth and luxurious presence of the peanut butter floods into your mouth and leaves you completely smitten.
The delicious breakfast bars will make it impossible for you to look past them and try the rest of the dishes on the table.
Don't be surprised if the berry oat bars disappear quickly from the bell jar!
The kids will love to savor this as a treat and ask you for the maple syrup glazed, raspberry bars all the time.
The luxurious cinnamon-glazed rolls are exotic and you should give them a try!
This is a healthy treat if you are late in time and have to rush to work! Grab a bar and fill yourself up on the way!
The delicious carrot cake breakfast bars are simply extraordinary and you shouldn't miss out on them!
With the season of Easter around the corner, carrots are in abundance in the refrigerator racks, give them a try right away!
The scrumptious strawberry bars are so flavorful that you will simply not be enough with one.
This is a vegan recipe and absolutely gluten-free so you do not have to worry about skipping your diet!
Delectable and crunchy in every bite, don't miss out on this one!
Packed with chia seed jam, the vegan blueberry breakfast bars are exactly what you need to begin your day with!
Enriched with a crumbly crust and juicy filling, the recipe will leave you craving more than one of course!
Make sure you have a couple of them extra in your bag!
How can you miss out on the strawberry oatmeal bars which are flooded with fresh strawberries squished between the oatmeal layer and baked until crisp?
A fruity treat like this in the morning or fact, at any time of the day will lift your mood instantly!
The healthy and delicious breakfast bars are exotic and you will be rendered with a sense of fulfillment and joy in every bite! Shall we make it then?
The delectable and crumbly breakfast bars are exotic and such an extraordinary treat that will leave you craving more and more.
Sweet and savory, this is a lovely way to give a fresh kick to your day!
The Apple quinoa breakfast bars are refreshing and healthy to consume any time of the day if you are feeling starved.
The savory apple and crisp quinoa are exotic for you to relish!
Make sure you have a jar full of them because it is likely everyone in your house will crave them.
The crispy apple breakfast bars are right here and guess what, the recipe is super easy for you to make!
Are you ready to give this one a try? Then quickly get it done!
Filling right in the morning, the oatmeal and peanut butter breakfast bars are drizzled with chocolate chips and ready in a jiffy!
You can even grab a bite in the evening after coming back home from work.
The gorgeous copycat snack can now be made at home with the recipe that we have brought for you right here.
And the best part is, they are so easy to make! Dig in quickly!
The zingy and zesty flavor of lemon combined with the sour and sweet essence of blueberries makes this the perfect sweet treat to satiate yourself in the morning!
Don't blame us if you continue to crave these bars again and are compelled to make more throughout the month.
The delicious breakfast bars and brownie combination will provide you with the ultimate sense of contentment and pleasure!
It is alright if you have a busy day, grab a brownie and keep it in your bag so whenever you feel starved, you can get a bite of it and energize your cells.
The healthy breakfast bars are ideal to pack for the little ones to carry to school!
They will certainly enjoy this treat during tiffin time and other kids will grow envious too!
So pack more for your kids to share their delightful meals with everyone.
The breakfast oatmeal bars are creamy, delectable, and the best thing that you can offer as treats to the kids as they head back home from the playground.
And since it is super easy and basic to make, you will not even face any hassle.
Prepare a couple of these blueberry vanilla Greek yogurt granola bars and store them in the bell jars!
Enjoy them whenever you are feeling hungry in the middle of the day!
The delicious breakfast bars are right here to make sure you have a healthy start to your day!
The recipe is easy and will refresh you during the holidays as you accomplish the task of making nutritious and gluten-free bars adhering to your diet plans.
All you need are three basic ingredients to create healthy cereal bars!
The recipe is perfect for beginners to try their hands at baking for the first time.
Crispy and juicy, what a delicious treat it is!
Why prepare an elaborate breakfast when you can get it done with soft-baked oatmeal bars?
Give it a try and we can guarantee that you will not regret the decision.
Apricot oatmeal bars are equally good and will make sure that you are replenished with nutrients that shall keep you energized for longer hours of the day!
You will be surprised at the very first bite that oatmeal bars can be so delicious and nutritious at the same time!
The sweet male glazed cinnamon bars confer the pleasure of divine flavor upon the taste buds.
Shall we try it then?
The protein bars are made with just four ingredients!
Delectable and crumbly, the protein bars are the best and packed with nutrients!
Make more so you have extra in the house enough for everyone to indulge in!
Savor to your heart's content.
The Nutri-grain breakfast bars are right here so post-workout when you have the urge to nibble on something as a reward for the hard work in the gym, you can indulge in something nutritive and good. Do give it a try!
Frequently asked questions associated with making breakfast bars
1. Are breakfast bars good?
Homemade breakfast bars are healthy as you can monitor the ingredients that go into the bars! They are ideal for any time of the day! Grab a glass of milk on the side and you are good to go!
2. How to make granola bars stick properly?
Granola bars may fall apart for several reasons! Make use of honey as a binding agent in the ingredients so that the granola bars remain intact.
3. How to store breakfast bars?
You can wrap individual breakfast bars in parchment paper and then store them in airtight bags! Keep it inside the freezer or refrigerator and thaw a couple of minutes before you are about to consume it!
4. How long can you store homemade breakfast bars?
If you store the homemade breakfast bars in the refrigerator then they can last up to five days!
Bottom Line- Making breakfast bars is not a Herculean task that you cannot perform! All you need are a couple of ingredients and a little time to bake them to perfection. So let's get started with the list of recipes that are provided above, shall we?