From pan-seared black cod to black cod curry, discover the best black cod recipes for dinner. Each delicious recipe features a unique flavor and makes for a hearty, satisfying meal with friends and family. Get cooking today with these easy-to-follow recipes, and enjoy the perfect dinner.
More collections: Chowder Recipes, Cedar Planked Salmon Recipes, Grilled Salmon Recipes, Delicious Shrimp Recipes, Grilled Shrimp Recipes, Salmon Recipes, Shrimp And Rice Recipes, Smoked Haddock Recipes, Whole30 Salmon Recipes, Whole30 Shrimp Recipes For Dinner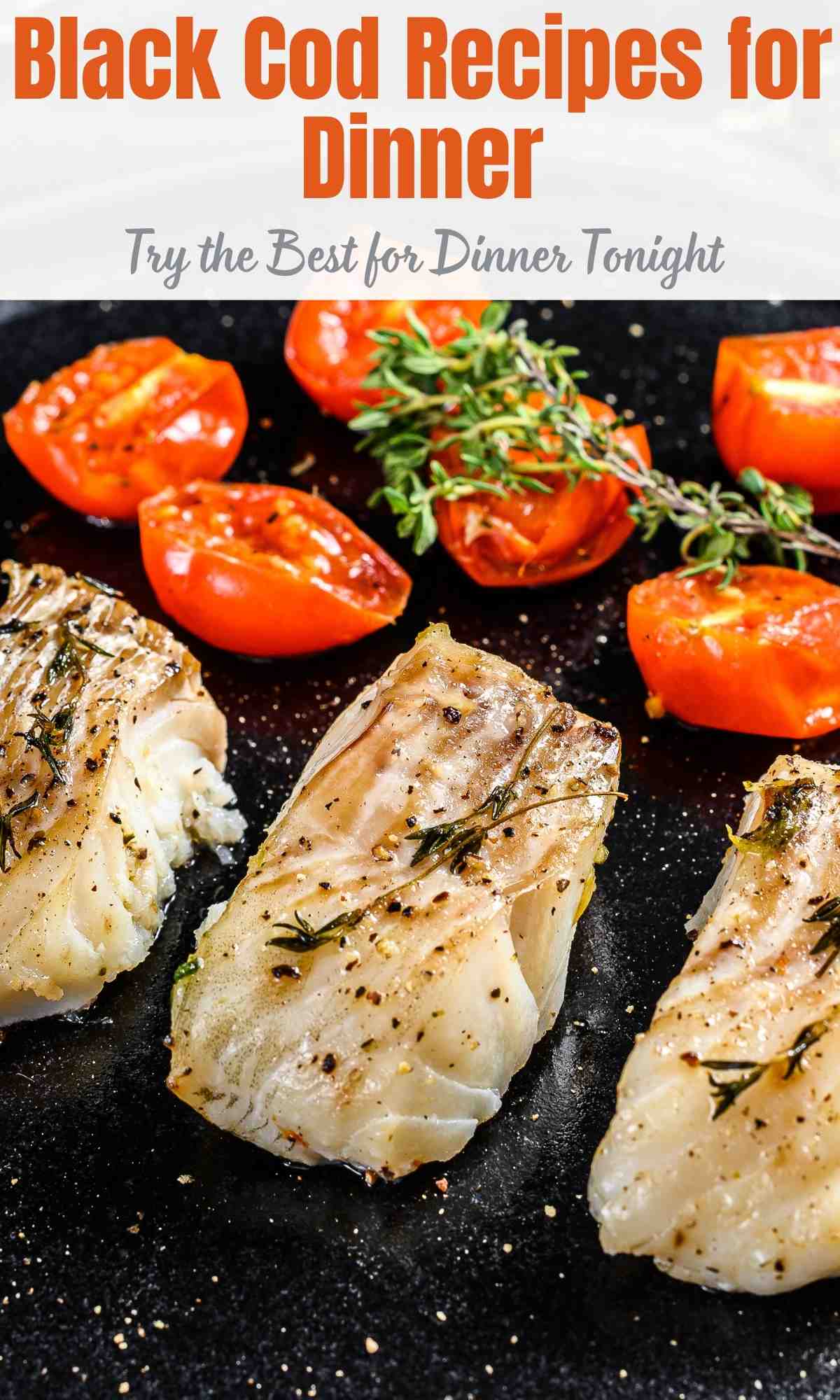 If you are working on Cod for the first time then it is understandable if you do not wish to experiment and stick to the rules! Otherwise, seafood is the best thing that enables you to blend flavors, experiment with spices, and work on so many more wonderful things. However, if you are opting to make black cod for the first time then we have this article exclusively penned down for you! It is no big deal to bake black Cod, but for the first-timers, here are some tips that you can keep in mind as you go along.
Table of Contents
Everything that you need to learn about making Cod at home
Before you begin with the recipes, here are some basics for you to learn! Cod is the first thing you should try, in our opinion if you are making seafood as a beginner. These are so easy and quick to get done and the best part is that you never practically overcook them.
1. Can you work with frozen Cod
If you can find fresh Black Cod, that is if you live near the coastal region then there can be nothing as good as that! However, if not, then you can opt for frozen Cod as well. However, you need to thaw it well to ensure that your fish tastes good and has a great texture. So to thaw your fish, you need to do so by leaving it in the refrigerator overnight.
However, if you lack time and have decided to cook the fish right away then we have a solution to that as well. You need to place the Cod in the sink and let running cold water flow over its surface for a while. However, there is one thing that you need to be careful about! When you are using running cold water, make sure that you leave the plastic wrap on! Directly introducing the fish to water will turn the flesh soggy and you will also have difficulty in baking.
2. What is the right temperature to bake your Cod
No matter whether the Black Cod is fresh or frozen, you should cook the fish until the internal temperature reaches 145°F. Approximately you will need about fifteen to twenty minutes to work on your fish but this can vary depending upon the thickness of the fillet as well. The best way to test is to use a fork and cut a slice or poke to check!
The fish will turn opaque when it is done. Sometimes it might happen that the fish sticks to the surface of the pan and in order to prevent that from happening, you can use slices of lemon, sprigs, and shallots at the bottom to create a layer or a barrier between the fish and the bottom of the pan.
3. Let's Sauce it now
Do you know what is the best part about Black Cod? You can cook them any way you want! The fleshy fish complements every flavor so well. Oil, cherry tomatoes, garlic, thyme, the options are simply endless. Herbs and white wine are a great combination and you can also add some asparagus to it too.
If you want something on the sides then you should go ahead with roasted potatoes, orzo, salads, and so on! Basically, whatever you find suitable to combine with your fish call it a meal!
Here are some wonderful black Cod recipes that you can try out this season. Now with so many recipes that we have here and tips, you should get started with the preps already!
Delicious Black Cod Recipes for the Perfect Dinner
If you wish to make your Cod spicy then you should go ahead with this treat!
Tender and packed with rich flavors, you ought to try it out! Served with veggies, it is ready!
The simple and smooth butter cod fillets taste so tender and delicious! Drizzled with great flavors, the mild essence of parsley tastes wonderful.
What an incredible idea to relish during the holidays! Shall we try it then?
There is nothing more tempting than the classic Mediterranean baked Cod!
Delicious and rich, packed with the zesty essence of lemon, and tastes so gorgeous!
Drizzled with herbs, make it this weekend, and enjoy brunch.
The cheesy and crusty parmesan baked cod tastes so amazing indeed!
Delicious and creamy, the baked cod is lovely if you are looking for something as an appetizer.
We do not need words to describe the parmesan
The combination of fish and lemon tastes so rich and succulent! Savory and packed with great flavors, the zesty essence of the black cod is delectable.
You can make it on a warm summer afternoon and relish it with steamed rice! So shall we make it today?
Do you know the combination of tomato and basil creates a great combination?
The pan-seared cod is delectable and flooded with great taste! Rich and cozy, you should give this one a try! Go for it today!
Yup, that is right! All you need is fifteen minutes to make the pan-seared cod! Gorgeous and rich in taste, the black cod tastes divine.
The fried pan-seared skillet cod tastes so gorgeous indeed! This is a keto-friendly dish that is served with greens.
If you wish to experience the best of cod then you should go ahead with the tomato and herb combination!
Simple and cozy, this is an incredible idea flooded with the enriching presence of sauces as well.
If you are looking for something cosy and comforting then try out this cod recipe today!
The combination of herbs and spices creates such a smooth blend that you are rendered simply spellbound at your very first bite.
We are not even exaggerating a bit.
The crispy golden fried black cod, prepared in an air fryer is the most amazing thing that you will come across!
Gorgeous and rich in taste, you should definitely make this if you have bought cod from the market in the morning.
We are talking about the awesome oven-baked cod! The recipe is so easy to emulate that even beginners can try their hands at this one!
There is absolutely nothing that can go wrong with this idea!
Cod made in the au gratin style is perhaps the most innovative creation that we have come across.
Scrumptious and creamy, you will definitely fall in love with this outstanding treat that we have for you right here. So shall we?
So if you wish to make something sweet and garlic with black cod then you should try out the pan-fried version of it too!
Dipped in honey, there is no way you will not like it! It is in fact, a showstopper of the meal!
Here comes the fascinating Panko parmesan baked cod! Crispy, rich, and loaded with herbs, the idea of preparing cod this way turns out to be a huge success!
So what are you waiting for? Make it right away!
If you are looking for something unique to prepare for the season then try out the potato-crusted cod!
Delicious and drizzled with spices that compliment the taste of the fish well, you will definitely come back thanking us for the recipe.
Making black cod is no big deal if you are preparing the Cajun version! The spicy and savory duo is lovely when coupled with steamed rice on the sides.
Do give it a try for sure and of course let us know how you found this one to be.
Have you tried the orange-glazed cod yet? If you haven't then you should try out this authentic Asian dish!
Savory and packed with great flavors, this recipe is fantastic and a must-have if you are fond of cod.
If you were craving something soupy then you must try out the cod chowder!
Slurpy, soupy, and delicious, the cod chowder is simply the best and can be coupled with buns on the sides too! Shall we then?
The moment we came across blackened cod we knew that you will find this the most admirable option and hence we added it to the list!
There is nothing that can parallel the taste of blackened cod, to be honest! So go for it already!
Last, but not the least, we would like to share with you the recipe for baked cod with crispy garlic panko added to the crust!
Drizzled with herbs, this recipe tastes so good!
Other recipes you should check out: Ground Pork Recipes, Meatball Recipes, Salisbury Steak Recipes, Mississippi Chicken Recipes, Broccoli And Chicken Stir-Fry Recipes, Keto Chicken Parmesan Recipes, Lemon Butter Chicken Thighs Recipes