There is the sauce, there is vanilla ice cream and there are bananas! That is all for a satisfying sweet treat to kids as well as adults. The sauce is mainly composed of butter, brown sugar, cinnamon, and rum! And the taste of this homemade sauce with banana desserts goes absolutely so well. Whipped cream and nuts like pecan and walnuts are some other toppings that you can try to bring a variation to the recipe. Here are some of the best banana foster recipes that will turn out to be a blessing when you are craving something sweet and nice.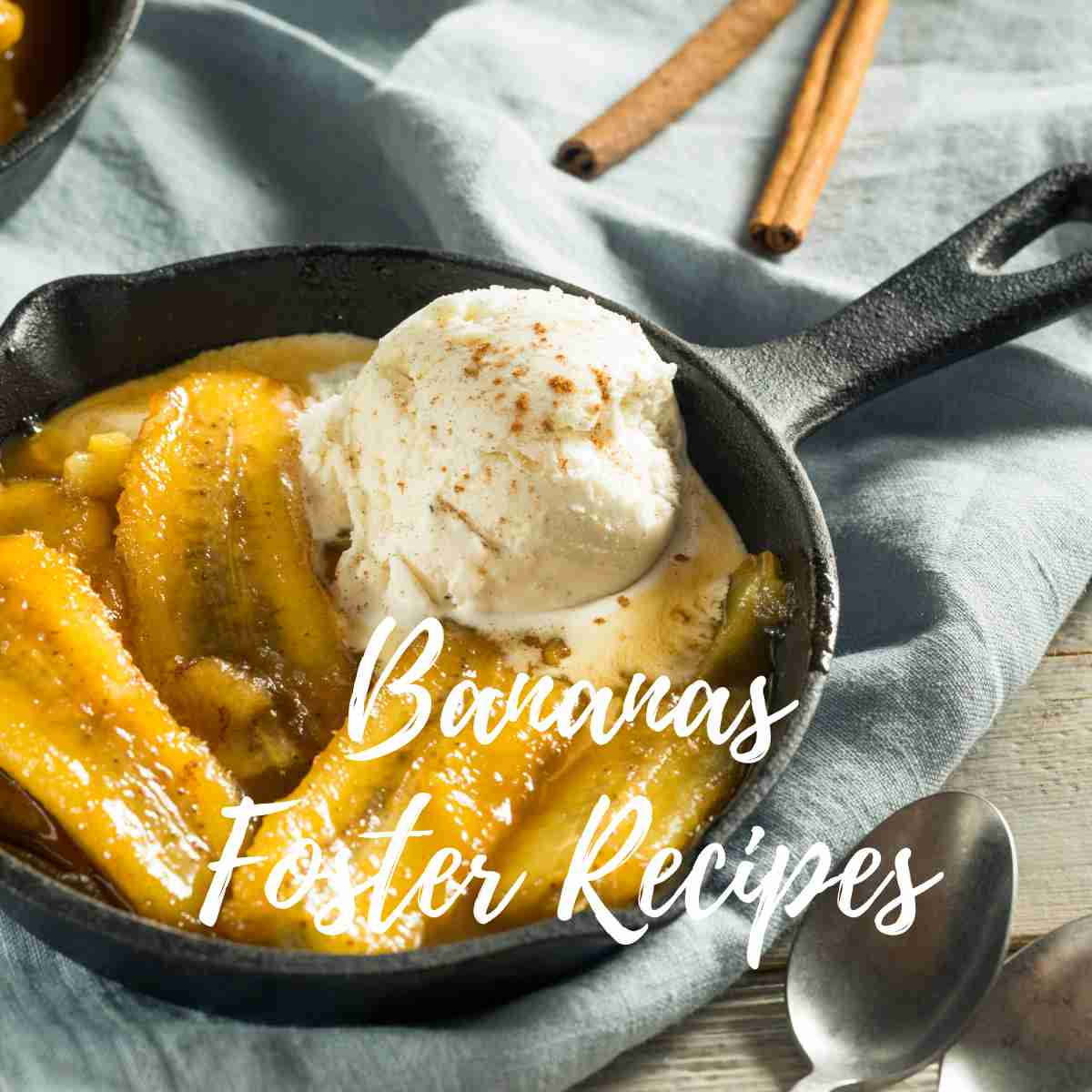 Let's learn a little history about bananas foster-
Cooking something becomes even more amazing and rewarding when you are aware of the background of the dish! So here are some facts behind the curation of the banana foster recipe. It first originated in the town of New Orleans, being made with rum, brown sugar, and cinnamon! This caramelized sauce is generally served with vanilla ice cream or crepe filling! Nutmeg and cinnamon were used as seasoning agents for the banana foster. Back in those days, around 1951, New Orleans, Louisiana was a major hub for banana import, this recipe soon spread all over the town. Some call it a Father's Day constant as well.
The banana fosters are prepared through the technique of flamalcoholse alcohol is added to the heated pan which produces flames! Only the process of making banana foster is enough to leave you completely smitten.
What are some of the basic ingredients needed in making bananas foster
Butter and brown sugar- the recipe of banana foster simply can't begin in the absence of butter! Brown sugar is needed for enriching the taste of the recipe.
Rum- you are up for a boozy treat with the banana foster on the table after dinner.
Vanilla extract and cinnamon- are both major flavoring agents in the dish.
Banana- of course, you can not make Banana foster without bananas.
Walnut and ice cream- are required for enriching the topping.
Simple instructions to make banana foster-
All you need to do is melt the butter in the pan! Stir continuously so there is no lump.
Add all the other ingredients to the pan. Then bananas and walnuts are added at the end and cooked in the sauce.
Then serve in a bowl once it cools down a little bit and top with vanilla ice cream.
Is it possible to make bananas foster ahead of time -
There is no harm in making Banana fosters right before you consume them! After all, it hardly consumes any time! But if you know you will feel lazy during the holidays then make the rum sauce a day ahead and the next day when you consume the Banana foster just stir for a while and serve fresh! If stored in an airtight container the sauce will stay intact and fresh. So if you have a craving for a sweet dish then do not forget to try out this dish.
Why is Bananas Foster named so?
Over the years, Banana Foster has earned its popularity but have you ever wondered why it was particularly named so?
It should be noted that around the 1950s, New Orleans was the port for the entry of bananas from South and Central America. Owen Brennan, the owner of Brennan Restaurants asked his chef to make some desserts with bananas! Hence this was when the Banana Foster recipe was born! Owen had a friend called Richard Foster, a business leader! The dish was named after him.
Delicious Bananas Foster Recipes - Quick and Easy to Make!
We have brought you the exclusive recipe for New Orlean Bananas Foster which is an all-time classic of the town!
Enriched with the goodness of cinnamon and bananas, the boozy dessert is simply an outstanding creation.
Do you know what is the best part about making Banana Foster? These are super easy to create.
You will hardly need any time to prepare this gorgeous dish flooded with the essence of cinnamon and brown sugar.
If you are in the mood for something sweet and wholesome for breakfast then you should try out the outstanding Banana Foster French toast casserole!
We can assure you that the dish is filling for the day!
You have to give a try to this dish of Banana Foster topping that you can make by simply following the steps of this recipe!
Are you ready for a sweet treat this season with Banana Foster?
The golden brioche toast topped with Banana Foster is perhaps the best way to begin your day on a sweet and savory note!
Such an excellent idea if you are in the mood for a gooey treat during the holidays. Shall we try it then?
The essence of the Banana Foster will remain in your mouth long after the bowl is empty!
Such is the impact of this gorgeous recipe which is ready in just a jiffy!
Dessert for tonight is sorted with this idea!
If you were thinking that Banana Foster is only restricted to regular recipes then here is what will truly surprise you!
Check out this dish of Upside-down Banana Foster lava cake that is so drool-worthy and mind-blowing.
The New Orlean classic never goes off the charts with the wonderful recipe that we have here!
Are you craving something unique and quirky? Then you should give this dish a try right away!
Tell us how difficult you found it was to resist yourself.
The ideas are simply numerous when it comes to making dishes associated with the New Orleans' Banana Foster!
Here we have the recipe for French pudding which is absolutely delicious and you should give it a try.
If you are fond of cheesecake and Bananas then here is a way how you can combine the two!
The gorgeous dish flooded with gooey essence is outstanding and you should give it a try! So what are you waiting for?
Make it today and surprise everyone.
If you are looking for something yummy and sweet then you must indulge in the recipe for exotic Banana Foster Bread pudding! Rich and flavorful, this is an amazing dish that you can present during the time of breakfast.
Imagine a dish with brown sugar, banana, and cinnamon with a yummy syrup drizzled smoothly over the dish!
That is exactly what a classic Banana Foster is!
And now you get to make it even better with this recipe for pancakes!
If you like sweets after dinner then there is no better idea than the Banana Foster crisp!
It is slightly different from the classic recipe of Foster but still bears the wonderful essence.
Topped with vanilla ice cream, you can hardly resist this one.
There is simply no doubt that you are going to absolutely become a fan of this dish with the recipe of Upside cake and banana foster.
An extraordinary idea that you will surely find to be the best in the world of desserts.
Let us try making the all-new banana Foster cake that tastes so gooey and gorgeous!
Flavored with syrup and the richness of cinnamon, the taste is simply so divine. So are you ready to try it out?
We understand that you are craving something sweet on your cheat after a long diet! Here is what will suit your mood!
The recipe of Grand Marnier Banana Foster is so easy to emulate and ready in a jiffy.
You will surely love the taste of the Banana Cobbler which will be a new twist to the classic old recipe from New Orleans!
If you have guests coming over for dinner then surprise them with this authentic dessert.
Prepared with the richness of whipped cream, caramel, and Biscoff Cookies, this is a brilliant idea that you will surely be fascinated with!
Gooey and gorgeous, you will surely fall in love with this recipe at first bite! Thank us later, and enjoy your dessert now!
Sweet, savory, and rich, we have brought you the exclusive recipe for the Banana Foster cheesecake which is one of its kind.
Flavored with thick syrupy topping, you will surely find it tempting if you like banana and cinnamon together.
Even the bravest of hearts will not be able to resist when they come across the dish of banana Foster pudding!
If you wish to find out then we challenge you to make it and see how quickly this one just disappears from the table.
Here is another surprising recipe that will render you speechless! Be prepared to be smitten by the taste of the egg rolls with Banana Fosters!
Sounds intriguing right?
Well, then try it out for yourself to find out about its magnificent taste.
The recipe for Banana Foster pudding is out here so that all the banana pudding lovers can be introduced to a new twist!
It is the time of the year when you should indulge in sweets and desserts as the holidays are just around the corner.
Okay so if you are planning to make Banana Foster this weekend but wish to prepare the sauce earlier then try out this recipe to be sure that you make no mistakes!
This is an age-old recipe where nothing can go wrong.
Banana Foster pound cake is detectable and gooey! You can make it during Easter or right when the summers are leaving you scorched and tired!
Refresh yourself with the cold and creamy pound cake in the Banana Foster style.
If you are looking for something nice and unique this season then give a try to the all-new Banana Foster Monkey Cake!
Rendered with a glorious taste, the dish is totally worth your time and effort.
Whether you are celebrating with your friends or some elite guests are coming over for dinner, the mini Banana Foster cheesecake for dessert suits all kinds of moods!
They are quite classy by appearance and taste simply divine.
There is no way someone is going to dislike the dish.
We have brought you the exclusive recipe of the Banana Foster baked French toast which is super easy to make!
Yummy and syrupy to indulge in during the time of breakfast, your mornings are sorted.
If you are fond of bread pudding then here is a way to make it delicious with this recipe right here!
Gorgeous and enriching, the Banana Foster pudding is simply out of the world. Shall we try it then?
Crispy and enriching, the Banana Foster Crepes are fantastic to call a tasty treat any time of the day!
Do not waste a second and make them with tea if you have some visitors coming over.
Here is a recipe for dessert lovers! Make the most delectable French Toast in the world with Banana Foster topping.
Flavored with rich syrup, this is an extraordinary recipe that surely deserves all attention and praise.
So let's not wait anymore and prepare them right away!
Frequently asked questions about Banana Foster
1. What does Banana Foster taste like?
Banana Foster has a wonderful cinnamon essence which is thoroughly felt amidst the sweetness of bananas! The rum sauce gives a boozy essence to the dessert and renders it with a divine taste.
2. What is the difference between Banana Foster and Banana Flambe?
This is to be noted that Banana Foster is a recipe for bananas topped with rum sauce and cinnamon! On the other hand, the banana flambe is the technique to add alcohol to a hot pan which results in high flames.
3. What is Foster sauce made of?
Prepared with brown sugar, cinnamon, and butter, the Foster sauce is delicious and out of the world. You can drizzle it on French Toast or pudding and enjoy it fresh.
4. What is the calorie content of a Banana Foster?
Banana Foster contains 175g of calories and 29 grams of carbohydrates in every scoop! So if you are on a diet then make sure you enjoy the Banana Foster only on cheat days.
5. What are the benefits of eating bananas?
You will be surprised to know that a single banana is flooded with so much nourishment! It has vitamin C and is enriching for your skin. Bananas also help to maintain good heart health and reduce blood sugar.
6. Which is the best time of the day when you should consume bananas?
Bananas should be consumed right in the morning for the best results.
Bottom Line- Now that you have gathered a lot of knowledge and insights about the benefits of eating bananas, it is time for you to indulge in such sumptuous banana desserts during the holidays. We leave you at this so you have some time to start making them today!